by Texas Homesteader ~

We needed a headboard for our guestroom. I wanted something old, but antique shops are just not filled with queen-sized headboards.
So we used repurposed wood from our 1880's barn. I absolutely love the way it turned out!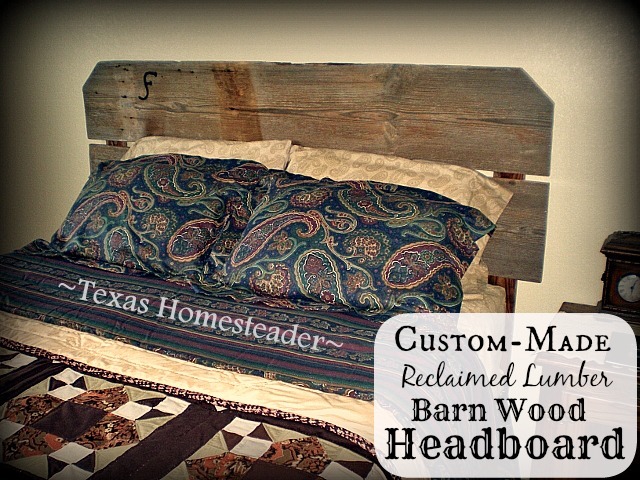 Setting Up A Guest Bedroom
When RancherMan & I moved to our NE Texas Homestead we outfitted our home to suit our new lifestyle. We were empty nesters so our needs only included one guest bedroom for the occasional overnight guest.
But we were basing our probability of overnight guests on the number of overnight guests we typically entertained when we lived in the city.
Back then there were only sporadic overnight visits during the holidays and maybe an occasional weekend. For the most part our family lives very close to each other. Although we get together often it's seldom necessary to spend the night.
So we outfitted our new guest bedroom with comfortable yet meager offerings. We had a nightstand & desk, chest of drawers and an over-stuffed queen-size folding futon.
Our thought was that we could use that room when our grandbabies come to visit. They could all pile on the futon & watch cartoons together, etc.
Visitors Love Coming To Our Texas Homestead
But what we didn't include in the equation was the probability that folks would want to come & stay BECAUSE of where we now lived. It's paradise for us, and it's also a relaxing country weekend for our guests.
We kept that futon in the guest room for a while. But we decided if we're going to have overnight company this often they deserved a great night's sleep!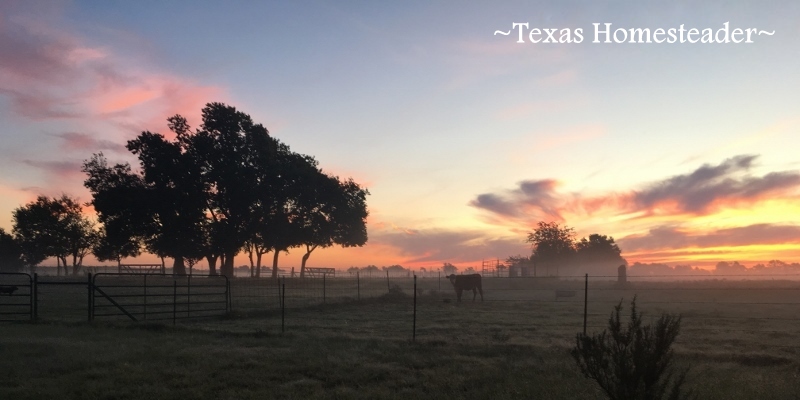 So we moved the futon to the office to accommodate overflow sleeping. We bought a nice pillow-top queen mattress & frame for the guest room. But we were stumped on the headboard.
Now I realize headboards aren't that expensive. But price isn't the only objection I had. I really hate that they're often very cheaply made these days. Plus I like to buy used whenever possible for environmental reasons.
Looking For Sustainable Headboard Options
So I told RancherMan that I'd rather get an antique headboard instead of buying new, maybe iron or even wood.
But queen beds weren't as popular back in the good ole days as they are now. Finding a queen-sized antique headboard proved to be a challenge.
Perhaps instead we should just consider buying a pre-owned headboard. And maybe we could paint it if it was wood.
It would certainly be inexpensive to buy use. And it would appeal to the eco-friendly side of me too. But even after searching for quite a while nothing really spoke to us.
Then one day RancherMan casually mentioned that we could probably make a headboard out of some of the old wood planks we had removed from our 1880's barn years ago when the exterior was refurbished. I was so excited because I was thinking the same thing!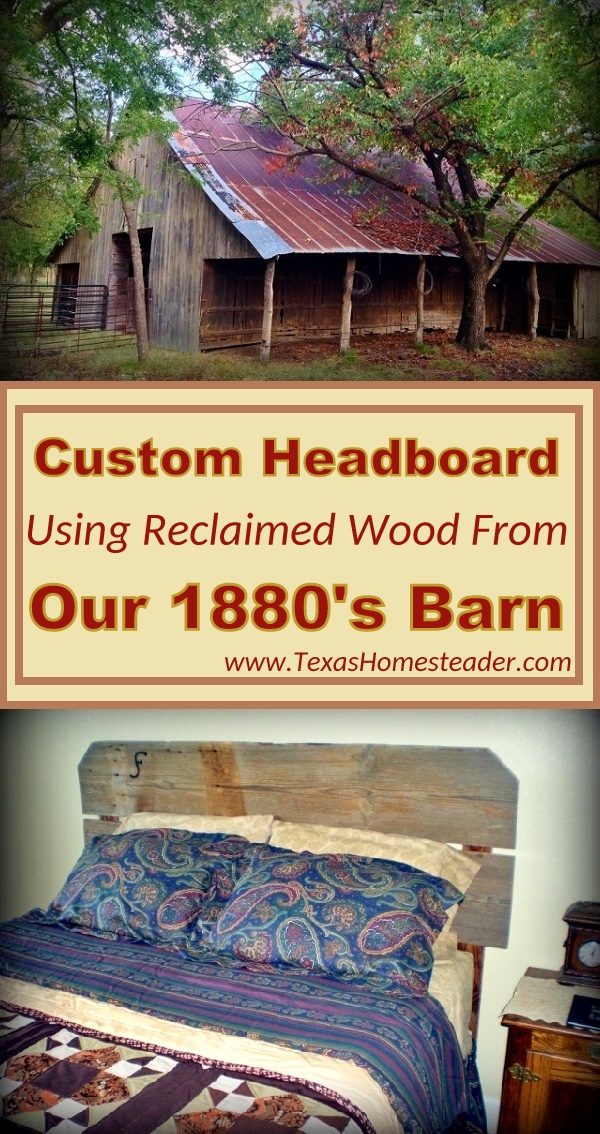 Building Our Own Headboard
We picked out some really cool weathered 12″ wide boards that had been stored in our barn for several years. Heck prior to that they were on the exterior of our barn for probably 40 – 50 years (or LONGER). Only time can weather wood this beautifully!
And since it came from our old barn that wood's pretty sentimental to me too. We pulled a rusted hinge from the boards, but set aside the square nails that had held it in place.
We toyed with the board layout and decided we wanted them horizontal so we measured and cut them to length. I really wanted the headboard to be two planks high and wanted to have a very small 1/2″ gap between them.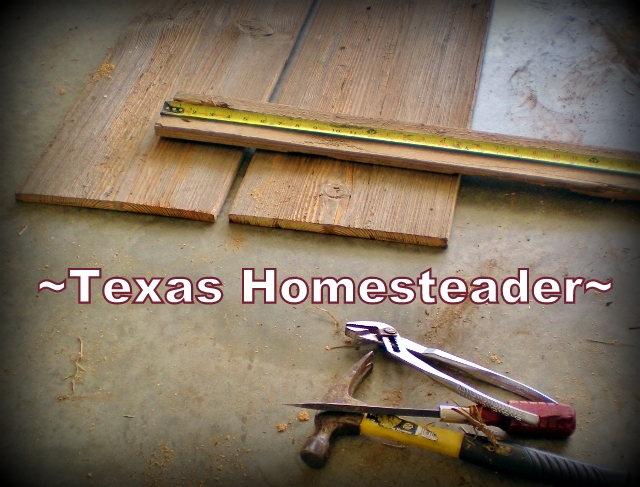 We attached both boards to a couple of support boards that would ultimately be bolted to the bed frame. Then we stood back to take a look at our handiwork. Hummm… It's missing something.
I asked RancherMan to dog-ear the top corners of the headboard. So he cut a 3.5″ section from each top corner – oh yeah, I like that. But it's still missing something…
Rustic Embellishments
I took those square nails we had removed from the wood before we started and RancherMan cut them down shorter. That way I could tap them into the existing old rounded-out holes they initially came out of and still have the square nail heads visible.
We placed them back into the headboard leaving them pulled out just enough to accent the square head and shaft of the nail. Yeah, yeah, I like it.
Still not quite there though. Hummmm…
I know, how would it look if we burned our brand into the corner?!
RancherMan fetched our brand and heated it with a propane torch until it was very hot. When he placed that super-heated brand onto the wood it transferred the image to the wood beautifully.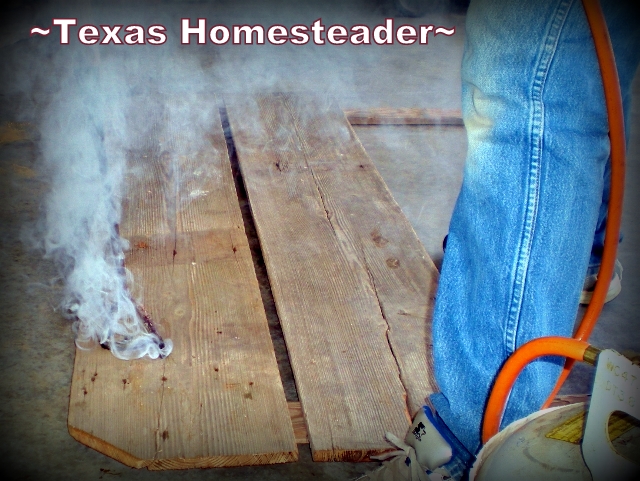 Perfect – I LIKE IT!
Sunrises Forever
As a side note: Our brand stands for Sunrises Forever, it's our mantra for the way we try to live our lives.
We try to remember that no matter what happened yesterday, or last week, or even last year – every sunrise offers a brand new start, a blank canvas, a new beginning.
It's a wise man indeed who takes this opportunity to do something GREAT today! That's the reason for the sunrise design in our gate and on our logo too.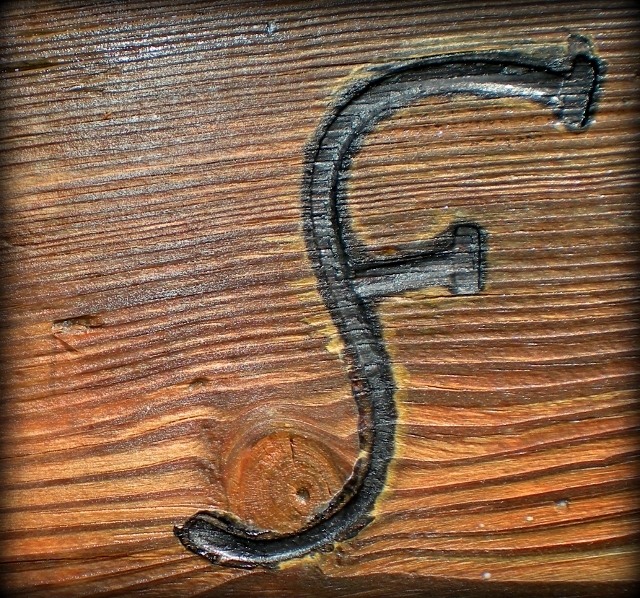 Assembling The Headboard
Now we set the headboard up in our guest room & attached it to the frame with a couple of washers & bolts.
But since our new (old?) headboard is made of some pretty rough wood we were concerned about it scratching the wall. Plus we wanted to make sure the bolts holding it together don't gouge the sheetrock.
We ended up using a couple of corks as spacers between the headboard and the wall. It was easy, we cut the corks in half longways and secured them to the back of the headboard with small trim brads.
Love Our New (Old) Headboard!
I think that our headboard turned out pretty cool. I figure if you're going to have a piece of furniture in your home it might as well be something very meaningful & sentimental to you!
And although cost was not the reason we decided on this fun project, it only cost us the price of the tiny brad nails we used to hold the cork wall buffers in place.
Beautiful/Sentimental/Environmental/Inexpensive. Wow that's quite a bit of benefit from one project!
~TxH~
Links Included In This Post
Welcoming Guests: Country Style!
Sunrises Forever – Every Day A New Start
Our Favorite Crafts & Projects
…and many MORE!


C'mon by & sit a spell! Come hang out at our Facebook Page. It's like sitting in a front porch rocker with a glass of cold iced tea – lots of good folks sharing! You can also follow along on Pinterest, Twitter or Instagram.
If you'd like to receive an email each time a new blog post goes live it's EASY to
Subscribe to our blog!
Save
Save