by Texas Homesteader~

Since we'll be entertaining a guest at the homestead for a few days I began preparing the welcome. I wanted to add a more personal touch.
Other than standard cleaning & fluffing the nest, I wanted fresh flowers to welcome our guests. How can you possibly perfect the beauty that's right outside our door?
I keep a brown bottle that was found on our property years ago and I filled it with lavender blooms and rosemary from our dual-purpose landscaping. I thought it added a charming country touch.
Another vase is filled with flowers and fountain grasses I came across in our pasture. Beautiful!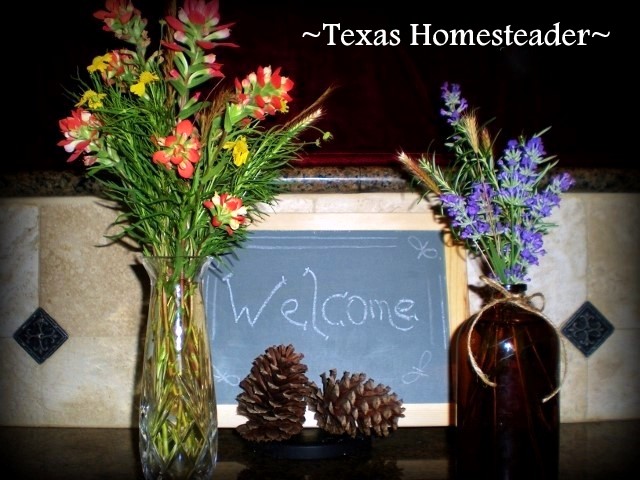 Country Entertainment?
Although the house was ready-to-receive I wondered what we could offer our guests in the form of entertainment?
In the past I've compared our hosting methods with the thoughtful hosting of others who have invited us into their homes.
For instance when we would go visiting elsewhere, as soon as we arrived there would be an array of restaurants to try and entertainment venues to visit. There are musicals, plays, movies, museums and the like.
I worried that living in such a rural area we could not offer any of these fun activities. Would our guests would simply get bored out here in the quiet of the country?
As it turns out my fears were unfounded. There is never an absence of entertainment right here on the homestead.
We have plenty of catfish and bass in our ponds to keep those anglers busy and young or old. Our guests always seem to love it!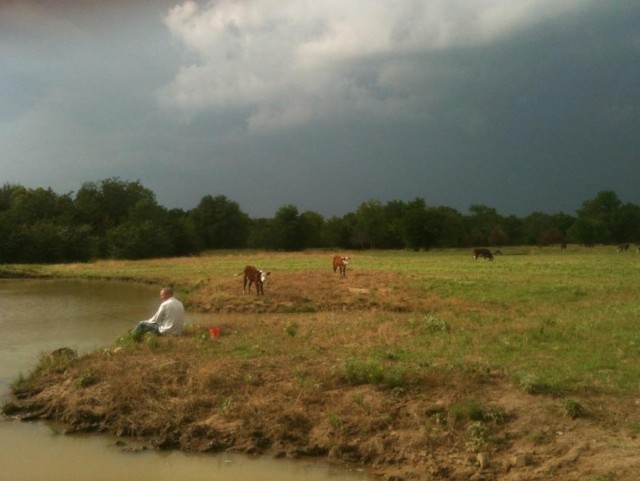 We have a clay target thrower and on occasion enjoy doing a little practice shooting. The deluge of plastic trash that blankets our pastures makes for a busy clean-up afterward.
So we still play with practice shooting. But for environmental reasons we no longer partake in this activity very often.
Instead we get into some pretty fun (and sometimes trash-talking) target shooting contests using both compound and long bows and arrows.
We always make a bragging-rights competition out of it. And it's always a hoot!
Mother Nature's Entertainment
There's much to see in the creeks and tree lines. We've watched as a mama raccoon shuttled her newborn babies to a safer location – so cute!
There are all manner of critters to watch – lumbering opossums, soaring hawks, strange armadillos and colorful butterflies. And there's always hunting opportunities with the many wild hogs that occupy this part of NE Texas.
Of course there's the enjoyment of sitting on the back porch and visiting with each other. We often have an icy-cold beverage in hand, watching in awe as the brilliant sun sinks into the western horizon in a beautiful blaze.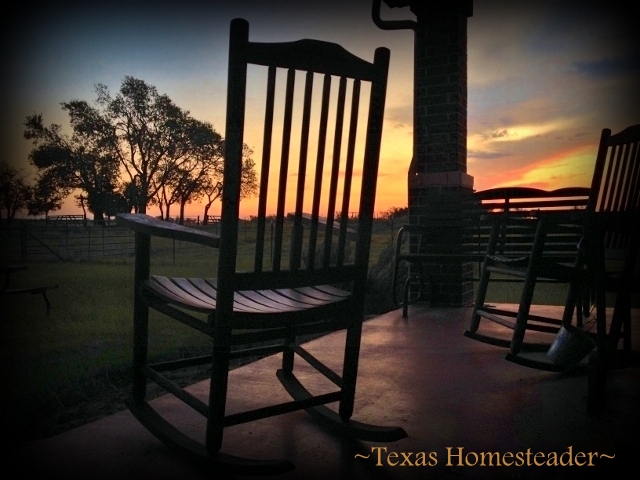 I always hear exclamations of how beautiful the vibrant stars are in the nighttime sky out here – stars that are difficult to see in the typical city environment.
So I've found my fears are always unfounded. In fact, our guests aren't looking for a city-inspired entertainment visit.
They're actually looking for that peaceful entertainment of our rural surroundings. And our guests never get bored. Instead they thoroughly enjoy their restful visit!
We're often told that after spending time on our ranch our visitors feel incredibly relaxed and refreshed. Hey, isn't that what you would want to hear from any guest? SUCCESS!
~TxH~
Other Simple-Life Articles

C'mon by & sit a spell! Come hang out at our Facebook Page. It's like sitting in a front porch rocker with a glass of cold iced tea. There are lots of good folks sharing!

And you can also follow along on Pinterest, Twitter, Instagram

To receive an email when a new blog post goes live it's EASY to
Subscribe to our blog!
Save