by Texas Homesteader ~
How would grandma have done it? I've been seeing this question a lot on social media lately. But it's great food for thought, especially for those striving to reduce waste and save a little money too in their own kitchens. Let's see how grandma would have done it.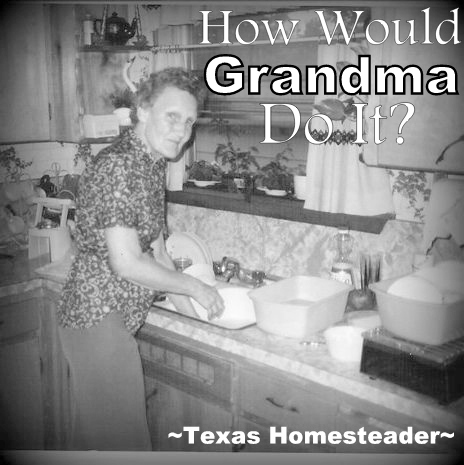 You see, plastic and single-use items weren't commonplace kitchen items back in grandma's day.
And yet, grandma got around the kitchen just fine without it. And without having to use specialty products either. Sometimes the old ways are really the best ways.
Here's How Grandma Would Do It!
Dish Over Thawing Food in the Fridge
Grandma didn't need plastic wrap to cover thawing food.
She simply covered the food with another piece of dinnerware.
Since I use the Cook Once, Eat Twice method of cooking I always have plenty of already prepared entrees in my freezer. It's an important way I'm able to Serve Homemade Meals Daily, y'all. Shortcuts. It's aaaaall about the shortcuts!
So I'm often pulling out pre-cooked frozen entrees, placing the frozen food on a plate and covering the food with a bowl before placing it all in the fridge to thaw.
Oh yeah, I watched my grandmother do this countless times when I was a child! How did our grandmothers get so smart??
Covered Bakeware for Leftovers
I have my grandmother's CorningWare bakeware and I love it.
But it's used for more than cooking. I often bring out one of these dishes to store leftovers in my fridge.
This replaces the dreaded plastic bowls I used to store leftovers in when I was learning my way around the kitchen as a young adult.
Plus, you know, I've got these lovely vintage dishes – it would be a shame not to put them to full use.
And I'm able to store, heat & eat in the same dish. Fewer dishes to wash. Again with the shortcuts!
Repurposed Jars for Small Leftovers
I have a supply of canning jars and also repurposed wide-mouth jars that were saved for me by family members to use for storing food in my refrigerator.
If there's a small amount of food left over such as half an onion or bell pepper I often use these small jars to hold them in my fridge.
I love it because I'm once again storing my food in glass instead of plastic.
Plus since the jars are completely see-through I find I don't forget about what's been placed in the fridge. That leftover food is much more likely to be used instead of being shoved to the back & forgotten until it's only fit for the compost heap.
This has obviously saved us money in our food budget since food is less likely to be wasted. And y'all know how much I hate food waste.
Cast Iron Cookware Lasts Forever
Another beloved item of my grandmother's that resides in my kitchen is her cast-iron skillet.
She received this beautiful skillet as a wedding gift when she and my grandfather married in 1934.
It cooked many a delicious meal for her family for decades before being passed to me. And it's still not showing any signs of wear!
I'll be passing this skillet down to my children and then on to my grandchildren and beyond. That's some kind of longevity for cookware, y'all.
Rags For Cleaning
Grandma would have never considered buying something disposable to clean even if it had been available to her!
My grandmother lived through the depression and she was well skilled in 'Use Whatcha Got'!
I took a cue from her and I don't buy specialty kitchen cloths. This old T-Shirt of RancherMan's is cut into dishcloth-sized rags.
Heck even the seams are reused to tie plants in the garden. No waste here!
Grandma's Kitchen – Good For The Environment
So there are a few simple things our grandmothers did back in the day. And those same easy steps can be used today.
It's good for our wallets AND good for the environment!
~TxH~
Read More About How Grandma Would Do Things


C'mon by & sit a spell! Come hang out at our Facebook Page. It's like sitting in a front porch rocker with a glass of cold iced tea. There are lots of good folks sharing!
And you can also follow along on Pinterest, Twitter, Instagram or Instagram.
If you'd like to receive an email when a new blog post goes live,
subscribe to our Blog!