by Texas Homesteader ~
When our children lived at home we always sat at the table and ate together as a family. It was an important and non-negotiable family tradition of ours. So much so that there were no distractions allowed during our meals together.
Our rule was that everyone stayed around the table until the last one was finished before anyone was allowed to leave the table. Oh, and no phones were to be brought to the table. If a phone did ring somewhere in the house, it was not answered if we were still having supper.
And even if one of their friends showed up at the front door during supper, the door was not answered. All of that could wait until after we'd spent this important family time together.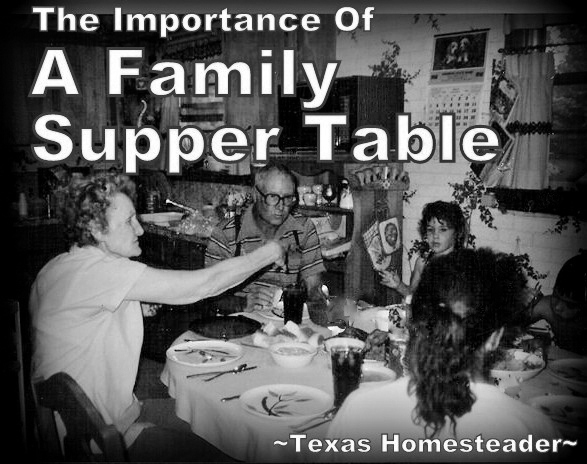 It seems often times instead of family supper times, meals are served in separate rooms. Maybe the kids might eat at the table and the parents eat in the living room.
Of course there's no judgment here. What works for one family may not work for another. And we all have different schedules & familial obligations. Each household strives to work in a way that works best for them.
Our Family Supper Time
But for us, suppertime was more than just physical nourishment. It was emotional nourishment as well. A chance to disconnect from the outside world for just a bit and share our time together as a family.
There was always much conversation and laughing. And often a little good-natured sibling ribbing too. The kids talked about their day to us and to each other. Oh the conversations we had! I often pondered what would happen if only there was a fly on the wall during our suppertime conversations. LOL
Afterward there were a few simple chores to complete – one child to clear the table and put away any leftovers in the fridge. Another to help clean the kitchen, etc. It was just part of our family routine and everyone was involved in the work for the common good of our family.
Dining With Teenagers
Of course it got harder & harder to gather together at one table as the kids got older and involved in extracurricular activities. There were soccer, track and band practices that sometimes took place during our meal times.
Still any of our children that were present at suppertime dined together with us at the table.
Studies Show Benefits of Family Meals
It's not only the enjoyment of spending time together that's important. Studies show many other surprising benefits as well. According to The Family Dinner Project:
BENEFITS OF FAMILY DINNERS
Our belief in the "magic" of family dinners is grounded in research on the physical, mental and emotional benefits of regular family meals. Some of the specific benefits of family dinners are:
Better academic performance

Higher self-esteem

Greater sense of resilience

Lower risk of substance abuse

Lower risk of teen pregnancy

Lower risk of depression

Lower likelihood of developing eating disorders

Lower rates of obesity
Surprising Revelation Years later
Then a few years ago one of our daughters approached us at a family gathering. She mentioned how much those family suppers meant to her and how she felt it bonded our blended family together.
Although she never showed her appreciation at the time, she said many of her friends didn't have the opportunity to enjoy family meals together. Members of those families seemed too busy to sit down together and share that precious time. And she felt that emotional distance kept those families from being as close as they could have been.
But her impression was that our family supper time brought us together, made us closer. We shared our lives during this seemingly mundane event. And she appreciated it more than we knew. Isn't it funny the things your children pick up and carry with them into adulthood?
So won't you start a family-mealtime tradition in your family today? You may be surprised at the results, apparently both now and way into your children's futures.
~TxH~
Other Relationships Posts
…and MANY MORE!

C'mon by & sit a spell!  Come hang out at our Facebook Page . It's like sitting in a front porch rocker with a glass of cold iced tea.  There are lots of good folks sharing!  And you can also follow along on

Pinterest

, Twitter or Instagram
If you'd like to receive an email when a new blog post goes live,