by Texas Homesteader ~
Our actions are much like a stone tossed into the water, a ripple effect that touches the surrounding area & radiates outward. I'm sharing examples of the ripple effect in action.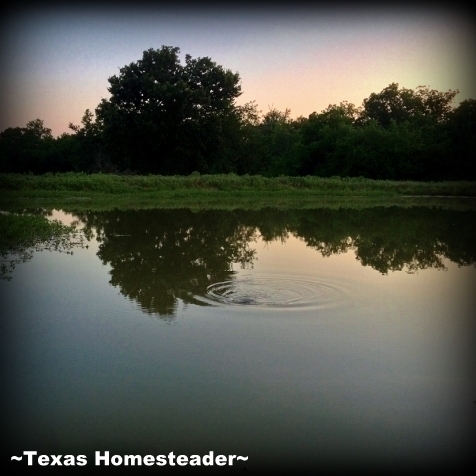 Did you ever notice when you throw a small stone into the water ripples form and migrate outward in a wide circle further & further from where the rock initially landed?
I've watched those ripples keep going until they reached all the way to the other end of our pond.
The action of that one small stone affected its surroundings much further than its initial point of contact.
I've been thinking lately that our actions are much like that stone tossed into the water.
There's a ripple effect from our actions that touches those around us – either negative or positive – and radiates outward much further than our initial point of contact.
Ripple Effect In Action
Think about this:
If you do a random act of kindness for a stranger, how is it likely to affect that person?
That small gesture from you makes the recipient more likely to want to Pay It Forward, doing a similar random act of kindness for someone else.
That's the ripple effect in action.
But let's say instead of an act of kindness you did something negative to that person.
Wouldn't your negative act have a negative effect on the recipient, making them more likely to pass that negativity on to the next guy?
This is also the ripple effect, but in a more negative way.
See The Ripple Effect In Your Own Life
You can often see the ripple effect in action in your own day-to-day life.
If your boss is harsh or co-workers are snarky to you on any given day, doesn't that also affect your interactions with others? Which of course would have a negative effect on their interactions with yet others, and so on…
What about when you step out and help a friend, or even a complete stranger. That kindness is felt. And oftentimes it ripples from there to affect others as well.
I'm trying to remember that my actions each day have a ripple effect, whether negative or positive. And I'm trying to make sure the ripples I create are mostly positive.
C'mon I know we can't feel sunshine & roses every single day, we're only human. But with just a little effort we can very easily spread a little kindness.
And if we would all just do a small part, what a beautiful world this would be!
Make The Ripples Count
So compliment that co-worker on a new blouse. Tell your boss how much their leadership means to you and future of the company. Or reach out to the neighbor going through hard times.
And yes, a random act of kindness for a complete stranger you've never met before and will likely never meet again will create a very positive ripple.
And so will theirs, and theirs, and…
~TxH~
Other Inspiring Posts
…and MANY MORE!
Other Humanity Posts

C'mon by & sit a spell! Come hang out at our Facebook Page . It's like sitting in a front porch rocker with a glass of cold iced tea. There are lots of good folks sharing! And you can also follow along on Pinterest, Twitter or Instagram
If you'd like to receive an email when a new blog post goes live,
subscribe to our Blog!
Save