by Texas Homesteader ~
I've always used cloth napkins. I mean, why not? They can even make a meager meal feel decadent!
It's a smart financial as well as environmental move for me. There's no disposable plastic-wrapped paper napkins for me to buy over & over again & throw away! I've got cloth napkins that are over 20 years old. They still look great & are serving their purpose quite nicely.
Recently I wanted some red/white gingham napkins. But y'all know how much I hate to get rid of this whatsit to buy that whatsit. It just seems like an environmental waste to me. But I REALLY wanted those cheery red & white napkins!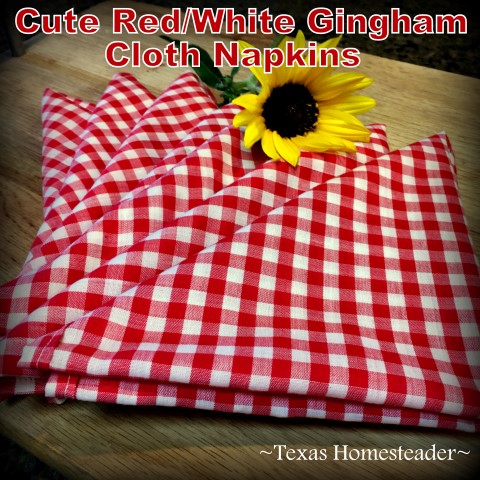 So I started searching for gingham napkins in various shops and online. I could find them but DANG – they're just a square of cloth.
Even though I'd love to have the napkins, could I justify plunking down that much money when I already have very nice cloth napkins?
Then I got an idea. What if I buy the fabric and make them myself? I'm not a seamstress (boy is that an understatement!) but surely I can hem 4 straight sides! Then the price would be much less.
But although obtaining the raw fabric from a fabric store appeases the financial side of me, it still didn't quite sit right with the environmental side of me. Both sides of me are important, so I put the purchase off for a bit.
Then another thought hit me. HEY, what if I bought the fabric itself second hand? YEAH!
My financial savvy side gave a big HIGH-FIVE to my environmental side! Woo-hoo!
So I started searching thrift stores. But I could never find anything in the red/white patterned fabric that I dreamed of. Then one day it happened…
We were stopping by garage sales with my aunt & uncle who live out west when I spied the perfect red/white gingham tablecloth. It was wadded unceremoniously & crammed into a box of dusty, unloved assorted crap items beneath a table.
I dug the wadded tablecloth out of the box, held it up & tried to appear totally uninterested & unimpressed as I asked the sellers how much. I almost couldn't contain my excitement when they replied ONE DOLLAR!
It was a small square tablecloth such as might fit well on a card table. This will be perfect! So I brought it home, washed it up and hung it outside on the line to dry.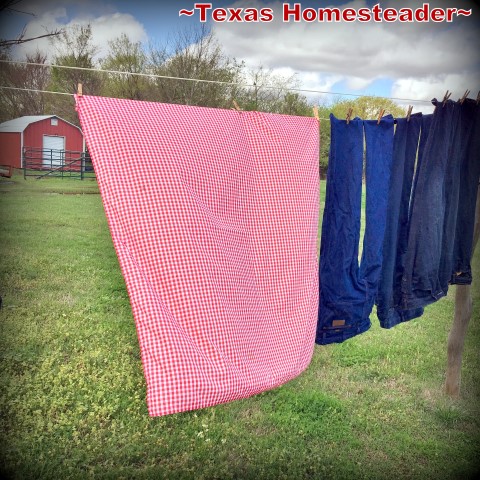 Then I measured it out and decided to cut it evenly into 9 napkins. So I measured & marked my tablecloth and then cut it into squares.
Now my problem with sewing seams on a square piece of fabric are those corners. By the time you fold each side under there are so many bunched up layers at the corners that it's hard to smoothly get my sewing machine's needle through it.
So I learned this trick. Old hat to you accomplished seamstresses out there but brand-spankin'-new information for me!
I first folded each corner down dog-eared just under an inch and ironed it flat. Then I formed the side seams by folding about 1/4″ and tucking the raw edge under by folding again.
The side seams met & came to a point at the corners but didn't overlap each other. So the thickness of the corner wasn't any thicker than the seams themselves. Yea!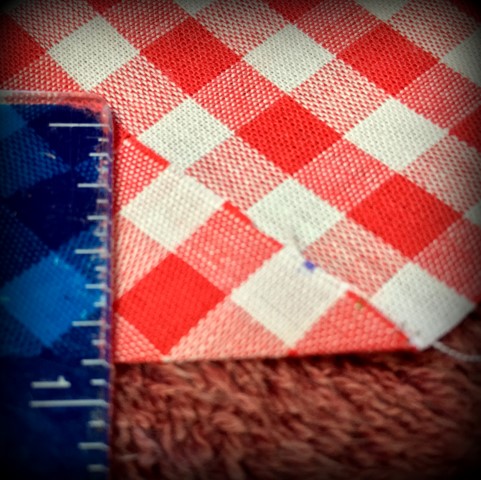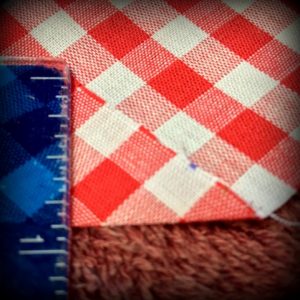 Your seam width will vary based on how much hem you want. But just fold until the side seams meet but don't overlap at the corner. A quick press with an iron and I was ready to sew my new napkins. Done and DONE!
I sewed them all & I beamed with pride at my nine cute red/white gingham napkins. The finished size of my new napkins measures about 18″ square. I've always felt the 22″ size of my current cloth napkins at was a little large. So I'm thrilled with both the look as well as the size of my new ones.
All for the big, honkin' price of $1 and a little of my time. And no new napkins needed to be manufactured either. Yeah, that's the way I like it!
~TxH~
Other Low-Waste Stories


C'mon by & sit a spell! Come hang out at our Facebook Page. It's like sitting in a front porch rocker with a glass of cold iced tea – lots of good folks sharing! You can also follow along on

Pinterest

, Twitter or

Instagram

.
If you'd like to receive an email each time a new blog post goes live it's EASY to
Subscribe to our blog!