by Texas Homesteader ~
Buying pre-owned products is good for the environment AND your budget! We have a system for finding the perfect high-quality products at the lowest price. (Hint: When researching a potential purchase we look at price LAST.)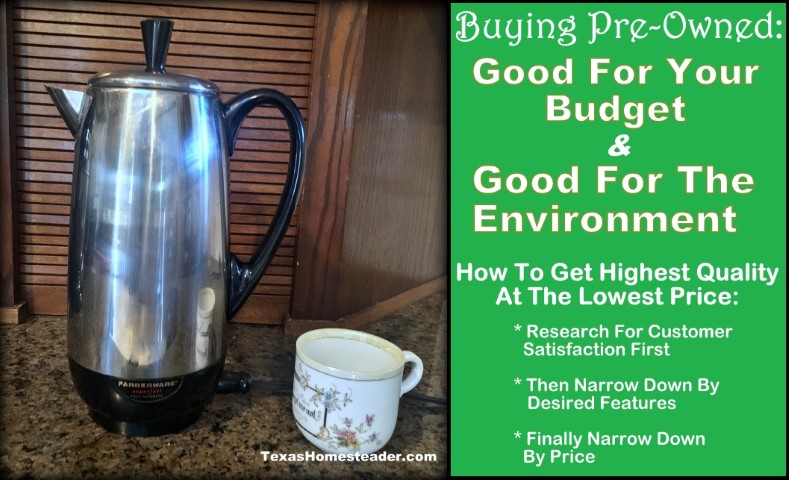 (Note: Some links in this post will take you to other related articles for further information. But links preceded with * are affiliate links. If you click and buy something I could receive a tiny commission.)
Enjoying Coffee From A Percolator
I've talked before about our love of our Low-Waste Morning Coffee. Our vintage percolator is perfect for a delicious yet very low-waste cup of joe!
But although we loved the coffee it made, the percolator was a bit on the small side.
RancherMan & I were going through that small pot of morning coffee way too quickly. We really wanted a larger percolator.

Researching Product Purchases
When we make a purchase we first research it extensively.
First consideration is given to products with a high level of customer satisfaction, narrowed down by features we desire and only lastly, cost.
I think oftentimes if you put importance on price first in your search, you'll end up with a cheaper product for sure, but not necessarily a quality product.
I've got no room in our home for cheaply-made products destined to frustrate me as they underperform until they break prematurely requiring me to throw them away and buy again. That's not cheaper at all!
I don't want to buy a cheap product, I want to buy high quality products at the cheapest price.
See the difference?
You can still easily buy a high-quality *Coffee Percolator online. And there are many models to choose from too. RancherMan researched all of them, looking first at customer satisfaction ratings.
Then we pondered features. Do we want a 6 cup? An 8 cup? 12 cup? (oh yeah, 12 cup baby!)
When we'd decided which brand of coffee pot we wanted. RancherMan then searched for the best retail establishments to actually buy.
For instance, the price of the coffee pot we want may be a little lower or maybe with cheaper shipping cost at one place than the others.
Or it may be located at a store where we currently hold a gift card, resulting in less coming from our monthly budget. There are many considerations to be made for the best possible purchase.
Buying Pre-Owned: SCORE!
We'd researched & made our decision for the best-quality percolator we wanted as well as the store from which we wanted to buy. RancherMan was just about to place the order.
When he was almost ready to 'add to cart', he decided to check one more place to make sure he was getting the best price.
RancherMan knows I have an eco bend. And he knows how important it is to me to buy used whenever possible.
So he did a quick search for the exact same model on ebay. SCORE! He found a 12-cup FarberWare percolator that was in pristine condition.
Isn't she a beauty?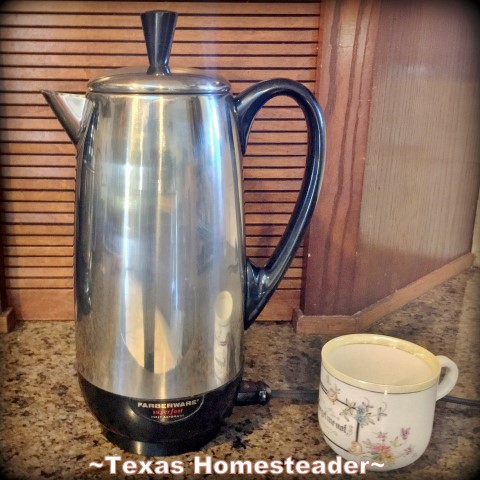 Exactly what we wanted, in like-new but used condition for a mere fraction of the cost of buying new.
Now this makes my heart happy. I always prefer pre-owned when making a purchase. It's good for our budget and the environment. And we ended up with a mighty fine high-quality percolator to boot.
So in the end a little research before buying checked off all the important boxes for us. A large stainless steel 12-cup percolator coffee pot in excellent condition for 1/2 price.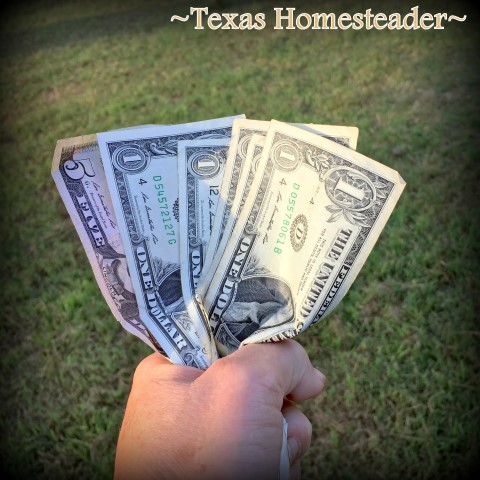 PLUS it was purchased used. This means in addition to all the criteria above, it's not a new product being manufactured, packaged & shipped to multiple warehouse/retail locations before finally being purchased.
It's a pre-owned percolator (albeit in beautiful condition). So its useful life has now been extended because of our purchase.
Oh be still my crunchy-green heart!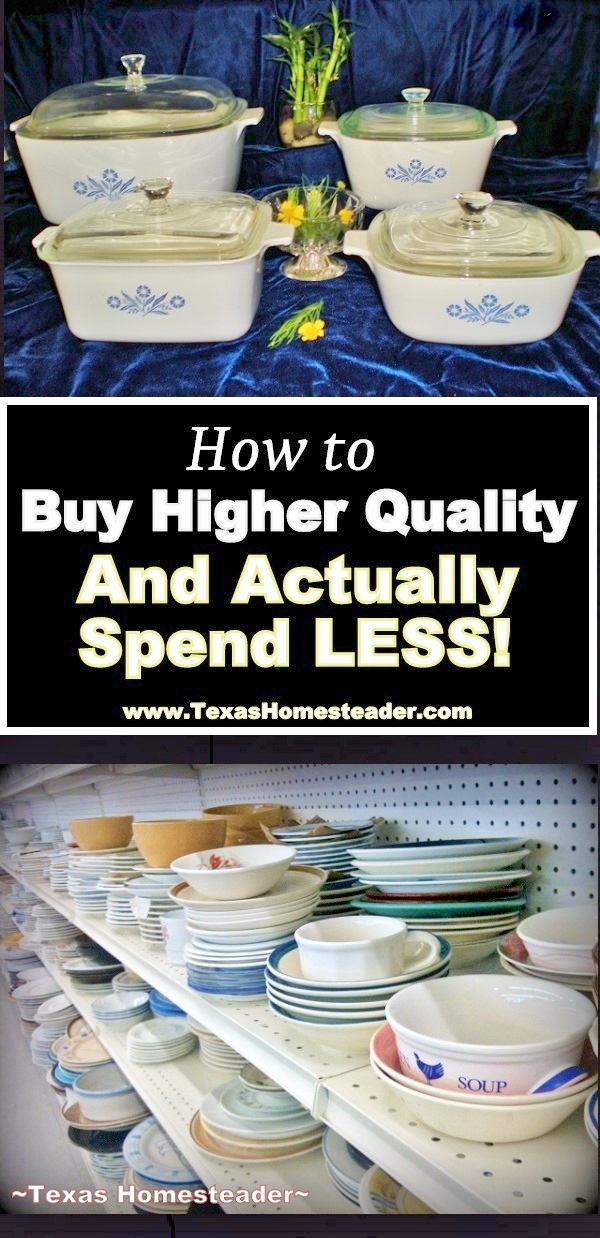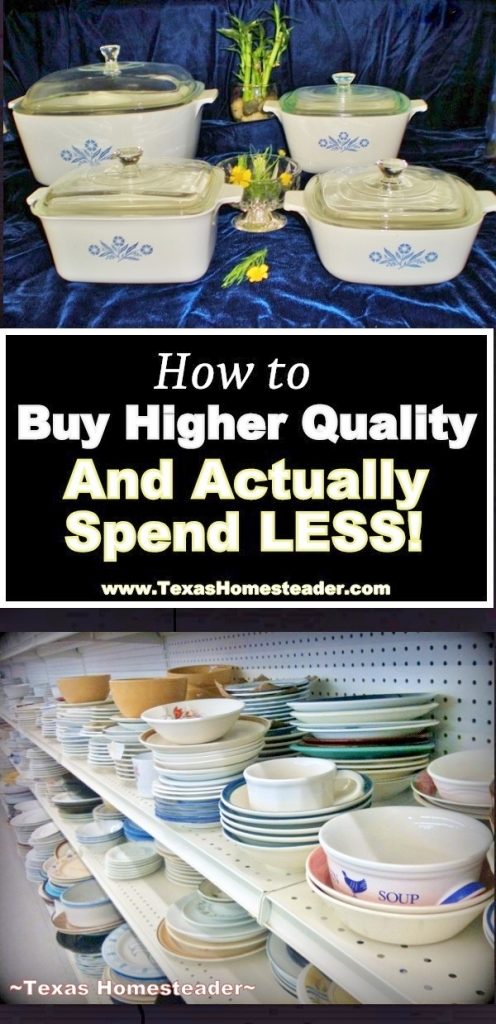 So before you make that purchase, consider buying pre-owned. Whether buying at a Thrift Store or online, buying used can be good for your wallet AND the environment!
~TxH~
Other Low-Waste Stories
C'mon by & sit a spell! Come hang out at our Facebook Page. It's like sitting in a front porch rocker with a glass of cold iced tea – lots of good folks sharing! You can also follow along on Pinterest, Twitter or Instagram.
If you'd like to receive an email each time a new blog post goes live it's EASY to
Subscribe to our blog!