by Texas Homesteader ~
Since RancherMan & I are not corporately employed we keep a close eye on our finances. Every now & then it's fun to share 5 simple frugal things we did this week to save money. Oftentimes it's so simple, we just have to keep an eye open for the ample opportunities. And I love that it often packs a nice little eco-friendly punch too!
Come see the 5 easy yet frugal things we did this week to save both money as well as the environment.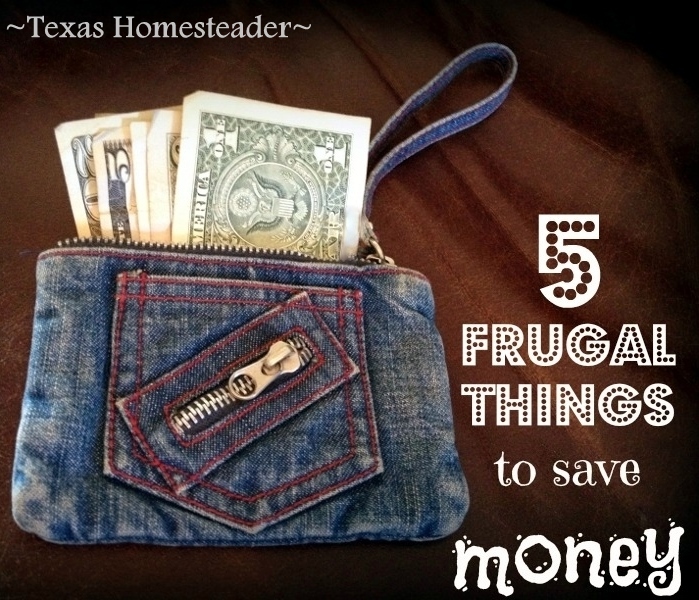 5 Frugal Things This Week
1.Solve A Condiment Shortage. One night I was planning supper & I discovered we were out of steak sauce. Not to be deterred, I researched & whipped up a batch from scratch. It was easy, I just mixed Ketchup, ACV, Worcestershire sauce, etc. to make my own steak sauce. It was all poured into a repurposed canning jar. I was hoping it would at least satisfy RancherMan's palate and hopefully even give me another product I'd never have to buy. And he raved. SCORE! So be watching, I'll share my recipe soon.
2. Homemade Meals Fast. As a matter of fact, I've been pulling lots of our meals from the freezer lately. I pulled a large container of Homemade Chili from the freezer & let it thaw in the fridge. When we got home from an errand, cold and wet from the weather, that hot homemade chili sure hit the spot!
3. Low-Cost Beverage. After several days of clouds and cold rain, the sun FINALLY decided to shine for us! So even though the temps were only in the mix 40's I decided to make sun tea. I loaded up an hourglass jar with water and a tea bag and let the sun brew a delicious, low-cost beverage for us for FREE!
4. Replacing Our Percolator. We love our percolator but it just wasn't big enough for us. RancherMan searched for the highest-rated percolator to replace it with. When he was just about ready to buy, he searched on ebay and found a very clean one for about half the price of new. Score for both our wallets and the environment!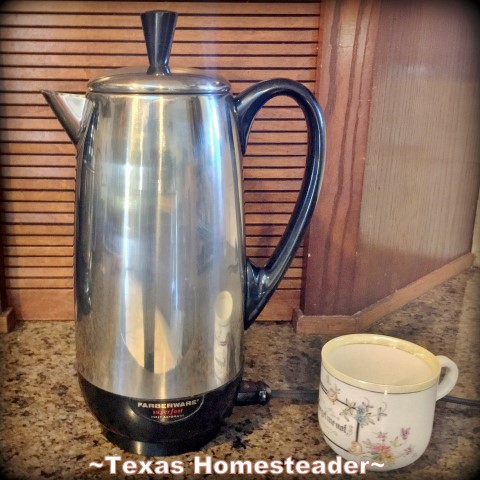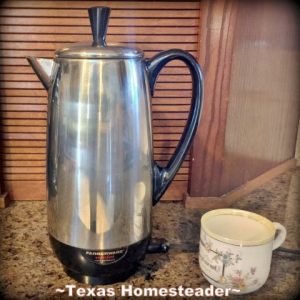 5. Research Purchases. Our new percolator was shipped quickly but when it arrived we found the cord wouldn't work. We contacted the seller who agreed to refund $5. RancherMan of course tried to fix the plug first so he went searching for a part. He wasn't able to find the part but he found a whole new cord for around $3.99 at Ace Hardware. Yea!
Other Frugality Throughout The Week
There are of course other things we typically do over the course of a standard week. Our meals are almost all cooked form scratch for instance. And we always keep our thermostat set low & dress for the appropriate season. Our lights are typically turned off when not in use (especially since they're not needed most of the time due to our home's open floorplan.) And I made Homemade Sandwich Bread and Homemade Yogurt too. But this list is just to help get your creative juices going.
Now it's YOUR turn to share! What's your Frugal 5 this week?
~TxH~


C'mon by & sit a spell! Come hang out at our Facebook Page . It's like sitting in a front porch rocker with a glass of cold iced tea. There are lots of good folks sharing! And you can also follow along on Pinterest, Twitter or Instagram
If you'd like to receive an email when a new blog post goes live,