by Texas Homesteader ~
I was in a hurry. We were planning a day trip to see my father & I always try to bring food along so he doesn't have to bother with 'entertaining'. So early that morning I made the Homemade Soup and some homemade Apple Crumble. And dad loves cornbread, so I whipped up some of my homemade cornbread too (no Jalapenos this time though…)
But as RancherMan came into the kitchen he saw 'that' look on my face. "What's wrong?" he asked. UGH! My cornbread wasn't rising. In my haste to get everything done I'd apparently forgotten to add the baking powder.
Looking at the flat cornbread & to make me feel better he said: "Don't worry, I'll eat them. They'll be CORN DODGERS!"
Now I'd heard of corn dodgers from the classic western movie True Grit. In the movie, The Duke, John Wayne, had brought corn dodgers along with him on the trail as food to sustain him. But I assumed it wasn't really a thing, something made up for the movie.
No Rhyme or Reason To Corn Dodger Recipes
So I went looking online. The best I can tell many people use corn dodgers as a kind of hush puppy, either frying or baking them in small balls. And some use boiling water in their recipe, but not all of them. There were some recipes that had many different ingredients and some had as few as 3 ingredients.
But I didn't see any rhyme or reason to exactly what a Corn Dodger was. So I decided this will be my much-easier version of a corn dodger.
I must admit, they were pretty good. Since the recipe is very similar, the taste was close to my standard cornbread recipe. But the corn dodgers were more dense and not near as crumbly.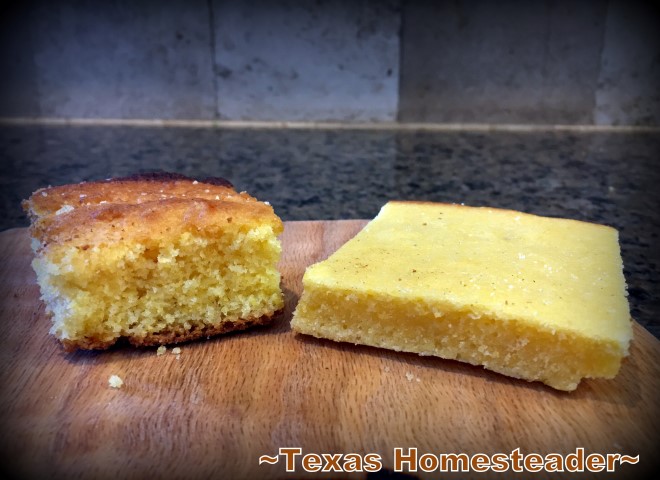 Simplified Corn Dodger Cooking
Plus I simplify my version by baking it all at one time in my grandmother's cast-iron skillet. No standing over the frying grease or trying to roll dough into little balls for the oven.
I simply bake it all in my cast-iron skillet and then cut into pieces for me & RancherMan. Yes, easier in the kitchen is my wheelhouse, y'all.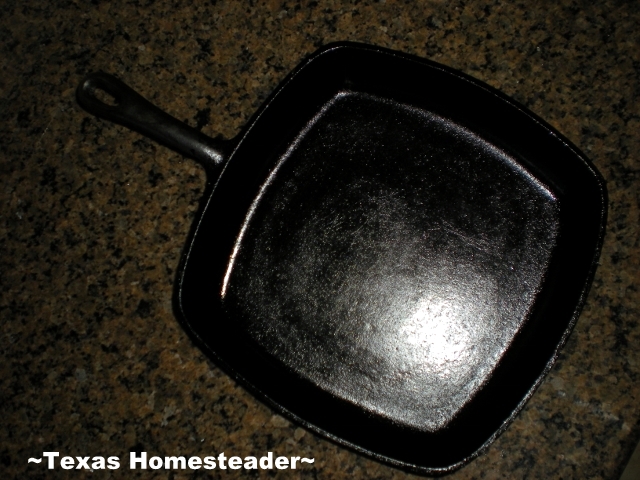 So although these corn dodgers were initially a mistake, it ended up being a delicious mistake.
This Texas Homesteader version of Corn Dodgers will be on tight rotation in our household. RancherMan loves 'em & I know you'll love 'em too.
Texas Homesteader Corn Dodgers
Ingredients
1

cup

Yellow cornmeal

1

cup

All-purpose flour

1/4

cup

Sugar

1

teaspoon

Salt

1

cup

Milk

1

large Egg

1/4

cup

oil

(I use melted bacon grease)
Instructions
Instructions:
Preheat oven to 425 degrees. Place cast-iron skillet in oven as it is preheating.

Mix dry ingredients in a bowl and set aside. In another bowl mix milk, egg and oil until blended. Combine wet ingredients with dry ingredients and stir until moistened and fairly smooth (about 1 minute.)

Carefully remove hot skillet from oven and grease with butter. Pour batter into skillet and bake 20 to 23 minutes or until toothpick inserted in the center comes out clean.
~TxH~
Other Favorite Breads
Holiday Cooking Tips & Recipes
SIDE DISHES
DESSERTS
BREAD
INGREDIENTS
FOOD SAFETY


C'mon by & sit a spell! Come hang out at our Facebook Page . It's like sitting in a front porch rocker with a glass of cold iced tea. There are lots of good folks sharing! And you can also follow along on Pinterest, Instagram & Twitter
If you'd like to receive an email when a new blog post goes live,
subscribe to our Blog!