by Texas Homesteader ~
When we travel to west Texas to visit my aunt, she always picks up a couple of loaves of our favorite jalapeno-cheese bread from a nearby deli for us to enjoy while we were there.
I wondered if I could make a loaf of that spicy, cheesy bread at home. So I decided that the next time I was baking RancherMan his favorite sandwich bread I'd make one loaf into a jalapeno-cheese bread.
I figured it would as simple as rolling out the dough, sprinkling chopped jalapenos and some grated jalapeno muenster cheese given to us by a very sweet friend before rolling the dough into a loaf before baking.
But did it work?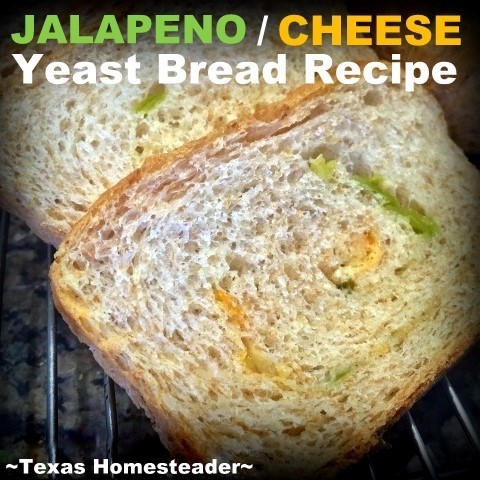 We Love Different Breads
I'd already been thinking of trying different flavors with my existing bread recipe. Why not change up the flavor?
Bread is a mandatory staple in our household. RancherMan's a certified bread-a-holic.
I'm constantly making biscuits or flavored beer bread There's Mix-n-Pour Tortillas and fun No-Knead Skillet Bread. You can see all our Bread Recipes Here. (or there's a list at the bottom of this post)
Bread Machine Shortcuts
I'd always made my sandwich bread the old fashioned way, but a few years back I was gifted my father's bread machine. Man those bread machines have improved over the years!
Since then I've been making Honey/Oat Sandwich Bread a couple of times each week. Now this bread machine has a dough cycle. Really guys, it doesn't get any easier than this!
Using The Dough Cycle
I dump the ingredients in, set the machine to the dough cycle, push a button and walk away. The machine will knead, rise and punch down the dough before giving me the signal it's done.
Now I just pull the dough out and sprinkle a little flour on the countertop. Then I roll the dough into a rectangle.
I sprinkled that rectangle of dough with about 3 chopped jalapenos & some shredded cheese.
Then I rolled it tightly onto a loaf, pinched the ends, placed it in a greased loaf pan, let it do the final rise, and baked it up.
BOOM!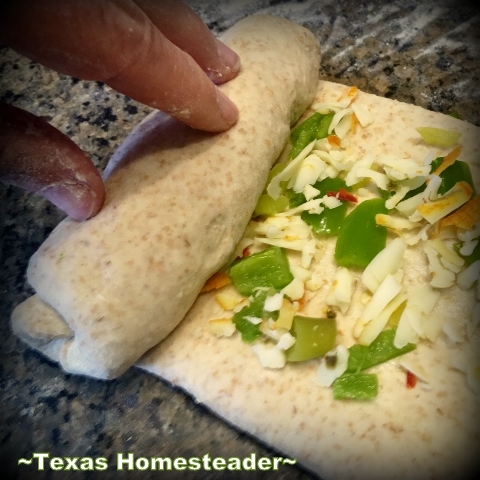 RancherMan raved, and that always makes me smile.
He's over the moon with this spicy bread! And of course you can make it as spicy or cheesy as you like.
Mildly spicy? Sure. Wildly spicy? You bet. Very cheesy? Go for it!
Traditional or Bread Machine Recipe
Why not change the flavor of your next plain ole sandwich bread. You can make the dough the old-fashioned bread-making way with this traditional Sandwich Bread Recipe or the shortcut version of this Bread Machine Honey/Oat Sandwich Bread Recipe. Either way, it's up to you.
Just sprinkle on the spicy deliciousness for a jalapeno cheese loaf when you roll the dough into a log. Then bake it up as usual for your own zesty jalapeno-cheese bread. (without the high specialty deli price)
I'm sure your family will love it as much as we do!
~TxH~
Other Favorite Breads


C'mon by & sit a spell! Come hang out at our Facebook Page . It's like sitting in a front porch rocker with a glass of cold iced tea. There are lots of good folks sharing! And you can also follow along on Pinterest, Instagram & Twitter
If you'd like to receive an email when a new blog post goes live,
subscribe to our Blog!
Save