by Texas Homesteader ~
I have to get my hands in the soil, y'all. I don't know what it is, just a part of me. I don't necessarily enjoy garden planning or bed preparations. I don't relish in the toils of actually planting. I certainly don't like hands-and-knees weeding. And standing out there watering on a hot Texas summer day? Ugh. But gardening is something that I must do every year nonetheless. It's not an option. It's just embedded deep into my soul.
There's something special about growing your own food. You realize the toils that went into that tomato. And you can delight at the special taste of it because it was picked at the peak of freshness & served with supper 10 minutes later, #amiright? I've been preparing the garden for weeks. And I've planted the indoor greenhouse with my heirloom seeds and now, now at last! It's time to plant!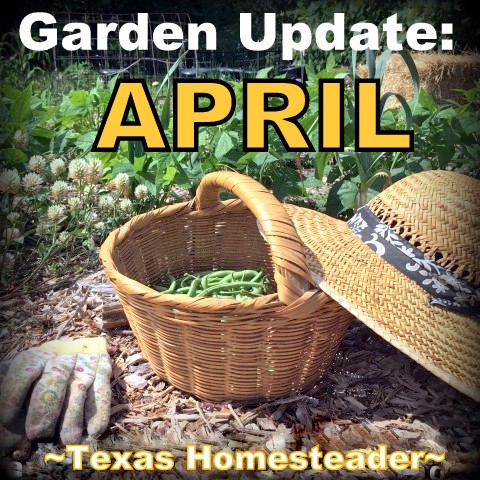 Spring is my favorite time of year. It's been cold and dreary for months, the skies have been gray and the grass dreary brown. The trees and shrubberies were just bare sticks and we've been stuck inside for way too long. But oh the glory of spring! Color bursts forth and the grass and trees turn vibrant green! This time of year my thoughts turn to my veggie garden.
The nemesis in my garden has always been Bermuda grass. It's almost impossible to corral and once it gets a hold in the garden it's neigh impossible to dig out. The rhizomes purposely break apart in the sun-baked soil, assuring they will live another day to cause you grief again & again. Last year was the first year EVER that I finally won the war against Bermuda grass. I actually got to spend more time watering & harvesting than weeding (and often losing the war with) Bermuda grass.
I accomplished this magical feat by making a wide walking perimeter around my entire garden planting area. I lined it with repurposed cattle feed sacks and topped those sacks with wood mulch that I scored for FREE. Amending my garden area in this way was pretty, it was functional and it worked! So RancherMan saved those feed sacks for me again. I laid 'em flat and used the wood mulch to cover the paper. My garden has 7 rows of planting areas and two squares.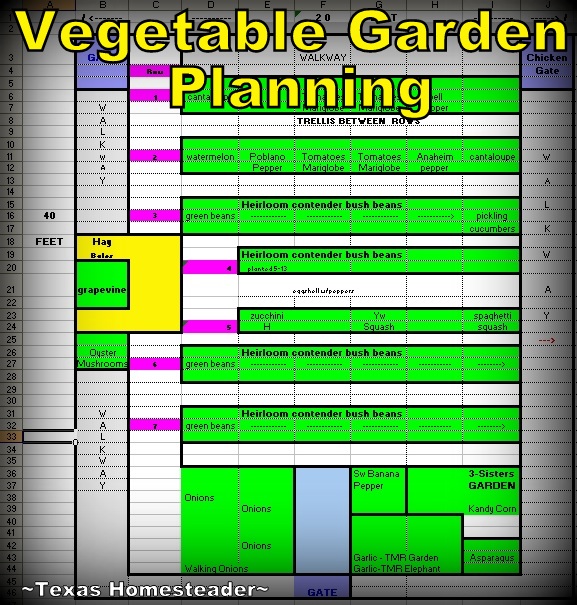 I keep track of it all on my Garden Spreadsheet This is just an Excel spreadsheet where I add a tab for each year's garden. When I get something planted I highlight the area in my yearly layout green and add information such as cultivar or planting date. Here's what I've planted so far:
Previously Planted:
Back in February I planted my onion sets & relocated some walking onions gifted to me a couple of years ago by a sweet friend. I also planted several different kinds of garlic: elephant garlic from an old abandoned homestead, garlic using cloves harvested from our garden last fall, and cloves from a head of garlic purchased from the produce section of the store that had started to sprout. RancherMan & I flavor lots of our food with onions & garlic so this section of the garden will hopefully keep us supplied.
Then last month RancherMan & I planted Wine Cap Mushrooms from inoculated grain seeds. Growing mushrooms is something we've never done before so I'm pretty excited about that. It takes a few weeks to begin to see them growing so I don't yet have photos to show. I'll be sure to share them in our May garden update so be watching!
But now it's spring, time to start planting the garden in earnest. I've earmarked the first three rows for green beans. I want to plant each row two weeks apart, so I'd planted heirloom green beans mid February . The next row was planted a week ago with regular ole Contenders because I have a pkg of seed I needed to use. Contender bush beans are my favorite.
Time To Plant The April Garden!
In a week or so I'll plant the third row with another heirloom variety of green beans. Then I'll prepare to start over by ripping up the first row that should be depleted by now and starting over with the succession planting. Green beans are RancherMan's & my favorite garden veggie.
I've also planted a mammoth sunflower at the end of each row next to the chicken run fence. These will serve many purposes – Sunflowers are my favorite flower so some of my reasoning is purely selfish. Plus my mom always delights at how beautiful they look in the garden when she comes to visit so I plant them for her too. And since sunflowers grow tall and are on the west side of the chicken run, they'll offer them a little shade in the heat of summer. And of course you can't forget as new beekeepers I'm helping provide a little enticement to bring those little buzzers to my garden area too! The sunflower seeds will be fed to the birds & chickens, the largest seeds saved for next year's planting.
I also planted something called Kandy Korn. You see, last year a sweet friend suddenly lost her father, an avid gardener. Even in her grief, she thoughtfully gave all his seeds to me. I called her and asked what her favorite vegetable was & she said Kandy Korn. It's my hope that I can harvest many ears and present her the gift of her papa's harvest this year.
3 Sisters Garden
The Kandy Korn is part of my 3 sisters garden – corn/beans/squash. The Kandy Korn will grow tall and provide a trellis for my pole beans. The beans will provide nitrogen for the heavy-need corn. And my heirloom pumpkin vine (in place of squash) will shade & cool the soil & preserve the moisture for all three plants. The 3 Sisters Garden means all three plants depend upon as well as help each other. So my corn is planted & the heirloom pumpkin is planted too. I'll pick up some pole beans and then I'll be all done with that.
Surprise!
And I have a tradition in my garden when I spy volunteer plants that come up from either compost seed or just seeds that pop up from last year's garden. I'll take those volunteer plants and relocate them to their own section of the garden. So when I found a volunteer tomato plant popping up, I relocated it. I don't yet know what kind of tomato it is – that's part of the fun!
I also see some plants that look like they're perhaps pumpkin, squash or cantaloupe. It's fun for me to poll our Facebook followers to see if they can guess what's growing too. Depending upon what I think they might be, I could leave them in this location. I've planted this square with peanuts and a vining plant could provide a living mulch to keep the soil soft. A softer soil should allow more unrestricted peanut production, dontcha think? Hummm…
And of course the grapevine is starting to leaf out. Last year it provided quite a harvest of grapes – I canned them all into grape juice since these Concords pop an intense flavor but are not seedless.
My asparagus is producing well! We've enjoyed several meals that included fresh asparagus. And my herbs are growing well too. The oregano is growing, the basil is doing nicely and the sage is even blooming. Lovely!
And the potatoes that I planted in the trough are really taking off. I'm topping their greenery with more hay as it starts peeking through. This should help make a great harvest. I look forward to harvesting those delightful red potatoes this year!
Not Finished Planting Yet!
There are still some things that I need to plant – my jalapenos, bells and heirloom tomatoes. They're not quite ready to leave the indoor greenhouse. So now the greenhouse has been placed on the front porch & the seedlings are in the process of hardening off. The greenhouse gets morning sun and some breeze to prepare my young seedlings for garden life. I'll be dropping them – cardboard planter and all – into the soil soon.
~TxH~
Save