by Texas Homesteader ~
*contains affiliate link
Recently a sweet friend gifted us some delightful cheeses. Oh there was smoked cheddar, jalapeno, gouda and MORE!
I used lots of that delicious cheese in my cooking. I'll admit my Enchilada Casserole was AMAZING with shredded jalapeno muenster. And it was a hit when I used it in my jalapeno/cheese sandwich bread too!
But RancherMan & I also wanted to enjoy slices of that amazing cheese on crackers.
Y'all know I like to make these things myself as opposed to going out to buy it. I found a recipe online for rosemary crackers made with olive oil & garlic. YUM! I have that amazing rosemary bush right outside my door and I've ALWAYS got olive oil. Let's give 'er a go!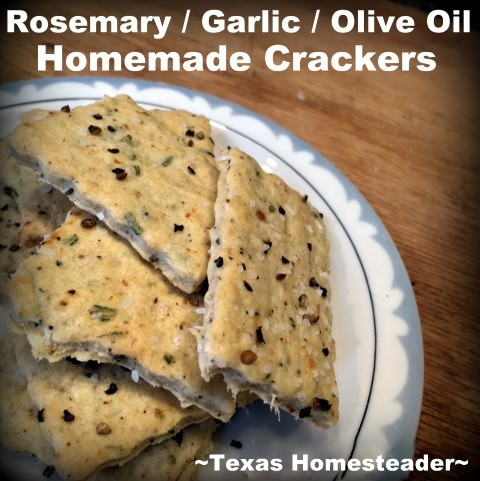 (Note: Some links in this post are for further information from earlier posts I've written. But links preceded with * are affiliate links. If you click them and buy something (almost anything, not just the item noted) I could receive a tiny commission. But the price you pay will NOT change. It's an easy way to support this blog without anything coming out of your pocket. So click often! Thank you!)
As I was looking around online for a cracker recipe I found this one at Wishful Chef. It looked easy enough. And as I mention before, I love rosemary and have all I could possibly harvest just outside my door.
So I sat out to make them.
Mixing Up My Rosemary Crackers
I don't typically like bread products made only with 100% whole wheat. They just seem a little too dry for our tastes. So I mixed about half cup whole wheat with a half cup of all purpose flour. That 50/50 mixture worked pretty well for me.
Then I stirred in a teaspoon of baking powder & 1/2 teaspoon of each salt & pepper. I added 2 teaspoons of garlic powder and mixed it all together.
Finally I mixed in 1/4 cup olive oil and my dough started coming together. It was a pretty heavy dough.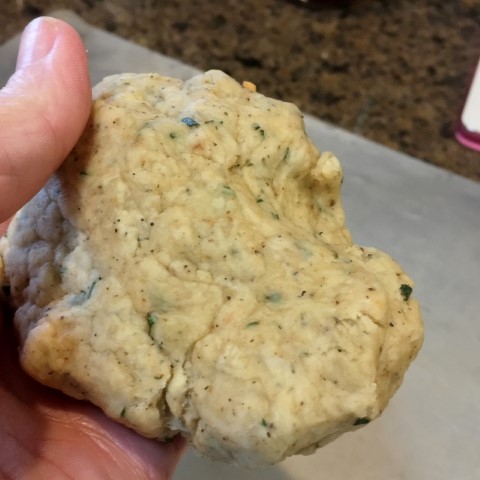 Roll The Dough Thin
When I got everything mixed together I plopped it onto my baking sheet & squished the dough down into a patty as flat as I could get it.
In my opinion there was no need to oil the baking sheet first since there was oil in my crackers? Flawed theory? Oversimplification? Perhaps. (But it worked great for me!)
I wanted to use my rolling pin to make the dough thin. The thinner you get the dough, the more crisp the cracker!
But the dough was sticking to my rolling pin. Hummm…
What if I got something to put between the rolling pin & dough?
So I took an empty bread bag & cut it open to one large sheet. I placed that over the dough and it made rolling that cracker dough so much easier!
I rolled the dough out thinly & removed the bread bag. Oh yeah! Finally I sprinkled the top of the dough with some coarse salt and cracked pepper for a little extra sumpin'.
Then I took my *crinkle cutter and cut the crackers into small squares. I love the edges my crinkle cutter made for my crackers!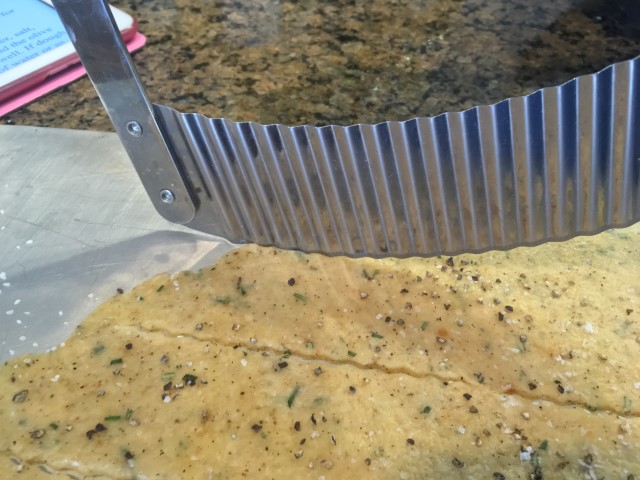 Although the recipe called for using a fork to punch a few holes in each cracker, I didn't bother with that with mine.
Baking These Fragrant Rosemary Crackers
Now all that's left to do is to pop the baking sheet into my preheated oven and bake for 12-15 minutes.
The crackers pulled away from each other as they baked so it was super easy to let them cool a couple of minutes and then use a spatula to put them onto a cooling rack.
These crackers didn't have a crispy saltine cracker texture, it was more like the crispness of graham crackers. My guess is if you roll the dough a little thinner they will be crispier.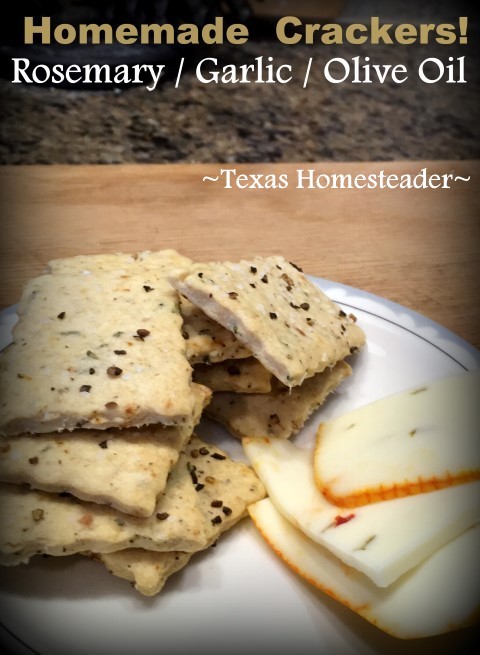 But the taste of my rosemary crackers? Oh yeah! They were absolutely delicious! And they were a great cracker to enjoy with our fancy schmancy cheese.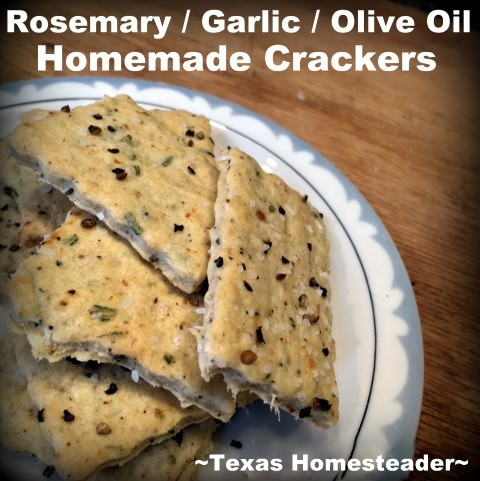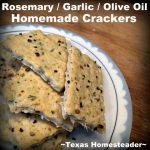 Rosemary Crackers with Garlic & Olive Oil
These homemade crackers were made of simple ingredients like olive oil & minced fresh rosemary. No need to buy crackers when they're this easy (and delicious!) to make yourself. #TexasHomesteader
Ingredients
Ingredients:
1

cup

flour

I mix 50/50 whole wheat & all purpose flour

1

teaspoon

baking powder

1/2

teaspoon

salt

1/2

teaspoon

pepper

1

teaspoon

fresh rosemary

minced

2

teaspoons

garlic powder

1/4

cup

olive oil

4

tablespoons

water

coarse sea salt & cracked pepper for sprinkling
Instructions
Directions:
Preheat the oven to 375°F.

In a bowl, mix all dry ingredients. Add the olive oil and water to dry ingredients, stirring until fully incorporated. If dough is still too dry, add more water 1 tablespoon at a time just until dough is workable.

Place dough on baking sheet & roll the dough with a rolling pin until thin. Sprinkle top of dough with coarse salt & cracked pepper, pressing gently into surface. Cut dough into desired cracker shape.

Bake crackers for about 12-15 minutes, or until golden and crisp. Let the crackers cool before removing from the pan. Place lightly-cooled crackers on bakers rack to continue cooling.
~TxH~
Snacks We Love
~ ~ ~ ~ ~ ~ ~ ~ ~ ~ ~ ~ ~ ~ ~ ~
Other Favorite Breads
~ ~ ~ ~ ~ ~ ~ ~ ~ ~ ~ ~ ~ ~ ~ ~


C'mon by & sit a spell! Come hang out at our Facebook Page. It's like sitting in a front porch rocker with a glass of cold iced tea – lots of good folks sharing! You can also follow along on Pinterest, Twitter or Instagram.
If you'd like to receive an email each time a new blog post goes live it's EASY to
Subscribe to our blog!

*Amazon affiliate link
Save
Save
Save