by Texas Homesteader ~

Rice Krispie treats are well-known for their light crisp yet sweet marshmallowy chew. But what if you coated them with chocolate?
Oh now the chocolate really takes these treats a step further. Check it out!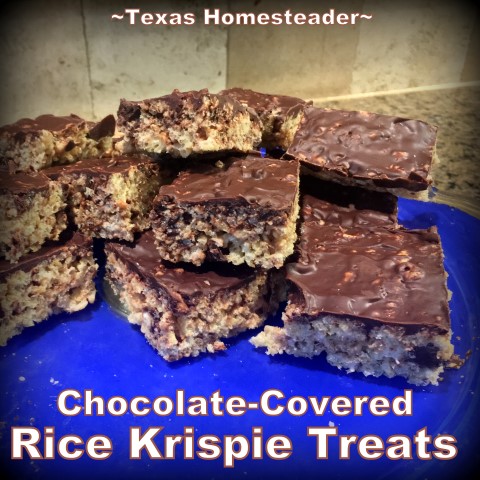 RancherMan was in the mood for something sweet. But I wanted to use only ingredients that I already had in the pantry.
Hummm, let's see. There was an older bag of marshmallows (when did we even buy those??) and a partial box of Rice Krispies cereal. Maybe I can make some Rice Krispie treats.
Then I spied a bag of chocolate chips…
Oh my goodness – somebody please save me from myself! These are absolutely amazing. I found the recipe for plain Rice Krispie treats on their site. (you can use any crisp rice cereal though).
But of course I added chocolate because chocolate makes everything better!
Melt Butter & Marshmallows
In a pan I melted 3 Tablespoons of butter first. A note here, I don't believe margarine will produce the same results, although probably still edible. But if you want to WOW them, I'd suggest real butter here!
When the butter was melted I added about 4 cups of mini marshmallows. I suppose you could use standard-sized marshmallows, just use a 10-oz bag. But Id' think they would take longer to melt. But #UseWhatchaGot!
Then I stirred the melted butter & marshmallows on medium heat until everything was all melty.
Add Marshmallow Mixture To Cereal
I'd already measured my crisped rice cereal and had it waiting in a large metal bowl. So I dumped the melted marshmallow mixture in & quickly folded it all until the cereal was coated.
I tossed in a handful of chocolate chips too. But the chocolate semi-melted with the hot marshmallow mixture. So I may or may not skip stirring chocolate chips into the mixture in the future.
Then I tossed the whole shebangie into a 9×13 pan and used some waxed paper to press it all firmly into place.
NOTE: Keep in mind that after the marshmallow mixture is added, the steps that follow need to be done pretty quickly. The melted marshmallow is easy to work with when it's hot. But as it cools things get thicker and harder to work with.
Adding The Chocolate
Now here's where things get interesting. I wanted to top the treats with melted chocolate chips. So I sprinkled the chocolate chips on top, but the treats were no longer hot enough to melt the chips as well as I liked.
So I turned on the oven just for a minute or so to get it hot. Then I turned the oven off and placed the Rice Krispie pan into a warm (yet turned off) oven. That worked great.
When the chips were shiny I brought the pan back out. Using a spatula I spread the melted chocolate over the top of the Rice Krispie treats.
I placed the pan into the refrigerator for about 15 minutes. Just long enough to set the chocolate.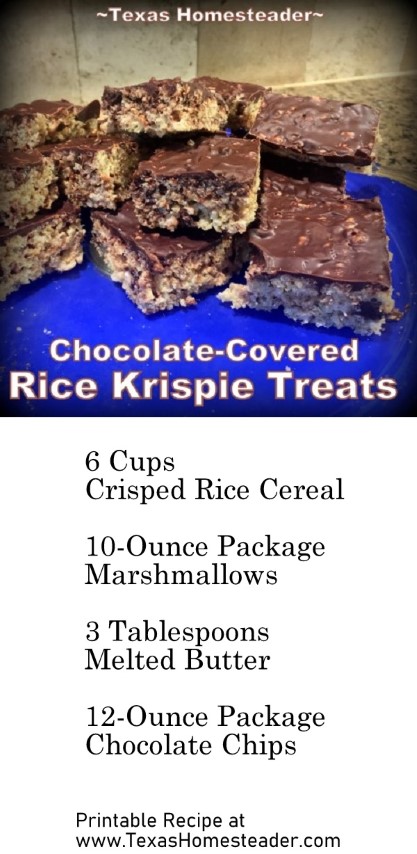 Then I brought it back out of the fridge and prepared to cut it into individual treats. RancherMan was buzzing in the background waiting for that first taste!
Oh. My. Gosh!
It was delicious and RancherMan simply raved. Now folks, it really doesn't get any easier than this! As I said, I found the original recipe on the Rice Krispie Website. But the recipe below is as I made it.
Of course if you don't want the chocolate on top you can omit that ingredient. But to be honest I can't wrap my head around NOT wanting the chocolate on top! LOL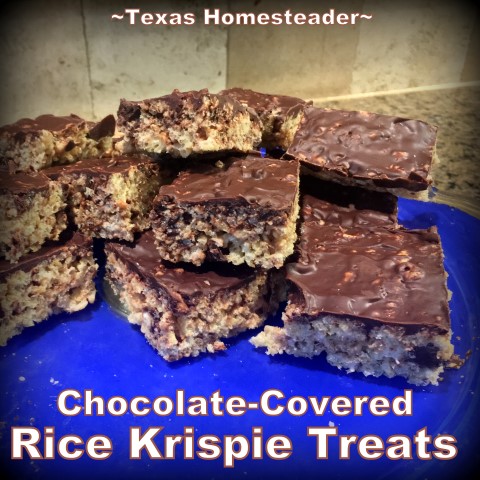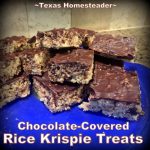 Chocolate-Coated Rice Krispie Treats
Rice Krispies get a facelift! I added melted chocolate chips to the top to take this sweet treat to the next level! #TexasHomesteader
Refrigerator To Set Chocolate
15
minutes
Ingredients
Ingredients:
6

cups

crisped rice cereal

1

10-oz

package Mini Marshmallows

(about 4 cups)

3

tablespoons

butter, melted

(Note: not margarine)

1

12-oz pkg

Semi-Sweet Chocolate Morsels
Instructions
Instructions:
In a saucepan melt butter slowly over low heat. Add marshmallows and stir until completely melted. (hint - heat slowly & JUST until melted - don't overheat!) Remove pan from heat.

Measure cereal into large bowl. Add marshmallow mixture & stir until well coated.

Transfer cereal mixture to a 13"x9" pan. Use wax paper to firmly press mixture evenly.

Sprinkle chocolate chips evenly over top of pressed cereal. Place pan of Rice Krispie Treats in a warmed oven (turned on for 1 minute only to warm & then turn off before adding the pan). Allow chocolate to melt & become soft, about 5 minutes.

When chocolate chips are shiny, remove from oven and spread chocolate evenly over surface of Rice Krispie Treats.

Cool in refrigerator for 30 minutes to set the chocolate. Then cut into individual treats.

Recipe Notes
MICROWAVE DIRECTIONS: In microwave-safe bowl heat butter and marshmallows on HIGH for 1 minute. Stir & repeat, heating for 1 minute & then stirring until marshmallows are melted and mixture is smooth. (Microwave cooking times may vary.) Then proceed with the recipe.
~TxH~
Other Easy Desserts
Dessert Toppings


C'mon by & sit a spell! Come hang out at our Facebook Page . It's like sitting in a front porch rocker with a glass of cold iced tea. There are lots of good folks sharing! And you can also follow along on Pinterest, Twitter or Instagram
If you'd like to receive an email when a new blog post goes live,
subscribe to our Blog!