by Texas Homesteader ~
We're all trying to save a little cold hard cash these days. But sometimes it feels overwhelming just knowing where to start. And sometimes it feels if we're not doing something grand to save wads of cash, we're not really making an impact.
But I'm here to tell you there are small things you can do every day to save money. And they're not big bold moves. The key is to make easy, effortless and yet effective decisions. A mind-shift change is all that's needed. You need to look at your daily activity with a tilt on "I wonder if I could…" You'll see what I mean. Come see 5 frugal things we did this week to easily save money.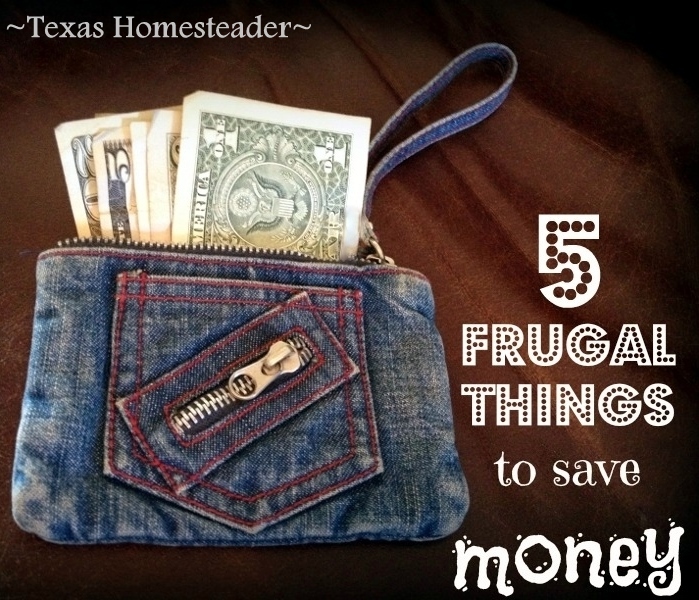 1. The hummingbirds are back! Now back in 'the day' that meant I'd run to the discount store & buy packets of dried red powder to fill the feeder. But oh how that's not needed! Now I whip up my own homemade Hummingbird Food in minutes and for literally pennies.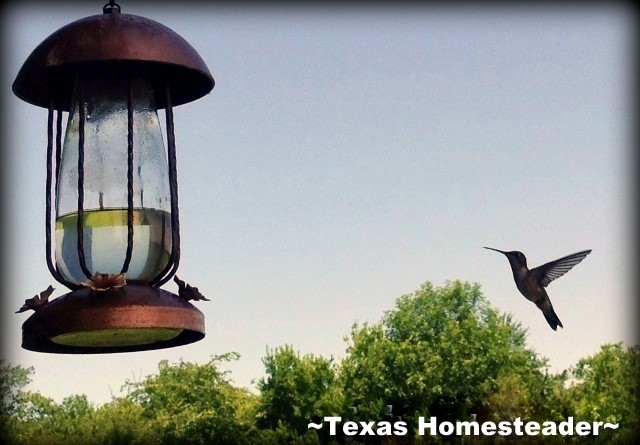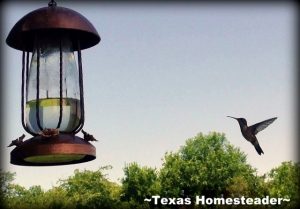 2. …And I don't want to forget our other feathered friends. We have lots of birds that visit our back yard. They bring lots of enjoyment to RancherMan & me. But that doesn't mean I plunk down too much money on that plastic bag of bird seed, oh no! Not since I discovered that chicken scratch (for us sold in compostable paper bags, not plastic) costs only a fraction the price!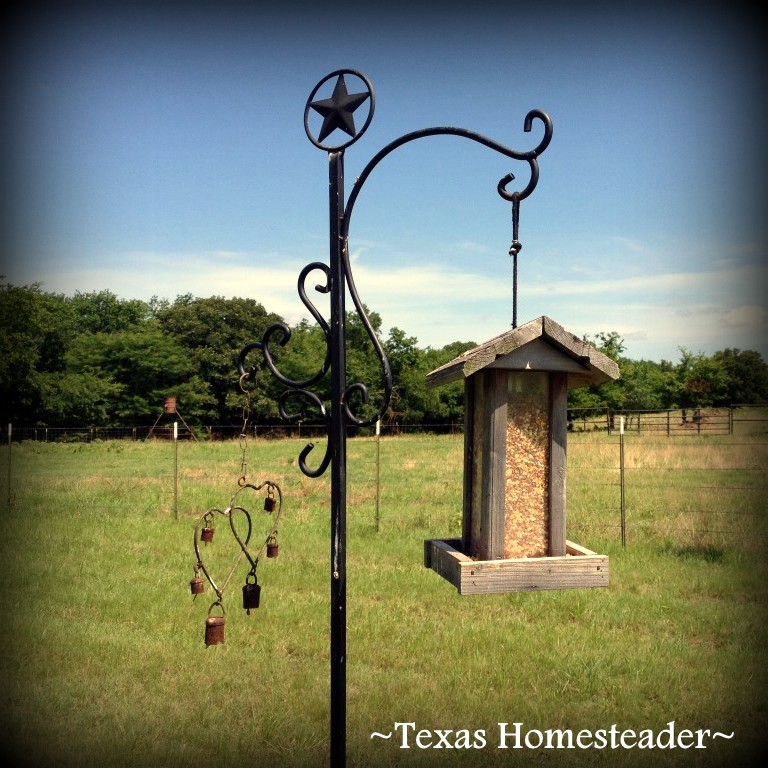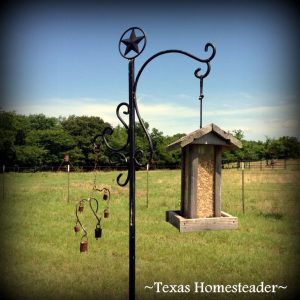 And the birds love it too. We have a wide variety of birds that visit our bird feeders. Now it doesn't cost near as much for us to keep that feeder filled!
Permaculture Garden
3. I'm working on a permaculture garden around a tree in my backyard. I'm hoping to add visual interest, improve the soil & the health of the tree and provide an island of pollinator plants too. I started with a thick layer of cardboard on the ground. The cardboard was destined for a landfill so I asked for it. I laid down the cardboard in a thick layer and covered it with Free Mulch I got from our county.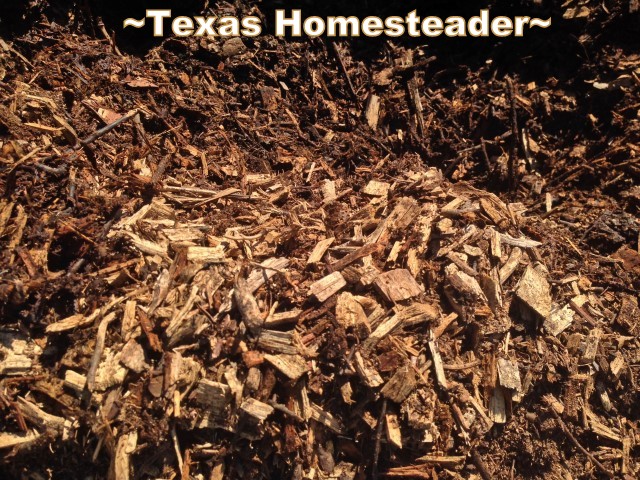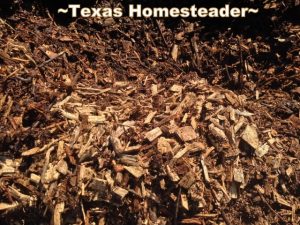 I'm trying to heed the advice and plant slowly. So the only things I've planted so far are some early-spring flowering bulbs closest to the tree trunk and a small section of elephant garlic. The underground bulbs will help amend the soil and the flower stalk of the garlic will attract pollinators. I'll also be planting a variety of herbs and flowers in the future. I'll be sure to share when it's done!
Cheap Weed Block
4. Last summer we installed an edged border around our raised planted beds at our back porch. This border was specially made to keep Bermuda grass from encroaching on the raised beds. (Can I get a hallelujah??!!)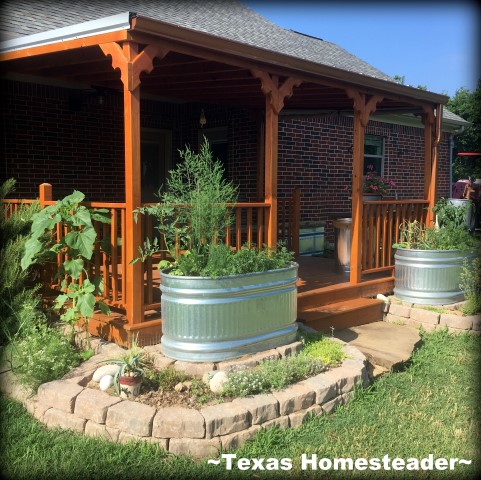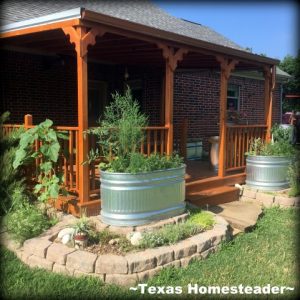 But installing that one side was done during the drought & difficult to complete. This week we finally completed the other side. Much easier! And after the border was installed I used heavy paper feed sacks to thickly cover the ground.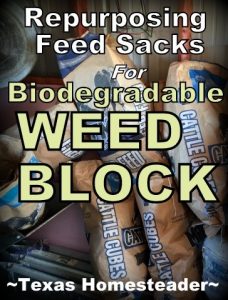 These feed sacks are free material for me to use to help keep anything from growing in this area. Then I simply top the sacks with decorative gravel and voila! Just lovely and less back-breaking weeding chores.
5. As we typically do each year, RancherMan & I took 9 huge 225-lb-sized lidded tubs and filled them with FREE wood mulch from our county. Paper feed sacks are laid down in our garden walkways and topped with this wood mulch. No weed maintenance for walkways for the entire season and it looks great too. For FREE!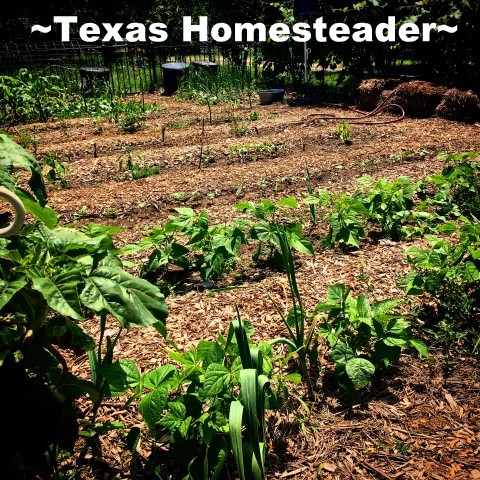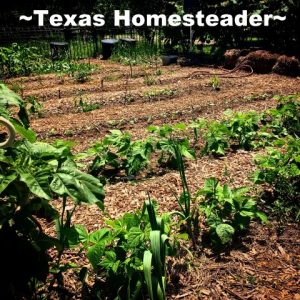 Oh, and in other garden news… When my zucchini seed didn't sprout I knew I'd need to replace that spot in the garden. A zucchini plant at the store was $1.99. That's not expensive, but a pack of seeds was only $1.49 and it contains enough seed for me to have zucchini plants for about 5-6 years! (I store my seed in the refrigerator to make them last longer) There are lots of ways to save in the garden.
Of course these 5 frugal things don't really include the things I typically do daily that saves some cash. Things such as cooking homemade & healthy meals from scratch, making a 1/2 gallon of homemade yogurt or making do with what we have to fill our needs.
And there are bonus points for those things since each of these cost-saving measures save money again & again. Next time I fill the humming bird or wild-bird feeder? Money saved again. Next time I use Biodegradable weed block? Money saved again. Next time I make my homemade yogurt? Yep, you guessed it!
Hopefully this short list gets your creative juices flowing. We can learn from each other too! What are some easy frugal things you've worked into your days to easily save some cold, hard cash? Bonus points if it's a repeated savings.
~TxH~
Other Frugal Tips
…and many MORE!


C'mon by & sit a spell!  Come hang out at our Facebook Page. It's like sitting in a front porch rocker with a glass of cold iced tea. Lots of good folks sharing!  You can also follow along on Pinterest, Twitter or Instagram.
If you'd like to receive an email each time a new blog post goes live it's EASY to subscribe to our blog