by Texas Homesteader ~
I recently invited my folks to dinner at our house. I made cute little individual apple pies baked in canning jars for dessert for them. But I had 1/2 jar of apple pie filling left and I needed to make sure it got used. Ya know, when that apple pie filling jar starts with the picking of the actual apples, you don't want to waste any of it!
I decided to use it up making a simple dessert for RancherMan & me. I'd heat up that apple pie filling, put it on a bed of graham crackers and top it with graham cracker crumbs & whipped cream. Kinda like a quick No-Bake Apple Pie Dessert. But I didn't have any graham crackers. So I sat out to find (and of course not follow, lol) a recipe using standard pantry ingredients.
Although in past years my time was spent chasing a corporate career and raising children, I'm afforded more time now since we're empty nesters living & working right here at the ranch. Life it still super-duper busy #dontgetmewrong.
But being self employed, our budget is tight. Not being corporately employed, we now have more time than money. So I often opt for making things from scratch that I used to buy. These graham crackers only use standard pantry ingredients – no special purchases here!

Helpful Hints
I think the key is in rolling them thin enough. Too thick & they'll be like thin graham cookies without any crunch. But too thin & they'll be like thin crispy crackers.
I used a piece of parchment paper laid on my baking pan and a bread bag cut open for an easier non-stick way to roll out the soft sticky dough. The best texture was accomplished when I used 1/4 of the chilled dough at a time to roll into about 5″x15″ rectangles for baking.
Homemade Graham Crackers For The WIN!
But it was successful & my dessert was delicious!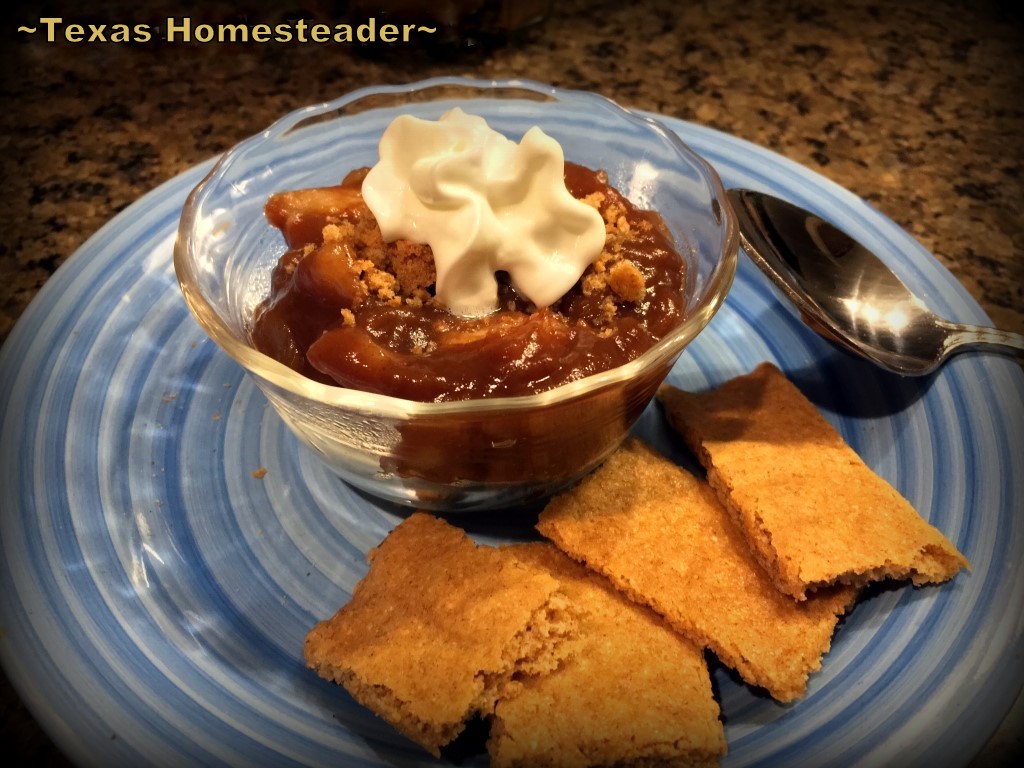 Plus we have lots of homemade graham crackers left for snacking. Yep, RancherMan has a sweet tooth so this is a big plus. And there's no trash like there would be if I had bought the graham crackers with the box and all the little packages which is good for my environmental bend.
Plus the cost is cheap, cheap, cheap! Oh, and who doesn't love the taste of homemade?? All of this is reason these were a success.
What I Did Differently
I don't use margarine & was out of butter so I subbed butter-flavored shortening that I always have available in the pantry. Although the shortening worked fine I'll probably use butter next time. Plus I really wanted it to be more honey flavored so I replaced the brown sugar with more honey. Perfect! Oh and I added cinnamon & sugar into the dough, although it was such a small portion there wasn't much cinnamon flavor in the baked crackers. But RancherMan said it was perfect & not to change a thing.
I'll share my recipe both as it was found on allrecipes.com as well as how I actually changed the recipe to suite our tastes & pantry supplies. Here's what I did: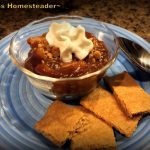 Honey Graham Crackers
Ingredients
Ingredients
2

cups

whole wheat flour

1

cup

all-purpose flour

1

teaspoon

baking powder

1/2

teaspoon

baking soda

1/2

cup

margarine

(I used butter-flavored Crisco instead)

1/3

cup

honey

1/2

cup

packed brown sugar

(I used more honey instead)

1

teaspoon

vanilla extract

1/2

cup

milk
I added:
1

teaspoon

cinnamon

1

Tablespoon

granulated sugar
Instructions
Directions
Sift together the whole wheat flour, all-purpose flour, baking powder and baking soda, cinnamon & sugar; set aside.

In a medium bowl, cream together the margarine (or shortening) brown sugar if using and honey until combined. Add milk & vanilla & mix to combine. Stir in the sifted ingredients & mix to combine. Cover dough and refrigerate overnight. (or toss in freezer for an hour)

Preheat the oven to 350 degrees F Divide the chilled dough into quarters. On a cook tray lined with parchment paper, roll the dough out one quarter at a time into a 5x15 inch rectangle. Divide into individual crackers using a knife or pizza cutter. Prick each cracker with a fork to allow steam to escape. For a sweeter cracker, sprinkle with additional cinnamon sugar mixture before baking.

Bake for 13 to 15 minutes in the preheated oven. Remove from baking sheets to cool on wire racks.

NOTE: These graham crackers are very lightly sweet. If you like them sweeter you can add sweetness by sprinkling additional cinnamon/sugar onto tops of crackers before baking.
~TxH~
Snacks We Love
Crackers
Dips
Sweet Dessert Breads
Cake
Cookies
Ice Cream
Other Snacks
…And MANY MORE!
~ ~ ~ ~ ~ ~ ~ ~ ~ ~ ~ ~ ~ ~ ~ ~


C'mon by & sit a spell! Come hang out at our Facebook Page. It's like sitting in a front porch rocker with a glass of cold iced tea – lots of good folks sharing! You can also follow along on Pinterest, Twitter or Instagram.
If you'd like to receive an email each time a new blog post goes live it's EASY to
Subscribe to our blog!