by Texas Homesteader ~
Did you know you can quickly make your own pita-style chips using only flour tortillas, olive oil & a few seasonings? It's true!
I decided to make my own pita-type chips. A short 10 minute bake time and you can have your own inexpensive pita chips too.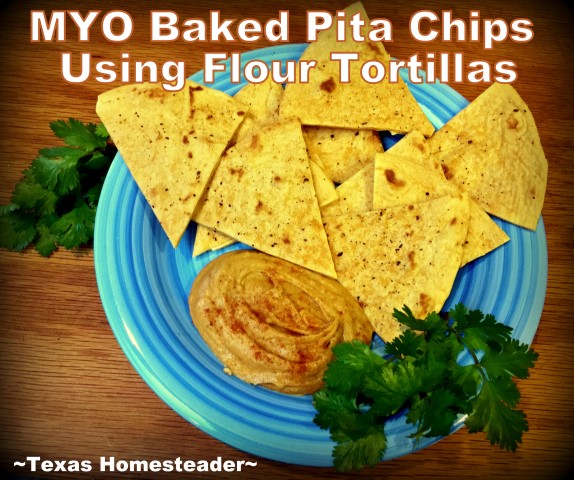 We were invited to a family gathering. In my family invitations to gather for a shared meal happen often.
Since it's so common & also so that the burden doesn't fall on the hosting family, each family in attendance brings something to contribute to the meal. There's always lots of good food at our family gatherings!
This time I wanted to bring something snacky. So I offered to bring some homemade hummus. (If you haven't seen my Stupid-Easy Hummus Recipe, you should totally check it out!)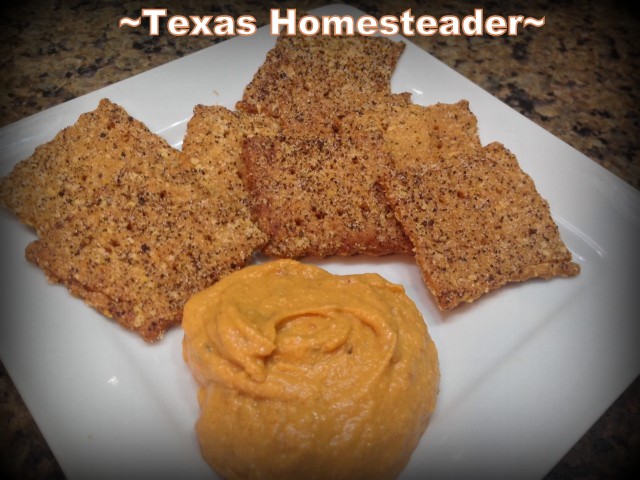 Of course I'll need something for dipping. But I hate how expensive that little bag of pita chips is!
So I always bake up my own 'pita chips' using just flour tortillas, a little olive oil & some seasonings. My dad is often amazed and says: "Really? You MADE these??!!" HA! Thanks dad.
Using Flour Tortillas
To make pita chips to go with my homemade hummus I'm going to just use cut-up tortillas baked crispy to make a dippable chip.
Why not? It's the perfect chunky thickness for a dipping chip, and we aaaaalways have tortillas in the house!
Since there were only going to be 4 of us gathering together on this occasion I figured I'd only need about 6 flour tortillas to make my chips. How inexpensive is this??!!
Preparing The Tortillas
So into a small bowl I poured about 2 tablespoons of olive oil. I used hatch chili flavored oil since I prefer slightly spicy flavors & these chips are for a spicy hummus. But you could use regular olive oil or even vegetable oil I suppose.
Into my olive oil I stirred about 1/2 teaspoon each of salt and pepper. Then I used my pastry brush to mix it all up.
Finally I brought out a tortilla and brushed a little seasoned oil on the top surface, adding another tortilla on top of it and repeating until the tops of all of the tortillas had been oiled and stacked.
By stacking the tortillas with oiled tops, the bottoms of the tortillas are automatically oiled as well. (taps on noggin) Not just a hat-rack my friends… HA!
I used a large knife to cut the stack of tortillas into 6 wedges. You could cut them into 8 wedges if you wanted smaller but more chips.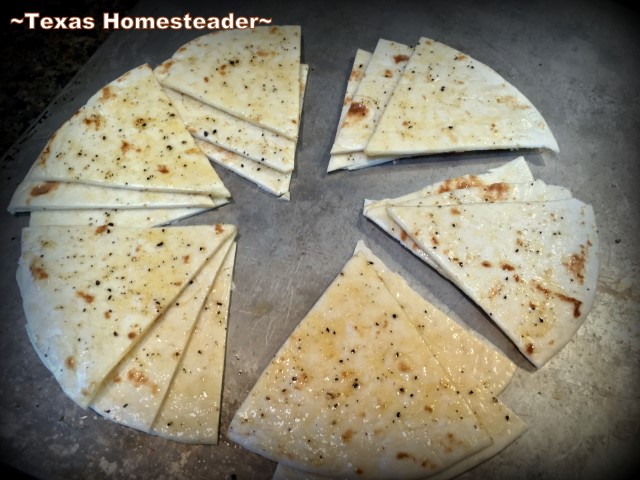 Or sometimes I cut them into 1″ squares instead because it makes a more bite-sized chip. (and many more of them too.)
Whatever you like works here though.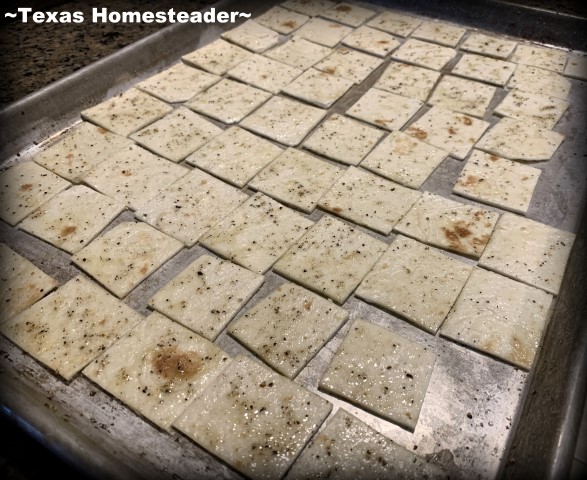 Baking My Chips
Then I placed the oiled tortillas in a single layer on a cookie sheet. Into a 325-degree Fahrenheit oven they went for about 10 minutes.
When my 10 minutes were up I turned the oven off but allowed the chips to stay in the oven as I prepared my hummus.
I figured that time in a turned-off yet still-hot oven would just let my chips soak up residual heat and become even crunchier.
RancherMan Gives Double Thumbs Up
When it was all done I brought the homemade 'pita chips' out and offered RancherMan a sample to see what he thought.
He loved the thick easy-to-dip chip. And he said they were seasoned perfectly since there was no overpowering flavor that would compete with a dip. Oh, and he said the crispiness was perfect too.
Actually, he said all of these things over & over again.
I think we have a winner, folks! So now I make my own baked 'pita' chips using only flour tortillas, olive oil and a quick 10-minute bake time.
Hey, quick & easy in the kitchen is my wheelhouse, y'all.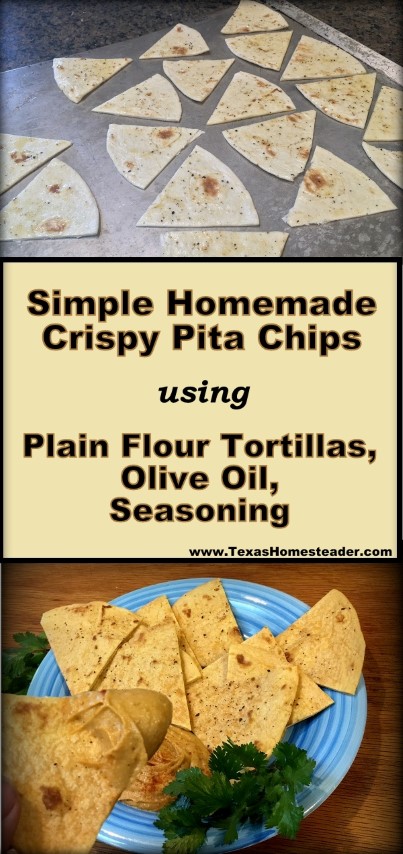 And there was no expensive bag of pita chips for us to purchase & no huge plastic chip bag to dispose of.
Plus you really don't get cheaper than 6 tortillas!
Now if you want a more flavorful chip you can add any number of powdered seasonings along with your salt & pepper.
Maybe chili powder & cumin for a Mexican-food theme. Or perhaps paprika for a splash of color with a mildly-spicy flavor boost.
Maybe even use a salt-free seasoning in place of the salt for those on a low-sodium diet.
The beauty of homemade is that you can customize it to your own tastes!
10-minute Baked Pita Chips
I use plain flour tortillas brushed with a little olive oil & a tiny amount of salt & pepper to make these crunchy 'pita chips' that are sturdy enough to hold up to dip. Change up the seasonings to whatever you like! #TexasHomesteader
Ingredients
6

Flour Tortillas

2

Tablespoons

Olive or vegetable oil

(I used spicy-flavored olive oil)

1/2

teaspoon

each, salt & pepper

(or to taste)
Instructions
Preheat oven to 325 degrees Fahrenheit


Mix seasoning and oil together in a small bowl


Brush a small amount of seasoned oil on the top surface of a tortilla, adding another tortilla on top and repeating until the tops of each of the tortillas have been oiled & stacked.

Using a large sharp knife, cut the stack of tortillas into 6 - 8 wedges, depending on how large you wish your finished chip to be.


Arrange the oiled & cut tortilla wedges in a single layer on a cookie sheet.

Bake for about 10 minutes, or until lightly brown & crispy

Recipe Notes
NOTE: I'd think you could use this procedure with fresh corn tortillas for baked corn tortilla chips too!
~TxH~
Snacks We Love
~ ~ ~ ~ ~ ~ ~ ~ ~ ~ ~ ~ ~ ~ ~ ~


C'mon by & sit a spell! Come hang out at our Facebook Page. It's like sitting in a front porch rocker with a glass of cold iced tea – lots of good folks sharing! You can also follow along on Pinterest, Twitter or Instagram.
If you'd like to receive an email each time a new blog post goes live it's EASY to
Subscribe to our blog!