by Texas Homesteader~
*contains affiliate link
Our youngest daughter stopped by the Homestead for a visit recently. As we have done on the last several of her visits, we decided to putter in the kitchen on this day. During her last visit we whipped up our own invention of Spicy Jalapeno PopperRolls so it's pretty typical for us to wing-it in the kitchen.
She told me she recently made some – as she phrased it: "Stupid-Easy Hummus". And it didn't call for tahini. Now I love me some hummus but hate the price gouged I mean… 'paid' in the store.
So in the past I've attempted to make it. But living out here in the boon-docks I have a hard time finding such fru-fru ingredients like tahini.
She said she tweaked the ingredients list several times & felt she really had a winner. So I told her we should whip up a batch so I could check it out.
She was absolutely right, it really was stupid easy! Oh man, if you like hummus you are NOT gonna want to miss out on this y'all. Check it out!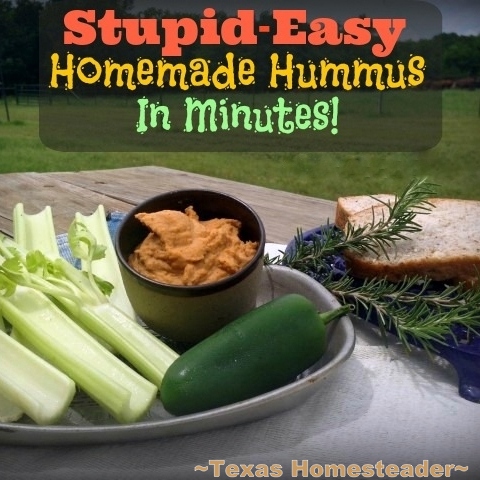 Photo Credit: Ashley
(Note: Some links in this post are for further information from earlier posts I've written. But links preceded with * are affiliate links. If you click them and buy something (almost anything, not just the item noted) I could receive a tiny commission. But the price you pay will NOT change. It's an easy way to support this blog without anything coming out of your pocket. So click often! Thank you!)
Gathering Homemade Hummus Ingredients
We used a can of chickpeas. (also known as garbanzo beans) But for future sessions I'll probably cook dry beans for the recipe and just use 1 1/2 cups of them.
Then she told me all we needed to add to the beans was garlic, coconut or olive oil, lemon juice & seasonings. SCORE!
So we drained the garbanzo beans reserving the juice and rinsed the beans, minced a couple of cloves of garlic and measured out the coconut oil and lemon juice.
Finally we measured out the cumin, paprika, chili powder, onion powder and some dehydrated jalapeno powder (since I didn't have red pepper flakes) as well as salt & pepper.
Now here's the stupid-easy part. Pay attention now and feel free to take notes if necessary so you can remember all the steps:
We dumped the whole shebangie in my * Ninja Blender and pulsed until it was smooth. (oh the toil, oh the trouble!)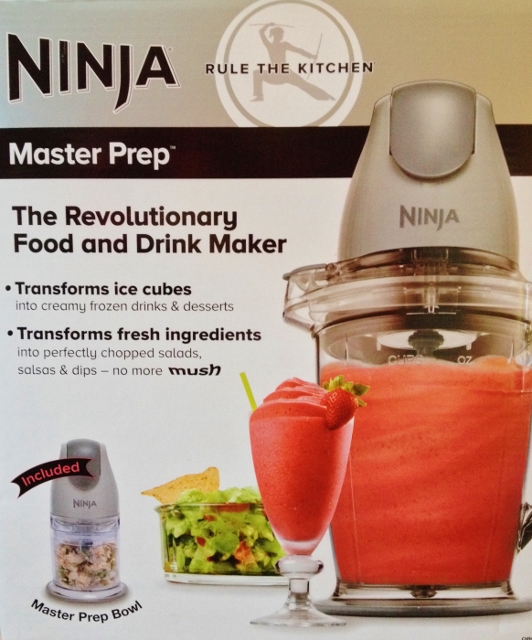 It was delicious! I think the dehydrated jalapeno gave it just the right tingle on the tongue without being too hot, and the cumin taste was delightful.
Our Homemade Hummus
We enjoyed that spicy hummus spread on celery sticks but she said it was also delicious as a healthy sandwich spread. Ummm, sounds amazing…
We blew through quite a bit of that hummus right then, right there. Oh yeah it was a full-blown feeding frenzy complete with appropriate "ummmmm's" and "aaaah's".
But believe it or not there was still some left over. Luckily my Ninja Blender has a snap top so I'm able store the leftovers in the fridge without dirtying up yet another dish.
That's right, we dirtied up every dish in the kitchen at least TWICE as we always do when we cook together! LOL.
I'm not sure the leftovers will spend much time in that refrigerator though – it's delicious!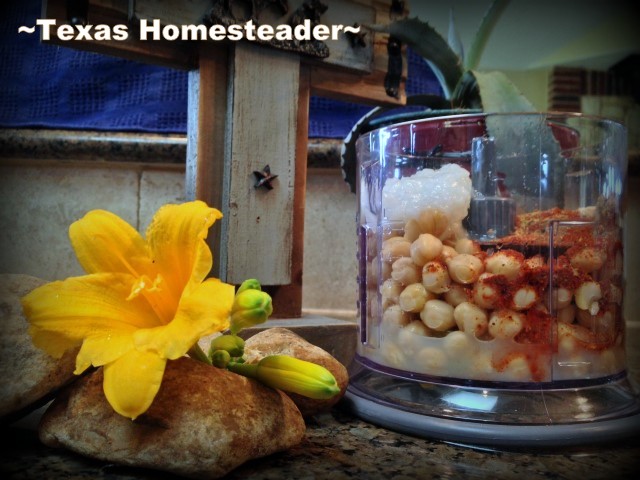 Something To Keep In Mind
My daughter warned that if using coconut oil, once the hummus went into the refrigerator it often gets a little too firm for her liking. So she hinted that I should save about 3 tablespoons of that reserved drained bean juice to stir into the hummus if that happens.
Of course you can just add water instead. But I like the idea of having more flavorful juice to thin the hummus. So I took her advice.
So if you are throwing a party anytime soon and looking for an easy yet inexpensive snack item you might want to have these super-simple ingredients handy to make your very own Stupid-Easy Hummus.
Or heck just mix some up for yourself, you deserve a little pampering too! Of course I'll share the recipe, I'm just helpful that way sometimes… 😉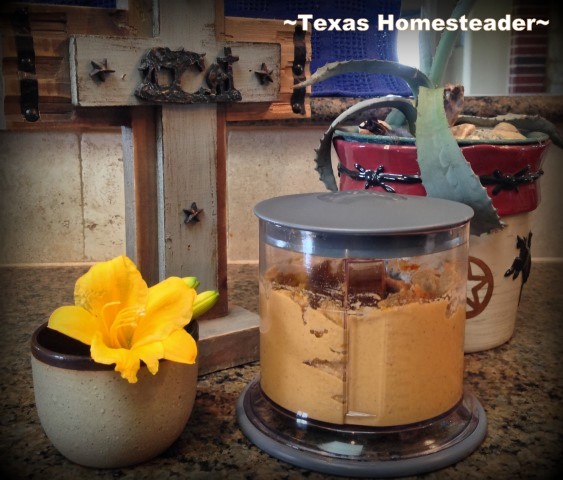 Stupid-Easy Homemade Hummus Recipe
Our daughter told me this hummus recipe was 'Stupid-Easy' and boy was she right. Check it out, y'all. #TexasHomesteader

Ingredients
Ingredients:
1 15-

oz

can chickpeas

drained & rinsed - reserve drained juice (or 1.5 cups cooked dry beans)

1-2

cloves

garlic

minced

1/4

cup

olive oil or coconut oil

3

Tablespoons

lemon juice

1

teaspoon

cumin

1

teaspoon

onion flakes or powder

1

teaspoon

chili powder

1/2

teaspoon

paprika

1/4

teaspoon

red pepper flakes

I used dehydrated jalapeno powder

1/4

teaspoon

salt

1/4

teaspoon

black pepper

3

Tablespoons

garbanzo bean juice, OPTIONAL

To thin hummus when cooled if using coconut oil
Instructions
Instructions:
Dump all ingredients into Ninja & puree until smooth & creamy, add a Tablespoon or so of reserved juice as necessary to attain desired consistency.

Enjoy immediately or refrigerate for up to a week. Hummus will get firmer at refrigeration, so if serving cold you may want to put back an additional 2 - 3 Tablespoons of the reserved juice.
~TxH~
Snacks We Love
…And MANY MORE!
~ ~ ~ ~ ~ ~ ~ ~ ~ ~ ~ ~ ~ ~ ~ ~


C'mon by & sit a spell! Come hang out at our Facebook Page. It's like sitting in a front porch rocker with a glass of cold iced tea – lots of good folks sharing! You can also follow along on Pinterest, Twitter or Instagram.
If you'd like to receive an email each time a new blog post goes live it's EASY to
Subscribe to our blog!
*Amazon Affiliate
Save