by Texas Homesteader ~
Don't spend your money on purchased hummus. Flavorful homemade hummus can be whipped up in minutes using just a can of chickpeas & a few simple inexpensive pantry Ingredients. It really IS that easy to make!!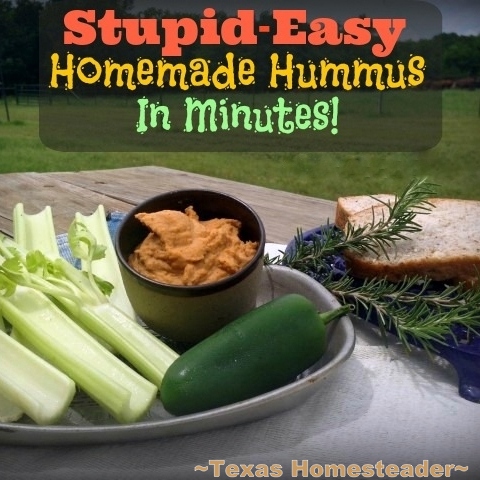 Photo Credit: Ashley
(Note: Some links in this post will take you to other related articles for further information. But links preceded with * are affiliate links. If you click and buy something I could receive a tiny commission.)
Simple Homemade Hummus Recipe Without Tahini
Our youngest daughter stopped by the Homestead for a visit recently. As we have done on the last several of her visits, we decided to putter together in the kitchen on this day.
She told me she recently made some – as she phrased it: "Stupid-Easy Hummus". And it didn't call for tahini.
WHAT??! I love hummus but hate the price gouged I mean… 'paid' in the store. So to try to save money I've attempted in the past to make it myself.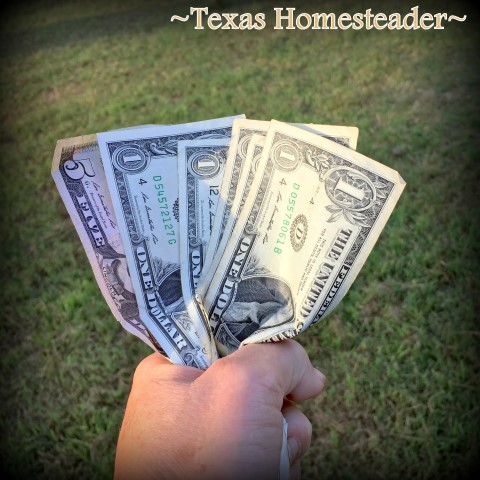 But living out here in such a rural area I have a hard time finding such fru-fru ingredients like tahini.
Our daughter said she tweaked the ingredients list for her recipe several times & felt she really had a winner. So I told her we should whip up a batch so I could check it out.
She was absolutely right, it really was stupid easy! Oh man, if you like hummus you are NOT gonna want to miss out on this y'all. Check it out!
Homemade Hummus Ingredients
Gathering the simple ingredients for homemade hummus was easy:
1 15-oz can chickpeas, drained,

1-2 cloves garlic,

Coconut oil or olive oil,

Lemon juice,

Seasonings – cumin, paprika, chili powder, onion powder, red pepper flakes & salt/pepper.
We used a can of chickpeas. (also known as garbanzo beans) But sometimes I just cook dry beans for the recipe and use 1½ cups of drained cooked beans.
Making Homemade Hummus Was EASY!
To begin we drained the garbanzo beans reserving the juice. Then we rinsed the beans, minced a couple of cloves of garlic and measured out the coconut oil and lemon juice.
Hummus Note: Using coconut oil in this hummus recipe will result in a firmer hummus since it thickens as it cools. Using olive oil results in a more spreadable hummus. I typically use half of each!
Finally we measured out the cumin, paprika, chili powder, onion powder and some dehydrated jalapeno powder (since I didn't have red pepper flakes) as well as salt & pepper.
Now here's the stupid-easy part. Pay attention now and feel free to take notes if necessary so you can remember all the steps:
We dumped the whole shebangie in my * Ninja Blender and pulsed until it was silky smooth. (oh the toil, oh the trouble!)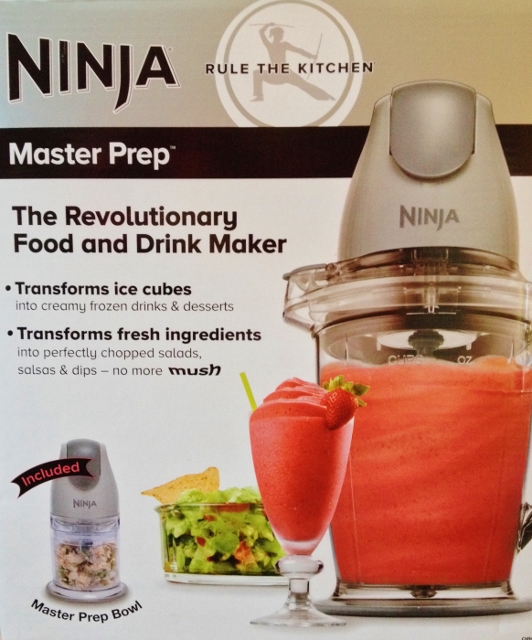 It was delicious! I think the dehydrated jalapeno powder gave it just the right tingle on the tongue without being too hot, and the cumin flavor was delightful.
What Can Hummus Be Eaten With?
Hummus can be a healthy part of your diet. There are many ways to enjoy eating homemade hummus: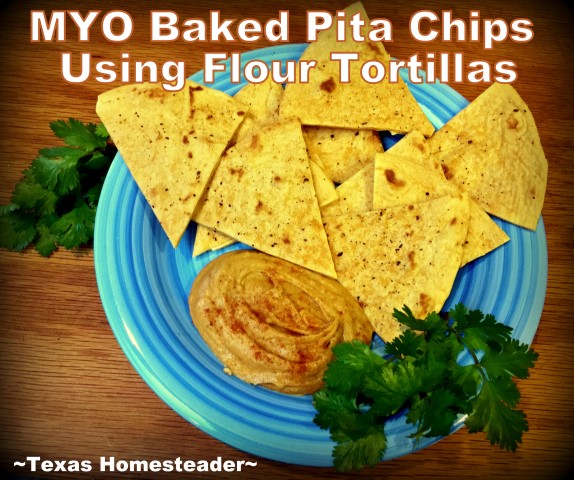 Sandwich spread on Honey Oat Sandwich Bread.
Dip option for Homemade Pita Chips (homemade with flour tortillas)
Layered onto celery sticks, fresh carrot sticks or sliced cucumber as a healthy snack.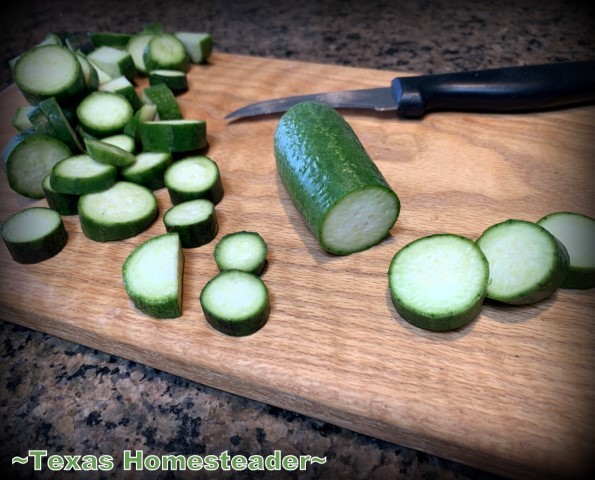 We enjoyed the hummus, but believe it or not there was still some left over.
I'm not sure the leftovers will spend much time in the refrigerator though – it's delicious!
Storing Leftover Homemade Hummus
Luckily my Ninja Blender has a snap-top lid so I'm able store the leftovers in the fridge without dirtying up yet another dish.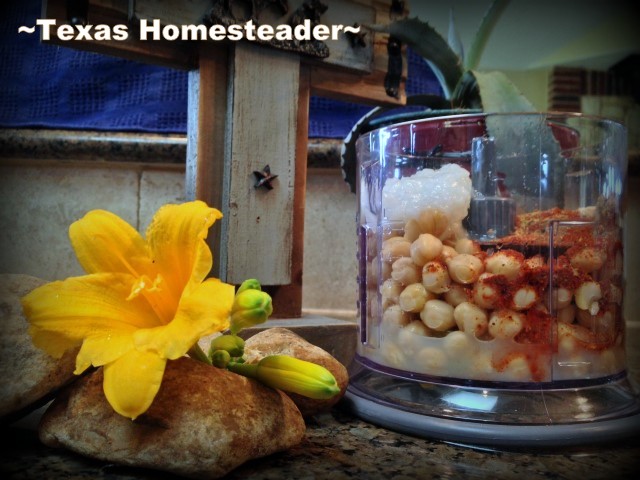 One thing to be aware of – using coconut oil instead of olive oil in this homemade hummus could result in the hummus being a little too firm when it's chilled. That's because coconut oil gets more firm when it's cold.
So either opt for olive oil in place of coconut oil when making your hummus or save about 3 tablespoons of reserved drained bean juice to stir into the chilled hummus if it's too firm for your liking.
Easy Homemade Hummus Recipe
So if you are throwing a party anytime soon and looking for an easy yet inexpensive snack item you might want to have these super-simple ingredients handy to make your very own homemade hummus for CHEAP!
And I always get compliments when I bring it to gatherings.
Or heck just mix some up for yourself, you deserve a little pampering too! Of course I'll share the recipe, I'm just helpful that way sometimes… 😉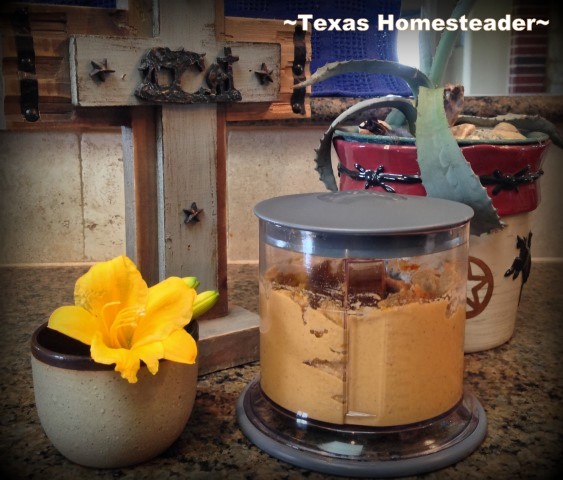 Did you make this hummus? Please rate the recipe in your comment below!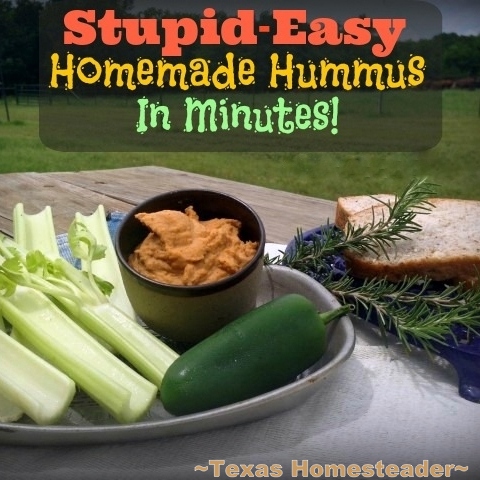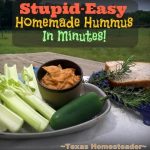 Easy Homemade Hummus Recipe
Our daughter told me this hummus recipe was 'Stupid-Easy' and boy was she right. Check it out, y'all. #TexasHomesteader

Ingredients
Ingredients:
1

15-oz can

Chickpeas,

drained & rinsed - reserve drained juice (Can use 1.5 cups cooked dry beans)

1-2

cloves

Garlic

minced

1/4

cup

Olive oil or coconut oil

(I use half of each)

3

Tablespoons

Lemon juice

1

teaspoon

Cumin

1

teaspoon

Onion flakes or powder

1

teaspoon

Chili powder

1/2

teaspoon

Paprika

1/4

teaspoon

Red pepper flakes

(I used dehydrated jalapeno powder)

1/4

teaspoon

Salt

1/4

teaspoon

Black pepper

3

Tablespoons

Garbanzo bean juice, OPTIONAL

To thin hummus when cooled if using coconut oil
Instructions
Instructions:
Dump all ingredients into Ninja & puree until smooth & creamy, add a Tablespoon or so of reserved juice as necessary to attain desired consistency.

Enjoy immediately or refrigerate for up to a week.
Recipe Notes
NOTE: Hummus containing coconut oil will get firmer at refrigeration, so if serving cold you may want to put back an additional 2 - 3 Tablespoons of the reserved juice.
~TxH~
This post categorized in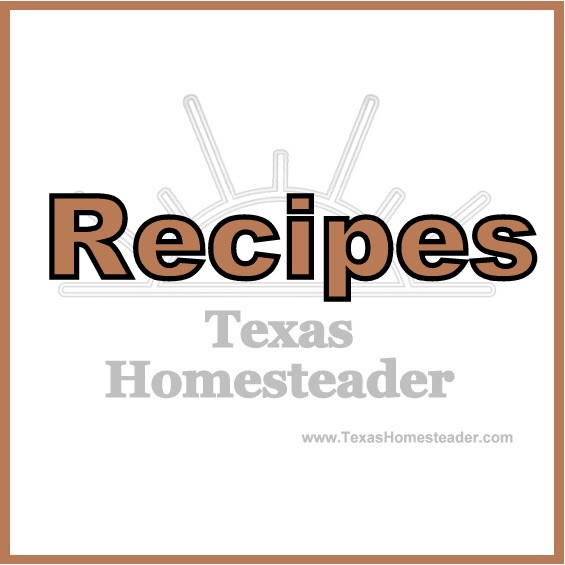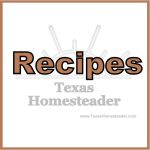 Snacks We Love
Crackers
Dips
Sweet Dessert Breads
Cake
Cookies
Ice Cream
Other Snacks
…And MANY MORE!
~ ~ ~ ~ ~ ~ ~ ~ ~ ~ ~ ~ ~ ~ ~ ~


C'mon by & sit a spell! Come hang out at our Facebook Page. It's like sitting in a front porch rocker with a glass of cold iced tea – lots of good folks sharing! You can also follow along on Pinterest, Twitter or Instagram.
If you'd like to receive an email each time a new blog post goes live it's EASY to
Subscribe to our blog!
Save