by Texas Homesteader ~
*contains affiliate link
Refined sugar free Chocolate Peanut Butter No-Bake cookies using honey & coconut oil. No oven heating up the house during the summertime plus it's CHOCOLATE!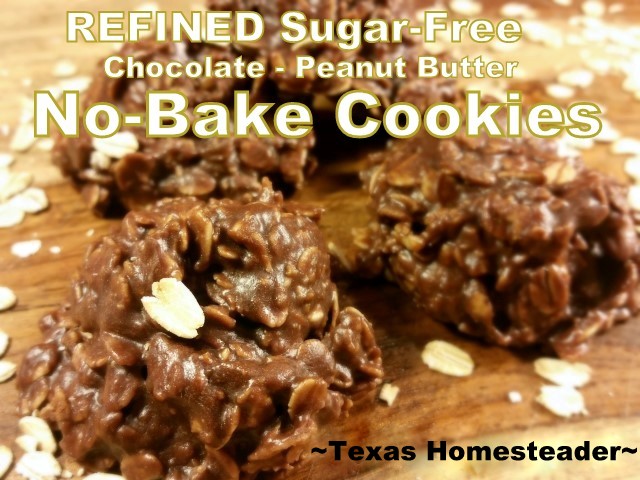 I used to make chocolate no-bake cookies for our kids all the time when they were growing up. It was one of their faves and they begged me to make them often. Even our youngest who was not a big chocolate-flavor fan. (I know, hard to believe she's actually my kid, huh??)
Anyway, our guest-poster Ashley recently shared with us her four-week journey of a diet with NO refined sugar at all!
This no-sugar version of chocolate no-bake cookies was shared on her FINAL WEEK's update. What a great sugar-free spin on a favorite recipe!
And since it's no-bake there's the added bonus of not heating up the house on a hot summer's day. You're gonna want to make these SOON!
NOTE: This No-Sugar challenge documents Ashley's 30-day attempt to remove PROCESSED SUGAR from their diet. This challenge allows her to use natural sugars such as fruit, honey or true maple syrup. Therefore it's not meant for a diabetic alternative, simply a personal-health challenge.
from Ashley : One of the things that has kept me sane through the month of switching my diet so drastically is finding desserts that were free of refined sugar.
One of my favorite childhood memories was my mother filling a cake plate with No-Bake Chocolate cookies. This recipe has it all!
No oven time heating up the house during the summertime and CHOCOLATE. It's so quick and easy that it can cure the strongest craving in no time at all!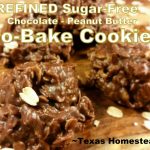 No-Bake Sugar-Free Chocolate Peanut Butter Cookies
This recipe is not new, it has certainly been floating around the internet forever and my mom made them for me growing up. But they don't require baking and more importantly, don't require sugar. I like to think that I threw a tasty spin on them as my husband told me they were the best he has ever tasted. It's simple. Here's all you do:
Ingredients
Ingredients:
1

Cup

Natural Peanut Butter

(I used chunky, but smooth is fine too)

½

Cup

Coconut Oil

½

Cup

Honey

¼

Cup

100% Maple Syrup

(I think this gives it a special flavor, but you can do all honey instead)

3

tsp

Vanilla Extract

2 ¼

Cup

Rolled Oats

(you could probably use quick oats for this but I prefer the rolled)

6

Tbsp

Cocoa Powder

(I may or may not have measured a little heavy on this and got closer to 7 tbsp) 😉
Instructions
Instructions:
Ok, are you guys ready for this? You combine all of your ingredients until evenly mixed and spoon the mixture onto wax paper or a cookie sheet. I used a 2-tablespoon cookie scoop for mine - so worth it if you don't have one already!

If your coconut oil is solid, you may need to heat it up just enough to make it liquid, but that's it! You're done!

Recipe Notes
Since the coconut oil melts at room temperature, you need to store these in the refrigerator. Trust me, it's worth it.
NOTE: You're encouraged to read all four weeks of her Sugar-Free Challenge Journey where she shares tips & sugar-free recipes:
30-Day Refined-Sugar-Free Challenge: Week ONE
30-Day Refined-Sugar-Free Challenge: Week TWO
30-Day Refined-Sugar-Free Challenge: Week THREE
30-Day Refined-Sugar-Free Challenge: Week FOUR
~TxH~
Other Easy Desserts


C'mon by & sit a spell! Come hang out at our Facebook Page . It's like sitting in a front porch rocker with a glass of cold iced tea. There are lots of good folks sharing! And you can also follow along on Pinterest,Twitter or Instagram
If you'd like to receive an email when a new blog post goes live,
subscribe to our Blog!
Save
Save