by Texas Homesteader ~

We enjoy a sweet dessert from time to time after supper. And when I'm having a chocolate craving nothing can beat homemade chocolate pudding.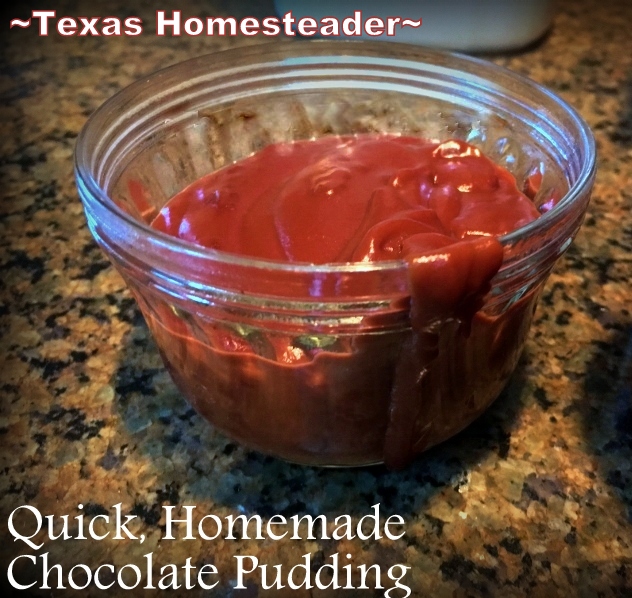 Jump to Recipe
Pudding is one of the easiest desserts to whip up. And the thick, rich chocolate flavor and silky-smooth texture really satisfies the Choco-Monster in me.
I'll show the pudding-making steps here, and I'll share the recipe below.
Chocolate Pudding With Wholesome Ingredients
Look at the photo below – some pretty wholesome ingredients, huh? Only sugar, cocoa, low-fat milk, flour, butter and egg yolks along with boiling water and a splash of vanilla.
There are no scary hard-to-pronounce ingredients here! And isn't that one of the main benefits of homemade food? You control the ingredients.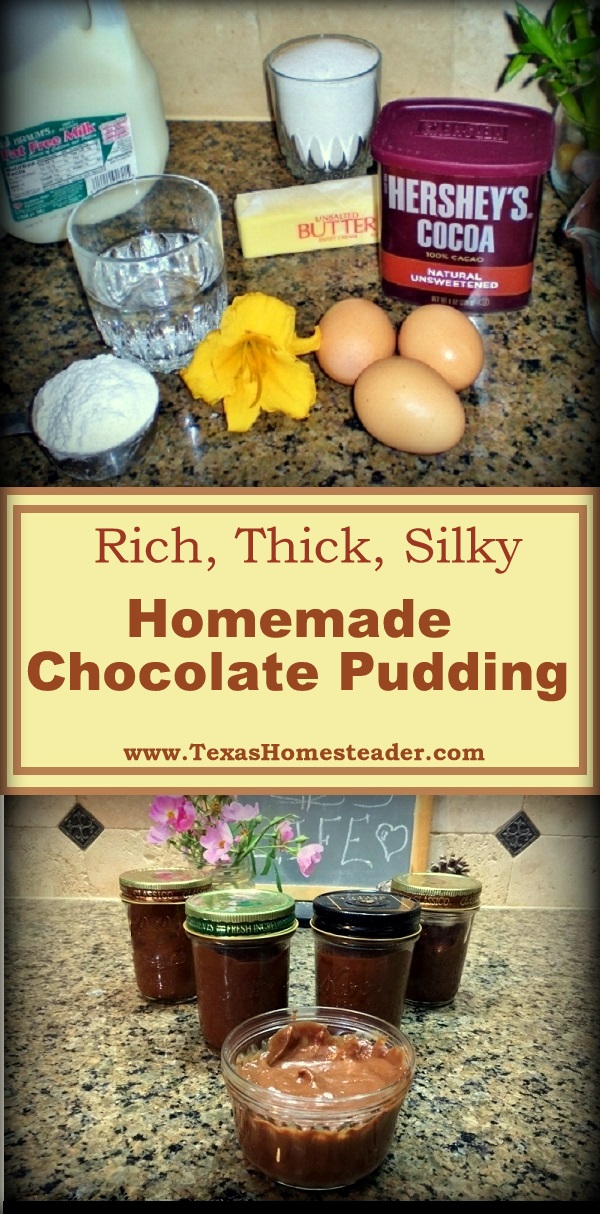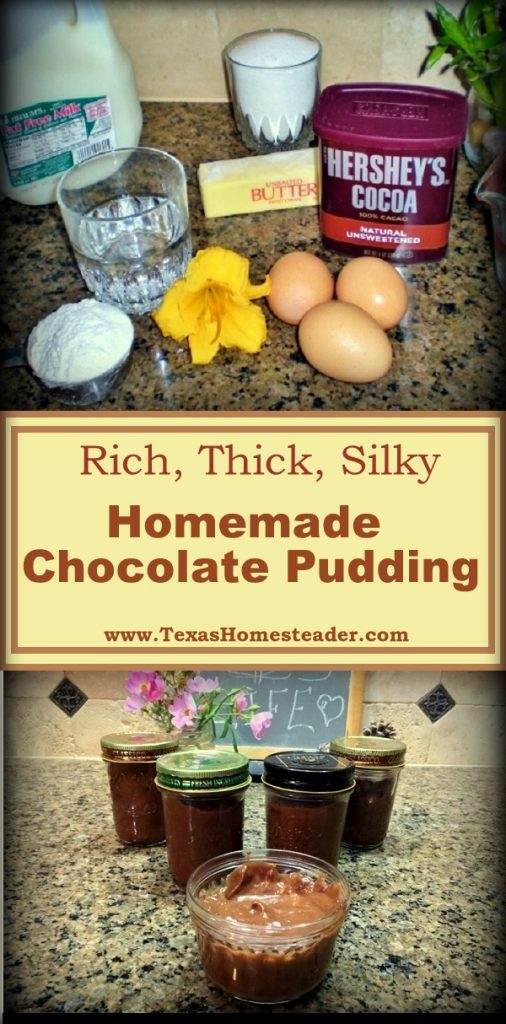 Simple Directions
Here's how I put it all together: First I added the cocoa, sugar, flour & a dash of salt into my skillet and stir with my spatula until it's all mixed.
I added boiling water and butter and turn the heat on medium. As I stir, the butter melts slowly.
When the butter is all melted I add the milk and stir. In my measuring cup I thoroughly blend three egg yolks into 1/2 cup of tap water and pour it into the pudding, still stirring constantly.
Soon the whole pan full of chocolate deliciousness will thicken into pudding consistency.
When it's as thick as I like it I'll pull it from the stove and add about 2 teaspoons of vanilla and allow the pudding to cool slightly.
We enjoy our pudding slightly warm so I ladle it into cute vintage jelly canning jars and chocolate decadence is only a spoon away! But since there's only two in our household these days, there's more pudding than we can eat at one time.
So I'll go ahead and spoon the additional servings into wide-mouth half pint canning jars and top with a lid. Then I slide them into the refrigerator.
Dessert tomorrow (and the next day) are already guaranteed – no extra time in the kitchen for me. Y'all know how I love that!
Make Your Own Homemade Pudding 'Convenience Food'
How easy is that? Homemade pudding in really no more time than it takes to open a box of the powdered commercial stuff, but with wholesome and real ingredients.
But I even take it a step further. When I'm mixing up the pudding ingredients for tonight's dessert, I bring out a jar I've labeled and keep in the pantry. As I'm measuring the ingredients for tonight's pudding, I measure the same ingredients into this jar.
The label on the jar gives the chocolate pudding measurements I've added as well as the wet ingredients that I'll need to add when it's time to cook it.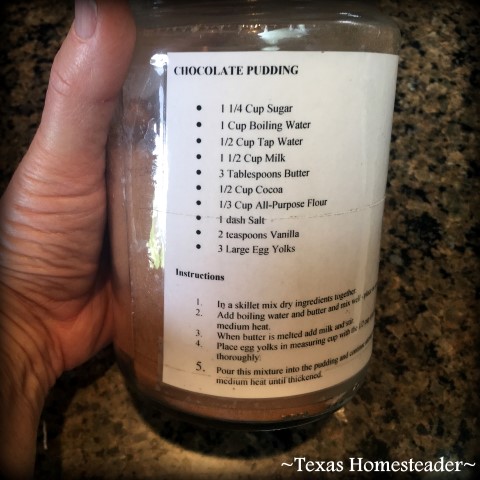 I even have a shortcut label on the other side that just lists the wet ingredients. It's got much fewer words so the text size can be larger. Better for these aging eyes. LOL.
But using this kitchen hack means I've looked up the recipe and dirtied up the measuring cups only once but have TWO batches of pudding. One for tonight and one for another night.
Now I have my own homemade convenience food waiting in my pantry for those rushed nights or times when unexpected company stops by. Homemade pudding in literally minutes! #WorkSmarterNotHarder.
Yes, I'm happy to share the recipe. (I'm just good like that) Go ahead, give it a try!
* * * * * * * * * *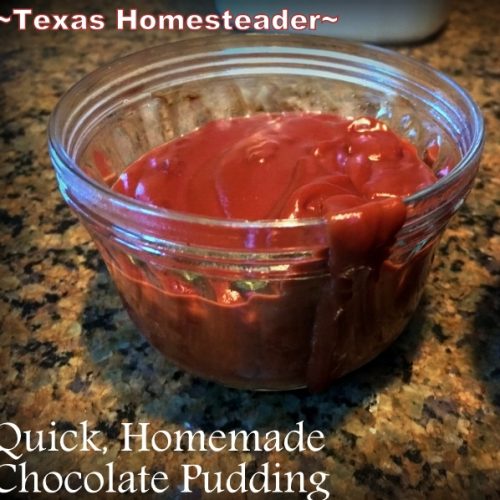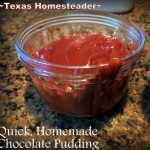 Homemade Chocolate Pudding
One of the quickest, easiest yet most delicious homemade desserts.  Try this chocolate pudding recipe - I know you'll love it as much as we do! #TexasHomesteader
Ingredients
1 1/4

Cup

Sugar

1/3

Cup

All-Purpose Flour

1/2

Cup

Cocoa

1

dash

Salt

1

Cup

Boiling Water

1/2

Cup

Tap Water

3

Large

Egg Yolks

1 1/2

Cup

Milk

3

Tablespoons

Butter

2

teaspoons

Vanilla
Instructions
In a skillet mix dry ingredients together.

Add boiling water and butter and mix well - place on stove burner set to medium heat, stirring often.

When butter is melted add milk and stir.

Place egg yolks in measuring cup with the 1/2 cup cool water and mix thoroughly.

Pour this mixture into the pudding and continue stirring and cooking over medium heat until thickened.

When pudding is thick, remove from heat and stir in vanilla extract.

If preferred, you can garnish with whipped cream
~TxH~
Other Easy Desserts


C'mon by & sit a spell! Come hang out at our Facebook Page . It's like sitting in a front porch rocker with a glass of cold iced tea. There are lots of good folks sharing! And you can also follow along on Pinterest, Twitter or Instagram
If you'd like to receive an email when a new blog post goes live,
subscribe to our Blog!
Save