by Texas Homesteader ~
So many fun desserts are topped with pie filling. Not only for a burst of flavor, but also for pretty presentation. But today I'm just using it as topping. Buying a full can of pie filling would be a waste.
The good news is you don't have to plunk down the money for that can of pie filling. You can easily make it yourself in minutes with a simple can of fruit for cheap.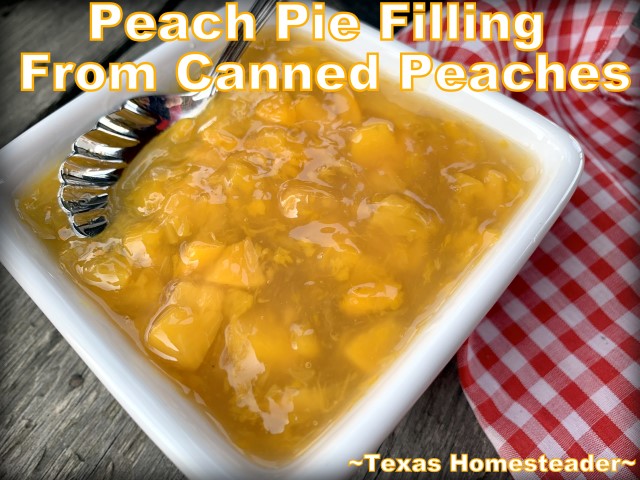 It's not complicated nor time consuming. Y'all know how I roll – fast & easy recipes only in my kitchen. I'm a busy girl and don't have time for finicky recipes.
How To Make Homemade Pie Filling
I've written before about how easy it is to make cherry pie filling from frozen or canned cherries. I buy cherries when they're in season and toss them in the freezer.
When the need arises to make pie filling they stand ready and waiting in the freezer. I thaw some out and BAM! I'm able to make them into pie filling.
My favorite use for cherry pie filling is my No-Cook Cherry Shtuff Dessert.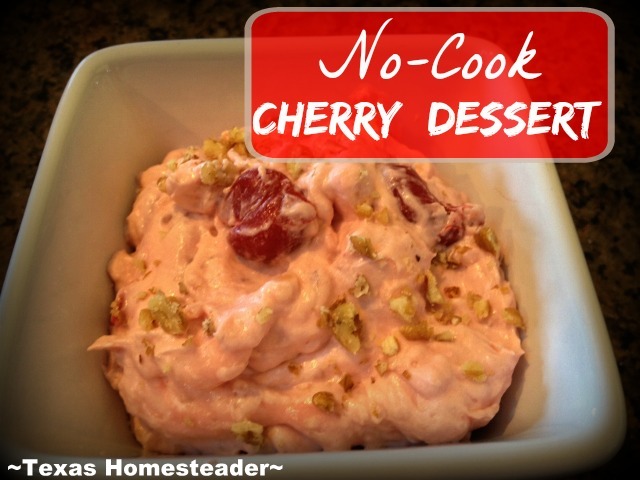 And y'all know I always have homemade Apple Pie Filling in the pantry. Those home-canned jars of pie filling are used often for anything from Apple Crumble to homemade Apple Pie.
I've even baked cute little Single-Serve Apple Pies In Canning Jars using that jar of homemade apple pie filling.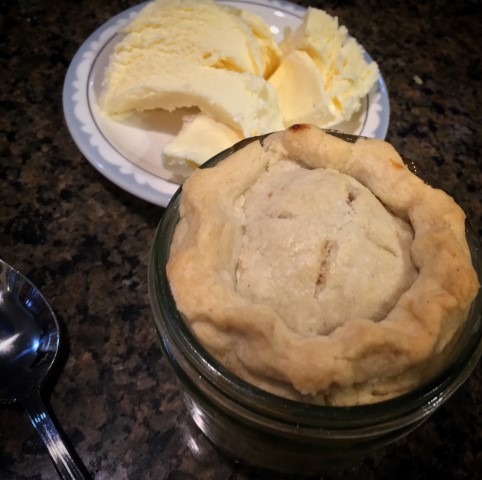 But sometimes you just have regular ole canned fruit like peaches canned in syrup in the pantry.
Can you make pie filling out of those too? Absolutely!
Making Peach Pie Filling From Canned Peaches
Recently I made an Instant-Pot Cheesecake for a family dinner gathering and wanted to top the slices with pie filling. Looking in the pantry I saw that I had a can of peaches in light syrup and knew that would work perfectly.
All I need is that can of peaches, some sugar & lemon, a little cornstarch for thickening and a splash of vanilla. Let's do this!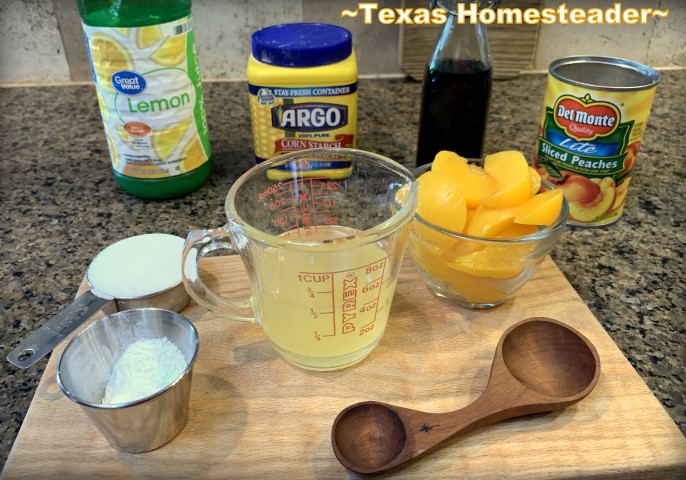 Easily Making My Own Peach Pie Filling
I measured the drained juice from the can and saw that it provided exactly 1/2 cup of juice. That will be perfect!
If your can of fruit doesn't give up quite enough juice you may have to top it with a little water or maybe some apple juice. You'll want 1/2 cup for this recipe.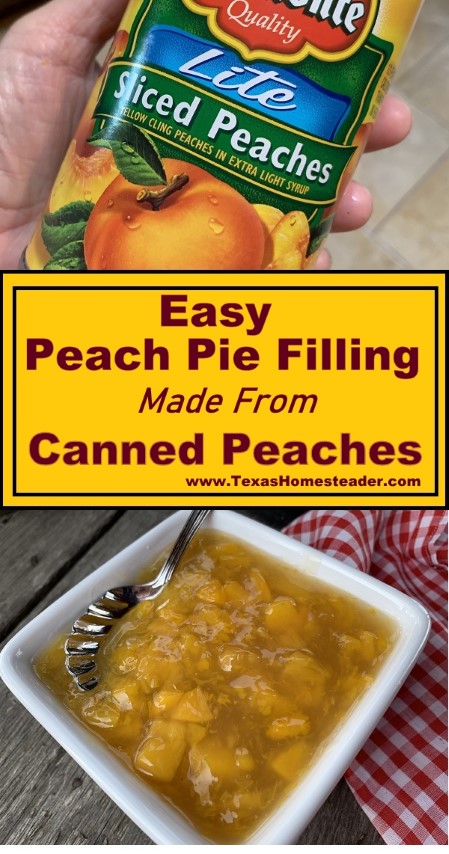 Thickening The Peach Syrup For Pie Filling
This pie filling will only be a small part of my dessert. So I mixed the sugar and cornstarch together and placed it in a small saucepan. I figured although these peaches are canned in light syrup, I'll still add about 1/3 cup of sugar here.
I suppose if your peaches are canned in heavy syrup you can reduce the sugar a bit if you like. Or not! Cook's choice.
Then I added the reserved 1/2-cup juice that I'd drained from the can of peaches and turned on the stove's heat to medium high. The mixture was stirred constantly to keep it from burning, but it only took a couple of minutes for it to begin to thicken.
Adding Peaches For More Pie Filling Fruit
I reserved a few of the peach slices to use as garnish later. But I diced most of the remaining peaches into chunks, leaving just a few more in slices.
I wanted both of those textures to be included in my pie filling. But feel free to size the fruit to your preference here. Whether you want them all chopped, all left in slices, or a combination of both. Your choice!
I added the peaches into the thickened, bubbling pie filling to simmer while I stirred. When I could drag my wooden spatula along the bottom of the pan & could see the metal from the pan for a second or so before the fruit covered the bottom again, I knew it was about as thick as I wanted it.
I added a tiny bit of lemon juice and stirred it in while the pie filling continued to simmer. A minute more of cooking and I was done. So I removed the pie filling from the heat.
Finally I stirred in some vanilla extract and stirred everything together.
Homemade Peach Pie Filling In Minutes
My peach pie filling was done in minutes.
Heck, it would have taken me much longer to run to the store to buy it than the few minutes it took to actually make it from scratch.
This will be perfect! That lowly can of peaches made 1.5 cups of peach pie filling.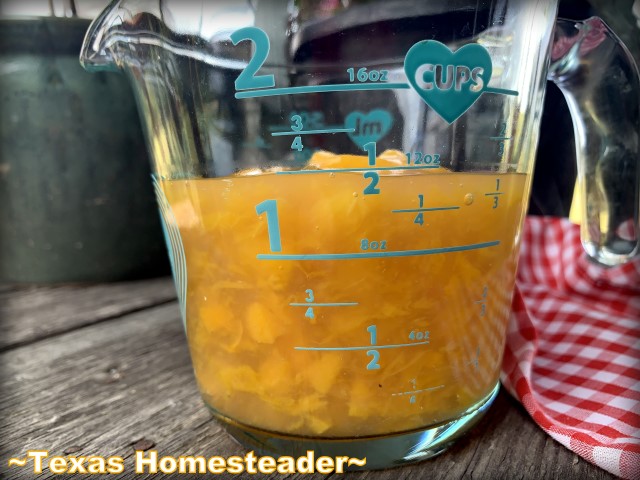 (Note: A full can of purchased pie filling is about 2 1/3 cups)
My homemade pie filling was ready to be used. I stored it in the fridge until our dinner gathering.
When I was ready to serve dessert I brought the pie filling out and spooned some on top of the slices of homemade cheesecake. Then I garnished the whole shebangie with some of the reserved peach slices, just for 'pretty'.
Mama always says "Presentation is half the meal" and mama's always right!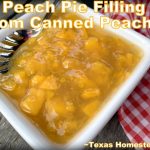 Pie Filling Recipe Using Canned Peaches:
I wanted to top a dessert with pie filling, but it's an expensive topping. So I used a can of peaches in lite syrup to make my own pie filling to use as a fruit topping. It yields 1-1/2 cups of pie filling. Fast, simple, delicious! #TexasHomesteader
Ingredients
Ingredients:
1

15-oz can

Peach Slices in syrup

1/2

cup

Reserved drained juice from can

1/3

cup

Sugar

1

Heaping Tblsp

Cornstarch

1

teaspoon

Lemon juice

1

teaspoon

Vanilla extract
Instructions
Instructions:
Whisk together 1/3 cup sugar & a heaping tablespoon cornstarch. Then add reserved 1/2 cup drained fruit juice with the sugar mixture in a saucepan.

Bring mixture to a boil over medium-high heat, stirring constantly. Boil until thickened and mixture begins to bubble.

Add reserved fruit (chopped if desired) all at once. Return to a boil, stirring constantly but gently until it's as thick as you like it.

Add 1 teaspoon lemon juice. Simmer for 1 minute longer, stirring constantly.

Remove from heat, stir in 1 teaspoon vanilla extract.
~TxH~
This post categorized in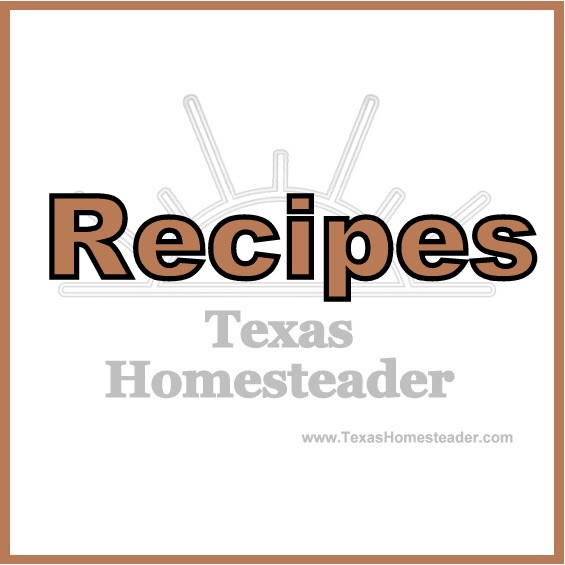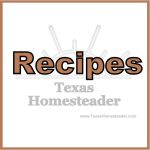 Other Easy Desserts


C'mon by & sit a spell! Come hang out at our Facebook Page . It's like sitting in a front porch rocker with a glass of cold iced tea. There are lots of good folks sharing! And you can also follow along on Pinterest, Twitter or Instagram
If you'd like to receive an email when a new blog post goes live,
subscribe to our Blog!