by Texas Homesteader~
Are you looking for an easy sweet honey glaze recipe? You're gonna love this. I'm not a big fan of spending time in the kitchen.
This honey glaze is about as quick as it gets! Check it out.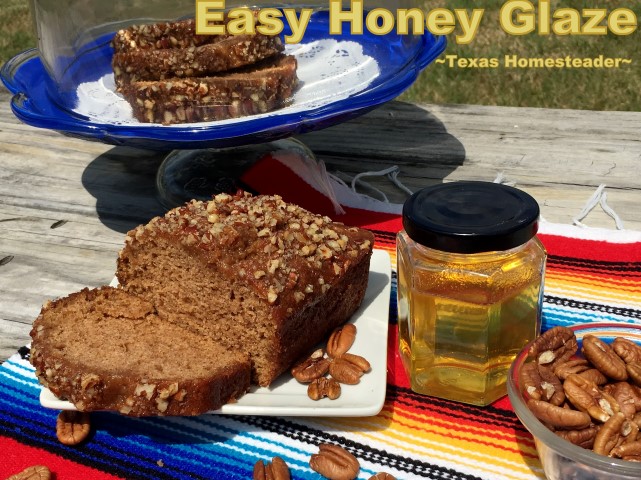 You know how it is – sometimes frosting is just a little too heavy on your cupcakes or sweet breads. I've opted for a sprinkling of powdered sugar in the past and that's a good option for sure.
But RancherMan loves to have those breads topped with a little extra sumpin'. Enter this super easy honey drizzle – it whips up in about a minute!
Delicious Sweet Breads
I like to make sweet breads for RancherMan such as Cantaloupe Bread, or Pumpkin Bread. Oftentimes there's no topping needed, the breads are delicious all on their own.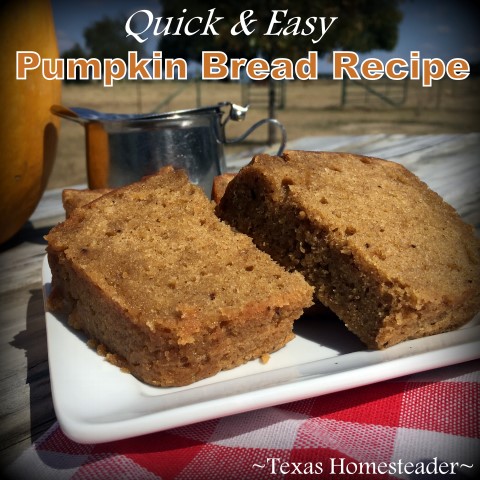 Sometimes I include a heavier pecan-praline glaze topping with the cantaloupe bread. Make no mistake – it's good for sure.
But sometimes it feels a little heavy for our sweet treat. So oftentimes I'll leave the topping off completely.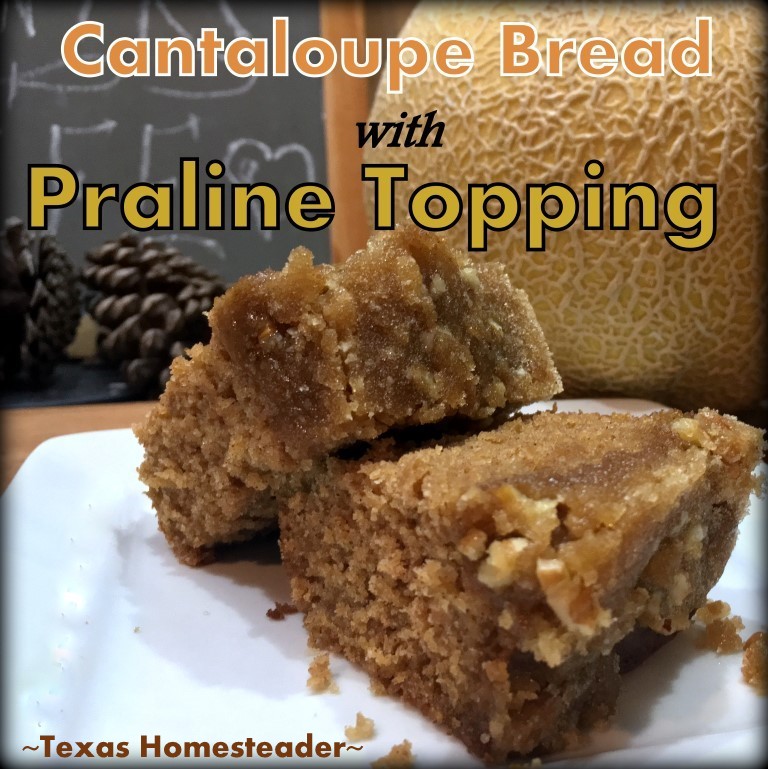 But RancherMan has a sweet tooth. A lot.
So to appease him – occasionally when I've whipped up a delicious sweet bread I'll bump it up a notch with a sweet drizzle topping.
I prefer the simplicity of this honey glaze.
I mean, measure it up, heat it up, pour it up. DONE!
As beekeepers, we always have pure, natural honey available. So I whip up this quick drizzle using only honey, brown sugar and butter. It all comes together in only about a minute.
I'll mix everything up in a glass measuring cup & drizzle it directly onto the warm-from-the-oven bread. It really doesn't get any easier than this, y'all!
Honey Glaze On My Chunky Apple Bread
Case in point. Recently I made a chunky apple bread. I baked it up in my solar oven – no heat added to the house in this heat & humidity of summer. YEA!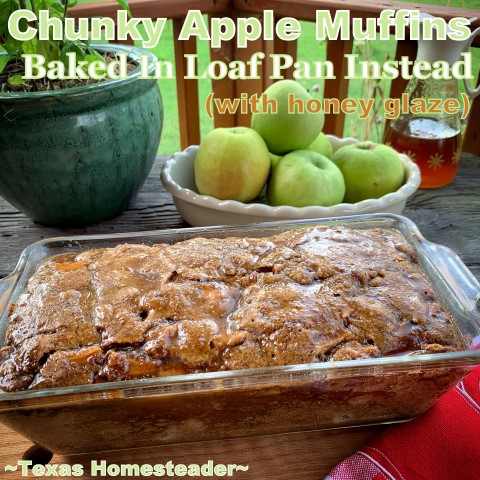 So here I am looking at this delicious apple bread hot out of the oven. It's then that I decided to bump it up a notch for RancherMan.
Thankfully it was super easy to do!
Making Gluten-Free Honey Glaze
First I added a single tablespoon of butter into a microwave-safe glass measuring cup. Into the microwave it goes for just a few seconds. I only want it melted and liquified.
Then I add in a tablespoon of brown sugar and stir it to dissolve it into the melted butter. To be honest, I'm pretty non-regimented with this step. I just stir it until it's all incorporated.
Finally I add 1/4 cup of our honey. A quick stir incorporates the whole shebangie and I'm done. I typically add a tiny amount of vanilla extract too, but that's optional.
Drizzling The Glaze
I like to drizzle the glaze on bread that's still warm out of the oven. It seems to gently soak into the bread making it even more moist and delicious that way.
Oftentimes I'll start by sprinkling some chopped pecans on top of the bread before adding the drizzle. RancherMan enjoys the extra crunch that chopped pecans offer. But let's be honest, it's just as good without them.
I'll use the same measuring cup I used to melt the butter to make the glaze and then actually drizzle my warm glaze on the bread. I mean, it's already got a pour spout. Why not?!
Shootin' from the hip to make less mess in my kitchen 🙂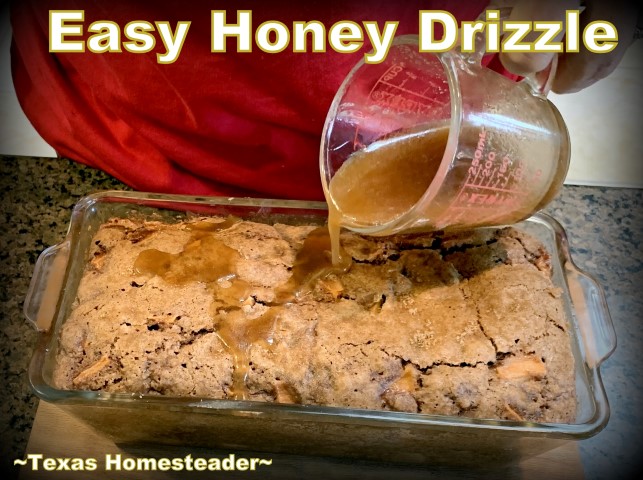 So I'll drizzle slowly in a zig-zag pattern to cover the top of the bread. The warmth of the bread just makes the glaze spread over the top of the bread and down along the sides into sweet deliciousness.
If I think it needs help spreading I'll use a spatula or silicone basting brush to more smoothly spread my honey glaze over the entire surface of that sweet treat.
Then I'll allow everything to cool. The glaze will thicken slightly as it reaches room temperature.
I think it makes the perfect topping. And you can't beat a tiny minute of preparation #amiright??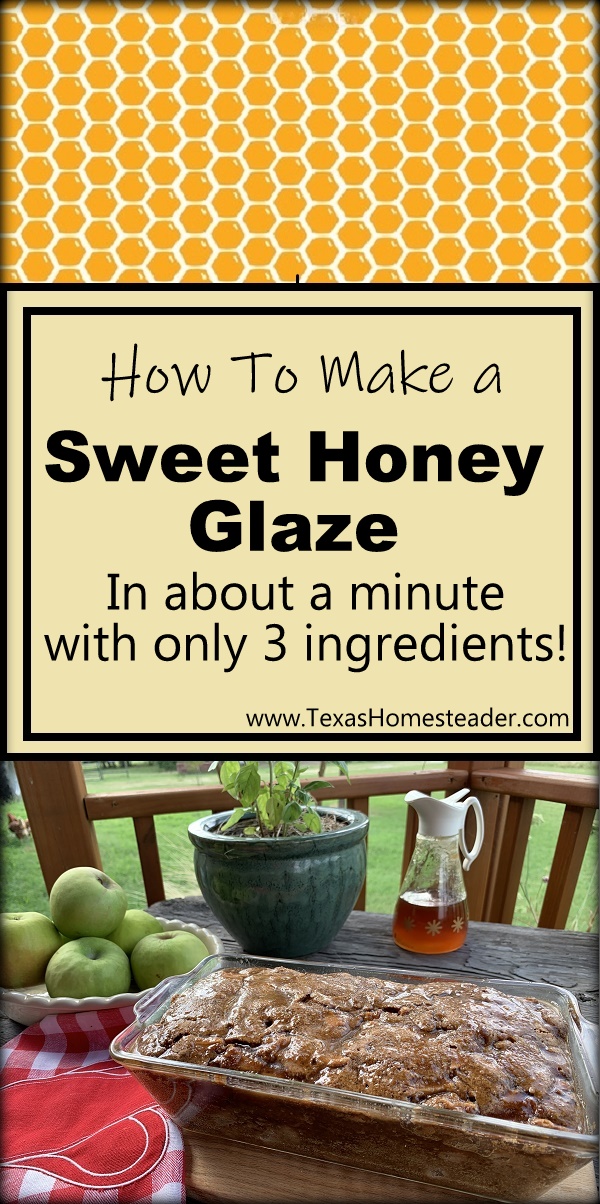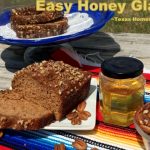 Honey Glaze
Ingredients
Ingredients
1/4

cup

honey

1

tablespoon

light brown sugar

1

tablespoon

butter

1/4

teaspoon

vanilla extract

(optional)
Instructions
Instructions
Melt butter in microwave-safe glass measuring cup

Add 1 Tablespoon brown sugar and stir to combine.

Add 1/4 cup honey and stir to combine. If desired, add 1/4 teaspoon vanilla extract & stir.

Drizzle on top of warm cake.
~TxH~
Other Easy Desserts


C'mon by & sit a spell! Come hang out at our Facebook Page . It's like sitting in a front porch rocker with a glass of cold iced tea. There are lots of good folks sharing! And you can also follow along on Pinterest, Twitter or Instagram
If you'd like to receive an email when a new blog post goes live,
subscribe to our Blog!