by Texas Homesteader ~
Everyone loves an ice cream cake, #amiright??! Especially when celebrating a special even such as a summer birthday.
Did you know you could make your own ice cream cake easily at home for a fraction of the price if you'd purchased it? And there's a huge time-saving shortcut too.
C'mon I'll show you how!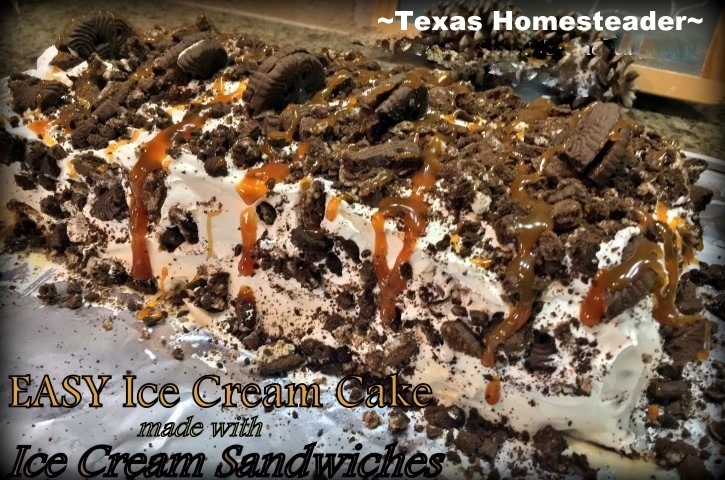 Birthday Cake Requests
Our son and his family recently stopped by for a visit and it was very close to his birthday. So I figured I'd make him a birthday cake to celebrate.
Now when he was a little boy he always wanted to have an 'unusual' cake, especially since his birthday was during the heat of summer. One year I decorated a halved watermelon for him – he loved it!
But often he asked for an ice cream cake instead of a traditional baked cake. I mean c'mon, what's better in the heat of a NE Texas summer than ice cream cake?
Back in 'the day' I would plunk down an unreasonable amount of money to buy a dinky little ice cream cake at the store. But I soon learned how to make it myself both quickly as well as inexpensively.
Ice Cream Cake Shortcut
This ice cream cake has some humongo shortcuts too. Primarily the fact that it's put together using ice cream sandwiches as the base!
So to make my ice cream cake, I first brought out some ice cream sandwiches and a tub of cool whip.
Then I measured out 1/2 cup of my own homemade Instant Chocolate Pudding Mix (you can buy the 4 oz-sized package instead but make sure it's INSTANT pudding) as well as 1/2 cup of my Homemade Chocolate Drizzle Sauce. (I already had a little leftover caramel sauce in the fridge for drizzling over the finished cake)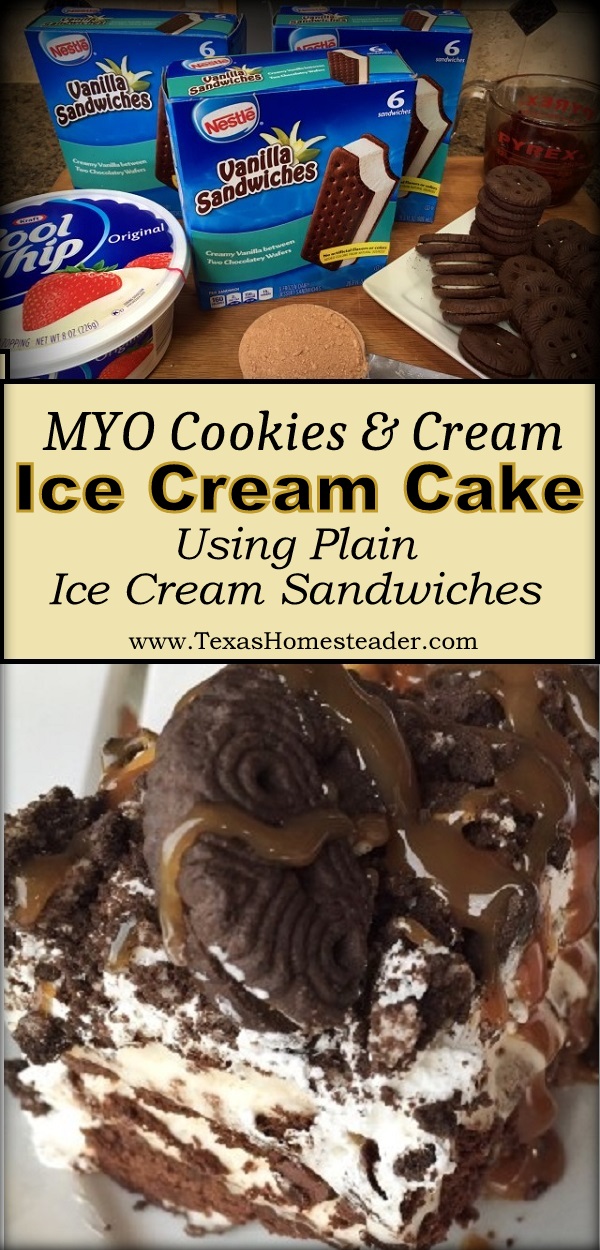 Making The Chocolate Layer
To whip up the chocolate layer that will be placed around my ice cream sandwiches was easy too.
I just took 1 cup of the whipped topping and added my homemade chocolate instant pudding mix and about 1/2 cup of chocolate sauce. It was all stirred together until it was thoroughly combined.
I felt it was still a little too thick for my liking so I added about 1 tablespoon of cold coffee to both intensify the chocolate flavor as well as thin the pudding mixture for easier spreading. Perfect! Then I sat it aside so it would be ready when I needed it.
RancherMan & I started unwrapping all the ice cream sandwiches. We sat them all on a plate & placed them in the freezer so they would stay good & cold.
When the sandwiches were thoroughly chilled again we sat to assembling our ice cream cake.
Assembling The Ice Cream Cake
I brought out a small metal tray and lined it with foil. I smoothed on a single strip of the pudding mix to give my ice cream sandwiches a delicious chocolate-flavored cement to hold onto. LOL. Then I layered a row of 6 unwrapped ice cream sandwiches side by side.
I topped that line of ice cream sandwiches with 1/2 of my chocolate pudding mixture while RancherMan brought out 6 more unwrapped ice cream sandwiches from the freezer. I stacked them on top of the first row side by side and topped them with the rest of my pudding mixture.
Then I added the final 6 unwrapped ice cream sandwiches to the top and put the whole shebangie back into the freezer so it would get good and frozen again.
Almost A Fail? Thawed Ice Cream
I was a little disappointed to see that the ice cream sandwiches were trying to thaw for about an hour or so AFTER I put them into the freezer!
I'm really not sure why they did this but it seems I remember they did this last time I made this ice cream sandwich version of ice cream cake as well.
In the future I may freeze my metal tray before I cover it with foil so it starts out good & cold.
As it was, all I needed to do was remove the melted portion with a straight-edged utensil – which means RancherMan & I got a little freebie taste ice cream before the party even began!
(eh hemmm….)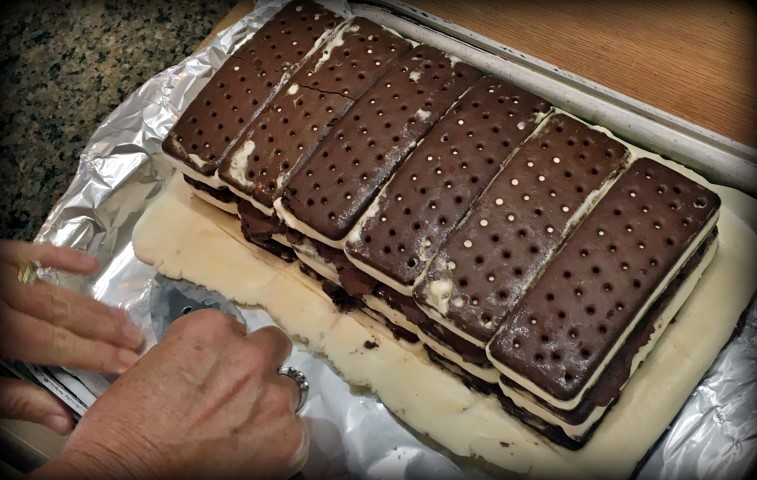 Finishing Touches
Now I brought the whipped topping out of the refrigerator and spread it on all of the exterior surfaces of my ice cream cake.
I wanted to make this cake cookies-n-cream flavored so I took a few chocolate sandwich cookies, cut them & half & set them aside. Then I gathered up about 10 more chocolate sandwich cookies, placed them in a zipper sandwich baggie, closed it up & rolled my rolling pin across it until the cookies were crushed.
The crushed cookies were sprinkled on top of the whipped topping surface of my cake. For the finishing touch I decorated the top with a line of the halved cookies I'd cut.
Of course I wanted to add some decadent ooey-gooey topping so I drizzled the whole thing with caramel sauce since I had some leftover in the refrigerator. Mama always said presentation is half the dish and this cake turned out BEAUTIFUL!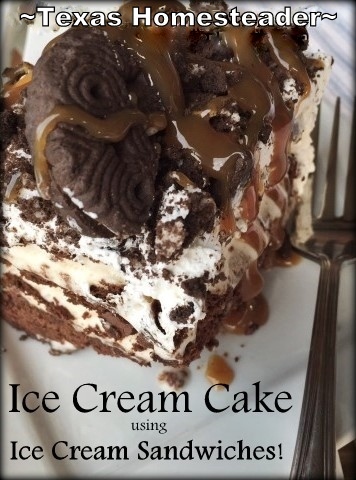 Since my son had his whole family with him, and our daughter and her family came for a visit as well – half of my kids and ALL of my grandbabies were present. Oh happy day!
This cake went over well just as I knew it would. Dee-LICIOUS! Decadently rich, fabulously chocolate and delightfully cold on a hot summer's day.
I've included my recipe below: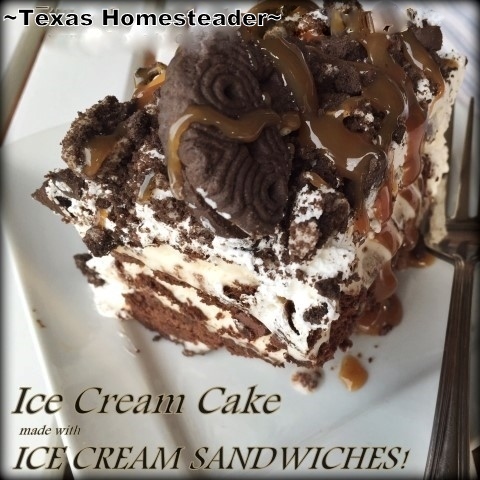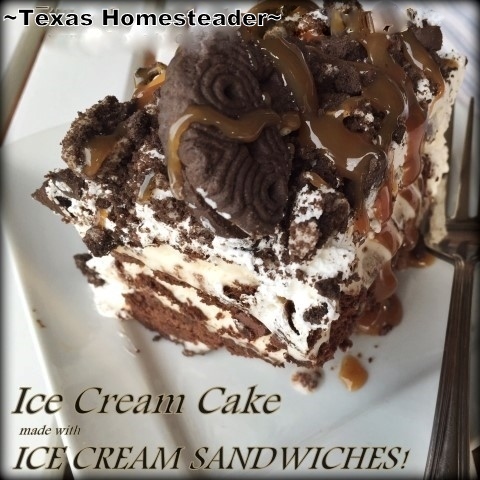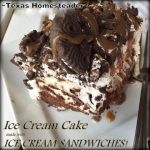 Ice Cream Cake (made with ice cream sandwiches)
A delightfully-delicious ice cream cake doesn't need to cost lots of money.  I make my cookies-n-cream ice cream cake quickly using ice cream sandwiches! #TexasHomesteader
Ingredients
Ingredients
18

Ice Cream Sandwiches,

unwrapped & kept in the freezer

1

8-oz Tub

Whipped Topping, thawed

1/2

cup

Chocolate Ice Cream Topping

or 1/2 cup of your own Homemade Topping

1

4-oz pkg

Instant Pudding mix

(or 1/2 cup of your own Homemade Instant Pudding Mix)

Thinned Chocolate and/or Caramel to Drizzle

optional

Chocolate Sandwich Cookies

optional
Instructions
Directions
Mix 1 cup of whipped topping, the box of instant pudding mix (or 1/2 cup homemade instant pudding mix) & 1/2 cup chocolate ice cream topping until combined. If needed for easier spreading, thin with a tablespoon of milk or cold coffee. Set aside.

Unwrap all ice cream sandwiches and place them back into the freezer so they remain cold. Add a thin line of your pudding mix to a platter and set a row of 6 of the unwrapped ice cream sandwiches side by side on top of pudding line.

Top the row of ice cream sandwiches with 1/2 of the pudding mixture. Then place 6 more unwrapped ice cream sandwiches directly on top of the previous ones. Top that stack with the remaining pudding mix and stack the final 6 unwrapped ice cream sandwiches on top. Place the assembled ice cream cake into the freezer to freeze solidly, about an hour.

After about an hour bring the cake out of the freezer and spread whipped topping over entire surface of cake. If desired, top with crushed cookies and decorate with drizzled chocolate and/or caramel sauce. Return to freezer for at least an hour before cutting & enjoying.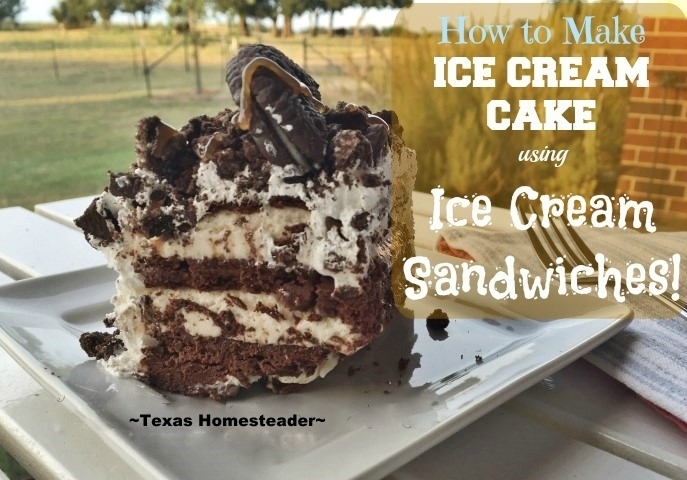 ~TxH~
Other Easy Desserts


C'mon by & sit a spell! Come hang out at our Facebook Page . It's like sitting in a front porch rocker with a glass of cold iced tea. There are lots of good folks sharing! And you can also follow along on Pinterest, Twitter or Instagram
If you'd like to receive an email when a new blog post goes live,
subscribe to our Blog!
Save
Save
Save
Save
Save
Save
Save
Save