by Texas Homesteader

*this post contains an affiliate link
Last week I showed you the secret to making homemade fat-free ice cream using only frozen bananas, fat-free milk, vanilla and no-cook pudding mix.
I always make Homemade Pudding from scratch these days, but what about times when you need a dry pudding mix for a recipe?
Well I've been on this road to voluntary simplicity for a few years now. So for fun I always challenge myself to make those things homemade that I used to just assume had to be purchased commercially at the grocery store.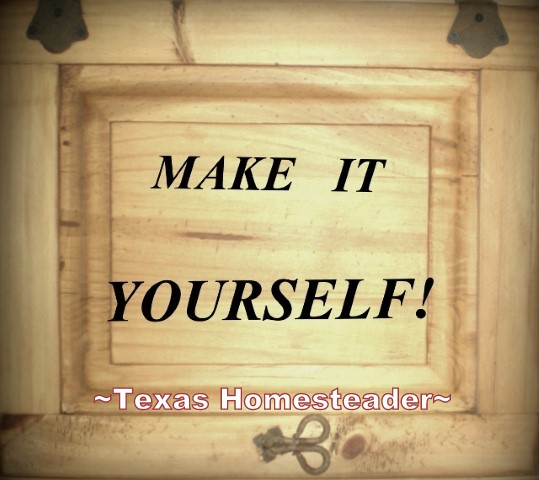 Last year I went on a search for a product called Clear Jel for a recipe that I was pressure-canning. ClearJel is a modified corn starch and the USDA has said it's safer than traditional corn starch for use in canning.


I discovered it's impossible to find in the stores around here. But I was finally able to find *Clear Jel on Amazon.
So I ordered both the regular and the instant no-cook formulas.
The beauty of the Instant ClearJel formula is that it doesn't require heat to thicken. That's PERFECT for making this no-cook pudding mix!
As a confirmed Chocoholic I usually make chocolate pudding mix. But I'm guessing you could make vanilla as well by leaving out the cocoa. Here's how I make the instant no-cook chocolate pudding mix: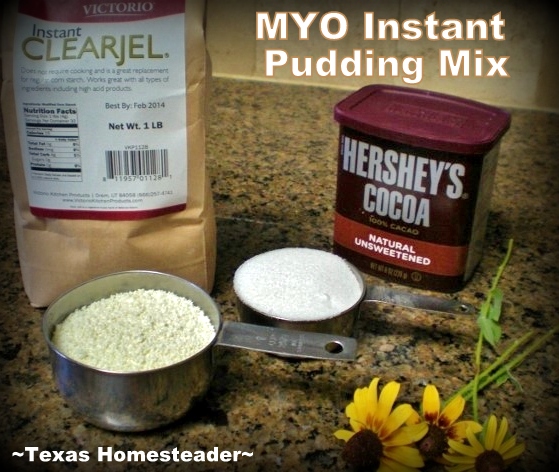 I measure out 3/4 cup dry fat-free milk powder, 1/2 cup sugar and 1/2 cup of the instant Clear Jel corn starch along with 1/3 cup of unsweetened cocoa and mix it all up thoroughly. Then I store it into a lidded container in my pantry.
1/2 cup of this mix replaces a typical 4 oz box of purchased instant pudding.
And there ya go – homemade instant no-cook pudding mix! Wow, really, does it get easier than that?? The recipe is below – enjoy!
Chocolate Instant No-Cook Dry Pudding Mix
Ingredients
3/4

cup

dry milk powder

1/2

cup

sugar

1/2

cup

Instant No-Cook Clear Jel corn starch

1/3

cup

unsweetened cocoa
Instructions
Combine all ingredients in a bowl & stir the until they are completely combined. Store in a cool dry place in a tightly-sealed container.

To use the dry mix in baking, 1/2 cup of the mixture will replace a 4-oz. pkg of instant pudding mix.
Recipe Notes
NOTE: To use this baking pudding mix recipe as an instant pudding dessert, add 1 part pudding mix to 2 parts cold milk and beat vigorously with a whisk for 2 minutes. Since it's a very basic pudding I like to add a couple of drops of vanilla extract & about a teaspoon of cold coffee for extra flavor.
This makes a very thick pudding so add a small amount of milk (or cold coffee) if a thinner consistency is desired. (Pudding thickens more upon chilling.)
~TxH~
Snacks We Love
~ ~ ~ ~ ~ ~ ~ ~ ~ ~ ~ ~ ~ ~ ~ ~


C'mon by & sit a spell! Come hang out at our Facebook Page. It's like sitting in a front porch rocker with a glass of cold iced tea – lots of good folks sharing! You can also follow along on

Pinterest

, Twitter or

Instagram

.
If you'd like to receive an email each time a new blog post goes live it's EASY to
Subscribe to our blog!
* A word about our Affiliate Link – We are currently enrolled as an Amazon Affiliate. Occasionally I will insert an affiliate link into one of my posts if I think it may be of interest to you, in this case Clear Jel corn modified corn starch. I purchased the Clear Jel myself and receive nothing from the manufacturer but it was hard for me to locate – I use it a lot & thought you might too. If you click on any of my affiliate links and buy something (almost anything, not just what was linked) I get a small referral percentage from Amazon. But here's the really important part – the price you pay for your items is UNCHANGED. How much extra do you pay for your ordered items? Nothing. Zilch. Nada. It costs nothing extra!
When you buy something through the affiliate link it's a great way to support this blog without anything coming out of your pocket so please click often! (you can read the legalese here…)
* * * * * * * * * *
Save