by Texas Homesteader ~
Banana pudding is one of our favorite desserts. But did you know you could make pudding using yellow summer squash puree? AND, it actually tastes like banana pudding and nothing like squash?
No really! Check it out, y'all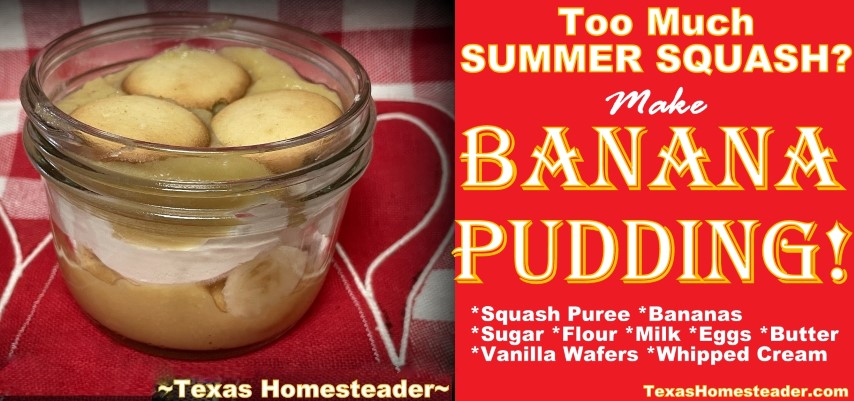 Too Much Yellow Squash In The Garden!
All you gardeners know what I mean. Summer squash. You love it, right?
But then it keeps producing until you're buried under a mountain of squash.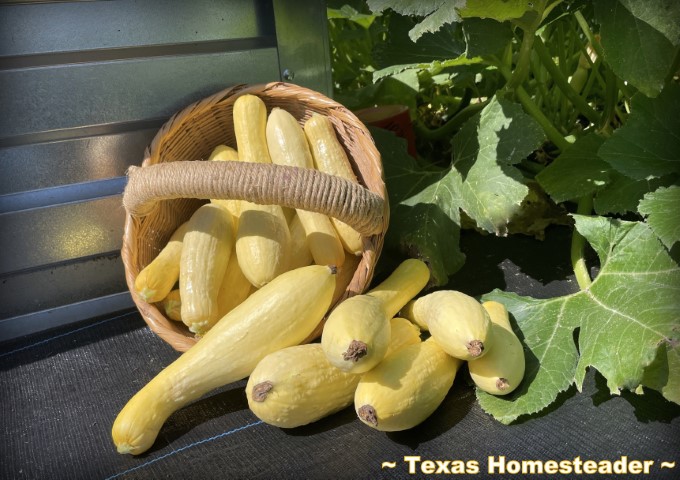 You've fried it, you've stewed it and you've sautéed it & served it until your family is blue in the face. What will you do with all that squash??
Can You Make Pudding With Squash?
Did you know you can make pudding with summer squash? I know you're skeptical. I was skeptical too. And RancherMan was REALLY skeptical.
But we were both very pleasantly surprised at how delicious pudding made with squash puree was.
So I'm sharing with you so you too can have another delicious recipe in your arsenal to deal with the mountains of yellow squash.
Does Squash-Based Banana Pudding Taste Like Squash?
Nope! Banana pudding made with squash puree doesn't taste like squash at all. It tastes like… well banana pudding!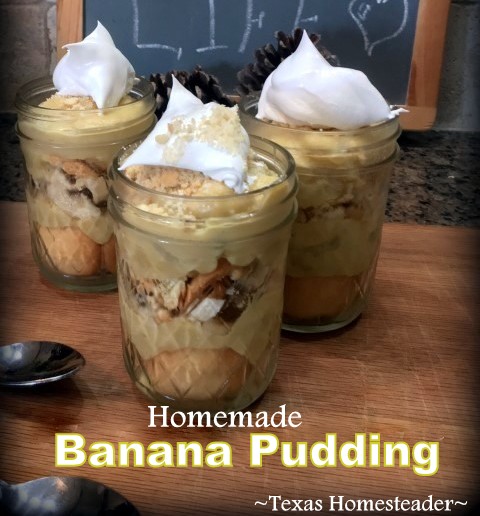 I find the pudding made with puree is slightly more dense than my traditional Banana Pudding recipe.
I suppose that makes sense, squash has plenty of fiber. But using squash puree as a base still results in banana pudding with very much a pudding consistency and we love it.
What Are The Ingredients For Squash Puree Banana Pudding?
The ingredients for making banana pudding using a base of yellow squash puree are pretty standard. Not much different than a regular banana pudding recipe really:
Young Tender Yellow Squash Puree

Butter

Granulated Sugar

Flour

Egg Yolks

Evaporated Milk

Vanilla Extract

Bananas

Vanilla Wafers
See what I mean? No odd ingredients here. Well, except for squash!
How Do You Make Squash Puree Banana Pudding?
It's easy to make banana pudding using yellow squash puree.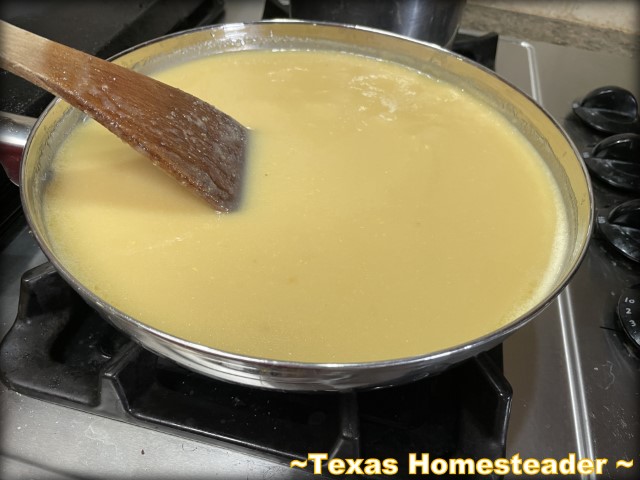 Cook's Note: Choose only young squash for this pudding recipe to assure no tough skin, tough flesh, large seeds or squash flavor is evident in your pudding. There's no need to peel young squash since the skin is still tender. But make sure to puree cooked squash completely until fully smooth.
Chop & steam 3-4 young yellow squash until very soft, then drain & blend thoroughly to make 2½ cups of puree.

Mix the squash puree with 4 tablespoons of butter and cook over medium heat until the butter is melted.

In a separate bowl mix 2 cups of sugar with 3 tablespoons of flour. (This keeps the flour from clumping up and being hard to dissolve.)

When the butter's melted add the sugar/flour mixture and stir until incorporated.

Add a can of condensed milk and one chopped banana into hot pudding. Cook, stirring constantly until pudding thickens.

In a separate bowl mix 3 egg yolks until completely blended and add them to the thickening pudding. Cook for 1-2 minutes more until pudding is thick.
NOTE: Don't cook longer than needed, only 1-2 minutes after yolks are added. Pudding will thicken more as it cools.
Remove pudding from heat, stir in vanilla extract and layer serving bowls with pudding, additional sliced bananas, vanilla wafers and whipped cream.
How To Serve Banana Pudding
Everyone has their favorite way to serve their homemade banana pudding.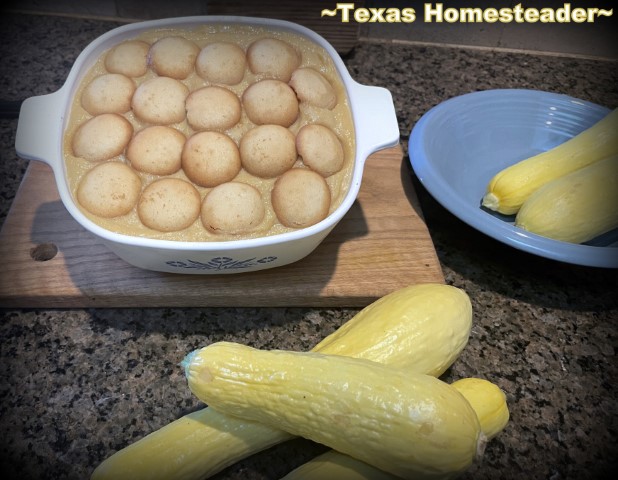 In A Clear Glass Trifle Dish or 8×8 Casserole Dish:
Layer half the cookies on the bottom of dish
Spread half of the pudding over cookies
Top evenly with half the banana slices
Spread a layer of whipped cream on top of bananas
Repeat layers with remaining half of ingredients
Single Serving Mason Jars: Layer pudding as above but divided evenly into small wide-mouth ½ pint mason jars for single-serve convenience and a nice presentation too.
NOTE: If using mason jars, the Vanilla Wafer Mini's work better than the full-sized cookies.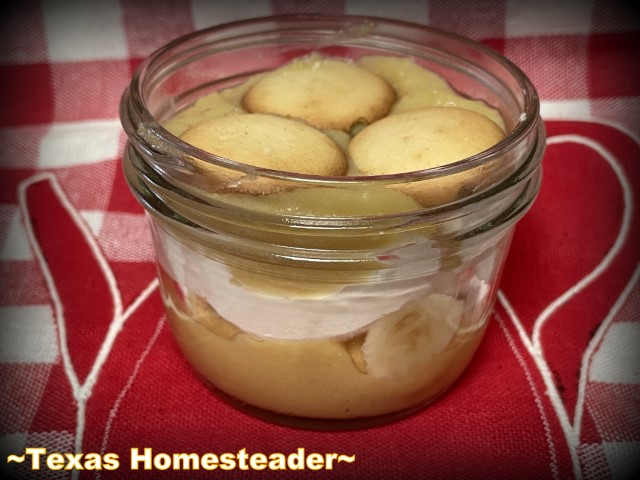 How Do You Layer Banana Pudding?
Those delicious layers are what makes banana pudding special. But whatever method you want to layer it is fine:
Each ingredient layered only once

Duplicate layers,

Cookies on bottom,

Bananas on bottom,

Topped with cookies or whipped cream
Whatever you want – the world's your oyster!
Did you make this Banana Pudding? Please rate the recipe in your comment below!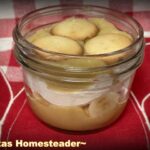 Banana Pudding Made With Yellow Squash
If you have an abundance of squash, use it to make banana pudding they'll never know they're eating their vegetables… It tastes like banana pudding! #TexasHomesteader
Ingredients
Ingredients;
2 1/2

Cups

Cooked, drained, puréed yellow squash

(3 or 4)

4

Tablespoons

Butter

2

Cups

Granulated sugar

3

Tablespoons

Flour

3

Egg yolks,

blended

1

12 fl oz can

Evaporated milk

Note: NOT Sweetened Condensed Milk!)

3

large

Bananas

25

Vanilla Wafers

2

tsp

Vanilla extract
Instructions
Instructions:
In a large skillet on medium heat mix 2 ½ cups cooked & pureed squash and 4 Tablespoons of butter, stirring constantly. Heat until butter melted

In separate bowl mix 2 cups sugar with 3 Tablespoons flour until blended, add to squash mixture, stirring until fully incorporated.

To squash mixture add 1 can of evaporated milk and one chopped banana. Cook pudding until thickened, stirring constantly.

In separate bowl beat 3 large egg yolks until smooth. Then add beaten eggs to hot pudding stirring quickly to incorporate.

Cook for 1-2 minutes longer or until pudding is thick.

Remove from heat.

Add 2 tsp vanilla extract

Cut 2 remaining bananas into slices and layer pudding/bananas/whipped cream/cookies (in any order you wish) into serving dishes and serve room temperature.
Recipe Notes
NOTES:
*Make sure cooked squash is pureed completely with no lumps remaining.
*Over-cooking pudding once eggs are added could leave small pieces of cooked egg in your pudding. Only cook as long as needed once eggs are added.

*Pudding will thicken a little as it cools.
Health Benefits Of Squash
Squash has lots of health benefits. According to Webb MD squash is a good source of:
Magnesium
Calcium
Iron
Vitamin A
Vitamin B6
It's also high in fiber too. So it's a delicious thing to include in your healthy diet. Enjoy your vegetables!
~ TxH ~
This post categorized in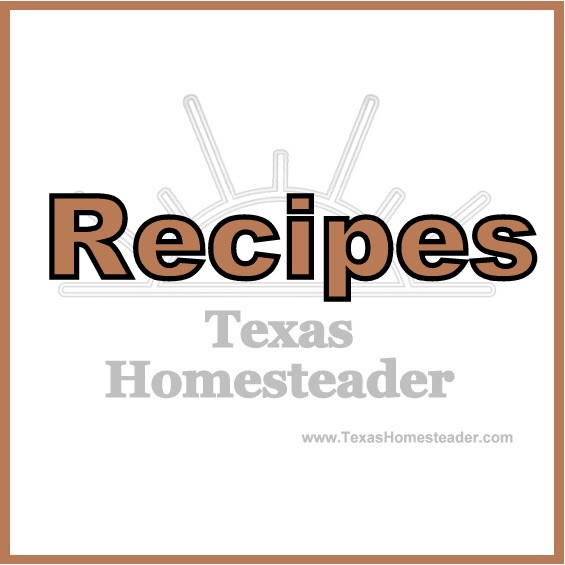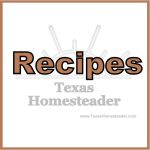 Other Easy Desserts
Cakes, Pies, Cobblers
Muffins, Breads
Cookies
Puddings
Ice Cream & Other Desserts
Dessert Toppings


C'mon by & sit a spell! Come hang out at our Facebook Page . It's like sitting in a front porch rocker with a glass of cold iced tea. There are lots of good folks sharing! And you can also follow along on Pinterest, Twitter or Instagram
If you'd like to receive an email when a new blog post goes live,
subscribe to our Blog!
References: