by Texas Homesteader ~
Most pet owners have had to make hard end-of-life decisions for their pet at some time. But it's so hard to say goodbye… Not only because you're losing a beloved pet, but also the heart-wrenching uncertainty of knowing when it's time.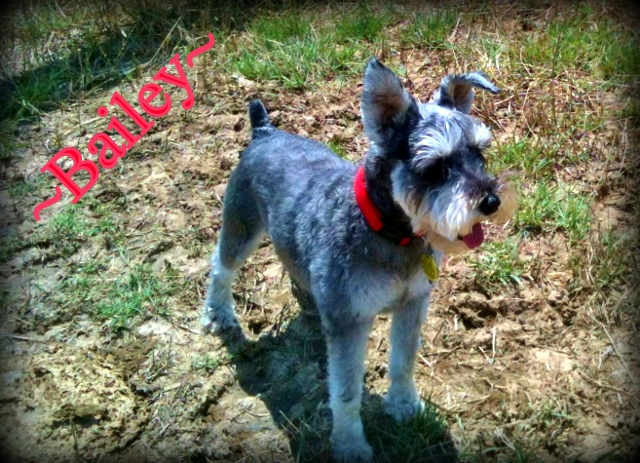 Adopting Bailey From An Animal Shelter
If you've followed along this website for long you know all about our sweet mini-schnauzer Bailey.
She was adopted from an animal shelter in 2014.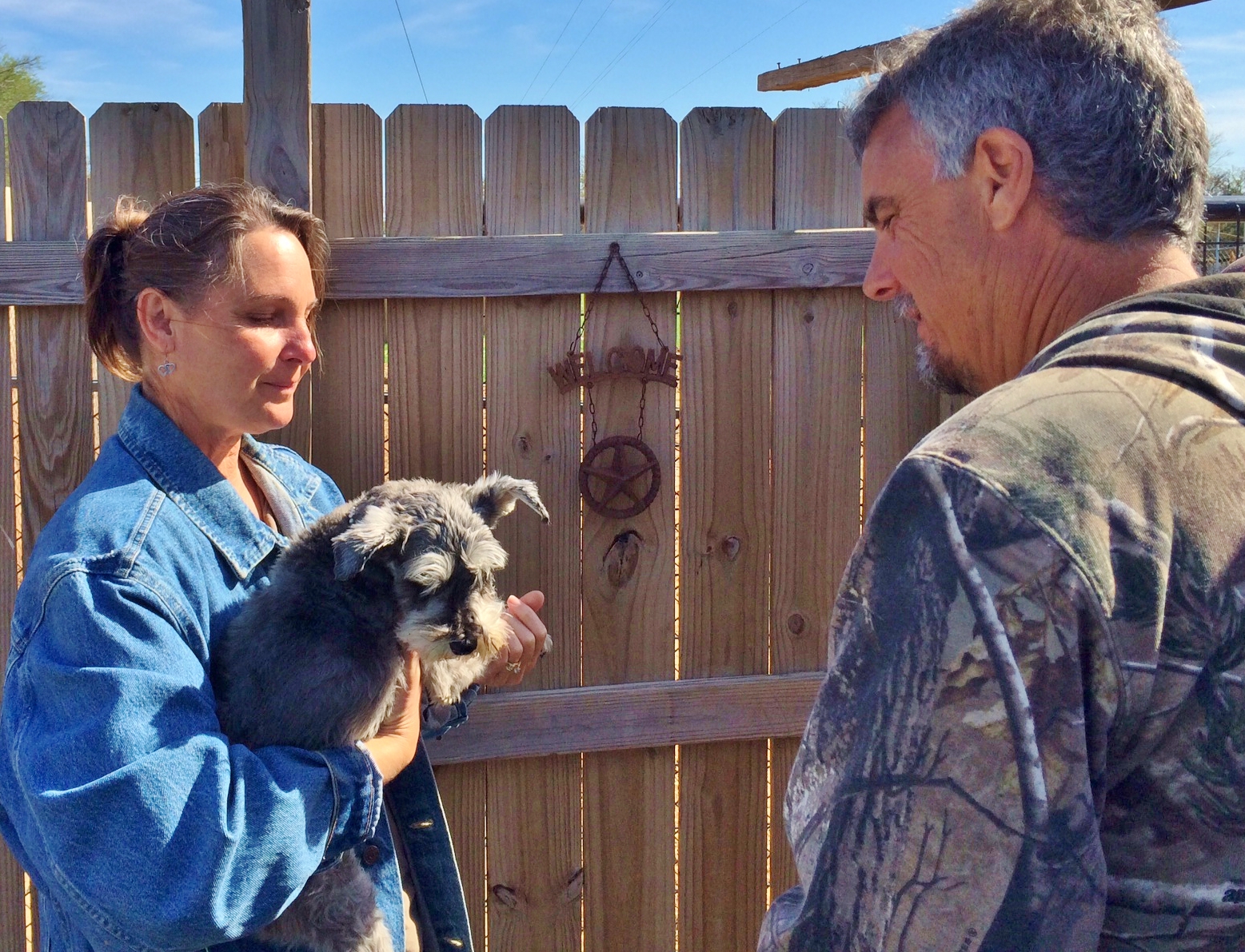 Adopted Pet Overcoming Abuse & Illness
The family that surrendered her to the shelter had abused her terribly when she started relieving herself inside the house – until they found out the reason was beyond her control. She had painful bladder stones and surgery would cost several hundred dollars.
Not wanting to spend the money they turned her over to a shelter. Thankfully we adopted her in 2014 and got her the medical help she needed.
The vet estimated her age to be about 5 at the time but we always suspected she was a few years older than that.
Training Bailey For Her Safety In The Country
As we brought her to the Homestead we wondered what we'd gotten ourselves into!
She would bolt out the door and take off running every time the door was opened.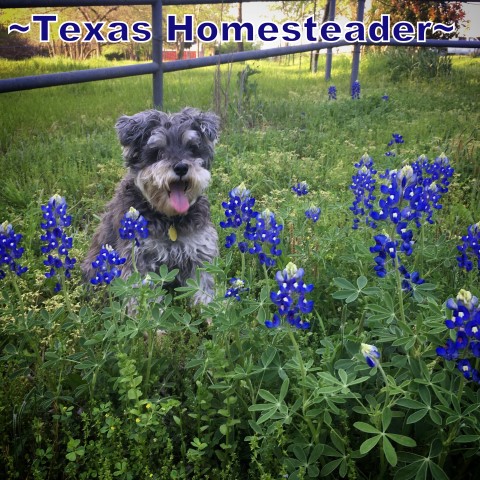 We assumed she was raised in a city environment and used to being safe outside. But we needed to prepare her for the dangers of country living – snakes, skunks, coyotes and such.
She was great in her obedience training and learned quickly. She wanted so badly to please us and she couldn't have been a better student.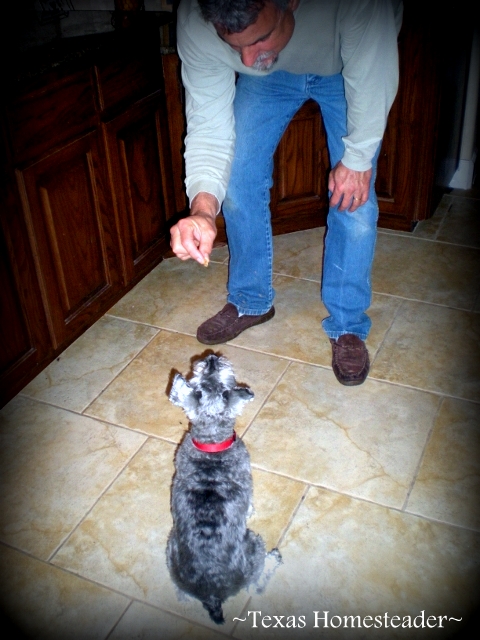 Our Constant Companion On The Homestead
After she was properly trained we took her out with us wherever we went, knowing a call to her was all it would take to bring her running back to our side.
Bailey was next to us every day, our constant companion. She was my shadow as I went to check the chickens or work in the garden. And if RancherMan headed out the door to check on the cattle she was with him too.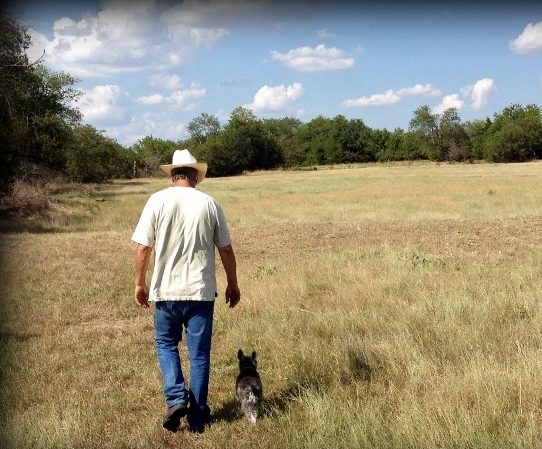 Bailey Living Her BEST Life!
She was living her BEST LIFE! Oh how she loved chasing the bunnies. We knew she'd never catch them but she sure relished in the chase!
We took her with us when we traveled too. She enjoyed her time at Galveston beach. So many new smells she'd never experienced before.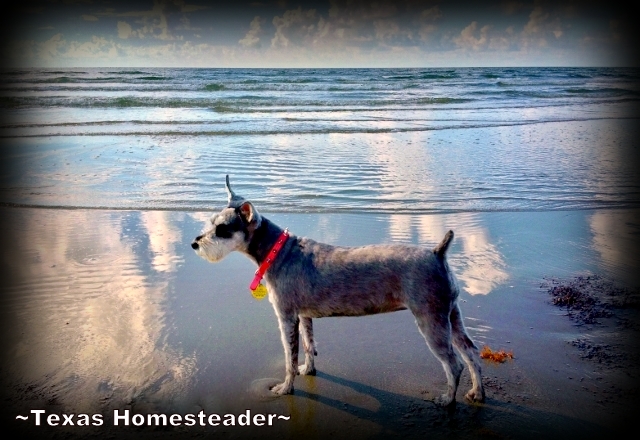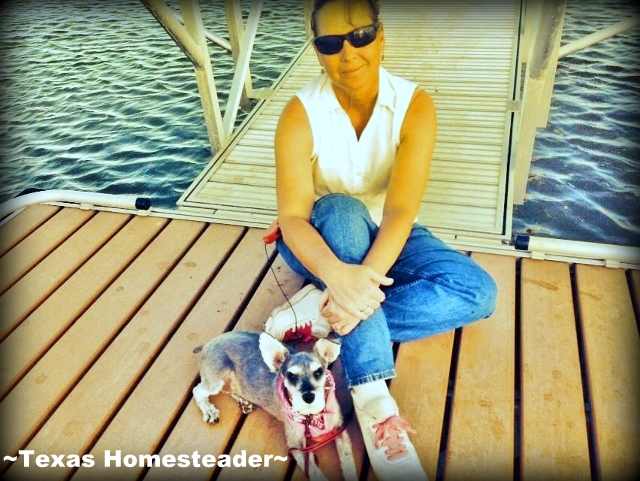 As Pets Begin To Age
Several years ago her age really started showing. It was becoming harder for her to hear or see. And those tiny teeth were starting to loosen and fall out too.
That's alright girl, we all get older sooner or later. We'll be here with you & love you through it.
We still kept her on her strict low-oxalate diet to combat any issues with returning bladder stones. But to make it easier for her to eat, her food was mixed with water to make it softer for her.
Even with her health limitations we kept her as involved as she could physically be.
Romps in the pasture were traded in for sleeping in my lap, trips to the back yard and snuggling under the covers on chilly nights.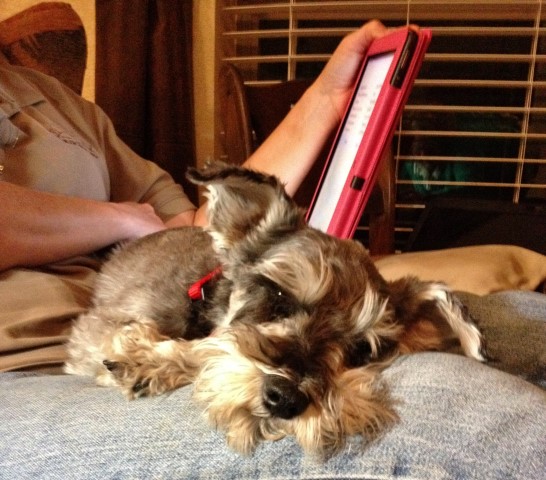 Bailey Suffers A Stroke
Then a year ago she suffered a stroke, then several smaller strokes afterward as well.
She exhibited several odd behaviors due to the strokes, such as:
She quit barking at all, even when we were playing with her.
She'd walk in tight circles over & over again.
She couldn't sit still, she was walking down the hall just to turn around and walk it over & over again.
She became fearful of things she wasn't afraid of before such as sleeping in her crate or being brought up on the couch with us when we watched tv at night. (this one possibly because of her failing eyesight?)
Vet Analysis Indicates Permanent Neuroglial Damage
We took her to our vet for his analysis, hopeful there was something we could do to help her. He broke the news to us that the stroke had caused irreversible neuroglial damage.
Not ready to say goodbye he sent us home with a couple of prescriptions to try – one for potential arthritis pain and another to make her less anxious.
But he cautioned that he was only supplying 2 weeks of those medications because if they didn't help her there was no need to continue. (gulp)
Bailey's Health Getting Worse
Two weeks passed with her on the medications but she was only getting worse.
Soon it was harder to get her to eat and she began to lose weight. And things that didn't bother her before now terrified her, even walking in the back yard or basic hygiene like brushing, bathing, etc.
But we love her so! How do we make that hard decision?? How do we know it's time?
Knowing When It's Time To Let Bailey Go
We realized any joy in Bailey's life had been replaced with only basic instinct responses.
Gone were her days of trotting alongside us or sniffing out different animal smells along the way.
No more chasing bunnies or stalking grasshoppers, her little tail waving wildly back & forth as she conquered her ferocious grasshopper foe.
Also gone were any trips to the pasture, the garden or chicken yard with us.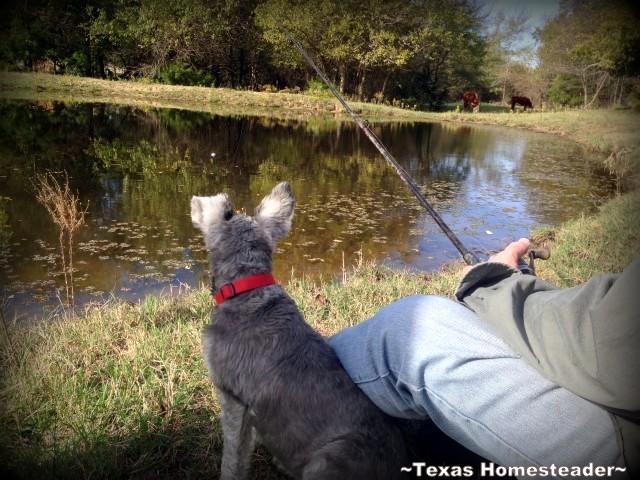 Bailey's Joys In Her Days Replaced With Fear
Those good times had been replaced with negative things. She was too afraid to be in our lap or for us to pick her up.
Her life had become only day after day of being fearful of everything in her path. She was now surrounded in fear, darkness & silence and perhaps even pain.
We knew it was time to say goodbye.
Making Bailey's Last Days Special
So we took her out for one last ride in the car – windows cracked so she could stick her nose close to the window & sniff the air as we drove through the countryside.
There were snuggles and ear scratches. And there were lots of peanut butter treats too.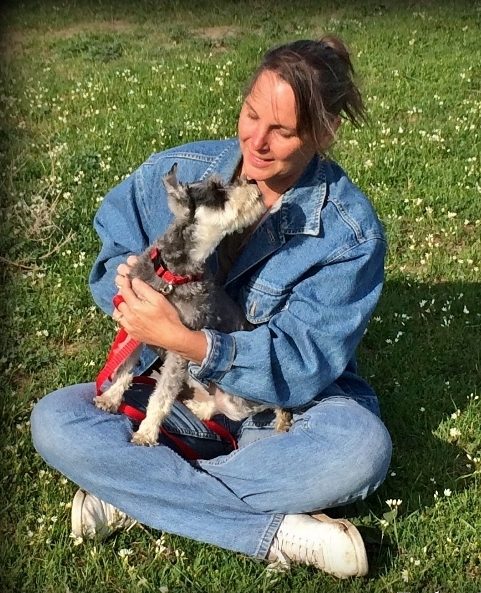 With gut-wrenching pain and many tears, we told her she was a good girl and then we did the right thing by her. It was time to say goodbye.
Making The Most Humane Decisions For Beloved Sick Pets
These pups, they leave a pawprint on your heart forever don't they?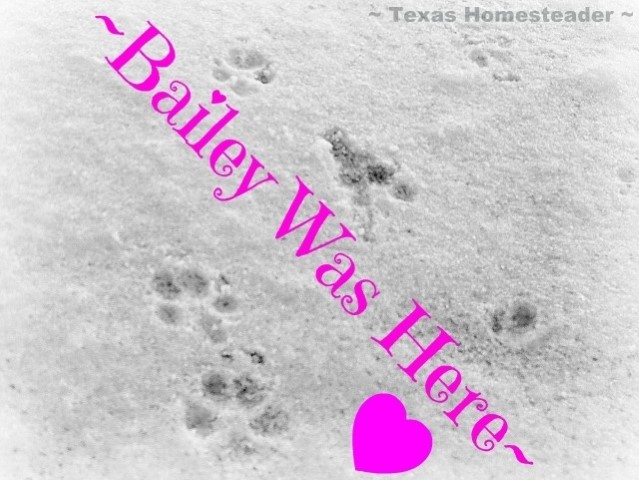 It's so hard to say goodbye and our hearts are broken.
But we're comforted knowing her previous life's abuse had been replaced with a life like no other here on the Homestead. A life she couldn't have even dreamed of. A blissful life she loved.
Across the rainbow bridge she goes, pain & fear free.
Goodbye sweet girl…
~ TxH ~