by Texas Homesteader ~
The garden got off to a slow start this year due to family illness and changes in the garden area itself. We ripped up the raised beds and built a fence separating the garden into 2 parts – one part for a more-efficiently laid out garden and the other part for the chicken run.
I'm loving the symbiotic relationship between chickens & garden and so far it's working great! But now it's June and the garden is really ramping up for the year. C'mon through my garden gate and see what's going on…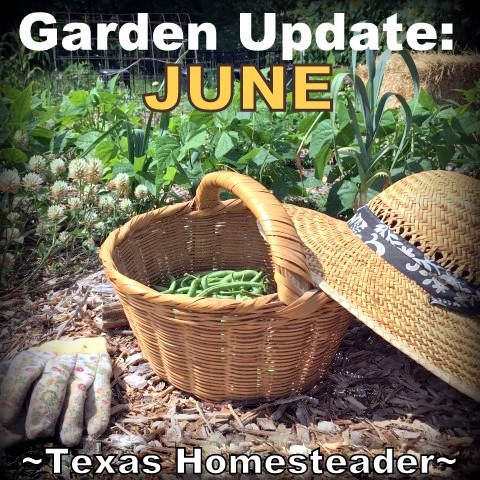 Because of the torrents of rain we endured for weeks on end, there were some casualties in the garden. Many of my tomato plants have yellowed off. And there are yellowed leaves on many of my different squashes but I think they'll all make it. I don't have the same optimism for some of my pepper plants.
Garden Successes
But there are many successes going on the in garden too. I always plant a 3-sister's garden (Corn / squash / pole beans) but it's never really done much.
This year I once again planted my 3-Sister's Garden with heirloom corn, heirloom pumpkin for the natural ground cover and pole beans called "asparagus beans" because they typically grow prolifically.
This year my 3-Sister's Garden is going like gangbusters – yea! I'm weaving the pumpkin vine in & out of the corn stalks to more fully cover the ground to moderate soil temps as well as conserve moisture for all three plant varieties. And the green beans are trailing up the corn nicely.
I hated to have to buy tomato plants. But given my lack of attention this year to my indoor greenhouse I had a high failure rate this year & I had to buy hybrid tomato plants.
But WAIT! What's do I see??!! A volunteer tomato has sprouted. Now I know these are my beloved heirloom San Marzanos because that's what was in the garden.
Between the tomato plants I purchased and my heirloom San Marzanos, looks like there will be plenty of tomatoes preserved from the garden this year.
And with the change-up in the garden layout, I planted a row of mammoth sunflowers along the fenceline that splits the chicken area from the garden area.
I plant mammoth sunflowers in my garden every year for two reasons: My mother always remarks how beautiful they look in the garden when she visits. Plus sunflowers are my faves too. And c'mon there's nothing wrong with a veggie garden being pretty too!
But this year there's yet a 3rd reason – these large sunflowers are planted on the west side of the new chicken area. So they'll offer them shade during the heat of our typical Texas summers. Gotta love it!
They're starting to bud so I'll be sharing pictures of their glory on our ~Texas Homesteader~ Facebook Page soon, so be watching!
And those concord grapes? Oh my, it's gonna be a great crop this year. Last year I made them into grape juice because RancherMan loves juice in all forms plus I already had enough jelly for the year. But I may try grape jelly with some of them this year.
The other things in the garden are toodling along fine, but nothing to crow about. The bell peppers that survived the flood are finally starting to grow again but no peppers yet. The spaghetti squash vine, watermelon and green beans are all growing ok too, just nothing to harvest yet.
The summer squash was planted later than usual this year due to the fact that I really, REALLY didn't know RancherMan loved yellow squash! But it's starting to put on some tiny squash so there'll be plenty soon.
The edible landscape garden on the other hand is going along GREAT! The cantaloupe vines are covering the soil beautifully and are even starting to produce cantaloupe for me. The carrots are growing better than they have in previous years – I've already harvested lots of carrots for our suppers for several nights.
When I harvest carrots I try to chose carefully which ones to pick so I can thin the line and give the others more room to grow larger. There will be more carrots in the coming weeks before they give up the ghost from that Texas summer heat. In the meantime I love that they're doing just what I planted them to do – their lacy tops beautify my 'flowerbed' while the carrots are also offering food. Win/win.
And I planted a zucchini plant to anchor my edible landscape, I think the plant itself is beautiful & eye catching, plus, you know, FOOD! I'm starting to harvest that zucchini now and have enjoyed it as a seasoned side dish but I'll be making zucchini noodles seasoned with olive oil herb bombs often!
Although the amount of veggies I'm harvesting fresh for our supper many nights is still small, it won't be small for long! Gotta love veggies picked fresh minutes before their preparation for a meal.
So there ya go – a far cry from last year's garden & I'll be swimming in fresh produce soon! How's your garden doing this year.
~TxH~
This post categorized in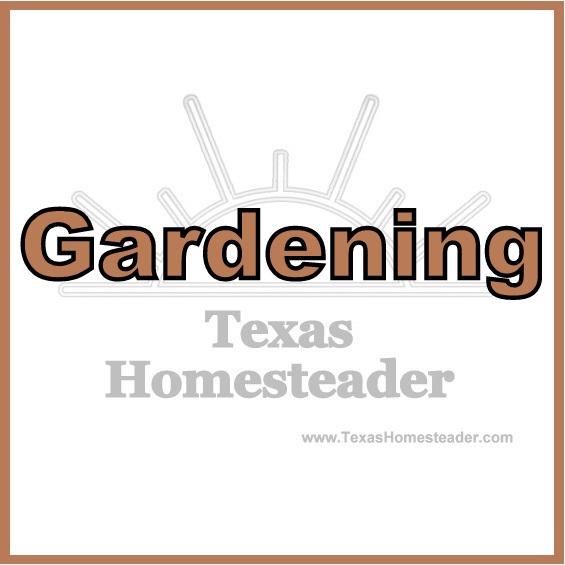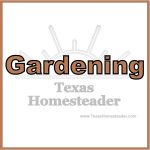 C'mon by & sit a spell! Come hang out at our Facebook Page . It's like sitting in a front porch rocker with a glass of cold iced tea. There are lots of good folks sharing! And you can also follow along on Pinterest, Twitter or Instagram
If you'd like to receive an email when a new blog post goes live,
Save
Save
Save