by Texas Homesteader ~
June is a great month for gardening. But this month has been even better being unusually temperate with plenty of rain. That's helped it be super productive! C'mon through my garden gate and see what's growing on…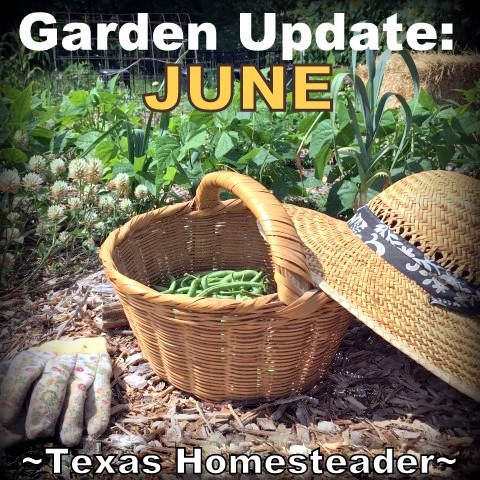 (Note: Some links in this post will take you to other related articles for further information. But links preceded with * are affiliate links. If you click and buy something I could receive a tiny commission.)
You can see all my garden posts by clicking the button below: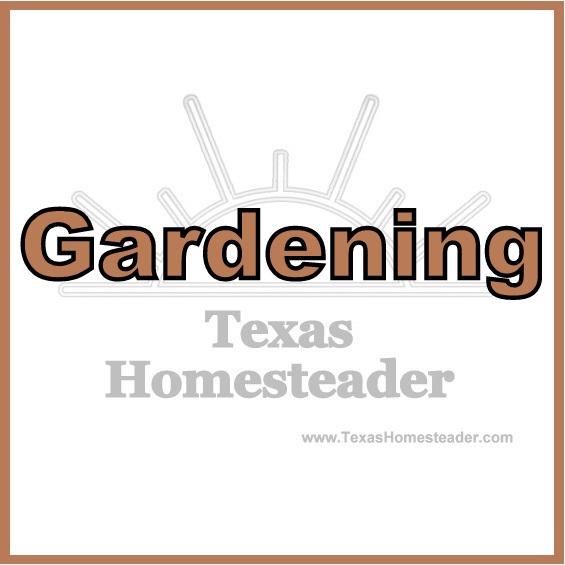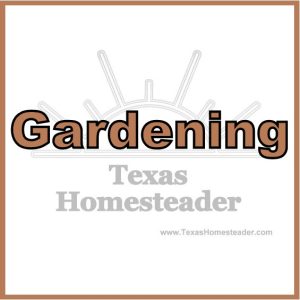 My garden has grown better this year than ever! We had a pretty wet month and rainwater just irrigates the garden better than water from a hose.
I'm harvesting lots from the garden every day!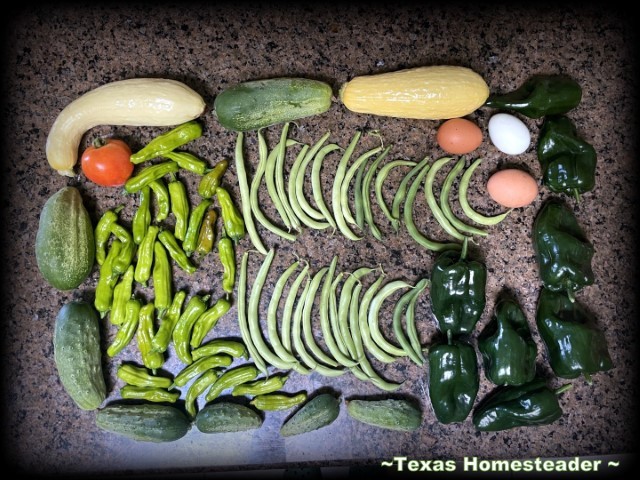 I've included information below if you're looking to buy some of the same garden seeds I'm growing, as well as additional posts about each crop too. So click the links if you're looking for more information!
What am I growing these days? Check it out.
Amish Paste Tomato Plants
(You can *Buy Heirloom Amish Paste Tomato Seeds Here)
I planted seed saved from a mysterious tomato that sprouted randomly at my parent's home after soil was excavated from beneath their house. It was later identified as an Amish Paste tomato.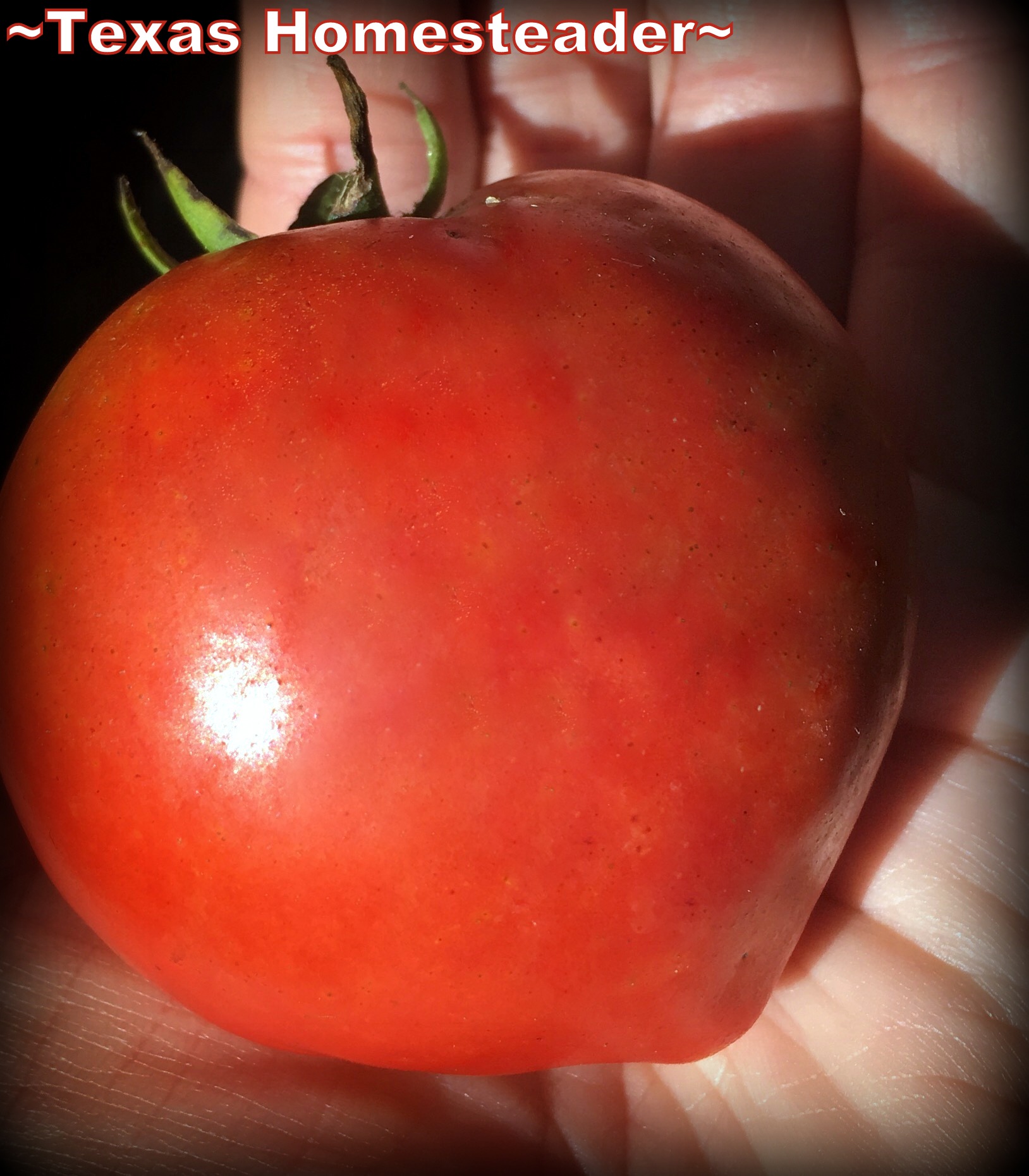 My plants are loaded and tomatoes are starting to turn red. I'm beginning to slowly harvest them.
Paste tomatoes are great sauce and salsa tomatoes since they tend to be more meaty & less watery.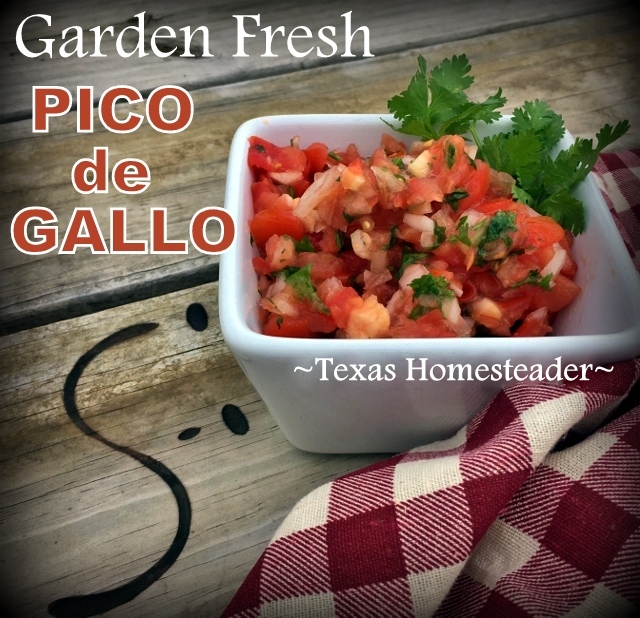 Tomato Information:
Green Beans
(You can *Buy Contender Bush Green Bean Seeds Here)
Green beans have been the star of the show this year. I've picked gallons of green beans. Maybe it's because I planted them in my new raised bed.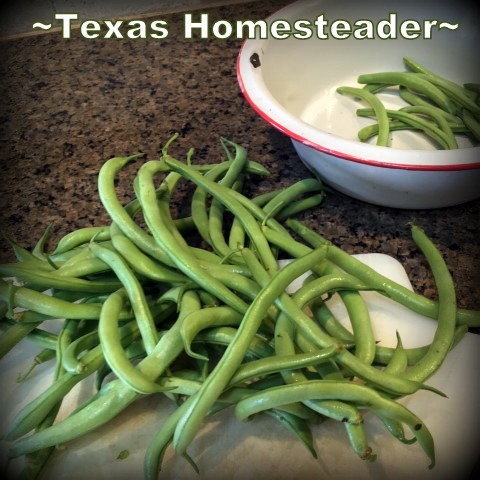 Note: I LOVE THIS RAISED BED! It's the favorite in my Homestead garden. And the fine folks at Hopkins Homestead Store have agreed to give our readers a discount. Just enter TXH5off at checkout HERE!
We're eating green beans fresh and I'm freezing and even canning them. Since green beans pressure-can at the same time & pressure as my homemade broth I was able to fill up that canner with two foods at one time!
Green Bean Pests
But as is typical this time of year my Contender bush beans are being hit by a garden pest.
The damage looks like spider mite but I see no webs and it doesn't look like spider mites on the underside of the leaves. Does anyone have any hints?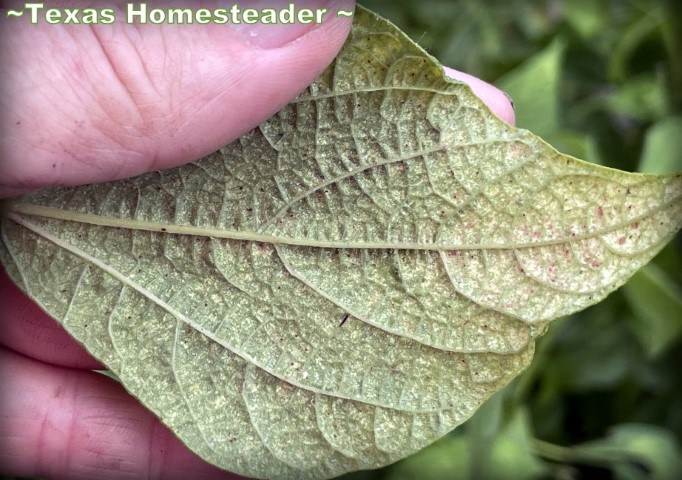 It may just be time to cut the green beans at ground level and let this bed go fallow until fall planting. At least I have plenty of garden green beans preserved to use all year long!
Growing Pickler Cucumbers
(You can *Buy Pickler Cucumber Seeds Here)
I'm also picking cucumbers every day. I made a salt brine (using the dill growing in my garden) and have made a jar or two of refrigerator pickles.
I'll also make and can some sliced dill pickles, whole dill pickles and smaller whole sweet pickles.
But sliced & chilled cucumbers and dip is a cooling delicious snack. I don't dip them in ranch dressing, there's too much fat & calories in ranch dressing for my liking.
I make homemade dressing using unflavored yogurt, lemon juice, garlic & onion powder & a bit of salt/pepper. Then I mince fresh dill to go in this cucumber dip.
Healthy, creamy, delicious, cheap and ZERO WASTE!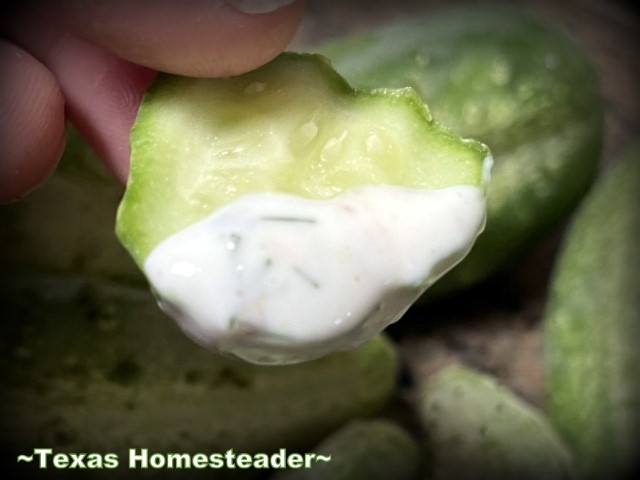 Cucumber Posts:
Luffa (or Loofah) Gourd
(You can *Buy Luffa Seeds Here)
There are several benefits in growing luffa. If you allow it to mature it makes a scrub sponge. But if you harvest it small it's a zucchini substitute. (without squash bug pests!)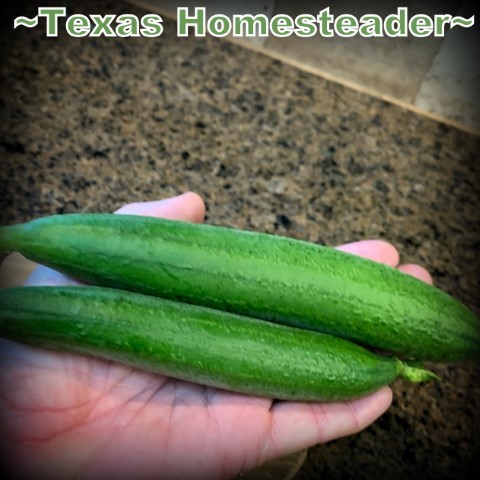 Cantaloupe As Living Mulch
(You can *Buy Cantaloupe Seeds Here)
The cantaloupe vines I planted as living mulch around my tomato plants are growing like crazy! And the bees have pollinated their flowers so there are tons of tiny cantaloupe starting to grow.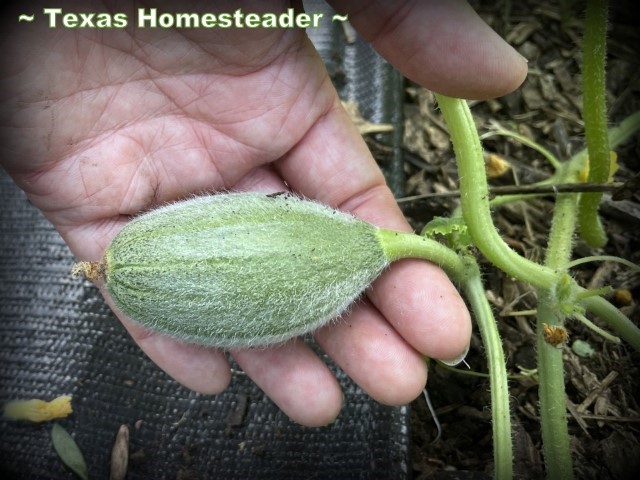 Cantaloupe Posts:
Okra & Pest Damage
(You can *Buy Clemson Spineless Okra Seeds Here)
The 4 okra seeds I planted grew into plants and are starting to produce small okra. I'm harvesting 1 or 2 each day.
The grasshoppers have descended upon the garden and are causing damage to the leaves. But so far it's only cosmetic. I'm hoping my free-range chickens can help keep the grasshoppers in check.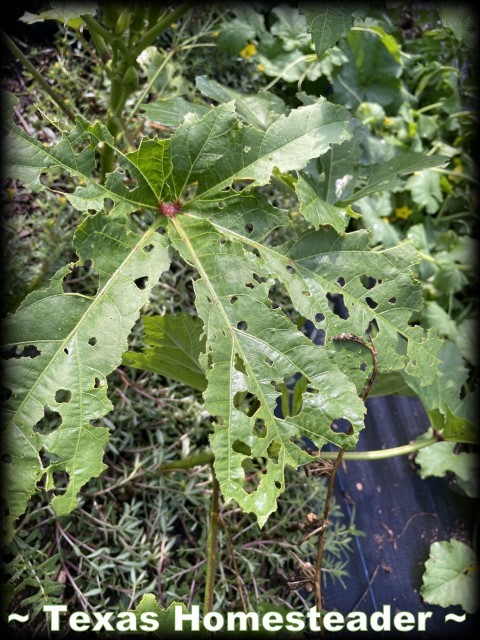 I'm dropping harvested okra in a jar with salt brine until I get enough for a full jar.
Then I'll make fresh brine and can the okra for the pantry. We love pickled okra and we also love okra fritters.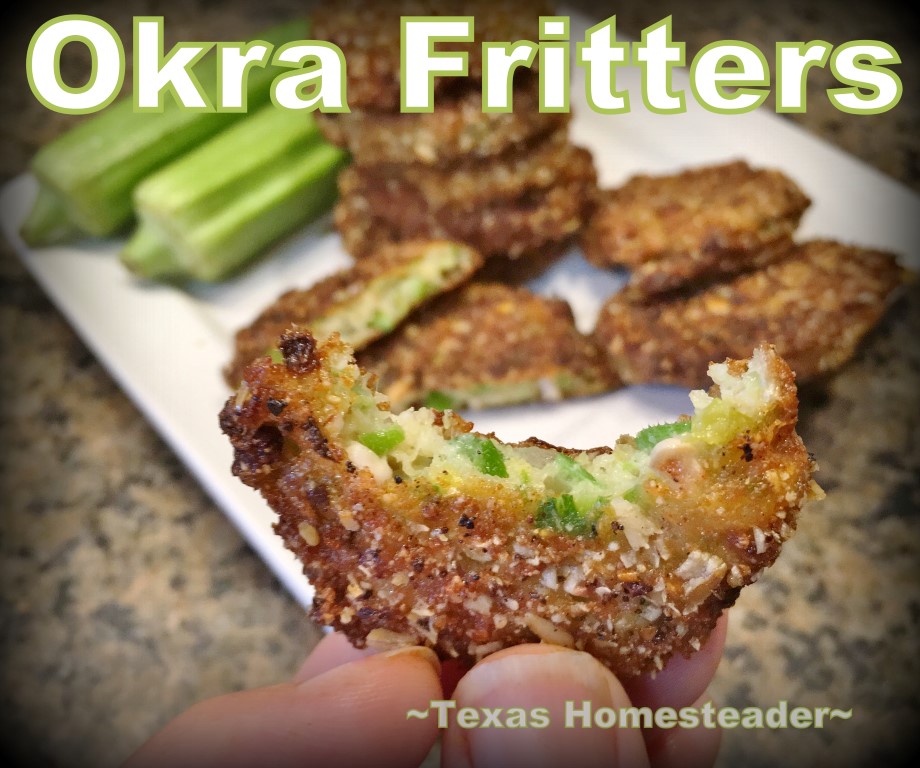 Okra Posts:
Garden Pepper Varieties I'm Growing
Now that the temperature is heating up I have a pepper bush full of pepperoncini peppers. And they're now getting large enough to harvest too.
It will be another week or so before I can start harvesting my bell peppers. I love all the pepper varieties I planted this year!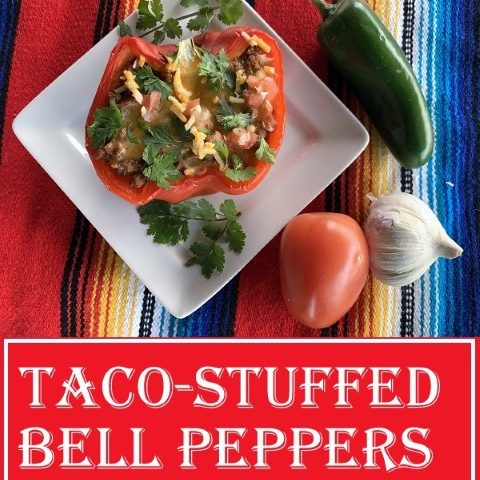 Pepper Posts:
Squash In My Texas Garden
As most southern gardeners know squash is prolific. I'm harvesting several yellow squash every day and one or two zucchini a week.
So there's enough for RancherMan & me plus plenty to share with family & friends.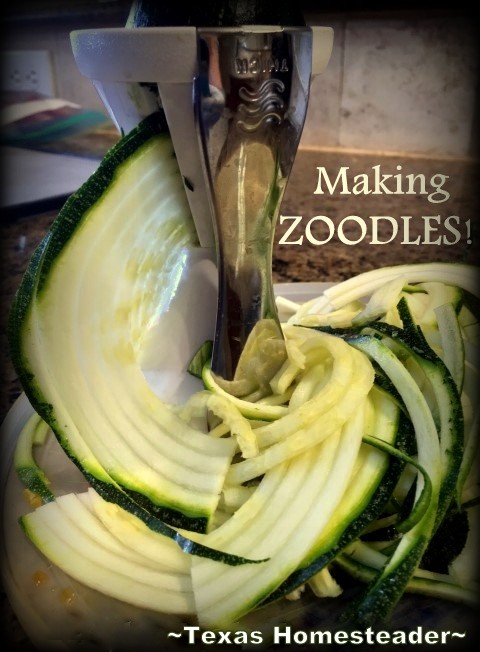 Squash Posts:
Egyptian Walking Onions
(You can *Buy Egyptian Walking Onions Here)
My Egyptian Walking onions have formed their bulbils and the stems have weighed down to start the next generation of onions. This is a true Lazy Gardener's plant!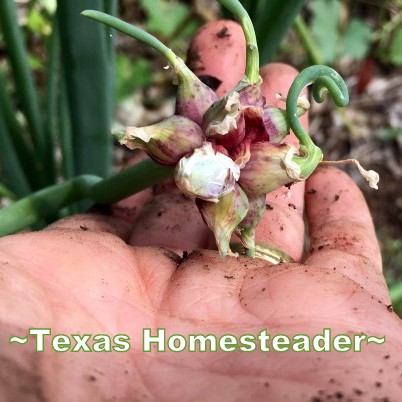 Fresh Herbs Growing In My Homestead Garden
All the herbs are vigorously growing and I'm harvesting from them often. What's better than herbs so fresh you picked them less than 5 minutes before using in your recipe??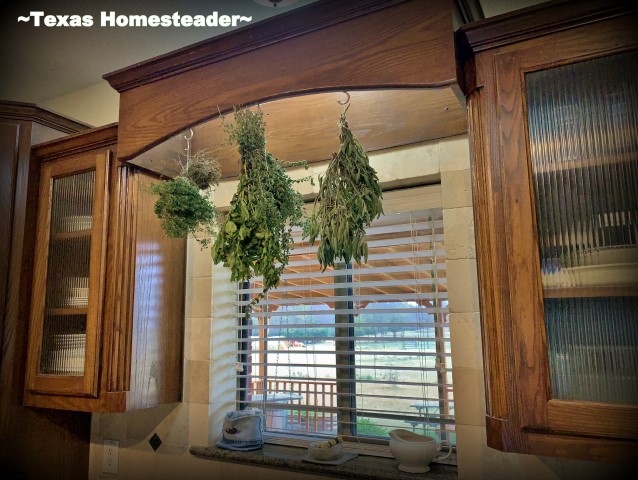 Herb Posts:
Thornless Blackberries
(you can *Buy Thornless Blackberries Here)
I'm still harvesting 1-2 blackberries each day but the bush is about to be completely harvested for the year. This is my first year growing it.
The bush has grown impressively so next year I'll get an even larger harvest!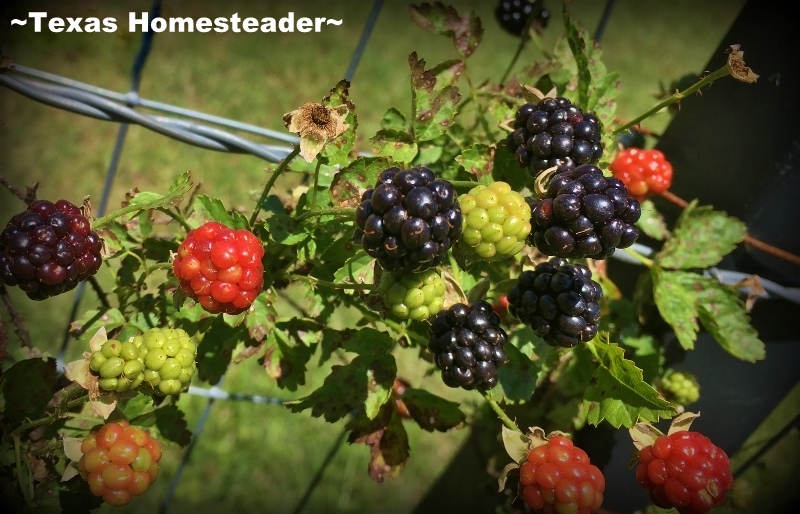 Tough Gardening Weather Ahead
I've harvested and preserved an impressive amount of food from my garden so far this season. July promises to be hot and dry so I'm expecting it to struggle more then.
If possible I'd like to squeak it through to enjoy a short fall resurgence.
How's your garden doing these days?
~TxH~
This post categorized in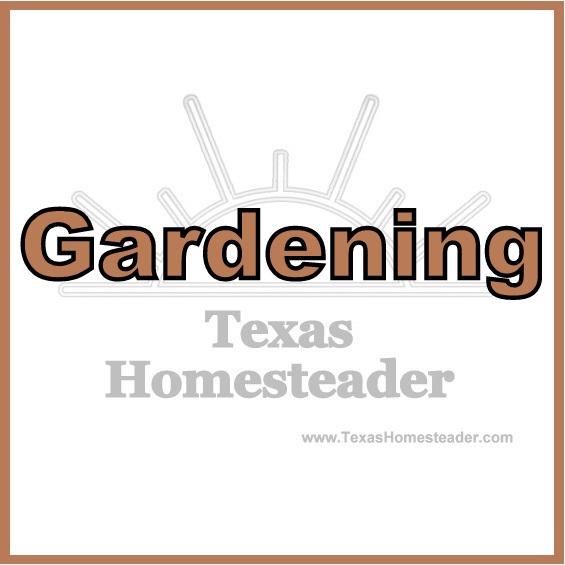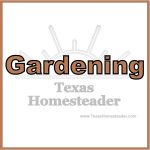 My Favorite Garden Hacks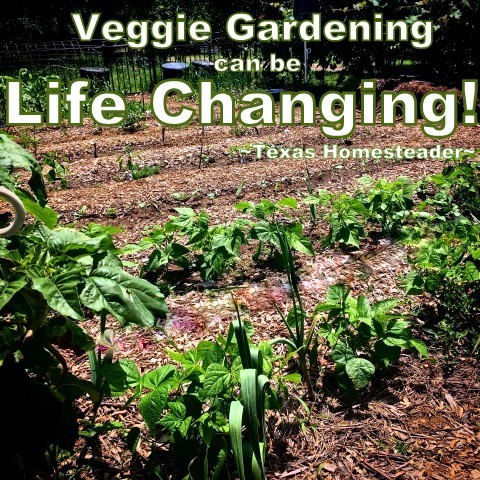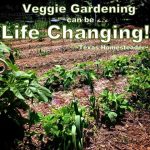 Garden Planning
Seed Planting
Soil Health
Garden Styles
Garden Plants/Harvest
Water/Irrigation/Drought
Weed Control
Garden Tips


C'mon by & sit a spell! Come hang out at our Facebook Page. It's like sitting in a front porch rocker with a glass of cold iced tea – lots of good folks sharing! You can also follow along on Pinterest, Twitter or Instagram.
If you'd like to receive an email each time a new blog post goes live it's EASY to
Subscribe to our blog!
Save
Save
Save