by Texas Homesteader ~
*contains affiliate link
This simple recipe for Pepperoncini roast uses only 3 ingredients – roast, onion & a jar of pepperoncini peppers. This is by far the easiest pot roast recipe in my Homestead Kitchen.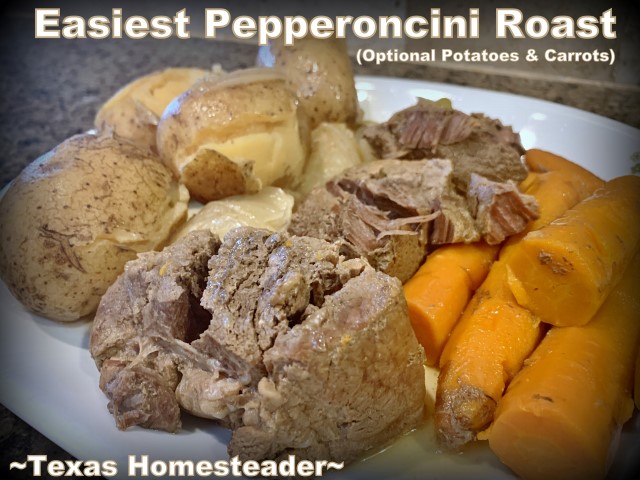 (Note: Some links in this post are for further information from earlier posts I've written. But links preceded with * are affiliate links. If you click them and buy something (almost anything, not just the item noted) I could receive a tiny commission. But the price you pay will NOT change. It's an easy way to support this blog without anything coming out of your pocket. So click often! Thank you!)
Instant Pot Pressure Cooker Convenience
I love my Instant pot for many things. One of the biggest benefits is faster or simplified cooking in my kitchen.
BUT, that simplification is bumped up even higher with this Pepperoncini roast. There are only 3 ingredients: A roast, an onion and one 16-oz jar of sliced Pepperoncini.
Let me paint you a picture:
Sear roast, sauté an onion (or two!), then dump an entire jar of Pepperoncini over the whole shebangie.
Simply allow the IP to cook for 35 minutes or so and BOOM! Dinner is served.
I'm not gonna lie, this is by far the easiest pot roast I've ever made. And it's also RancherMan's favorite. Here's how it all comes together:
Many Pepperoncini roast recipes out there call for all manner of extra ingredients. Packets of various mixes for instance.
But in my opinion it's totally not necessary. RancherMan declares that this roast is perfect just as it is & not to add a thing. (blushes)
Oh RancherMan, you sweet-talking man you!
Plus, let's be honest – if a recipe is delicious without adding extra 'fluff', I'm going for it. I'm a lazy cook, y'all.
In and out of the kitchen fast to serve up delicious homemade meals? That's my jam.
You too? Well read on, dear friends. You're NOT gonna believe how easy this is!
Sear Roast
The meat in our freezer is typically wild game that RancherMan's harvested, either venison or Wild Hog Pork. So that's almost always what I use. But feel free to use a 3-4 lb beef chuck roast though.
Searing roast will help seal in the juices, so I usually do that. (Although not always. See 'lazy cook' statement above)
I start off by cutting a 3-4 lb roast into about 5-6 chunks. I suppose I could cook the roast whole, but the cooked roast will shred beautifully. By cutting the roast into pieces before cooking, it assures that the shredded roast pieces are nice & short.
Plus the chunks cook faster than a whole roast would. Supper on the table faster is a good thing, my friends.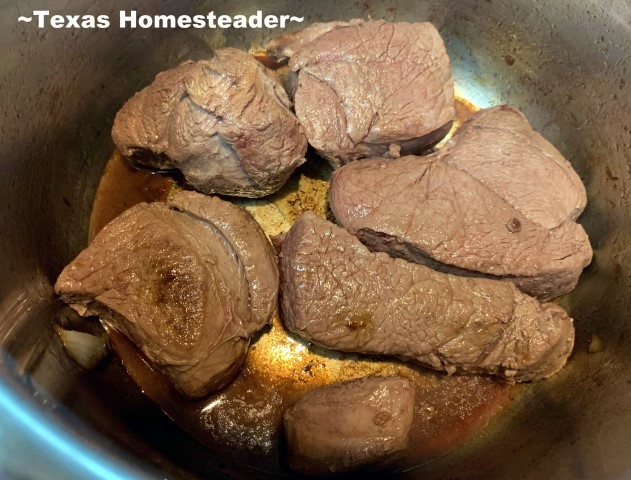 So I start by adding a couple of tablespoons of bacon grease into the Instant Pot, press 'sauté' & make sure it's set to high heat. After the fat melted I placed the roast pieces inside, searing each surface for a couple of minutes.
Then I removed the roast pieces and set them aside. I turned off the Instant Pot & now I'm ready to sauté the onions.
Sautéing The Onion
Sometimes if I'm in a hurry I just cut the fresh onion into quarters. And sometimes I dice the onion instead. Since the onion always cooks down pretty completely it really doesn't matter.
To sauté the onion I added another tablespoon of bacon grease to the inner liner of my Instant Pot. When the grease melted I added my onion and cooked it for a couple of minutes before setting it aside as well.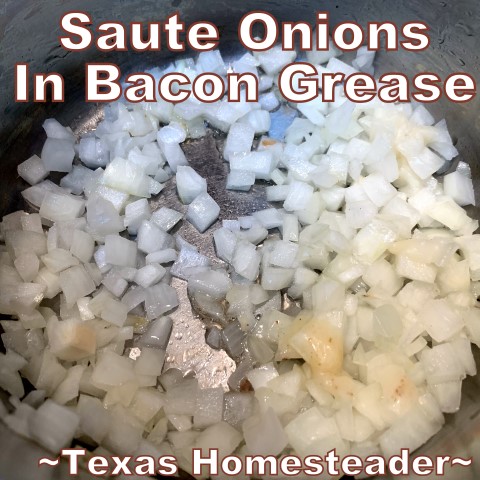 Shortcut Note: Since the onions cook pretty completely down in this recipe, oftentimes I can skip this whole onion-sautéing step altogether by using the Sauteed Onion Shortcut I shared with y'all a short time ago.
That way I can just toss a handful of those pre-sautéed onions on top of the roast when it's ready to cook and this recipe comes together even faster!
No onion chopping/sautéing is even necessary for this recipe that way! Shortcuts, my friends. Shortcuts.
Deglazing The Pan
After removing the onions I see the seared roast has left some bits stuck to the bottom of the pot. So I'll be deglazing it now. But this is really super easy too.
With the IP still set to sauté and while the inner liner is still hot, I splashed in a little juice from the pepperoncini jar and got to work deglazing the pot with a wooden spatula.
It deglazed effortlessly and less than a minute. Now let's cook that roast!
Cooking The Instant Pot Roast
I placed the seared roast into the IP inner liner and topped it with my sautéed onions. Then I poured that whole jar of sliced Pepperoncini on top, juice & all.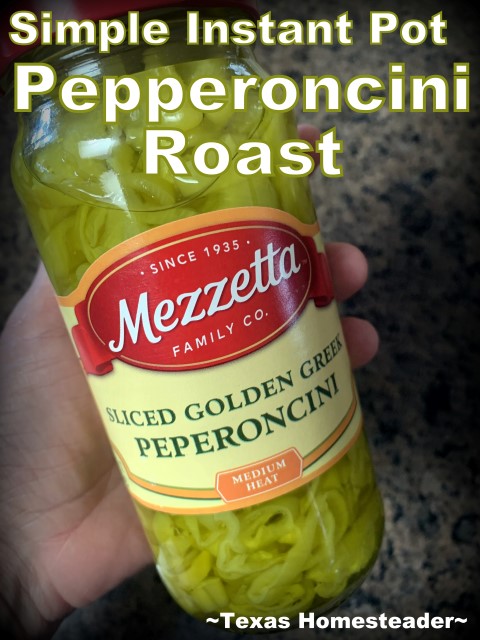 There's no need to add any additional seasonings – not even salt & pepper. The jar of sliced Pepperoncini with its juice will provide all the flavor that's needed.
If you like to go a little more heavy-handed with salt & pepper it's easy enough to add a sprinkle once it's on your plate if you feel it needs it. But it's always been perfect for us just as it was.
Optional Potatoes & Carrots
Although we have Planned Leftovers in store for this delicious meat on subsequent nights, we'll first enjoy that roast as the best comfort food of all – pot roast with potatoes & carrots.
So although it's not officially part of the recipe, right before I replace the IP lid to cook the roast I'll usually top everything with a few whole scrubbed potatoes & carrots.
I mean, it's gonna all cook at the same time with no additional hands-on from me. So why not have it provide the main entrée and the side dishes too?
(Another dinnertime shortcut? Why yes, yes it is!)
But 35 minutes cooking in an Instant Pot is a long cooking time for veggies that have been cut into smaller pieces.
So I make sure to use whole fist-sized potatoes and the largest whole carrots in my refrigerator's crisper to cook along with this roast. The carrots will still be super soft but I can usually gently transfer them just fine to my plate.
Now it's show time!
Cooking The Roast In An Instant Pot
I placed the lid securely on top of the Instant Pot and made sure the knob was turned to 'sealing'.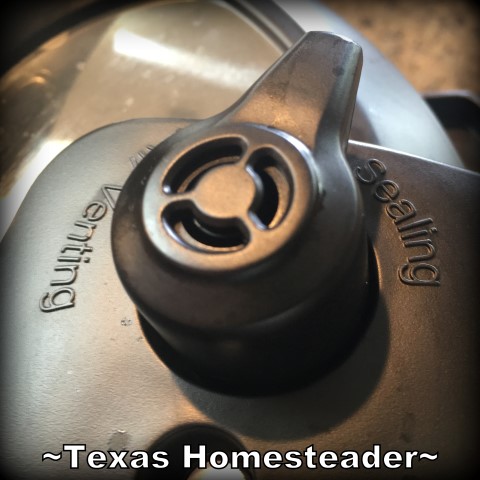 Then I pressed 'Pressure Cook' on high pressure and adjusted the cook time to 35 minutes.
The fact that the roast is cut into 5-6 chunks aids in this fast cooking time. Dinner in a flash? YES PLEASE!
The Instant Pot will automatically come up to the proper pressure, then begin countdown while it's cooking. SO EASY!
When the timer went off I let it sit undisturbed for 10 minutes. Then I did a quick release by carefully turning the valve to finish dropping the pressure.
Careful now, the steam is hot! For safety's sake I'll toss a kitchen towel over the valve while it's releasing that steam.
Meat & Wild Game Internal Temperature Recommendations
First I'll check the internal temps of this meat using an instant-read thermometer. (references at the end of this post)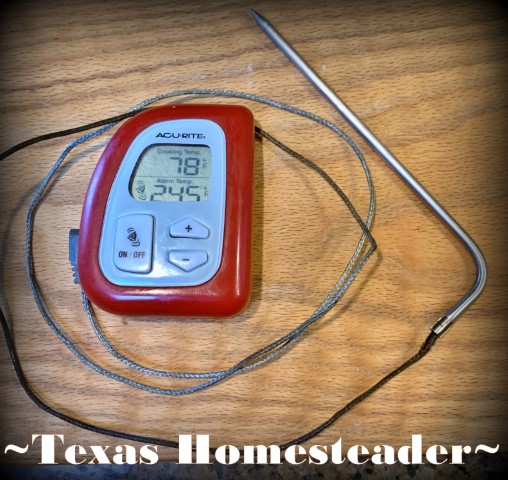 Beef Roast internal temperature should read 145°F – 155°F.
Wild Venison the recommended internal temp according to the extension service (reference link below) should be 145°F.
Wild Pork it should be 140-150°F according to a wild-game cooking site (reference link below).
A quick probe with an *Instant Read Thermometer proves that we're good to go. So the roast was moved to a platter and allowed to rest while I gathered our plates & utensils and set the table.
Different Ways To Enjoy Pepperoncini Roast
That first night I served chunks of that roast along with the potatoes & carrots. I like to ladle some of the flavorful Pepperoncini juice on top of the roast too.
Sometimes if I feel like it I'll even thicken the juice with cornstarch and water to make it somewhat gravy-esque.
Or not. Whatever. Flyin' by the seat of my pants, y'all!
Leftover Roast Options
There are lots of ways to enjoy leftovers of this delicious meat. Make it into Pulled Pork Enchiladas or maybe Carnitas Tacos for instance.
But our favorite and simplest way is to just shred the leftover roast and pile it high in flour tortillas. RancherMan loves it this way!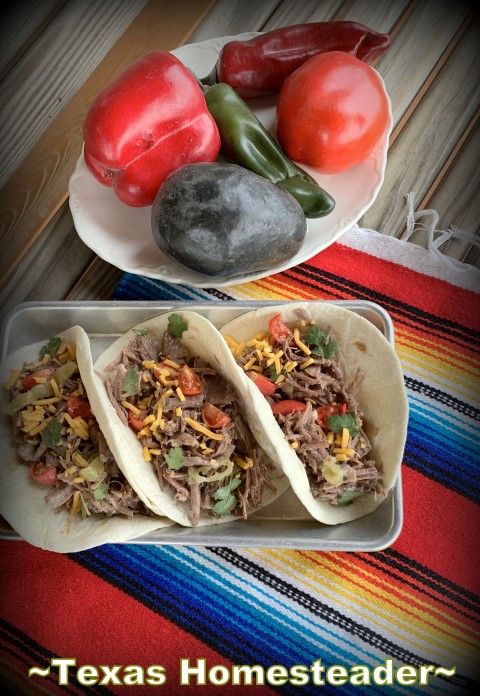 And once again I utilize a shortcut. This is the fastest way of all for Shredding Cooked Roast.
What??! MORE cooking shortcuts? I'm seeing a trend here…
Shortcuts in the kitchen, my friends. They're my constant kitchen companions and absolutely a lazy cook's best friends! LOL
Sometimes I'll add chopped tomatoes, fresh cilantro and a sprinkle of cheese on top of these leftover-roast tacos. But sometimes I add nothing at all and we enjoy it in its delicious simplicity.
Truth be told RancherMan would love me to cook all our roasts this way – he loves Pepperoncini roast that much. So I've purchased pepperoncini seeds in hopes of growing and pickling my own from now on to satisfy RancherMan's veracious Pepperoncini-roast appetite in the future!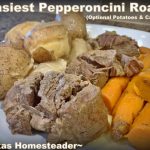 Simple Pepperoncini Instant Pot Roast (optional with potatoes & carrots)
The easiest pot roast I've ever made. Seer roast, saute onions, and dump a jar of sliced pepperocini in & cook 35 minutes. Done & DONE! ~TxH~
Natural Release Time
10
minutes
Ingredients
3-4

lb

Beef chuck roast

I use a venison or wild hog roast

1

16-oz

jar SLICED pickled Pepperoncini peppers

I chose medium-heat peppers

1-2

onions

cut into quarters (I used 1 onion)

4-6

medium-sized potatoes

optional

2-3

Whole carrots

optional
Instructions
Cut the roast into 4 to 6 chunks. Trim as much of the fat as possible from the chunks of roast. (It's fine if some fat remains)

Press the SAUTÉ key on the instant pot. Wait for the pot to indicate "HOT" before adding ingredients.

Add 2 tablespoons oil to the heated pot. Sauté roast pieces for 2 to 3 minutes per side, or until nicely seared. Transfer seared roast to a plate. Set aside.

Press CANCEL and then select SAUTÉ again. Add the onions to the pot and sauté for 2 to 3 minutes or until tender, stirring to scrape up any browned bits from the bottom. Add a splash of Pepperoncini juice if necessary to help deglaze the pan. Hit 'CANCEL' to turn IP off. Remove onions & set aside.

Arrange chunks of seared roast in a single thickness in the IP liner. Top with onions. Add potatoes, carrots (if using). Don't stir.

Add the entire contents of the Pepperoncini jar, juice and all, over the vegetables. Don't stir.

Place the lid on the Instant Pot. Press the MANUAL button, select HIGH, and set the time to 30 minutes (making sure the steam release handle is in the "Sealing" position).

After the cooking is complete allow the Instant Pot to do a natural release for 10 minutes. Then press CANCEL, then using a long handled spoon, push the steam release handle to the "Venting" position to allow any remaining pressure to release completely before you open the pot.

Use instant-read thermometer to assure internal meat temperature has reached 145℉ - 155℉ for beef roast. (140 - 150 for pork roast, 145℉ venison roast)

If you've included carrots & potatoes, transfer them to a serving dish and keep warm. Transfer the roast to a serving platter and let it rest 5 minutes before serving.
Recipe Notes
If you want to thicken the juices:
 In a small bowl stir together 2 tablespoons water and 2 tablespoons cornstarch. Whisk the mixture into the Instant Pot and simmer for about 5 minutes or until the juice has thickened to your liking, stirring occasionally.
 Press CANCEL and unplug the Instant Pot.
Serve roast with the vegetables, ladle thickened juice over roast
RECIPE NOTES
This recipe was tested in my  6 Quart Instant Pot DUO60. Obviously other models may have different settings than those noted in the recipe.
If including carrots & potatoes use only whole carrots & whole medium-sized potatoes. Smaller pieces of vegetables will be overcooked.
For timing your meal remember, the cook time doesn't include time it takes for the Instant Pot to come to pressure or to naturally release which should take an extra 10 to 15 minutes in total for this recipe.
If gravy is not as thick as you'd like after simmering with the cornstarch slurry, mix together an additional 1 tablespoon water with 1 tablespoon cornstarch and whisk it in to the thicken further.
Venison roast 145 degrees internal temperature
Wild pork roast 140 degrees (medium-well) to 150 degrees (well done) internal temperature
References:
Links In This Post:
Other Instant Pot Recipes:
Want to see other Leftover Pork Roast Meal Ideas?

Pork Roast Recipes:
Recipes Using Leftover Roast:
New Meals Remade With Leftovers
…and MUCH MORE!


C'mon by & sit a spell! Come hang out at our Facebook Page . It's like sitting in a front porch rocker with a glass of cold iced tea. There are lots of good folks sharing! And you can also follow along on Pinterest, Twitter & Instagram
If you'd like to receive an email when a new blog post goes live,
subscribe to our Blog!