by Texas Homesteader~

Being the wife of a talented hunter husband, I'm often cooking wild game here on the homestead. I like to make pulled pork BBQ and I often do. And sometimes I'm using the Cook-Once, Eat Twice method of cooking so I'll cook my pork roasts with more mainstream seasonings so I can use the leftovers in dishes such as Carnitas Tacos, Pulled-Pork Enchildas and more. But sometimes I like to make pork roast for a more formal meal.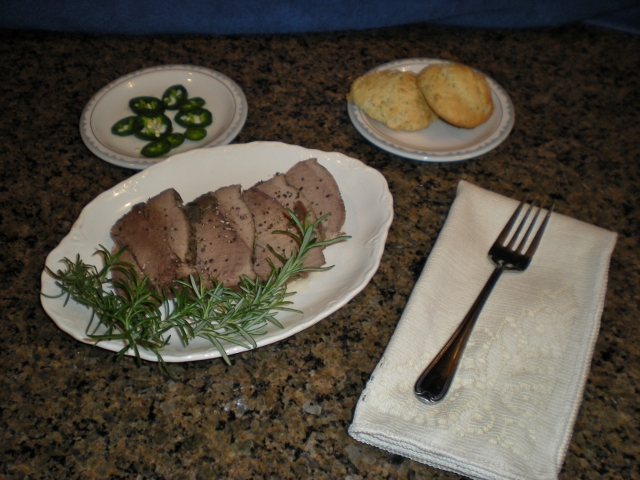 My *slow cooker is my friend! My recipe is easy, and included below. I simply place pork roast in a slow cooker with about 2 cups of chopped or sliced onions (I like the red ones). Then I pour about 2/3 cup red wine and 3 tablespoons of Worcestershire sauce over the top, then turn the roast a couple of times to fully coat the meat. And I crush about 3-4 garlic cloves over the pork and sprinkle everything pretty liberally with cracked pepper.
I cover the slow cooker and cook on the low setting until a meat thermometer inserted into the center reads at least 145 degrees (about 4 hours)
The cooking liquid that remains in the slow cooker when cooking is complete is absolutely fantastic. I usually ladle it liberally over the sliced meat and then serve a little more on the side with the meal. The red wine really adds a depth to the broth that I enjoy.
And as promised, here is the recipe:
Slow Cooker Pork Roast
2-pound pork roast
2 cups sliced or chopped onion
3/4 cup red wine
3 tablespoons Worcestershire sauce
3-4 cloves fresh garlic, crushed (about 3 tablespoons minced garlic)
black pepper to taste
Directions
Place roast in a slow cooker with onions. Pour wine and Worcestershire sauce over top, turning roast to coat. Spread garlic over the pork and sprinkle with pepper. Cover and cook on low setting until meat thermometer inserted into the center reads at least 145 degrees (about 4 hours)  Pork may be slightly pink in the center.
Ladle cooking liquid over pork and serve extra juice on the side.
Enjoy!
~TxH~
Want to see other Leftover Pork Roast Meal Ideas?



Pork Roast Recipes:
Recipes with Leftover Pork Roast:
New Meals Remade With Leftovers
…and MUCH MORE!


C'mon by & sit a spell!  Come hang out at our Facebook Page . It's like sitting in a front porch rocker with a glass of cold iced tea.  There are lots of good folks sharing!  And you can also follow along on Pinterest, Twitter & Instagram
If you'd like to receive an email when a new blog post goes live,
subscribe to our Blog!