by Texas Homesteader~
Recently I cooked some great northern beans. They were delicious & we enjoyed them as a side dish for that evening's meal. I served them later in the week as a quick side dish also.
But then I wondered… Is there a more exciting way to serve these beans that will have RancherMan smacking his lips?
Well yes, yes there is! Check out this Homestead Hack!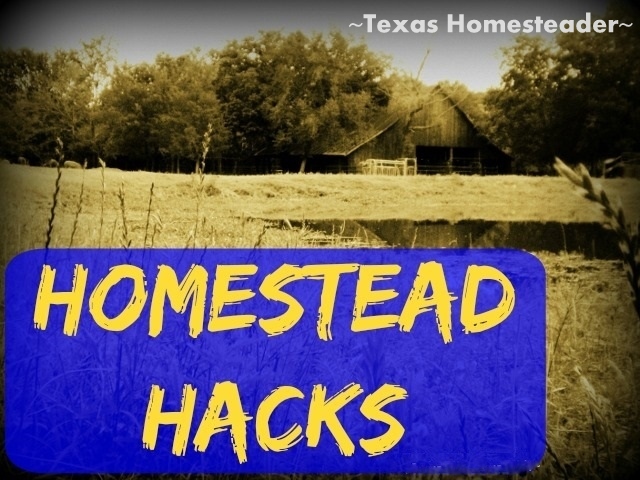 I often make dried beans using my pressure cooker. I'm a 'Cook-Once, Eat-Twice' cook. Meaning I like to cook lots of one item and use it either again later in the week, or as a completely different dish as part of my Planned Leftovers meals.
So when I'm cooking dried beans I usually cook the whole bag. Even though I know it's way more than RancherMan & I can eat in one sitting.
Then we'll either consume those beans over several days or I'll freeze the remainder for another time.
But there I was, staring at those leftover great northern beans.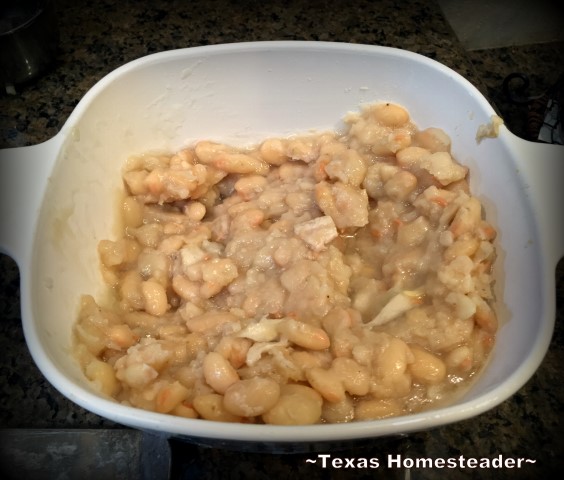 Kinda boring. Especially as leftovers…
Then I thought, "Hey, although they're not garbanzos, they're still white beans.
Maybe I can use them and my Homemade Hummus spices to make hummus out of them!"


So I gave it a try. I brought out my trusty *Ninja Blender, added a few spices and whipped it into smooth deliciousness in no time at all!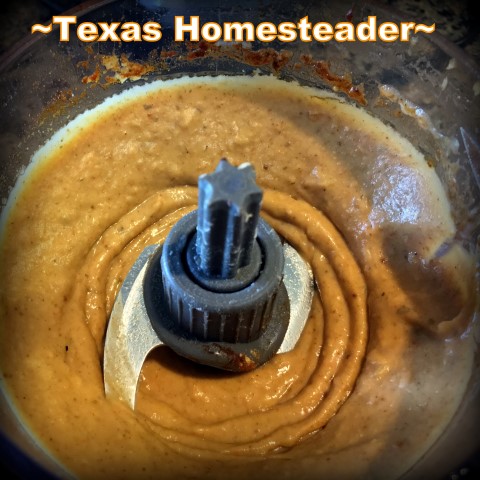 RancherMan went from being willing to eat those leftover beans because he hates food waste as much as I do, to being actually excited about the leftovers.
He loves to slather the hummus onto a warmed tortilla for a quick snack.
Those leftover beans were gone in a flash!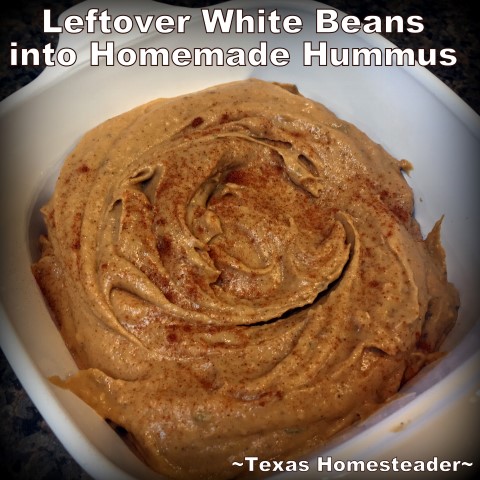 So now when I make great northern beans we'll go ahead & enjoy them as a side dish that night. Maybe even reuse them as a side another night too.
But then I'll bring out my blender, add my spices and make them into leftovers that are fun to eat!
There's never (EVER) leftover hummus in our Household.
#NoFoodWaste
~TxH~
Links In This Post
New Meals Remade With Leftovers
…and MUCH MORE!


C'mon by & sit a spell! Come hang out at our Facebook Page . It's like sitting in a front porch rocker with a glass of cold iced tea. There are lots of good folks sharing! And you can also follow along on Pinterest, Twitter & Instagram
If you'd like to receive an email when a new blog post goes live,
subscribe to our Blog!
*Amazon affiliate link