by Texas Homesteader ~
RancherMan keeps our chest freezer filled with wild hog meat. I've made many dishes with this lean, mild-tasting wild pork. Many of those recipes are listed below. (Although you could use commercial pork instead)
But recently we were preparing for our annual family reunion. We decided to serve pulled-pork sandwiches with some of this wild-hog meat. But RancherMan wanted to smoke it with pecan wood before shredding it for sandwiches. It turned out Aaaaaaaahhhhh-MAZING!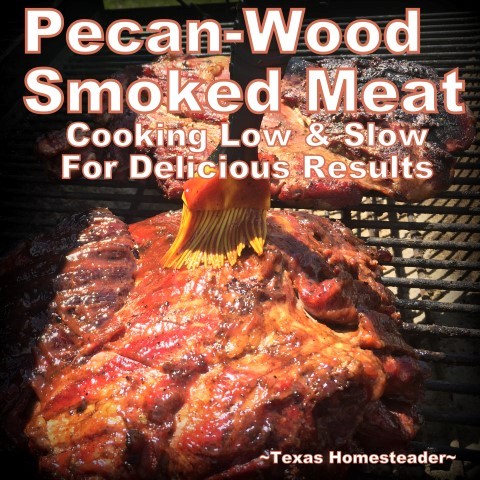 Preparing the Pork Roasts
RancherMan started by pulling out several 3-5 lb pork roasts and rinsed them well. Then he coated them with his homemade dry rub (recipe below).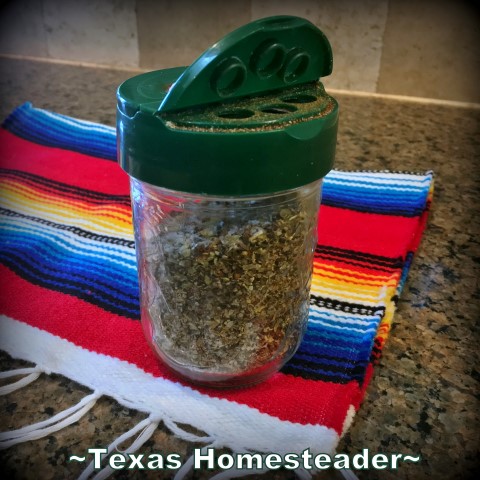 When the roasts were fully coated he placed them in a covered container and put them in the fridge while he prepared the grill.
Preparing the Pecan Wood For Smoking
(Note: Some links in this post are for further information from earlier posts I've written. But links preceded with * are affiliate links. If you click them and buy something (almost anything, not just the item noted) I could receive a tiny commission. But the price you pay will NOT change. It's an easy way to support this blog without anything coming out of your pocket. So click often! Thank you!)
We have several large pecan trees on our Homestead. So RancherMan cut some dead, seasoned branches into chunks about 1″x2″x2″ size. This should give plenty of surface area for smoking.
Remember you want the wood to be seasoned, not green! If you don't have seasoned pecan wood handy it's easy to *Buy Smoking Wood too.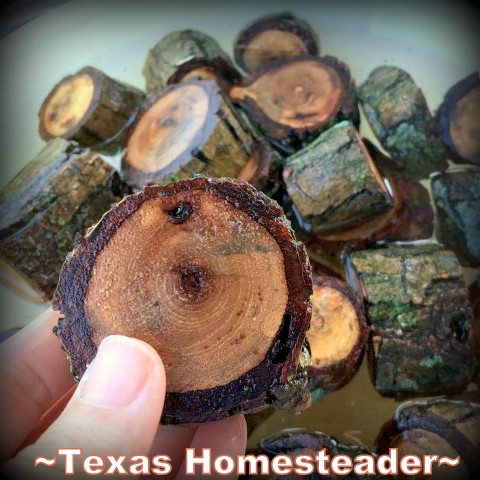 He took the pecan wood chunks & soaked them for about an hour to get them good & saturated. While the pecan wood is soaking, he turns his attention to the grill.
Preparing the Grill
For meat smoking RancherMan prefers to use lump charcoal instead of briquettes. It burns much the same but it's cheaper. Smoking meat takes lots of charcoal!
He simply made a mound of charcoal in his grill's smoker box & lit it. When the charcoal had ashed over & was white he placed the soaked pecan rounds & water into a large metal pan & sat it on the grill of the smoker box. Then he closed the lid to get things started.
Making The Mop Sauce
While everything was heating up on the grill, RancherMan quickly made the mop sauce.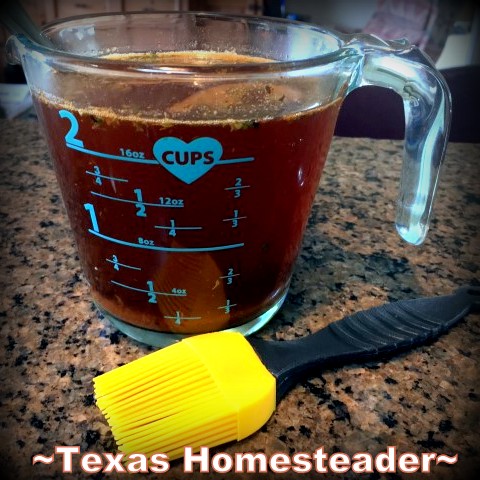 It was easy – he just used some of the Dry Rub and added beer, coffee & vinegar. (The recipe is listed below) Now that everything's ready, it's show time!
Smoking The Meat
The temps at his grill had reached the perfect temperature of 225 – 250 degrees Fahrenheit. So RancherMan brought those roasts out of the refrigerator and placed them on the hot grill.
He used a basting brush to coat all surfaces of each of the roasts. Then he closed up the grill.
He'll monitor the temps throughout the duration of smoking this meat. When the coals start to burn out the temps will drop a bit. So he'll add more charcoal.
When it's added the temps will go up a bit, so he'll adjust the vents. He wants the grill to maintain that sweet spot from between 225 degrees and 250 degrees Fahrenheit.
Basting The Meat
Now that the meat's smoking he needs a reminder to check on things in an hour. So from his smart phone he tells Siri to set the timer for an hour.
When the timer goes off it's time to turn the roasts and baste the meat again. Yet another instance where Smartphones Are Handy on the Homestead, y'all!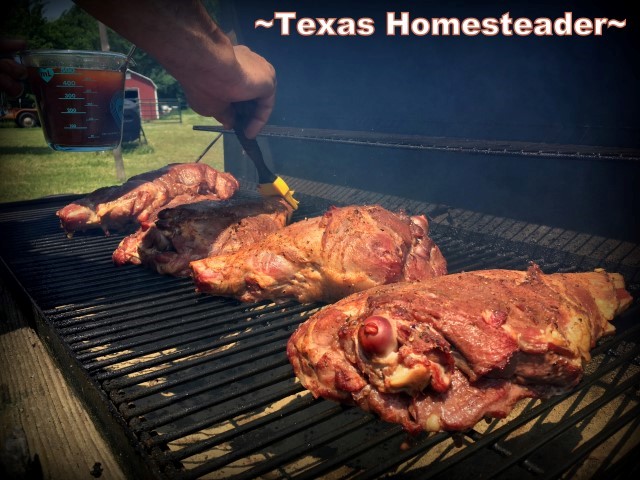 He'll baste all sides with his Mop Sauce, flipping each roast to the other side and rotating them to a different position on the grill. This assures all roasts receive the same amount of time right up close to the smoke box portion of the grill.
Then he'll check the temps again, add charcoal if needed and adjust the vents to maintain the temperatures he wants. Then he'll tell Siri to set his timer again.
He'll continue this hourly task until the internal temperature of the meat reaches 145 degrees on all roasts. When it starts getting close he'll check the temperature using an *Instant Read Thermometer each time he bastes the meat.
The final time or two basting the meat, RancherMan did so with my homemade Honey-Sweetened BBQ Sauce for a thicker final coating. Nice touch!
Smoke The Meat Low & Slow
All in all it took about 13 hours for RancherMan's smoked pork roasts. It can be longer or shorter, depending upon how much meat you're smoking, how thick it's cut and the temperatures you maintain on your smoker grill.
But you don't want to hurry this. Slow & low is the secret to a moist, deliciously-smoked roast. With pork, when the internal temps reach 145 degrees Fahrenheit or higher, the meat is done.
Other types of meat may require different internal temperatures. Verify through the USDA Safe Internal Temperature site for your circumstances. It provides the minimum safe internal cooking temperatures as well as rest times for various kinds of meat. Food safety is important!
Now that all is done, RancherMan brought the meat into the kitchen and let it rest for about 30 minutes. Then we got busy shredding those roasts.
We like for the 'strings' of meat to be short so we chunked it up into about 2″ pieces and tossed the meat into my KitchenAid mixer with the paddle attachment. That paddle shredded the meat chunks into perfect pulled pork in minutes!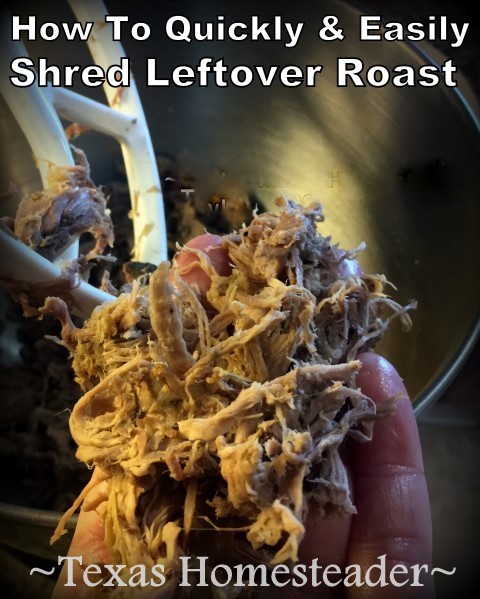 Smoking Meat Takes Time
Plan plenty of time if you're smoking meat. Remember, smoking meat takes a lot of time but not really a lot of effort.
RancherMan likes to prepare the meat & grill and then pop the top on a cold one as he babysits the meat for the day. I'll say the results were amazing!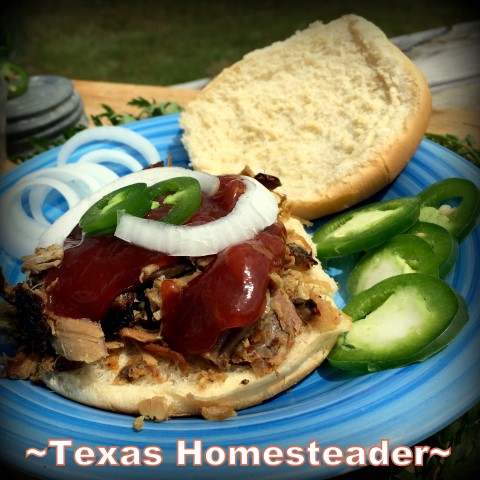 For the sandwiches I whipped up my homemade Honey-Sweetened BBQ Sauce to top those soft hamburger buns and we all dig in. Bon Appetit!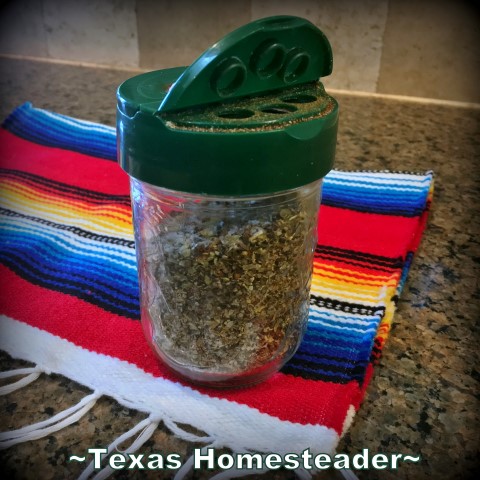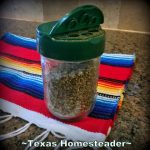 Coffee / Beer Rub & Mop Sauce
This delicious mop sauce is simple yet flavorful. It includes a small amount of dry rub, some coffee, beer and vinegar. Simple and delicious for your next BBQ. #TexasHomesteader
Ingredients
FOR THE DRY RUB:
2

tablespoons

coarse kosher salt

2

tablespoons

chili powder

1

tablespoon

coarsely-cracked black pepper

2

teaspoons

garlic powder

2

teaspoons

dried oregano

1

teaspoon

ground cumin

1

teaspoon

cayenne pepper powder
COFFEE / BEER MOP SAUCE (makes 2 Cups)
1

12-oz bottle

lager-style beer

1/2

cup

distilled white vinegar

1/2

cup

brewed coffee

2

tablespoons

dry rub (from above)
Instructions
Coat meat with dry rub, rubbing into the meat with your clean fingertips.


Grill the meat to your cooked preference, coating all sides with the mop sauce.


If you're smoking the meat, turn the meat & coat with mop sauce about every hour until meat is cooked to the proper internal temperature.

~TxH~
Links In This Post



Favorite Wild Hog Recipes
(Can use store-bought pork instead)

Pork Roast Recipes:
Other Wild Pork Recipes:
Recipes with Leftover Pork Roast:


C'mon by & sit a spell! Come hang out at our Facebook Page . It's like sitting in a front porch rocker with a glass of cold iced tea. There are lots of good folks sharing! And you can also follow along on Pinterest, Twitter or Instagram
If you'd like to receive an email when a new blog post goes live,
subscribe to our Blog!