by Texas Homesteader

May is typically a great month for veggie gardening in NE Texas. In May the temps usually haven't heated up too drastically. And in a normal year there's still spring rains swinging through each week so you don't typically have to struggle quite as much with your garden maintenance workload.
C'mon and walk with me through the garden & let's see what's "growing" on these days.
We suffered through a drought last year and were thrilled when the rains came back in October. But those rains haven't stopped since! It's been tremendously wet since last fall. The cooler cloudy/rainy days have caused my seedlings in the garden to either succumb to the weather or have severely stunted their growth. Those seedlings I put out almost 2 months ago are still the same size!
Blackberry Vines
Typically I'm harvesting blackberries by now. But I'm not sure I've even seen the vines blooming yet.
Just. Wow.
I presume it's the same as with my veggie garden – just no warmth & sunshine yet this year. It may be a blackberry bust this year. I hate that, I always enjoy harvesting/freezing those fresh berries so I can make Blackberry Cobbler all year long.
Concord Grapes
My Concord grapevines however are going crazy. I've been trimming the vines into long lateral branches that run along the fence. This makes the grapes easier to harvest
Last year I got to harvest quite a few grapes. They were powerfully flavorful and delicious. I can't wait to see what kind of harvest I get this year. Maybe enough to make some concord jelly? Hummm….
3-Sisters Garden
I have a section of space where I typically plant a Three Sisters Garden. That's where you plant corn, then pole beans to grow up the corn stalks and also put nitrogen in the soil to nourish the bed, then squash or pumpkin to act as a living mulch to shade the soil & conserve moisture.
The corn is finally starting to show some growth after several weeks of being transferred to the garden. The beans haven't even shown up yet. I planted a spaghetti squash to amble through as the mulch but although it's still alive and healthy, it hasn't grown at all. I'm looking forward to some sunshine to get everything going!
My garlic is doing well, I typically pull all the overwintered garlic up in February or March, separate & replant into rows. I've already harvested several and cooked with them. Garlic just can't be beat for flavoring.
And I have Egyptian Walking Onions too. Since I was gifted a start of them several years ago I've never planted onions. The walking onions form bulbils on the flowers, which then are weighted down until they touch the ground.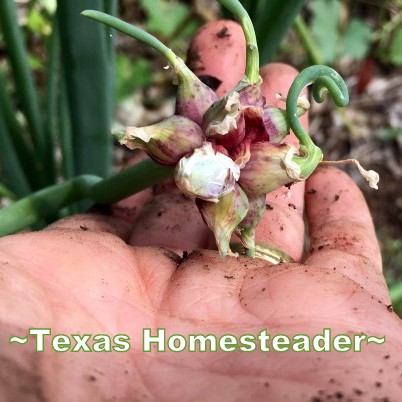 Then those bulbils root and grow new onions. I typically do the same thing I do with the garlic – I'll pull up the overwintered onions, separate them & replant them into rows. We always have a healthy crop of them.
Peppers
I planted several bell peppers, both green & red. I also have several pablano pepper plants. As a matter of fact since discovering the Lazy Cook's Chile Relleno Casserole recipe, I've purposely overplanted them so we'll have plenty. Yep, we really do like our peppers. But they're still the tiny seedling size I planted weeks ago. C'mon sun!
I also planted a jalapeno plant that produces jumbo grilling-sized milder jalapenos in our Edible Landscape close to where RancherMan grills. He can just pull a fresh jalapeno off the plant & toss it on the grill alongside the Pork Ribs he's grilling!
Herbs
My herbs are all doing well in my edible landscape – I have basil, oregano, thyme & sage. Heck my Oregano is going crazy having overwintered just fine. And I've never seen my sage bloom quite like this. It's beautiful and I'll be harvesting/drying plenty of both.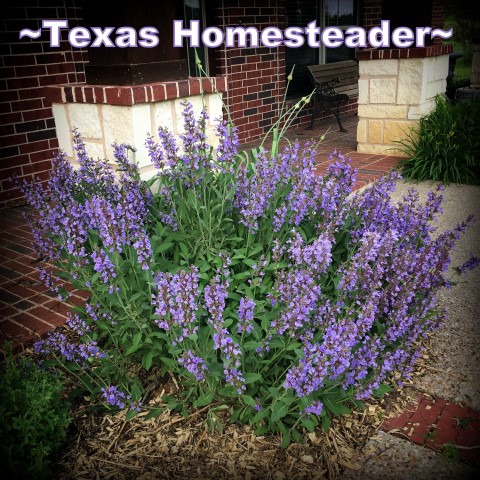 And this year for the first time I included EverBearing strawberries. The little baby plants off the mama plant have spread quite nicely and they're putting on sweet red strawberries for me, albeit only a few at a time. (Maybe next year I'll have more)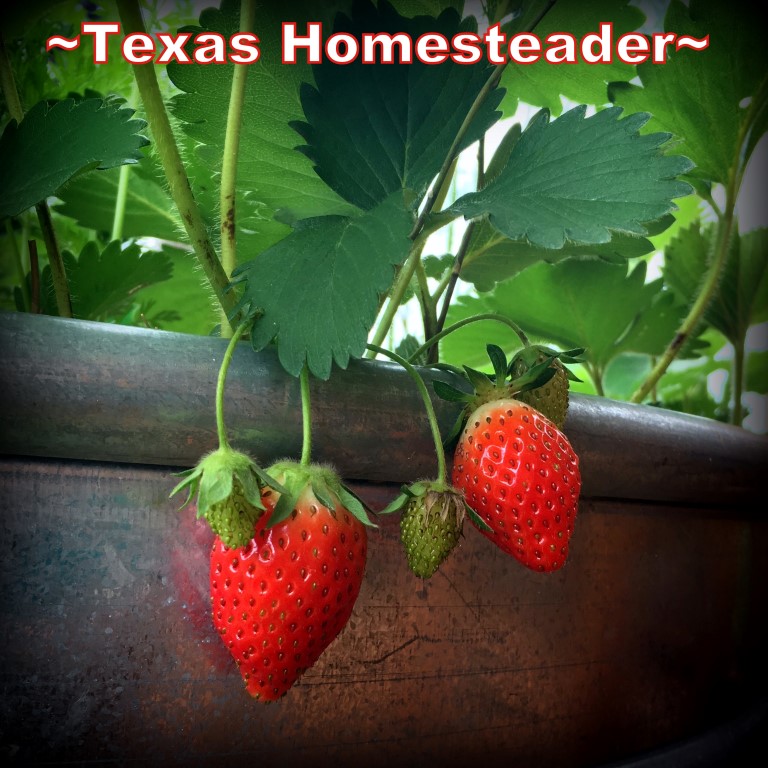 In the meantime, I'm trying a way to Trick Birds Away From Ripe Strawberries. So far it's working just fine. Now if I could figure out a way to trick away the roly-poly bugs…
And I'm not gonna lie, I'm pretty excited to see a healthy crop of apples on my tree. It's a miniature tree I planted several years ago. It only grows to about 10 ft. I don't remember what kind of apple variety it is, seems like Jonathon? In any event, given the lacking state of produce my garden is promising, I'm pretty excited to see the apple tree promising a harvest.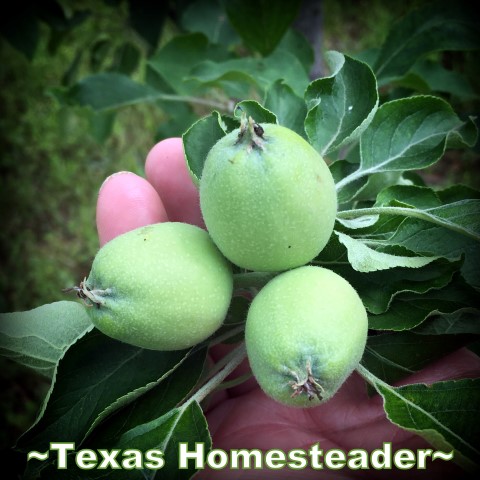 Other than that, not much going on. But I know there'll be some great improvements for my garden when I do the garden update next month.
How 'bout you – how's your veggie garden doing these days?
~TxH~
This post categorized in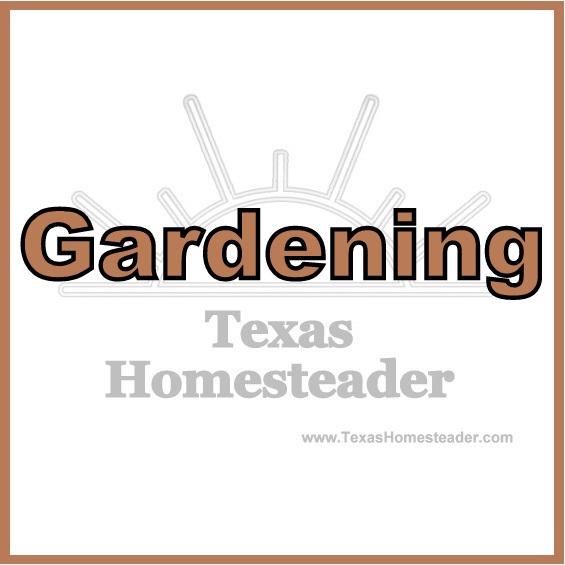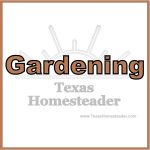 My Favorite Garden Hacks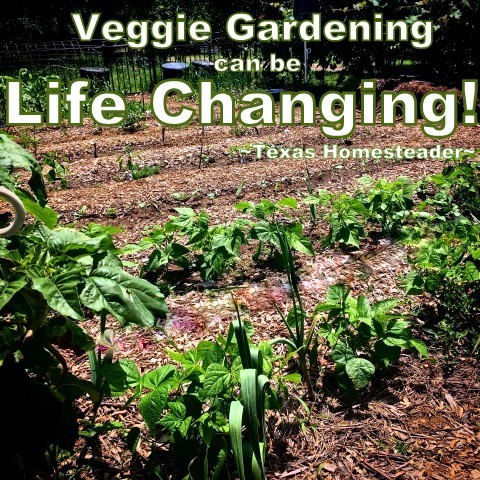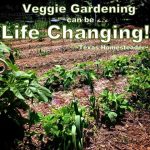 C'mon by & sit a spell! Come hang out at our Facebook Page. It's like sitting in a front porch rocker with a glass of cold iced tea – lots of good folks sharing! You can also follow along on Pinterest, Twitter or Instagram.
If you'd like to receive an email each time a new blog post goes live it's EASY to Subscribe to our blog!