by Texas Homesteader ~
A smart phone is certainly convenient, but here are several ways they're extremely helpful on the homestead including photos, recipes, reminders, timers, geo pins and more. Come see!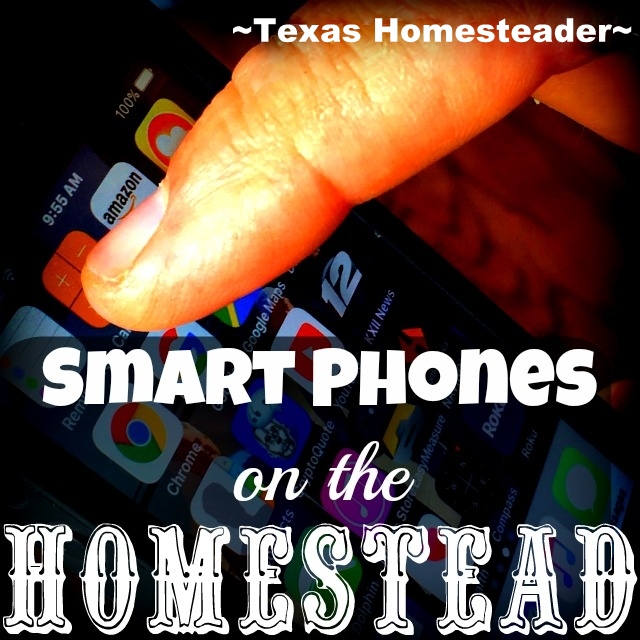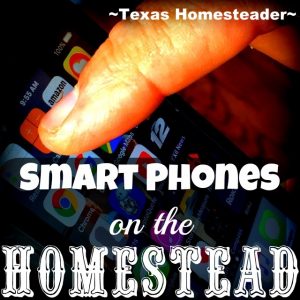 Although we now enjoy smart phone capabilities, RancherMan & I resisted getting one for quite a long time. We just couldn't justify the cost of it, including the increased cost for data usage.
Plus we kept saying to ourselves "I only need a phone for calls, not for text or surfing the net!"
But now several years down the road we're certainly wondering how we ever got by without them! Not just for fun or convenience reasons, there are several ways having a smart phone has been really helpful on the Homestead.
My dad always said "The best camera to use isn't the most expensive or highest recommended, it's the one you have IN YOUR HAND right now!"
In other words, if you have a camera with you – use it! Even that first 3GS iPhone was used heavily even though the photo quality was only 'meh'. It was the most valuable camera I could have because heck, I've got it in my pocket!
As a blog-writer, this has been game changing for me. As we've updated phones over the years, the camera quality is the primary feature considered.
All the photos on my blog have been taken with my various iPhones over the years!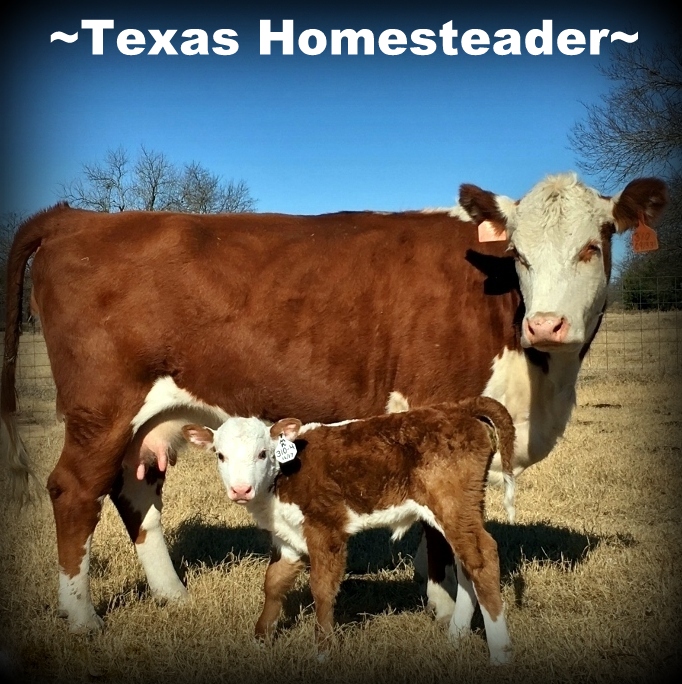 Of course everyone loves their smart phone camera. But how can a camera help the homesteader?
Well I've been able to take photos of trees and plants I've stumbled across to submit them to my extension agent for identification. I've also taken photos of udder changes on some of our cattle to submit to our vet for medical assistance with our cows.
That camera has come in handy in so many homesteading circumstances over the years! The camera feature is hands-down my most useful feature on my phone.
My Own, Personal Cookbook
I use my website as my own personal cookbook (and you're totally welcome to do so too!) I simply activate Siri and say:
"TexasHomesteader Dot Com Banana Pudding Recipe"
Boom! My own homemade banana pudding recipe shows on the screen.
No searching through recipes, no bulky binders or recipe cards. It's all right there!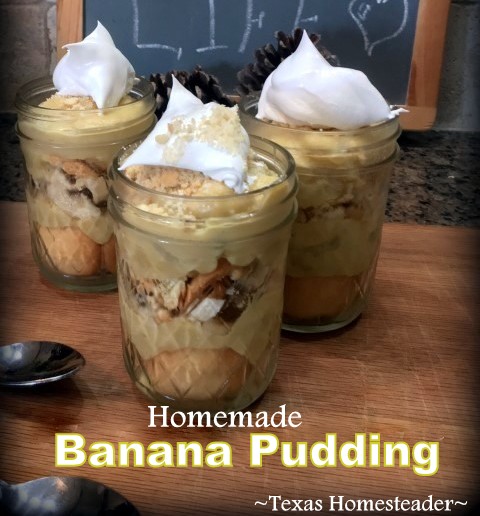 So the next time you're wondering about a recipe you've seen on my page, let your virtual assistant do the searching for you!
We have iPhones so I'm 100% totally in love with SIRI! I use SIRI to pull internet sites, to answer a question or pull one of my favorite recipes from my blog.
But one of my most-used SIRI functions is the timer. And now with the hands-free SIRI it's even better. I don't have to touch the buttons with batter-covered fingers!
So when I put my homemade bread in the oven to bake I simply tell SIRI to set the timer for 25 minutes. When the timer goes off I know it's time to butter tops for the last 5 minutes of baking.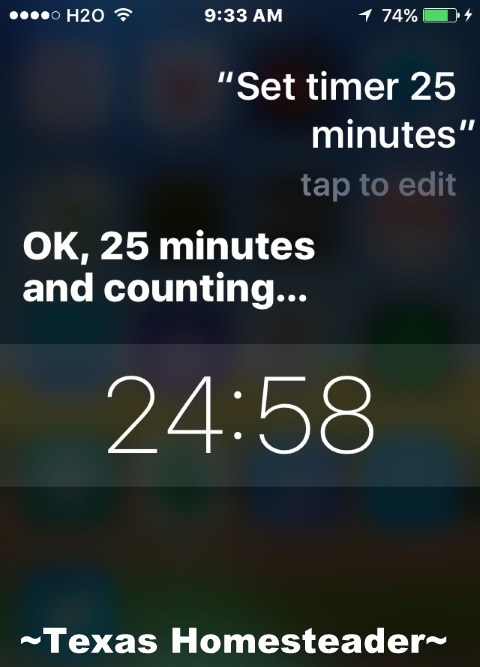 Yes I know the oven has a timer, but I've gotten into trouble before when RancherMan's asked me to help him with something & I'm not standing by the oven when that timer goes off.
But since my phone is always with me even if I step out to check the garden or to the workshop to help RancherMan with a quick task – I'm made aware of action needed when my timer goes off!
Don't you hate to try to remember next time you go near the home improvement store you need to stop in to pick up something? Me too! Especially since we live out in the boondocks, everything is a trek to a nearby town for us.
As soon as we arrive back home I thump my forehead and say something like "DANG! We needed to pick up more lag bolts at Home Depot but we forgot!"
But I can ask for a reminder next time I'm near a particular location. In this example I'd press the button & say "Next time I'm at Home Depot, remind me to pick up lag bolts".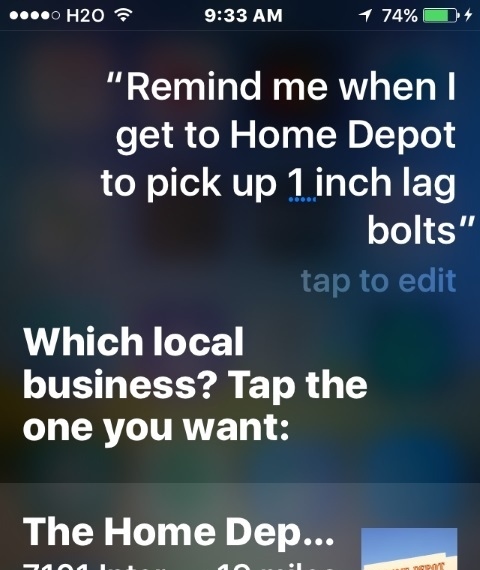 SIRI will confirm which Home Depot location I'm referencing and BOOM! The next time we drive by that Home Depot a reminder will pop up that we need lag bolts.
It works equally well for reminding me of grocery items to pick up or thrift store items I'm searching for.
I just tell SIRI to remind me next time I'm at (pick a location) to remind me to (pick an item). This has saved many a forgotten item for us!
Weather Radar When The Power's Out
Unfortunately living out here in a rural area means it's not really unusual for our power to go out. It's especially stressful when our power goes out during a storm.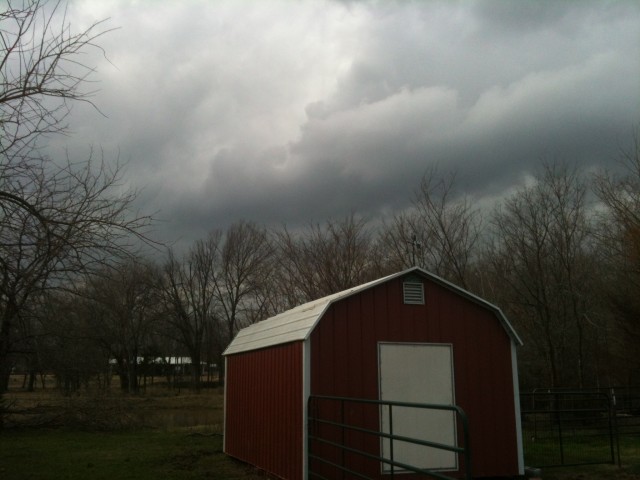 Picture this: The weatherman warns there's a chance for tornadoes. Then he warns that the storm is tracking toward us. It's getting closer and closer. Tension mounts and then… The power goes out. YIKES!
But since we have cell service we're able to track that weather system using the data on our phones when the electricity is off at the house.
We're even able to track that weather system as we're sitting in our Underground Storm Shelter so we know when it's safe to come back out.
We've used cellphone weather tracking through various apps often over the years. Our favorite app to use is for our local weather channel – you'll want to check out the app for your local area's weather station.
Data for Text or Facetime
Of course the data itself has been helpful for RancherMan & me. Remember, we've shunned cable TV & instead have a rooftop antenna.
We've used Facetime when he's up on the roof adjusting our antenna, or in the attic working with the antenna amplifier. I'll stand next to the TV and show him the signal strength fluctuations so he can adjust until it's at its strongest steady level.
That way even though he's in the attic or on the roof, Facetime is his eyes back in the livingroom.
And text service really helps the homesteader too. For instance, if I'm out checking the cows and I see that one cow is going into labor, I can text RancherMan to let him know he needs to keep his chores on the short list for the next few hours.
Find Friends Is A Helpful Feature!
There are other features we use that aren't necessarily homesteading-themed. Since we're out here in the boondocks we've added iPhone's "Find My Friends" for several family members and allow them to see our location too.
You can set this feature up for just a day, for a week, or permanently.
So when we go to a family gathering at my baby sis' house about an hour away she knows when we will arrive even if there's a traffic slowdown on the highway delaying our arrival.
And when we trek even farther to west Texas to visit my aunt, she can monitor our progress and estimate when we will arrive at her house.
That way she's not stuck at the house unable to run errands or wondering when her delightful pot roast needs to be finished. It's easy for her to track our progress over the hours until we arrive.
Oh, and a couple of days ago we used our "Find Friends" feature to help a family member locate a lost phone. We simply tracked another family member's phone as they drove around together looking for where the phone was lost.
When both phones showed to be close together we knew that lost phone was in the immediate vicinity. Clever!
And before leaving for a trip I like to use the "NOTES" section of my iPhone for a list of things we need to do before leaving home.
No more uncertainty and questions like: "Did you unplug the coffee pot?"
There's a list of things to do before we walk out the dor. Things such as take out the compost, empty the coffee grounds from the coffee pot and lock the feed shed.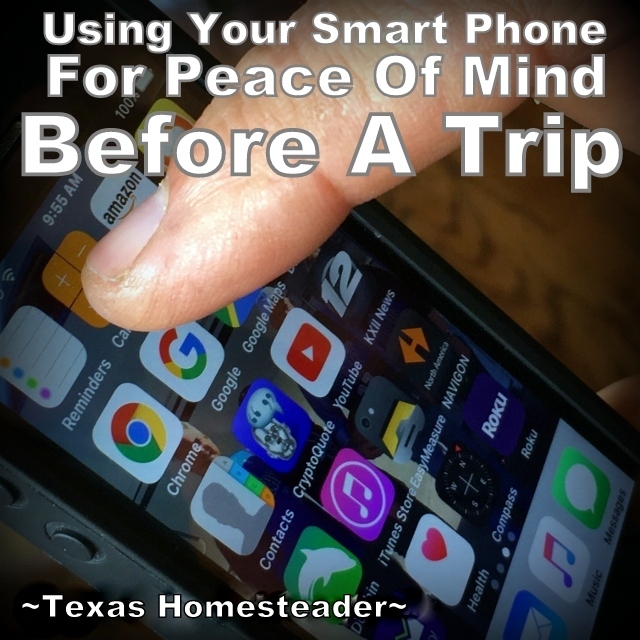 I even set a geo-location pin on my phone for a nearby town we visit frequently when running errands.
So I can say: "Hey SIRI, when I get to (XZY town), remind me to go to Atwoods for cattle cubes" and a tone/reminder will pop up when the GPS sees that I've arrived in that town.
No more getting back home and wishing I'd remembered all the stops I'd hoped to make while we were out. We really make that iPhone work for its keep!
Plus the data on my phone allows me to check my email when we're away from home and I'm awaiting an answer to a question I'd emailed about. And staying connected on Facebook is always fun for me too.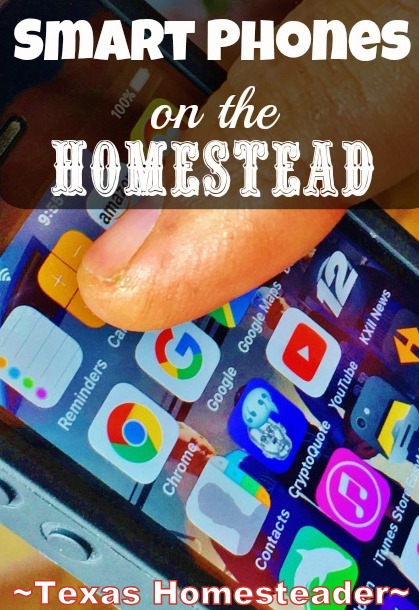 Yep, we're left wondering how in the world we ever got by without our smart phones! What's the most helpful feature for you on your smartphone?
~TxH~
Links In This Post
Other Homestead Hacks


C'mon by & sit a spell! Come hang out at our Facebook Page. It's like sitting in a front porch rocker with a glass of cold iced tea. There are lots of good folks sharing!
And you can also follow along on Pinterest, Twitter & Instagram.
If you'd like to receive an email when a new blog post goes live,
subscribe to our Blog!
Save
Save