by Texas Homesteader ~
The herbs are going well in my Edible Landscape so I thought I'd take a few cuttings & try to root them in my kitchen window. I have a repurposed wide-mouth jar that I can use.
So I went to the 'flower bed' and trimmed a bit of Stevia, Sage, Oregano, Basil and Rosemary. I brought them inside and removed the bottom leaves from each of the stems. I sat those leaves aside so I could use them.
I'll wash them up & chop all but the Stevia into small pieces & mix them into a bit of olive oil to make my favorite Herb Bombs. Then they'll be ready & waiting to use this summer in my quick pasta dishes. I'll pop those leaves into my sun tea jar so they can sweeten RancherMan's Sun Tea to sweeten it as it brews.
But I've always heard that when you're rooting cuttings, the jar should be dark. A dark jar keeps algae from growing in the water and also helps the roots do their thaaaang. Some suggestions are to paint the jar or to wrap it in scrapbooking paper or something. Hummm…
So what did I decide to do? Say it with me kids: "Use Whatcha Got!" That's right. 🙂 Check out this Homestead Hack.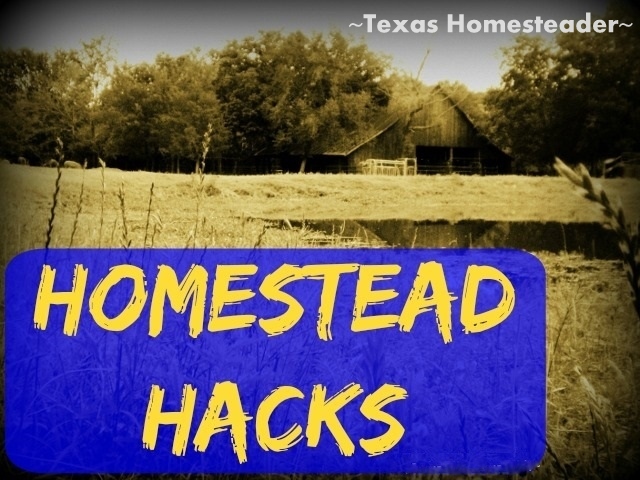 After I got the herbs and water in the jar I fetched one of my extra Repurposed Denim Baskets. Y'all know I love everything denim.
And these cute baskets use RancherMan's worn-out denim jeans! I even decided to decorate this denim basket with an angel pin that I love.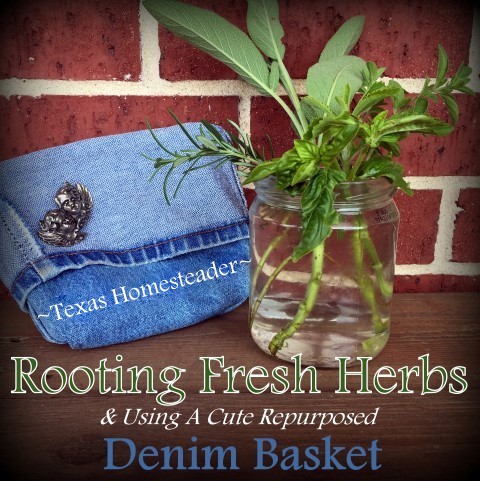 When I got the herb stems arranged like I wanted them I slipped the jar into the denim basket, careful not to spill any of the water. Then I sat the herbs on my kitchen windowsill.
Now let's step back & see what I think…Oh yeah, I like it!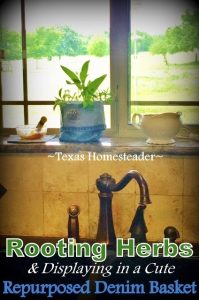 When the herbs root I may re-pot them individually and line my kitchen window sill with them. Or on second thought I may just leave it like this, I think it looks super cute!
~TxH~
Other Kitchen Homestead Hacks


C'mon by & sit a spell! Come hang out at our Facebook Page. It's like sitting in a front porch rocker with a glass of cold iced tea. There are lots of good folks sharing!
And you can also follow along on Pinterest, Twitter, Instagram
If you'd like to receive an email when a new blog post goes live,
subscribe to our Blog!
Save
Save
Save
Save