by Texas Homesteader ~
I make quick & easy denim baskets using repurposed denim from old worn jeans. You can use them as a cute country-themed centerpiece, as part of your home's décor or even as cute gift bags. And it takes only sewing three straight lines. If I can do it, anyone can!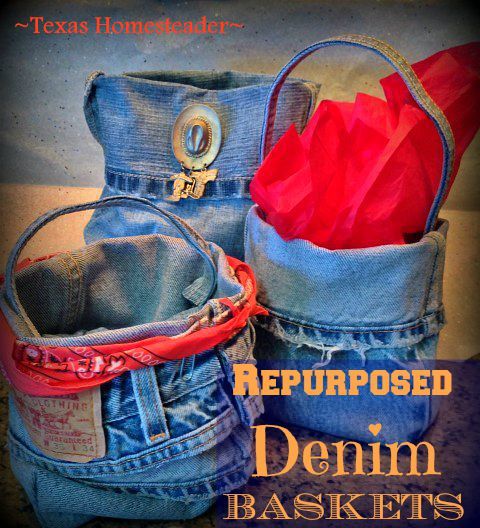 What if You Have Limited Sewing Skills?
OK y'all, if you follow me on Facebook you already know that I can't sew because I've complained about it for years.
I know that must have been a bitter disappointment to my grandmother who sewed all her life. (who even homemade patchwork quilts. For FUN??) And my mother was a skilled seamstress herself. But I could just never do it.
Even though I was given an old Singer sewing machine and I promised myself I'd learn to use it. Well, I. Didn't.
One of my New Year's Goals (not resolutions) several years ago was to finally learn to use my sewing machine.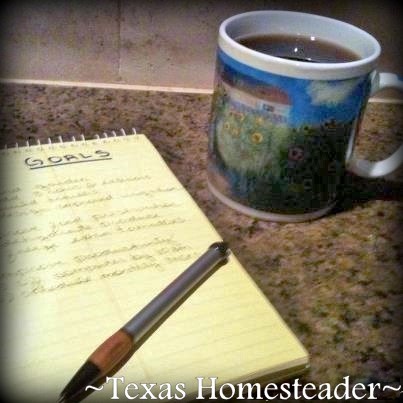 My very first project that year was to make these cute small denim baskets with repurposed denim from RancherMan's old worn jeans. Y'all know that I love all things denim & I think these baskets are ADORABLE!
And if *I* can do it, anyone can. Check out how easy this is, y'all!
(Note, if you like the handmade items I write about but don't want to make them yourself, I often offer our handmade items in my
e-Bay store HERE)
It's a great way to support this blog, so RancherMan & I THANK YOU!


How Can I Repurposed Old Jeans Denim Material?
RancherMan is pretty tough on his jeans and it doesn't take long before there are holes in the knees. So I'm always repurposing that sturdy denim fabric into cute things like: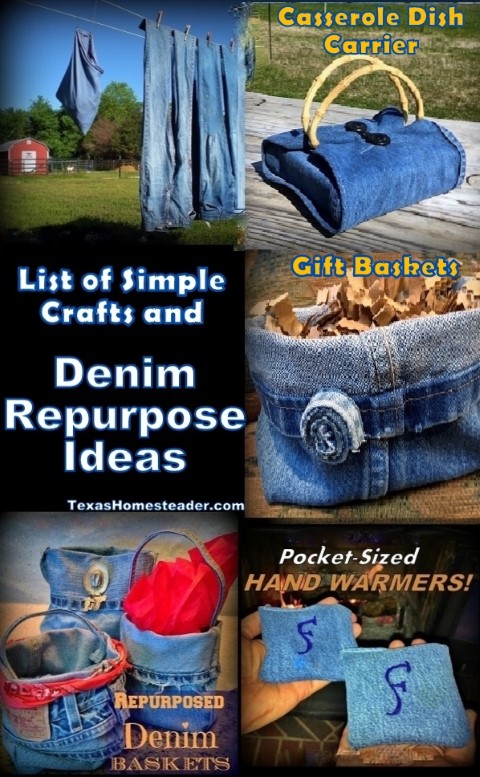 But there's much more denim fabric that can be used.
Looking For New Denim Repurpose Ideas
Then it happened. I was perusing the internet looking for cute things to do with repurposed denim and I ran across an idea. Sewing a portion of the jeans leg into a cute denim basket.
It looked pretty easy so I decided to make these little denim baskets to hold our homemade Christmas gifts that year.
Now before you get too amazed at my mad sewing skills, please know that this project only required sewing 3 straight lines.

But hey – I threaded the machine and that's about 95% of my battle!
How To Cut Denim Material To Make A Basket
I brought out a pair of RancherMan's old worn Wranglers that I'd put away awaiting inspiration. Now's the time!
I cut about a foot length straight across from the bottom leg hem the leg. Now I have a 1-foot long tube of denim that's hemmed on one end.
His Wrangler's are boot-cut so a 1-foot section seemed about right for this basket. You might want to adjust if you're using skinny jeans with a smaller leg opening.
Then I turned the fabric inside out since I'll be sewing my seam on the underside of the fabric. After I smoothed the denim I sewed a straight seam across the cut end of the fabric to close the un-hemmed end.
Making A Boxed Bottom For A Fabric Basket
Now here comes the tricky part. (or maybe that's just me…) I'm going to sew an angle straight across the straight seam that I just sewed to make a little triangle. This will give my denim basket a squared bottom so it can stand on its own.
So I pulled each side of my seam apart as far as I could and marked 1.5″ from the edge across the seam that I had just sewed.
Then I used a ruler and a pencil to draw across forming a triangle out of this corner.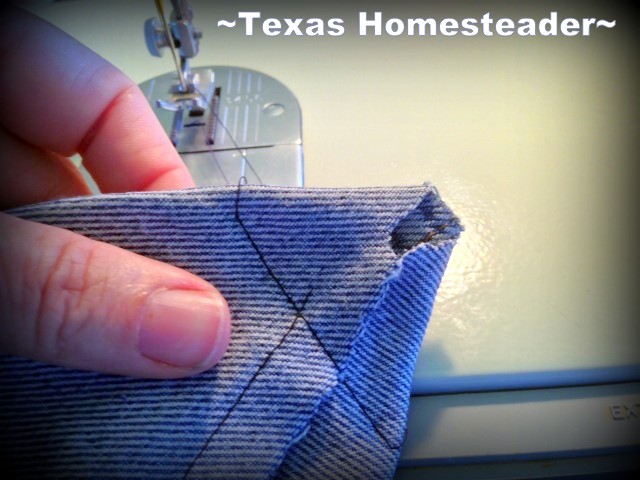 To me making this boxed bottom for a denim basket was a little tricky because the seams that were originally along each side of the leg of the jeans can make it look like you don't have a symmetrical triangle.
But thankfully this is a rustic denim basket anyway so it's very forgiving of sewing perfection. (Can I get an *AMEN*??!!)
Now all that's left to do is turn the fabric right-side out again and with my fingers push the fabric at the bottom corner so that it forms a little box. Really – it truly is just that easy!
If the bottom of the original leg seam is a little worn I love the look even more. So I don't try to trim the frayed threads – I love it!
Embellishing My Homemade Denim Baskets
There are about a kazillion ways to embellish these cute little baskets.
Use the leftover outside seam to form a little denim handle.
Add an over-sized country themed brooch or pin
Cut out the belt loop section and tack it to the top portion of the basket
Tie a red bandana around the top
Add a raffia bow
The possibilities are endless.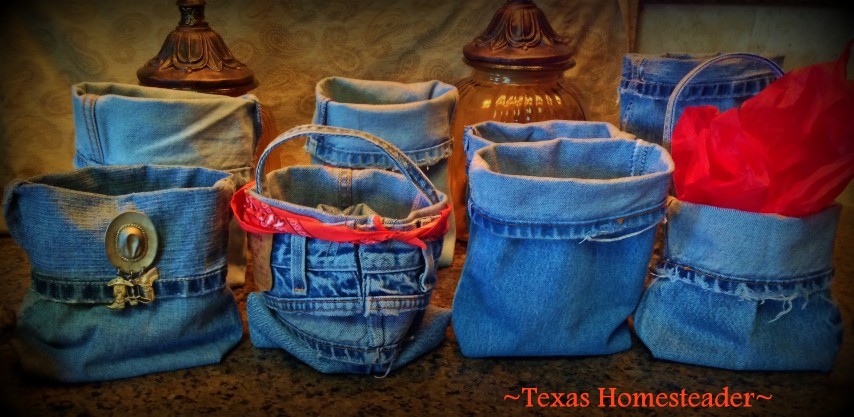 So when RancherMan & I present our homemade Christmas gifts this year many of them will be presented in these oh-so-cute denim baskets.
Not only will they give our gifts a little extra visual pop, but the packaging is cute, inexpensive, repurposed and reusable.
What's not to love??
~TxH~
Wanna See Other Repurposed Denim Crafts?
No-Sew Or Beginner's Projects We Love


C'mon by & sit a spell! Come hang out at our Facebook Page . It's like sitting in a front porch rocker with a glass of cold iced tea. There are lots of good folks sharing! And you can also follow along on Pinterest, Instagram & Twitter
If you'd like to receive an email when a new blog post goes live,
subscribe to our Blog!
Save
Save