by Texas Homesteader ~
*affiliate link
(Note: Some links in this post are for further information from earlier posts I've written. But links preceded with * are affiliate links. If you click them and buy something (almost anything, not just the item noted) I could receive a small purchase. But the price you pay will NOT change. It's an easy way to support this blog without anything coming out of your pocket. So click often! Thank you!)
OK by now y'all know I'm a dehydrating fool! I bought my dream appliance, an *Excalibur 9-tray dehydrator and I think I'm in love!
I've put that thing through the paces, dehydrating all kinds of fruits and veggies. And I've even made Italian-flavored tomato leather to just roll out and plop on my homemade French-Bread Pizza. No rehydration needed! I think it's safe to say I've been bitten by the dehydrating bug.
I use many dehydrated veggies in my wintertime simmering Endless Soup. And I use most of my dehydrated fruits as replacement for raisins in my Homemade Pumpkin Granola.
But I've also been dehydrating veggies to grind and use for my own homemade powdered seasoning. I hate to pull out a large dehydrator to dehydrate such small portions, and it almost seems even my other small household model is a bit much.
Check out today's Homestead Hack. I've found a way to quickly dehydrate small amounts of food for FREE!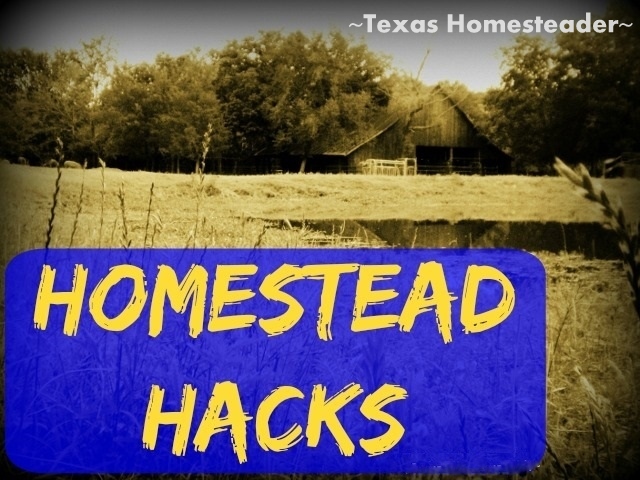 Veggie Trimmings Don't Go To Waste
Recently RancherMan & I were making a spicy dish for a family gathering. Now usually I leave the jalapeno membranes and seeds in whatever I'm cooking for us 'cause we like it spicy!
But this time we were preparing a dish to share with others who might not have the same tolerance for such spiciness.
So we were removing the seeds and membranes as well as the tougher ends & outsides of an onion. As I set the scraps aside to continue preparing my dish I thought: "Hummmm… if I dehydrated those and ground them, could I use them in place of the purchased powdered seasoning that I just ran out of?"
Well yeah, sure, that sounds great. But do I really want to pull out my small electric dehydrator just for these few pieces?
There must be an easier way.
Use Whatcha Got!
Then I had a light-bulb moment. I had just finished baking a couple of loaves of my Homemade KitchenAid Bread and the oven was still hot. I wonder if I can use the residual heat to dehydrate these scraps.
So I put the jalapeno & onion pieces on my small cast iron comal and set it in the still-hot but turned off oven. Then I just left it there overnight. I'll use residual heat to dehydrate the scraps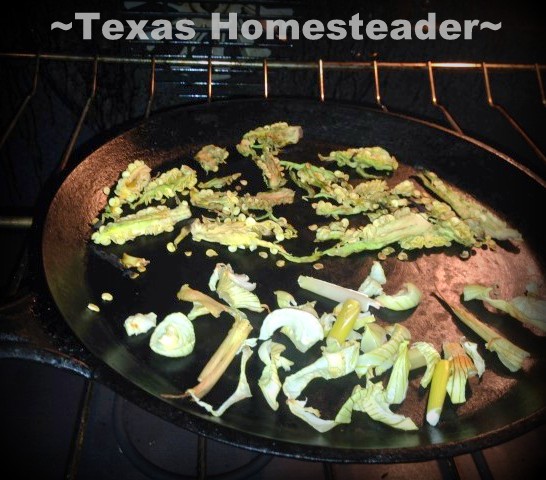 Grind Dried Veggies Into Powder
When I pulled them out of the cold oven the next morning they were all perfectly dry! So I popped them into my coffee grinder that I keep specifically for this purpose and ground them up.
The resulting powder is stored in a labeled spice shaker bottle.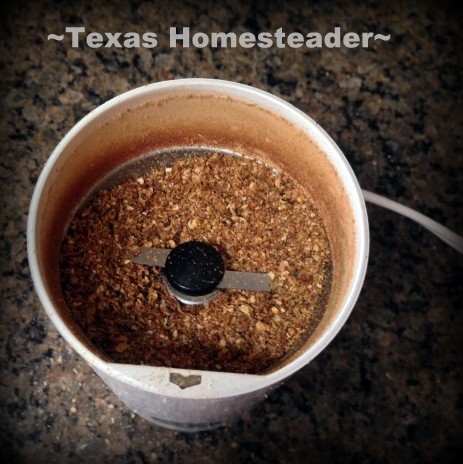 You don't get any more "FREE" than a turned-off oven using residual heat to dehydrate veggie pieces that would have been discarded!
~TxH~
Other Kitchen Hacks


C'mon by & sit a spell! Come hang out at our Facebook Page. It's like sitting in a front porch rocker with a glass of cold iced tea. There are lots of good folks sharing!
And you can also follow along on Pinterest, Twitter, Instagram
If you'd like to receive an email when a new blog post goes live,
subscribe to our Blog!
*Amazon Affiliate
Save
Save
Save
Save
Save
Save