by Texas Homesteader ~
I'm constantly repurposing glass jars for food storage. Sometimes I use jars that come with the food we buy, sometimes empty canning jars. But having unlabeled food in the pantry or fridge is a problem waiting to happen.
I need to label the food in those jars. But I don't want to buy disposable labels. Check out today's Homestead Hack.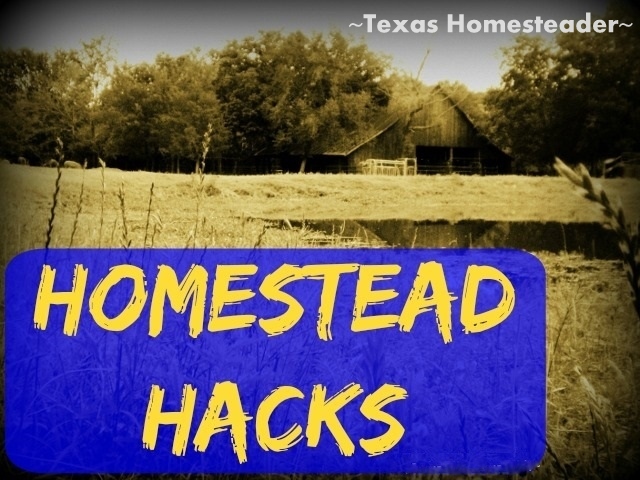 Repurposed Glass Jars
I've used canning jars and pickle jars. Big jars and small jars. Heck they're all beautiful to me!
I've moved to plastic-free food storage in my refrigerator. I like that plastic is not touching our food.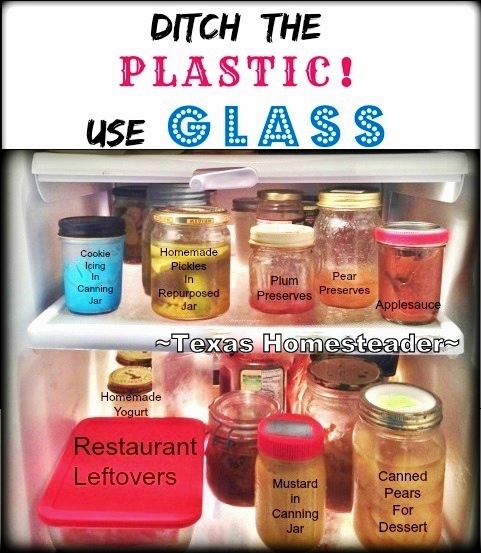 Pantry Storage
And I use glass jars to hold dry foods and dehydrated veggies in my pantry too. Again, I'm a big fan of repurposing glass jars. I mean, what's not to love?
They look bright & shiny in my pantry. And since they're clear glass I can easily see the deliciousness lining my pantry shelves.
Labeling Food In Jars
Now back in 'the day' when I needed to ID food in those glass jars stored in my pantry I'd put a little sticker on the top to properly label the contents.
Since I'm a "Use Whatcha Got" kinda girl I moved to using silver duct tape on top of the jars. I'd just write on the tape with a permanent marker.
But to read the jar's contents I'd have to pick up & look at the top of the jar. Sometimes these jars are stacked 3 deep on the shelf. There's got to be an easier way! And there is.
Mark On The Glass
Now I'm apparently not smart enough to come up with this on my own, y'all. I read it somewhere on my Facebook Newsfeed (sorry, i can't remember who originally posted it) But I wondered why the heck I didn't think of it before!
Now when I place dry food in my glass jars for pantry storage I take a permanent marker and write directly on the surface of the glass!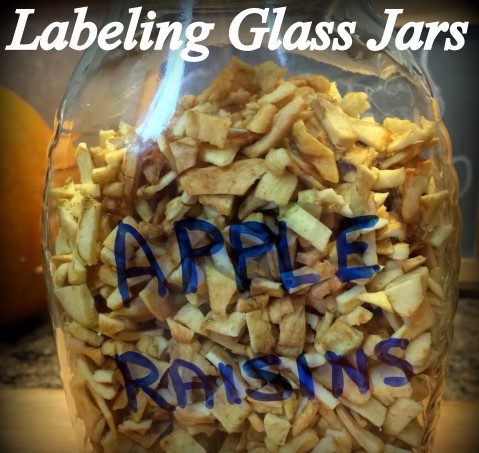 I dehydrated these apples, cut them into raisin-sized chunks to use in my homemade Pumpkin Granola and placed them in two jars – a quart canning jar and a repurposed honey jar.
I wrote "Apple Raisins" on the jars so I'd know these were dried apples that I'd use like raisins in my granola.
Daily Snacking
Of course I also placed some dehydrated apple slices in another jar for RancherMan's snacking pleasure. It was easy to write on the glass to identify the snack for him.
He enjoys snacking on a handful periodically throughout the day. And c'mon – who doesn't love her hubby snacking on apples?? 🙂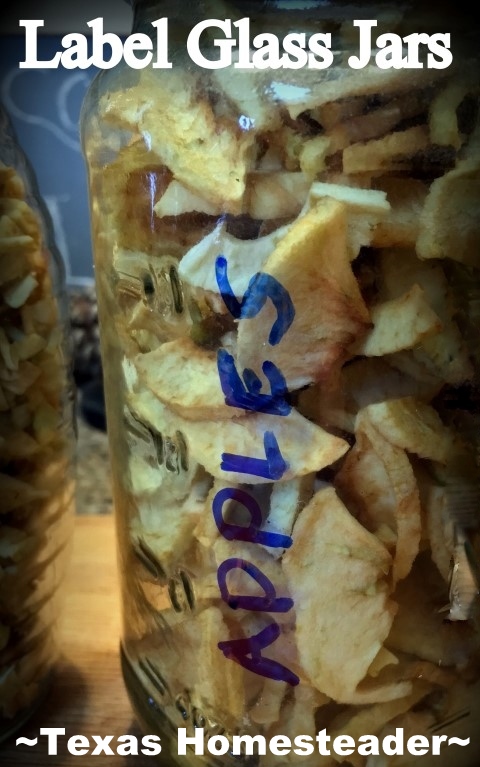 Now some people take extra measures such as oxygen packs or vacuum sealing to assure their dried food stays fresh. But I'm pretty good about going through my dried food stored in my pantry in a timely manner.
So I just write the contents on the outside of the jar, slap on a lid and I'm good to go.
When the jar is empty a soapy rag, a sprinkle of Baking Soda Cleaner & a little elbow grease has it sparkling clean again in no time.
The permanent marker is tough enough to stay put while in the pantry yet easy enough to scrub off when the jar's empty. These jars will stand at the ready to do service again & again!
UPDATE: I also figured out how to see what was contained in a jar several layers back on the pantry shelves.
I hated having to move the jars in front to read the contents of jars behind them. I started making my own Chalkboard Labels For Jars so I can see the contents from the top.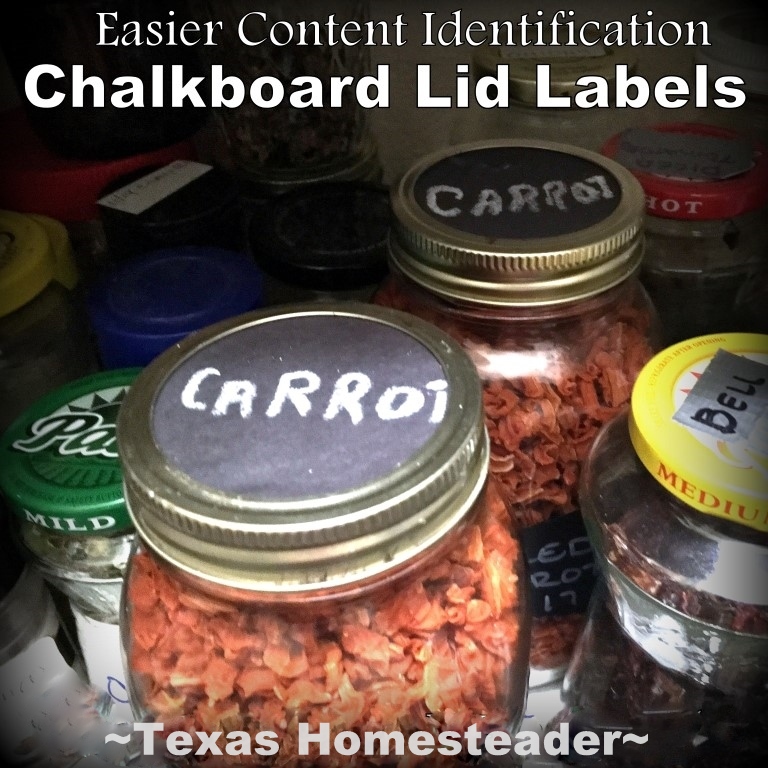 See how easy it is to read jars in the back? (Slaps forehead) What didn't I think of that before??
Other Glass Jar Labels
Oftentimes when I have leftovers to go in the fridge, I need to label the contents. No need in rummaging around in the fridge wondering what this jar of food contains, right??!!
This leftover chicken broth? There's no question as to the contents of the jar. I use the same method when making Homemade Mayonnaise and such.
It's simple to label the jar with a permanent marker before putting the food in. And to remove the marker it's easy to lightly scrub it away when the jar is empty. A nice zero-waste way to label jars of food!
~TxH~
Other Kitchen Hacks


C'mon by & sit a spell! Come hang out at our Facebook Page. It's like sitting in a front porch rocker with a glass of cold iced tea. There are lots of good folks sharing!
And you can also follow along on Pinterest, Twitter, Instagram
If you'd like to receive an email when a new blog post goes live,
subscribe to our Blog!
Save
Save
Save