by Texas Homesteader ~
Occasionally I have difficulty opening a stubborn stuck jar lid. If RancherMan is nearby I have a handy (and oh-so-handsome) jar opener right at my disposal.
But if not I still have an easy way to open those stubborn jars. And I do it using a common item in the 'junk drawer' right in my kitchen.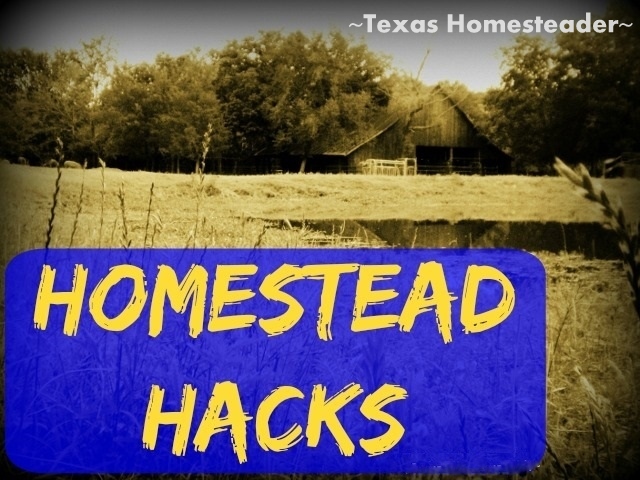 Difficulty Opening A Jar Lid
There are any number of reasons opening a jar might be difficult. Maybe arthritis or a hand injury keeps you have having as tight a grip as you used to.
Or sometimes the lid is just a super-tight seal. Perhaps it's a jar of jam from the fridge that had a little residual jam on the mouth of the jar when the cap was last added.
For whatever reason, sometimes I need more than my own firm grip to open a jar.
Most of the time any jar lid I need removed pops off easily. But occasionally the lid is stuck and just won't twist, no matter how hard I try.
I used to have those flat rubber-textured jar-gripper circles specifically made for helping with hand grip when opening a jar. But they often bundled up and clogged my kitchen drawer. Plus after a few years they'd get brittle. So I'm not fond of them.
But no worries, I found a better way!
Using
A Rubber Band To Open Stubborn Jar
Lurking in my kitchen drawer is a rubber band that came on a bunch of asparagus I purchased recently. Now that rubber band is going to help a sistah out with this jar lid.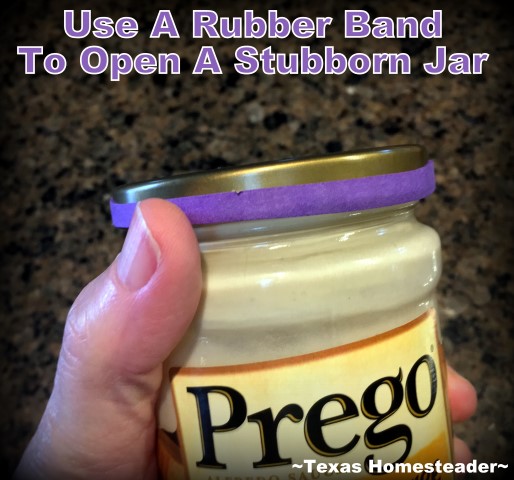 I take that rubber band and wrap it around the stubborn jar lid in question.
This gives me the perfect amount of grip – both for my hand and for the jar lid – to keep from slipping. I'm now able to easily open that jar.
Of course after the deed is done I'll slip the rubber band back into the drawer, ready and waiting for next time.
Now I still prefer have RancherMan open stubborn jars for me, if for nothing else than to get to enjoy his handsome face.
But this is a great alternative for times when he's not inside the house. Who knew the lowly rubber band could be so helpful?
~TxH~
Other Kitchen Hacks


C'mon by & sit a spell! Come hang out at our Facebook Page. It's like sitting in a front porch rocker with a glass of cold iced tea. There are lots of good folks sharing!
And you can also follow along on Pinterest, Twitter, Instagram
If you'd like to receive an email when a new blog post goes live,
subscribe to our Blog!