by Texas homesteader ~
We all know you can chop & freeze excess onions. But I've taken it a step further. I sauté them before they go in the freezer!
This gives me my own homemade convenience item. (smacks forehead) Why didn't I think of that sooner??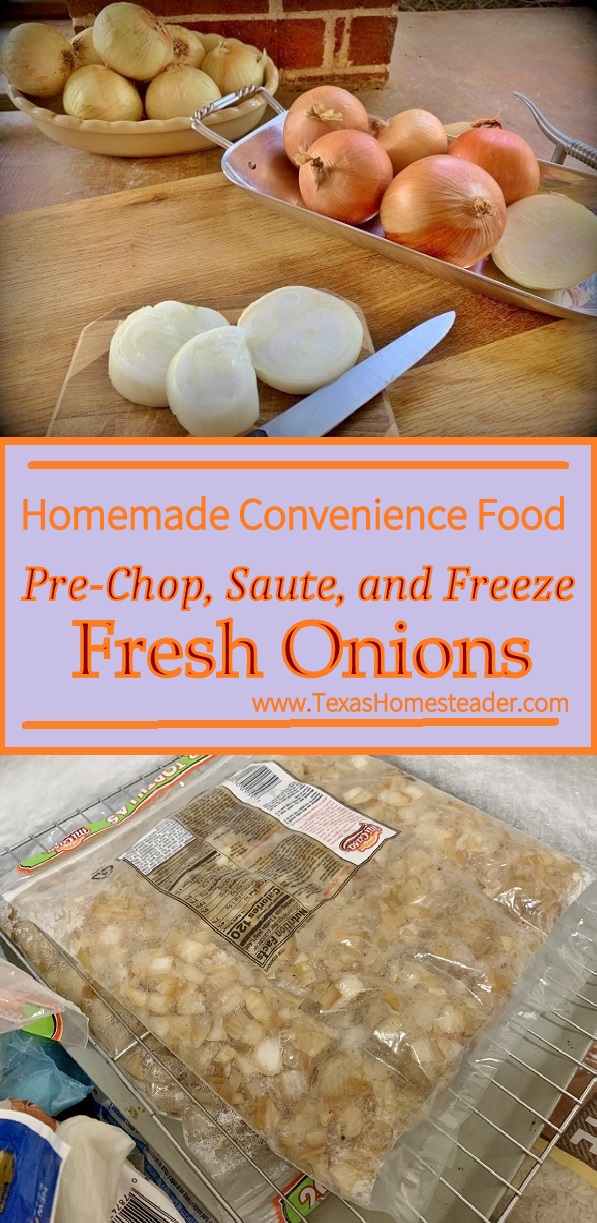 Almost every savory dish I cook includes sautéed onions and/or garlic. But although I've found a way to easily Preserve Garlic for cooking, I don't always have fresh onions.
So I wondered, why not take this glut of Harvested Onions and chop/sauté them now for use later?
Preserving Fresh Onions
Back in the day, I'd chop & freeze raw onions so I'd have them available if a fresh onion wasn't.
Even though the texture of frozen onions changes when it's thawed, it's not a big deal if you're adding it to a dish you're cooking. That's because obvs the texture will change when it's cooked anyway.
But if my recipe calls for sautéed onions, it's harder to sauté them when they're frozen. So I'd often just toss them into my recipe thawed but still raw.
Dealing With Too Many Onions
This day I had quite a few onions to deal with. I'd already dehydrated some onions for use in simmering soups & such this winter.
And I'd also Dehydrated The Scraps to grind with my coffee grinder to make onion powder too. No waste!
(Note: Some links in this post are for further information from earlier posts I've written. But links preceded with * are affiliate links. If you click them and buy something (almost anything, not just the item noted) I could receive a small commission. But the price you pay will NOT change. It's an easy way to support this blog without anything coming out of your pocket. So click often! Thank you!)
Easier Sautéed Onions
But now I'm going to chop all these onions and sauté them in a small amount of Bacon Grease, just as if I were about to cook with them.
Thankfully (and I mean THANKFULLY) my mother bought me this *Onion Chopper years ago. Because if not for that handy little chopper I'd be hours chopping onions. (and crying because of the fumes too!)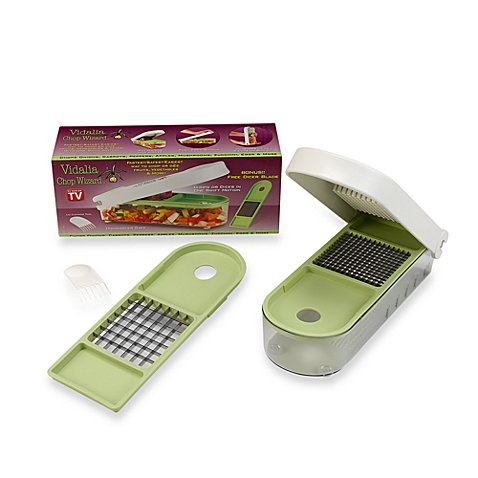 As it was, I simply skinned the onion, cut off the neck portion and the root section (and dehydrated them for onion powder the same as I'd done before) and sliced each onion into about 1/4″ thick slices.
Then each slice was placed on this chopper and BOOM! Diced onions!
I put a small amount of bacon grease on my 2-Burner *Cast Iron Griddle and sautéed them while I was preparing the next round of chopped onions.
I filled that baby up 3 or 4 times before I'd gone though all of these fresh onions!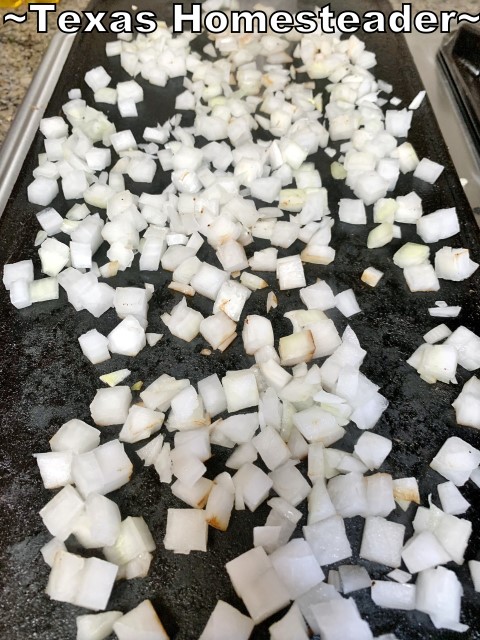 Storing Sautéed Onions
Then I placed the sautéed onions in a metal bowl and allowed them to cool. Finally I repurposed zippered bags from previous food purchases and spooned in those chopped sautéed onions.
I gently pressed the bag to flatten out the onions too. Then I used my *dough scraper to score the onions through the bag into smaller 1.5″ square sections. I didn't press hard, just enough to make a small indention.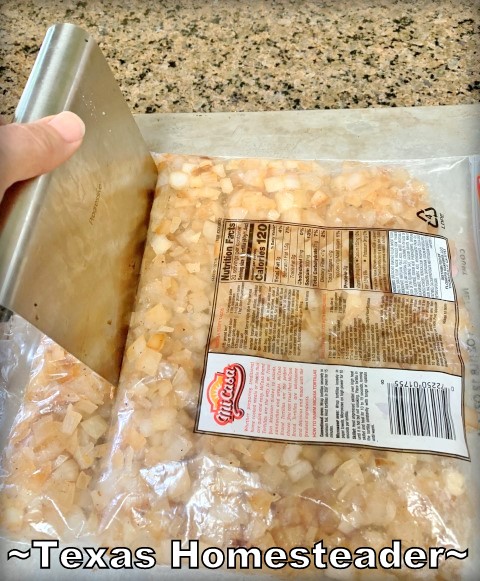 This will help when I'm using those frozen onions since I'll be able to easily break off small sections for my recipe.
Then I carefully placed those bags of sautéed onions on a cookie sheet and slid them into our chest freezer. I'll leave them there at least overnight. That way they'll be frozen solid inside the bag.
Don't Forget To Add A Label
But you know how everything looks the same in your freezer? It's important to label these onions!
So I wrote out a quick label on a piece of paper I cut out of an old envelope. Then I slid all three of these repurposed bags of frozen sautéed onions into a single heavy-duty freezer bag.
The label goes inside the freezer bag (but outside the bags holding the onions). And then I replace the whole shebangie into the freezer.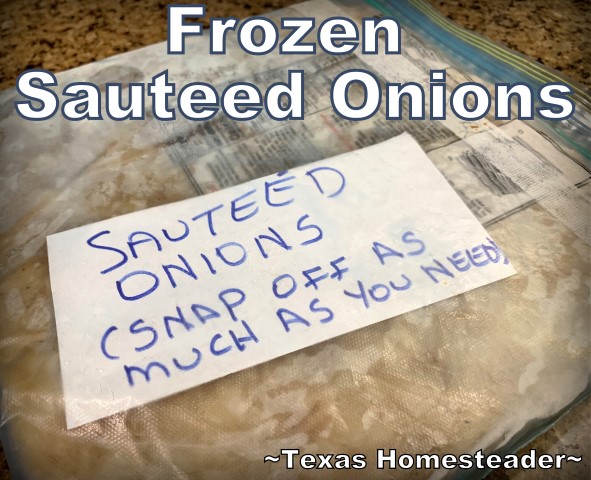 Now when I need some sautéed onions I only have to go to my freezer, pop out a square or two of them and use them in my recipe. They're already sautéed to perfection!
By doing this, the onions have been preserved so there's no food waste. And I've made my own convenience food too – as close as my freezer. Work smarter, not harder y'all!
~TxH~
Favorite Condiments
…and MUCH more


C'mon by & sit a spell! Come hang out at our Facebook Page. It's like sitting in a front porch rocker with a glass of cold iced tea – lots of good folks sharing!
You can also follow along on Pinterest, Twitter or Instagram.
To receive an email when a new blog post goes live it's EASY to
Subscribe to our blog!
*Amazon affiliate