by Texas Homesteader ~
*contains affiliate link
It's hatch chile season, y'all! I want to put all those delightfully-roasted hatch to good use. So I decided to make a creamy hatch chile sauce with some of them.
It was simple, really. I only used hatch chiles, greek yogurt, garlic and olive oil. RancherMan is still raving! I'd say that was a success!
Come see how I made this quick & easy Creamy Hatch Chili Sauce.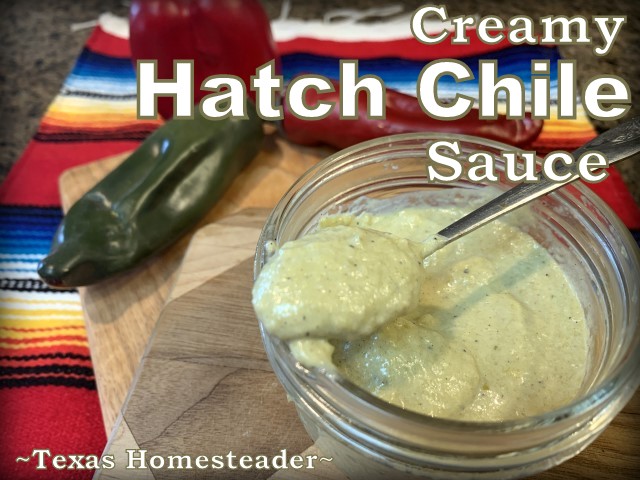 (Note: Some links in this post are for further information from earlier posts I've written. But links preceded with * are affiliate links. If you click them and buy something (almost anything, not just the item noted) I could receive a small purchase. But the price you pay will NOT change. It's an easy way to support this blog without anything coming out of your pocket. So click often! Thank you!)
We try to buy hatch chile peppers every year. But before I toss them in the freezer, I remove the stems and seeds & peel the roasted skins (if they're tough). Then I lay the peppers in a single layer and freeze them.
That means using my roasted hatch chiles is as easy as cutting off a chunk and proceeding with my recipe.
Recently I whipped up some quesadillas and topped them with this creamy hatch chile sauce that I made from scratch.
Hatch Chile Sauce Versatility
This sauce will go on many different dishes deliciously. Maybe atop Homemade Tamales for a creamy yet spicy finish. Perhaps spooned on top of some Pulled Pork Enchiladas. RancherMan said it would even be delicious as a chip dip. Now that's a versatile recipe, y'all!
And here's the best part: Since my chiles are already roasted, skinned and seeded, this recipe comes together in less than 2 minutes. Quick & easy is the way I fly in my kitchen. How about you?
Mild varieties of Hatch chiles are only a lightly spicy pepper. There are hotter varieties of hatch chiles though. So this Creamy Hatch Chile sauce can be anything from a mere slight tingle to the tongue to mildly hot, depending upon how hot you like it.
I used the hotter Hatch chiles for mine. But, you know, we tend to enjoy spicy foods at our house. Cruisin' for a bruisin' is the order of the day in our family when it comes to spicy food. Feel free to ask for the milder variety to tone down the heat if you like.
Greek Yogurt Substitute
I don't buy yogurt, I've made Homemade Yogurt for over ten years now. So to get the thicker consistency of greek yogurt I just strain a portion of my own homemade yogurt instead.
I have a clean cotton cloth I use to strain yogurts and cheeses. For me it works better than cheesecloth so that's what I use.
I spread out that small cloth & plop in about a half cup of yogurt, tie the cloth closed and hang it somewhere to allow the whey to drain. This leaves my yogurt as thick as greek-styled yogurt.
Sometimes I'll use a rubber band to hang it from the faucet to allow it to drip directly into the sink. If I'm not needing the whey, there'll be no mess that way.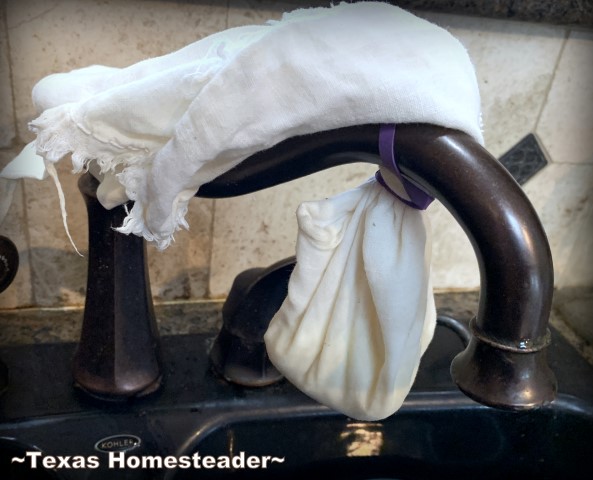 Sometimes I want the whey. In those cases I'll use that same rubber band to attach the open-face cloth to the top of a wide-mouth jar and capture the whey that drains from the yogurt if I need it for my next batch of Homemade Bread. That way nothing's wasted!
Mixing Up The Creamy Hatch Chile Sauce
Now that I'm ready to make up my creamy hatch sauce I'll bring out a frozen hatch chile. (or TWO if they're small) and allow it to thaw. OK let's be honest – I semi thaw it. I can't wait!
Then I toss the pepper in my *Ninja Blender. I love my Ninja for blending things to creamy smoothness – better than my traditional blender ever could!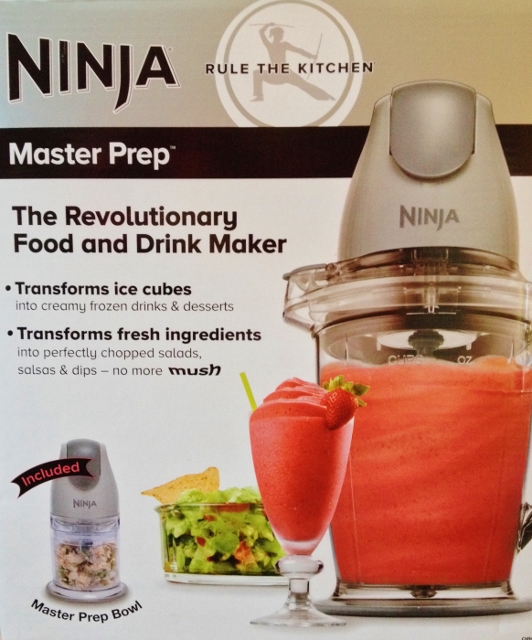 I also toss in a clove of garlic. Well, actually, RancherMan loves garlic so often I'll toss in TWO cloves instead! A little olive oil, some salt and I'm ready to blend. The Ninja will blend it to creamy smoothness in only about 30 – 45 seconds.
Then comes the greek yogurt portion. So I'll add some of my thickened yogurt. I'll stir it all up to thoroughly combine it all. That keeps the hatch sauce from being too fluffy for our tastes.
You can whirr the yogurt in your blender along with the other ingredients all at the same time if you like as well. It's faster and it fluffs up the chile sauce to make it lighter. Either way – your preference here.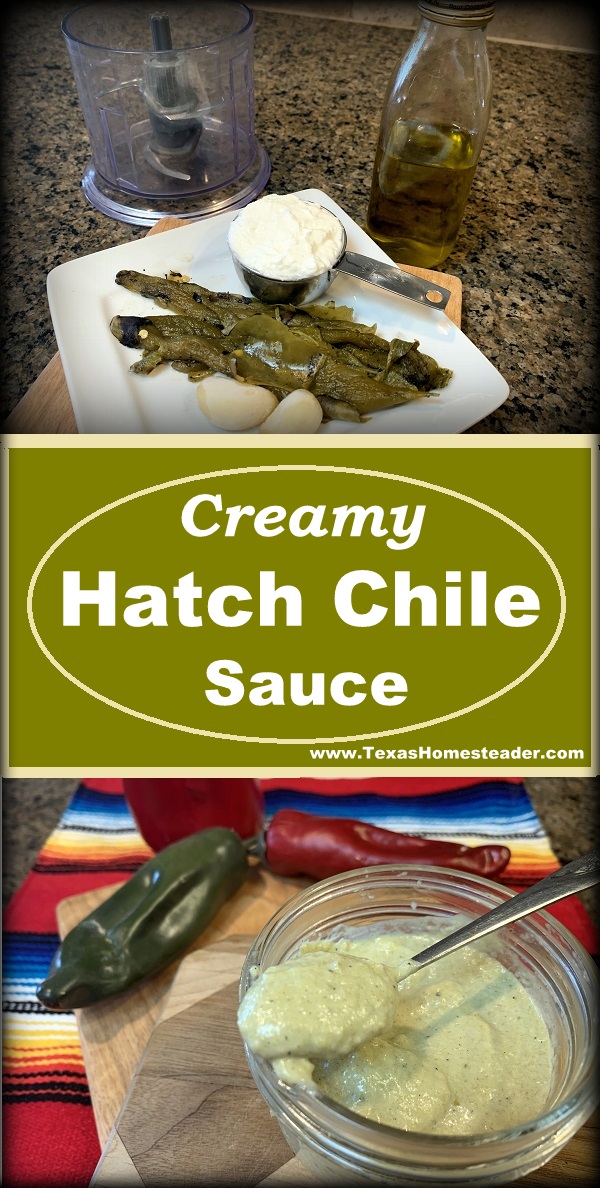 Really, that's all there is to it! Our Creamy Hatch Chile sauce is ready to be enjoyed.
Don't Let 'Em Know How Easy It Is!
Now every cook loves to hear their family raving about something they've prepared. And this Creamy Hatch Sauce was raved about, let me tell ya!
After several complementary comments, RancherMan looked sheepishly over at me and asked: "It's so delicious, is… is it hard to make?"
I knew he was putting out feelers to see how often he could expect this delicious chile sauce to be available upon his request.
But I'm not gonna let the cat out of the bag, y'all. I'll just let him think it took lots of effort.
So I simply smiled and said "Honey, you know I'll make it for you whenever you ask". Shhhhhhh…..
I found my base recipe at Hilah Cooking and tweaked it to our preferences. Aaaaahhhh – flexibility is the beauty of homemade food. Here's the recipe.
Oh, and keep my secret & don't let anyone know how easy it is, 'kay??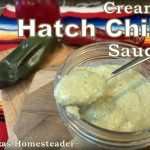 CREAMY HATCH CHILE SAUCE
This creamy hatch chile sauce is delicious atop enchiladas, spooned into tacos or spread across tamales. Heck it's even delicious as a dip! And you really don't get any easier than this one. #TexasHomesteader
Ingredients
INGREDIENTS
1/4

cup

Hatch green chiles roasted, skinned & seeded

(1 large or 2 small peppers)

1 - 2

cloves

garlic

2

Tablespoons

olive oil

1/4

cup

plain unflavored Greek yogurt

(Or strain regular yogurt through cheesecloth to make it thicker)

Salt to taste

(I used 1/2 tsp)
Instructions
INSTRUCTIONS
If your peppers are raw, first roast the pepper under the broiler for 2-3 minutes on each side. Pepper skin will be blistered and blackened.

Place blackened pepper on a cutting board, cover with a bowl and allow it to cool.

Remove the pepper's stem & seeds. Peel pepper skin if desired. (sometimes the pepper skin is so thin I don't bother peeling it, but sometimes skin can be tough and I don't want it in my sauce)

To make creamy Hatch Chile Sauce, place prepared pepper, garlic cloves, salt and oil into a blender and blend until smooth.

Add yogurt and stir to fully combine.
Our Favorite Tex-Mex Recipes
Other Favorite Condiments
…and MUCH more


C'mon by & sit a spell! Come hang out at our Facebook Page. It's like sitting in a front porch rocker with a glass of cold iced tea – lots of good folks sharing!
You can also follow along on Pinterest, Twitter or Instagram.
To receive an email when a new blog post goes live it's EASY to
Subscribe to our blog!
*Amazon affiliate