by Texas Homesteader ~
This is the easiest Texas-Style Spanish Rice (or Mexican Rice) recipe ever. Just long-grain rice, chunky picante salsa, onions, garlic & broth. Perfect for my Tex-Mex flavored dishes.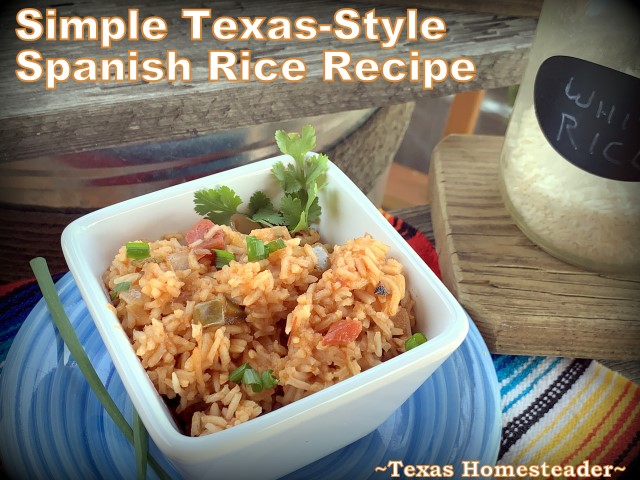 Rice A Cheap Yet Delicious Staple
Spanish rice (or some call it Mexican rice) is a super-simple dish to make. And it's a good thing too. We've been eating lots of rice lately, y'all.
With the price of food lately I'm trying hard to keep us fed using what's in our pantry & freezers. And there's lots of rice in our pantry.
Rice is a pantry staple for us. And there are lots of ways I enjoy serving it.
RancherMan's favorite is Buttered Garlic/Sage Rice. If I'm having company over I'll often opt for Fresh Rosemary Rice. And if the cilantro is growing in my garden and we're having Mexican faire, I love Cilantro/Lime Rice.
But another of RancherMan's favorites is Spanish Rice. If it's past season for cilantro in my garden, this is my go-to for our many Tex-Mex meals like Carnitas Tacos, our homemade Tamales or even Pulled Pork Enchiladas.

Here's my oh-so-simple Spanish Rice recipe.
Everyone Else's Basic Rice-Cooking Directions
First let's talk about cooking the rice itself. Conventional wisdom for cooking rice is simple: Measure & rinse rice until water runs clear. Add 1 part rice, 2 parts water or broth to a pot. Cover & simmer 20 minutes. Remove from heat, fluff with a fork and serve.
Sounds simple enough, right?
But DANG if I follow those directions my rice is always over-cooked and mushy. I'm really not sure what the difference is. Maybe minerals in our water? Maybe the heat of my gas stove? Swamp gas from Venus? I'm not sure.
I've included the standard rice-cooking directions in my recipe below.
But if you have problems with mushy, over-cooked rice – try my different rice-cooking method.
My Different Rice-Cooking Method
Because cooking rice the standard way always results in over-cooked rice for me, my rice-cooking procedure typically looks more like this:
Measure & rinse rice until water runs clear.

To pot add 1 part rice,

Cover & simmer for 10 minutes,

Turn off heat, leaving pan covered for 10 more minutes.

Fluff with fork and serve.
This always results in tender rice that still has all its ricey structure. Not a mushy, overcooked pile of goop.
So whether you use the traditional method of cooking rice, or my what-the-heck's-going-on version, rice is a delicious staple that's easy to cook and pairs nicely with many different kinds of food.
Texas Style Spanish Rice
For my Texas Style Spanish Rice recipe I use 1 part rice to 1 part chunky picante salsa and 2 parts broth.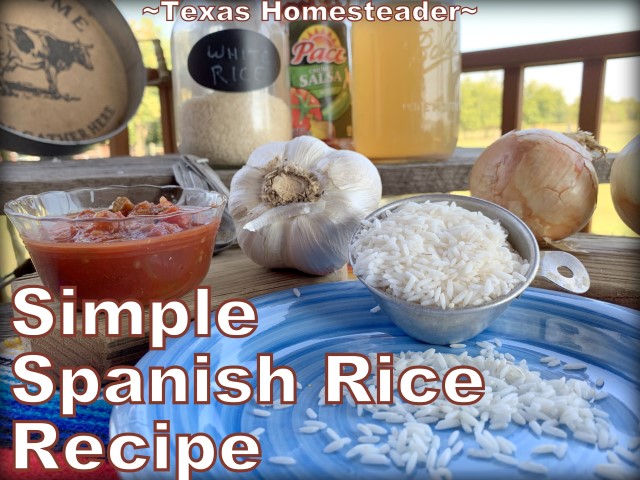 So my typical recipe measurements when I'm making Spanish rice are: 1 cup dry rice, 1 cup chunky salsa (We like Pace's) and 2 cups of my homemade unsalted broth.
Rinse Rice First To Remove Extra Starch
The first order of business is to rinse the rice in a strainer until the water runs clear. This removes any excess starch which could make your rice turn out sticky.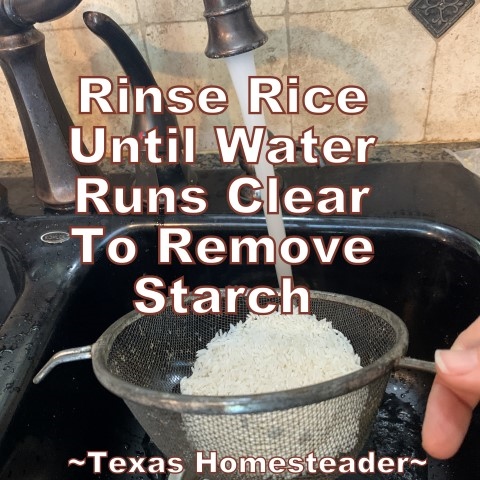 Before I begin cooking my rice I like to sauté aromatics like about 1/2 cup chopped onion & a minced clove of garlic before adding the rice, broth & picante.
But if you don't have these available don't worry about it – the salsa usually has both of those in its ingredients anyway.
When the onions are halfway to the translucent stage, I like to toss in my raw rice.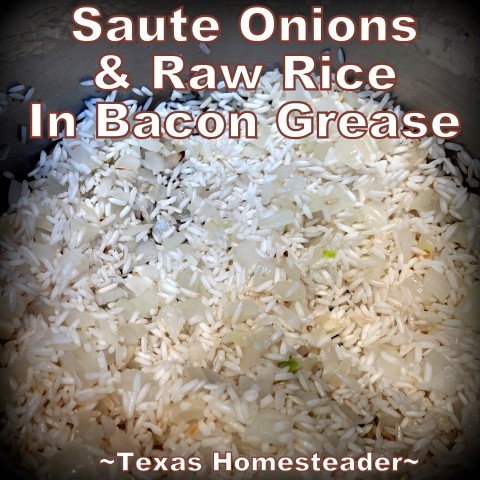 I'll stir it as the rice turns a light tan. I just prefer the extra flavor this seems to impart to my rice dishes.
When it's all ready to cook I'll add 2 cups of broth, bring it to a simmer and cover the pot, setting the timer for 10 minutes. It'll gently simmer during that time.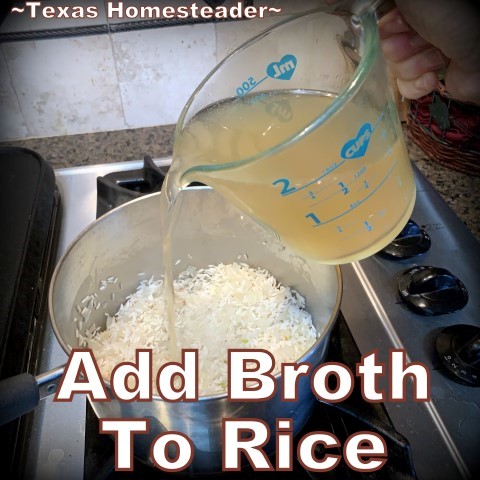 And when the timer goes off I'll turn off the heat on the stove. But I'll leave the rice covered and allow it to steam and finish soaking up the liquid for another 10-15 minutes.
After the resting time I'll take a peek and give it a stir. If the liquid is fully absorbed we're ready to go. If not I'll give it a few more minutes to soak up all the broth.
I Go Easy On The Salt
Since salsa is typically salty on its own, I usually wait until my Spanish Rice is cooked & ready to serve before adding any salt & pepper.
It's true you can add salt to any dish, but once it's in the dish you can't take it away!
So it's easiest to allow everyone just season to their own tastes when it hits their plates.
Faster & Easier Spanish Rice Recipe
Now Spanish rice recipes abound and there are any number of ways people like to cook and serve it.
Some may have cherished recipes passed down for generations. It takes longer in the kitchen but it's a source of pride for those cooks.
I myself am a rather lazy… I mean efficient cook. Less time in the kitchen is my wheelhouse, y'all!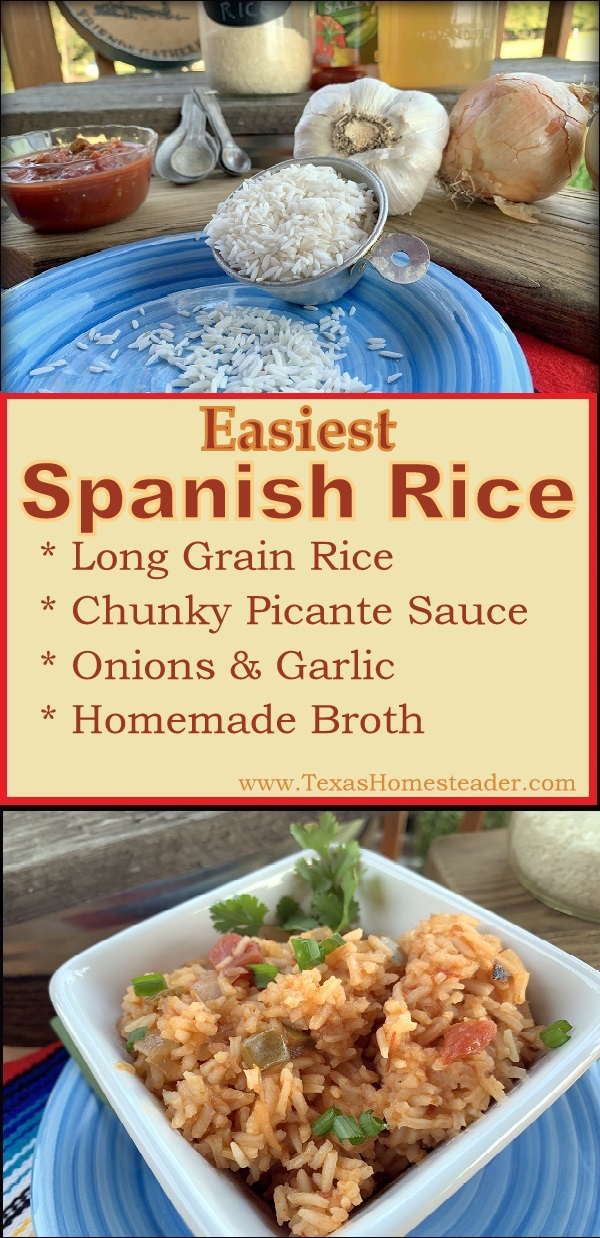 So this version is my fave. Plus RancherMan always raves when I make this Spanish rice. And it's the easiest way of all to serve rice!
So whether you call it Spanish rice, Mexican rice or something else, this is a super-simple and fast way to put a flavorful rice dish on your family's table. Ole!
Did you make this Spanish Rice? Please rate the recipe in your comment below!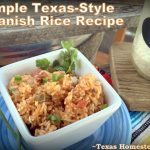 Easiest Texas-Style Spanish Rice Recipe
This simple Texas-styled spanish rice recipe is as simple as it gets. It goes great with all our TexMex meals - enchiladas, tamales, enchiladas and more. #TexasHomestead
Ingredients
Ingredients:
1

cup

dry long-grain rice

1

cup

chunky salsa,

I use Pace's

2

cups

unsalted broth

1

small onion

chopped (about 1/2 cup)

1

clove

garlic

minced

Salt & Pepper to taste

I typically wait until it's served to add
Instructions
Instructions:
Rinse rice in a sieve until water runs clear to wash away extra starches.

Sauté onion & garlic in a little oil or bacon grease until translucent - about 3 minutes.

Add rinsed rice and stir & cook with onions until rice is lightly tan.

Add 1 cup salsa and 2 cups unsalted broth and stir to combine.

Bring to a simmer and then cover pot

Simmer until broth is absorbed, about 15-20 minutes

Fluff with a fork and serve.
Recipe Notes
See post for how I do cook rice:
Simmer 10 minutes, turn off heat & leave covered to soak up broth for final 10 minutes
~TxH~
This post categorized in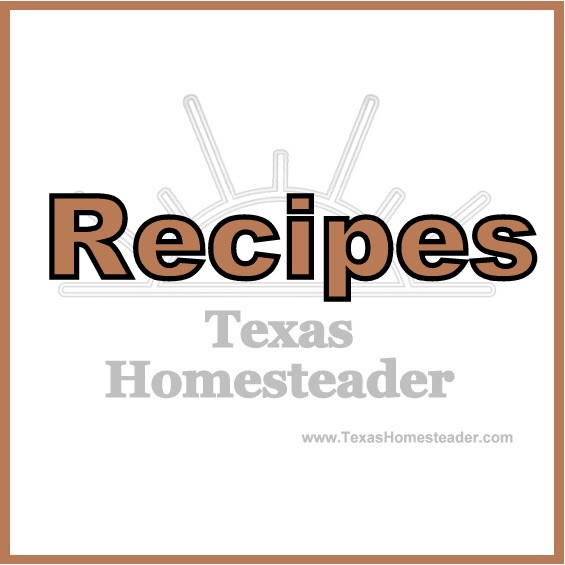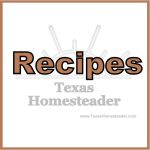 Other Side Dishes We Love
…and MANY MORE!


C'mon by & sit a spell! Come hang out at our Facebook Page. It's like sitting in a front porch rocker with a glass of cold iced tea – lots of good folks sharing!
You can also follow along on Pinterest, Twitter or Instagram.
To receive an email when a new blog post goes live it's EASY to
Subscribe to our blog!