by Texas Homesteader ~
I like to plant veggies in the garden that will grant me the ingredients for a healthy, delicious garden salsa.
Although I picked other veggies to add with our supper tonight, THIS is my favorite of the day's samplings.
Not only the coveted first ripe home-grown tomatoes of the season but the makings of homemade fresh garden salsa tonight: Tomatoes, purple onion, garlic and jalapenos. Proof positive that you can eat your veggies and LOVE it!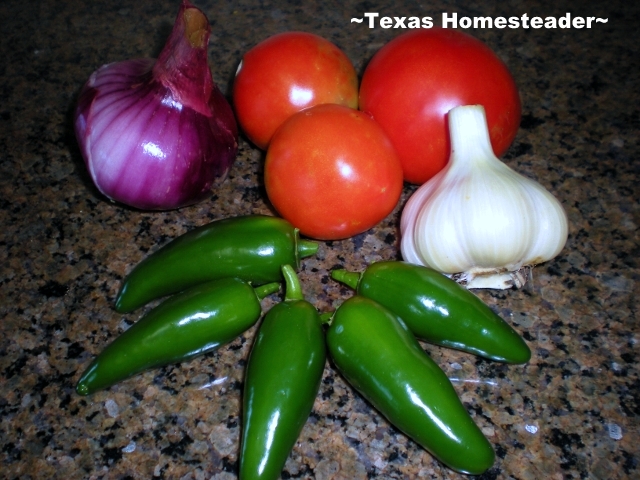 It doesn't do any good to plant the seeds and work hard all season to produce a crop that makes your family say, mehhhh….
So go ahead, plant veggies that you'll be excited to eat. Why not plant garden salsa ingredients? They're all easy to grow and garden salsa can be prepared in a flash.
Quick Preparation
Now folks, you don't get any more fresh than straight from the garden! Although I assemble my pico/salsa the old fashioned way with a knife and cutting board, it still takes no time for the veggies to get chopped or minced and blissfully marinating in the fridge awaiting squeals of delight from the family.
Now let's be honest, any time you can get your family to get excited about eating their veggies it's a good day, right?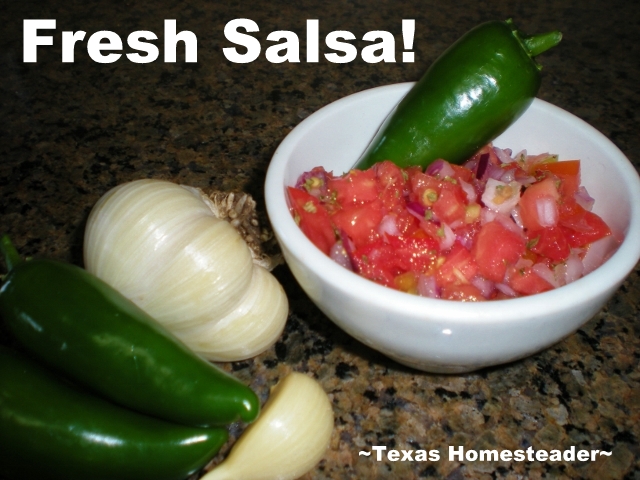 I don't really have a recipe per se. That's because I make it slightly different each time based on what I'm in the mood for and the output of the garden.
Flexible Garden Salsa Ingredients
The beauty with this adaptable garden salsa is that you can add the veggies in the proportions you enjoy.
Like it spicy? Add tons of jalapenos. Are you a garlic fiend? Throw in more garlic cloves. Do purple onions make you sing? Chop up a whole onion and throw it in there.
As I've said many times before, if a recipe isn't delicious, quick and ADAPTABLE it doesn't last long here at the Homestead.
Assembling Garden Salsa
Here's the way we put it all together: Chop the tomatoes, jalapeno and onion in the proportion we enjoy and place in a bowl. Mince a clove or two of garlic and add it to the bowl as well.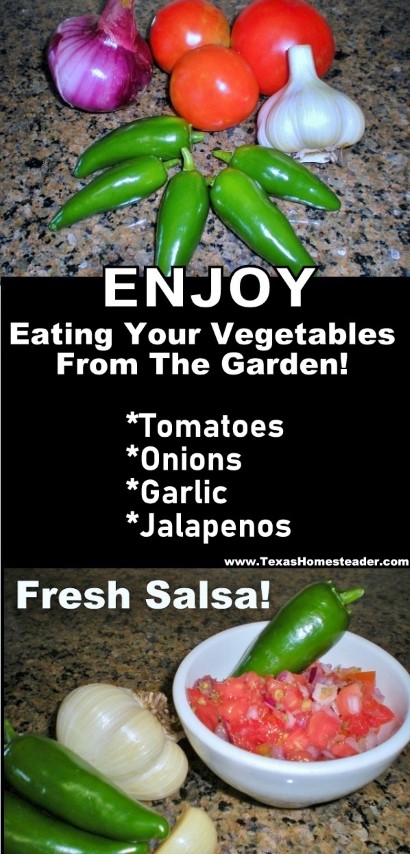 A quick squeeze of lime juice gives just the right zing. Sometimes I add a sprinkle of salt and if I have cilantro I'll chop some of that and mix it in as well.
After it's all mixed together put the bowl in the fridge for an hour or more to meld the flavors.
Ole'!
~TxH~
Snacks We Love
~ ~ ~ ~ ~ ~ ~ ~ ~ ~ ~ ~ ~ ~ ~ ~


C'mon by & sit a spell! Come hang out at our Facebook Page. It's like sitting in a front porch rocker with a glass of cold iced tea – lots of good folks sharing! You can also follow along on Pinterest, Twitter or Instagram.
If you'd like to receive an email each time a new blog post goes live it's EASY to
Subscribe to our blog!
Save