by Texas Homesteader ~
The Instant Pot makes quick work of cooking dry Black-Eyed Peas. And this simple recipe has an added spicy kick from Rotel-style tomatoes. I can put them on to cook when I start supper and they'll still be ready to eat when we are. That's FAST!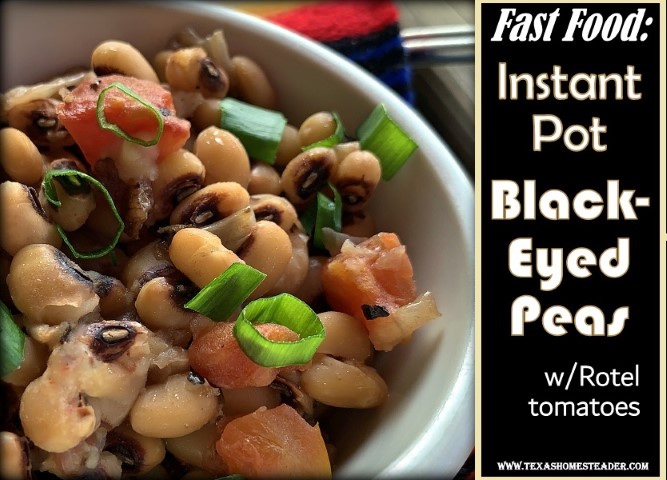 Dry Beans Very Economical
It's very beneficial for our food budget that I prefer to cook dry beans. I mean, a bag of dried beans is cheap, y'all! And now that I have an Instant Pot, cooking them is super fast too. Especially black-eyed peas. Heck, I don't even have to soak them first.
Black-eyed peas cook in only about 15 minutes with an additional 15-minute natural release time. I can put 'em on to cook when I start supper and they'll be ready to serve by the time we're ready to eat!
But I wanted a little something different with our black-eyed peas. I decided to add some spicy Rotel tomatoes to them. They turned out deliciously.
Here's what I did:
Sort Dried Beans
First I took out a 1-lb bag of dried black-eyed peas. I like to toss 'em on a plate and sort through them in small sections to make sure there's only black-eyed peas in that bag.
I've never found anything extra in a bag of black-eyed peas that needed to be sorted out. But some dry beans (especially pintos for some reason) will have a small rock mixed into the bag of beans. So I always check just to make sure.
I sweep the black-eyed peas off the plate and into a colander as I inspect the peas in small sections. When they've all been checked I take the colander to the sink and give them a good rinsing.
Beans: Pre-Soak or Not?
Conventional wisdom says that by pre-soaking beans, then pouring away the soaking water, then rinsing the beans and replacing with fresh water (or broth) to cook them helps ease any, errrr… 'gastric distress' that might be experienced by some people when eating beans.
I've read that the more often your family eats beans, the more your system adjusts to them and the less likely they are to cause gastric distress in the first place.
Since beans are cheap, I'm serving them often. Whether enjoying as a side dish or as an ingredient in a recipe, we enjoy lots of healthy beans in our diet.
Having said that, if I'm making pintos I almost always pre-soak the beans. They just seem to cook up better for me when they've been soaked beforehand. But black-eyed peas are so small I don't ever bother with that step.
No Need To Soak Beans w/Instant Pot
But most folks say if you're cooking dry beans in an Instant Pot there's no need to soak the beans anyway. Just sort, rinse, dump 'em in and get to cooking.
Today I'm sharing how I cook a whole 1-lb bag of dry black-eyed beans that have not been presoaked. I've read that with black-eyed peas, pre-soaked or not – the Instant Pot cooking time remains the same. So either way you should be good to go with these cooking times.
But I'd think if you were concerned about any digestive issues in your family that you might go ahead & soak any dry beans you cook. So pre-soaked or not, the decision is yours. Make the best decision for what works best for you and your family.
Sautéing The Onion & Garlic
My black-eyed peas have been sorted and rinsed and are ready to go. But before I can start them cooking I need to sauté an onion & garlic. So I quickly dice a whole onion and also mince 3 cloves of fragrant garlic.
To sauté the onion I add a tablespoon of bacon grease to the inner liner of my Instant Pot, press 'sauté' & make sure it's set to high heat. After the fat's melted I add the chopped onion and sauté it for 3-4 minutes, just until the onion is translucent.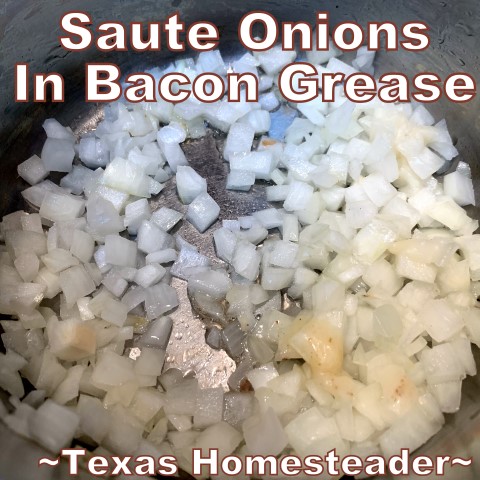 Since garlic doesn't take as long to sauté, when the onion was aaaaaaalmost ready I add my minced garlic during the last minute. Then I cancel the sauté function.
Now it's show time! I'm ready to cook my black-eyed peas!
Cooking Black-Eyed Peas In An Instant Pot
I dump the sorted & rinsed black-eyed peas on top of the sautéed onions, add 5 cups of water (or broth) a little salt & pepper and a whole un-drained can of spicy Ro-Tel style tomatoes. (ie: diced tomatoes that include spicy chopped green chiles.)
You can opt for any style of canned tomatoes that your family enjoys. RancherMan & I like the mildly spicy flavor of rotel. But you can opt for plain ole diced tomatoes for a milder result.
I place the IP lid on top and lock it on. Then I make sure the lever is on 'SEALING'.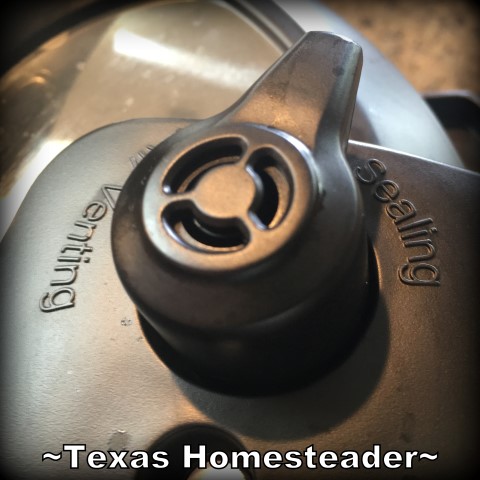 I also make sure the setting is on high pressure and hit the +/- button to get to 16 minutes cook time.
Now I turn my attention to preparing the rest of our supper while the blackeyed peas cook without further input from me. That's my kind of cooking, y'all!
Fast Instant Pot Black-Eyed Peas
After the cook time is up I allow the Instant Pot to naturally release for 15 more minutes before carefully flipping the pressure lever to release the rest of the pressure. (inhales deeply) Aaaah, that smells delicious.
And wow, what a QUICK way to cook dry black-eyed peas!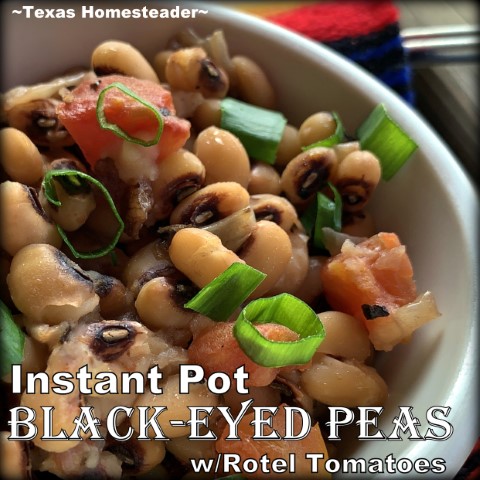 RancherMan & I both really love the mildly spicy kick the Rotel tomatoes offer to plain black-eyed peas.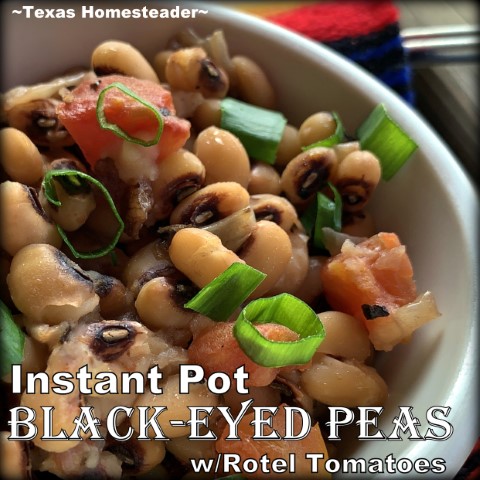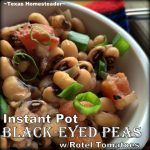 Instant Pot Black Eyed Peas w/Spicy Rotel Tomatoes
These Instant Pot Black-Eyed Peas are super simple to make. I like to add a can of chopped tomatoes containing spicy chopped green chiles for a little extra sumpin'. These could actually be the best blacked eyed peas you ever tasted! #TexasHomesteader
Natural Release
15
minutes
Ingredients
Ingredients:
1

16-oz bag

Dry black-eyed peas -

sorted, rinsed and unsoaked

1

Tablespoon

Bacon grease

1

large

Onion

chopped

3

cloves

Garlic,

minced (or about 1 Tablespoon)

1

14.5 oz can

Diced tomatoes w/chopped spicy chiles,

undrained (Can use any variety of canned chopped tomatoes but I like Rotel)

5

cups

Low-sodium chicken broth

(can use water instead if needed)

1/2

teaspoon

each salt and pepper,

or to taste
Instructions
Instructions:
Press the SAUTE button, then add 1 Tablespoon bacon grease. When the grease is melted add the chopped onion and cook stirring occasionally with a wooden spatula for about 3 or 4 minutes or until translucent. Add the minced garlic and cook another minute. Cancel the sauté function.

If any onion bits are stuck to the bottom of the IP liner, deglaze the pot by adding about 1/4 cup water and scraping the bottom of the pot with a wooden spatula to deglaze.

Pour in 5 cups chicken broth (or water), add 1/2 teaspoon salt and pepper, the rinsed, unsoaked black-eyed peas and an undrained can of chopped tomatoes.

Close and lock the lid, set the pressure release valve to the SEALING position. Press PRESSURE COOK and HIGH PRESSURE and use the + or - buttons to select 16 minutes. (NOTE: Instant Pot can take about 8-10 minutes to come to selected pressure, so be sure to add that to your estimated serving time.)

After the black-eyed peas have cooked 16 minutes, allow the IP to sit undisturbed for 15 additional minutes for natural release. After that time carefully move the pressure release valve to the venting position to release any remaining pressure.

After the pressure has been fully released, open the lid facing away from you so that steam is directed away from your face. Serve black-eyed peas hot.
Recipe Notes
Notes:
I used a 6-quart Instant Pot Duo-60.
IP could take 8-10 minutes to come to pressure, be sure to allow that time in planning your serving time.
~TxH~
Other Instant Pot Recipes:
Other Side Dishes We Love
…and MANY MORE!


C'mon by & sit a spell! Come hang out at our Facebook Page. It's like sitting in a front porch rocker with a glass of cold iced tea – lots of good folks sharing!
You can also follow along on Pinterest, Twitter or Instagram.
To receive an email when a new blog post goes live it's EASY to
Subscribe to our blog!