by Texas Homesteader ~
These simple air fryer roasted chickpeas make a crunchy, salty, savory snack in minutes! All you need is a can of chickpeas (also known as garbanzo beans), some olive oil and a handful of savory spices.
Eating chickpeas offers not only fiber and protein but iron, zinc, vitamin B6 & much more. A quick & healthy crispy snack – Perfect!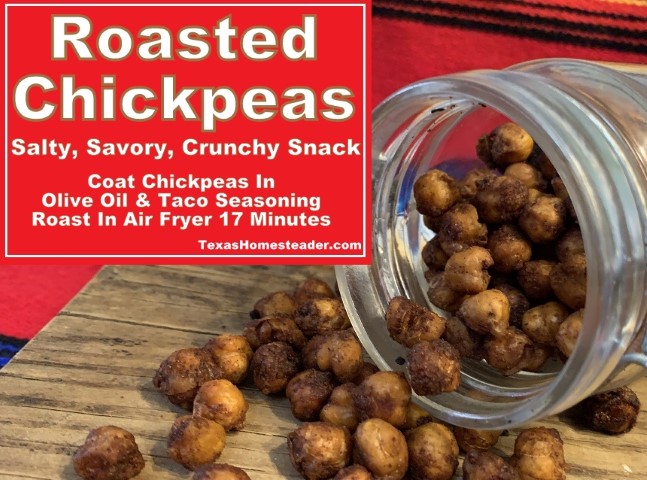 (Note: Some links in this post will take you to other related articles for further information. But links preceded with * are affiliate links. If you click and buy something I could receive a tiny commission.)
What Are Roasted Chickpeas?
Roasted chickpeas are savory, salty and crunchy – similar to corn nuts. They make a nice snack.
And because they're made with chickpeas it's a healthy snack too.
How To Roast Chickpeas In An Air Fryer
I prefer to roast my chickpeas in an air fryer. Yes, you can roast them in the oven too (directions for oven roasting chickpeas follow later in this post)
But I prefer to roast garbanzo beans (chickpeas) in my air fryer. It just seems less fussy. The full recipe is at the bottom of this post, but basically all you do to air-fry roasted chickpeas:
Drain, rinse and pat dry canned chickpeas

Coat with olive oil & seasoning

Spread on top rack of air fryer

Roast until crispy.
These roasted chickpeas have a crispy outside with a softer inside.
Baker's Note: Chickpeas will continue to crisp somewhat as they cool.
What Are The Ingredients For Roasted Chickpeas?
This is what I call simple, y'all. There are only 3 ingredients in my roasted chickpeas: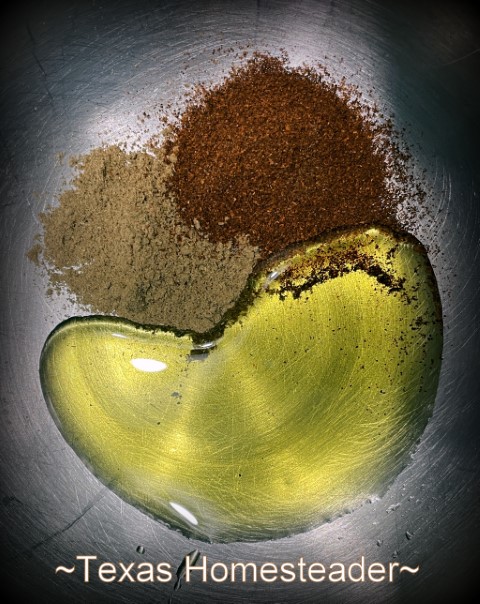 1 15-oz can of chickpeas, drained, rinsed and patted dry

2 teaspoons of olive oil (I like garlic-flavored olive oil, but plain is fine too)

2 teaspoons of seasoning blend
Really. That's it! What other homemade snack is this simple??!
What Seasonings Are Best For Roasted Chickpeas?
My favorite seasonings to use for roasted chickpeas are: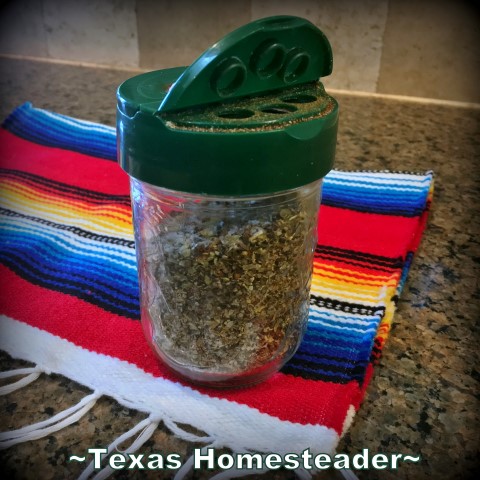 Your own blends. A mixture of garlic powder, onion powder, chili powder & cumin for Tex-Mex flavor.

An Italian blend using a mixture of garlic, oregano, basil and thyme.
The sky's the limit here. Mix your favorite seasonings (plus a little salt if desired) and you're good to go.
Secret For Making Roasted Chickpeas Crispy
Have you tried roasting chickpeas before but they just didn't turn out as crispy as you thought? Me too!
One of the secrets to crispy chickpeas is to make sure they're dry before tossing them in the olive oil and spices. Otherwise the chickpeas seem to just steam in that moisture instead of roasting.
Some people blot the rinsed chickpeas dry with a paper towel. But in my Zero-Waste Kitchen I use a clean cotton kitchen cloth that I spread the rinsed chickpeas upon.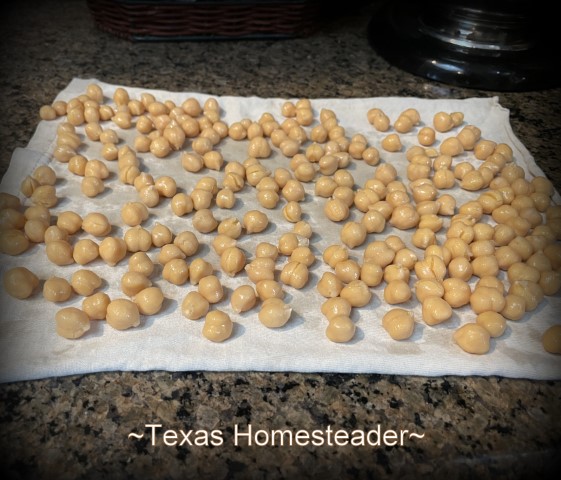 I'll roll them around to make sure all surfaces are blotted dry before seasoning my chickpeas for roasting.
How Long To Roast Chickpeas In An Air Fryer?
Crunchiness for air-fried chickpeas could vary based on your brand of air fryer, how well you've dried your chickpeas and sometimes even the brand of beans you're using.
But you can adjust the cook time for these roasted chickpeas based on how crunchy you like your snacks. Here's the roasting times I've found best for my *Instant Pot Air Fryer:
15 minutes

– Lightly crispy on the outside, creamy on the inside

17 minutes

– Crunchier on the outside, drier on the inside
RancherMan prefers his snacks actually crunchy, so I always go with 17 minutes in the air fryer when making my roasted chickpeas.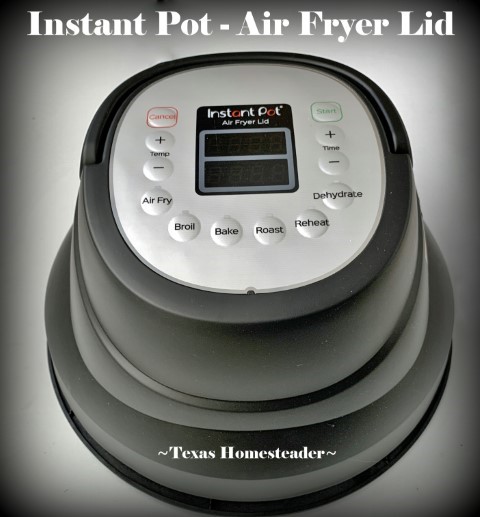 I'll stir them halfway through to make sure all surfaces of the chickpeas get their proper dose of crisping heat.
Can You Roast Chickpeas In The Oven?
Of course you can roast chickpeas in the oven if you desire or don't have an air fryer.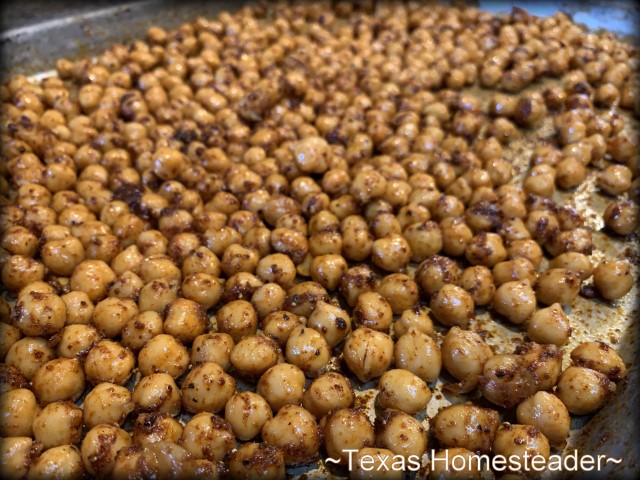 Drain, rinse and pat dry a 15-oz can of chickpeas

Coat with 2 tablespoons of olive oil

Add 2 tablespoons of seasoning mix (taco seasoning, dry rub, Italian seasoning, etc)

Add salt to taste (optional if seasoning mix isn't salty enough)

Spread on large rimmed baking sheet

Roast in oven set to 425 for 20-30 minutes, or until crispy.
Baker's Note: Chickpeas will continue to crisp somewhat as they cool.
Why Aren't My Roasted Chickpeas Crispy?
There are a few reasons your roasted chickpeas may not turn out as crispy as you'd like. Here are some tips to make sure your chickpeas end up a delightful, crispy, savory snack:
Dry Your Chickpeas

– Before coating your chickpeas with oil & spices, make sure they're properly drained, rinsed and blotted or air dried. Too much moisture beneath the oil will simply steam instead of roast.

Give Plenty of Room

– When roasting, don't crowd the chickpeas but make sure they're only in a single layer.

Expose All Areas

– Occasionally stir your chickpeas while they're roasting to make sure all surfaces get crispy.
But if you find they're not crispy enough when they cool, put them in a cast-iron pan and place them in a 425°F oven for 5 more minutes. That usually does the trick.
How Long Do Roasted Chickpeas Last?
It's hard for me to determine exactly how long these roasted chickpeas might actually last, RancherMan eats them pretty quickly.
But I'd think they'd last about 2 weeks at room temperature and perhaps longer.
Keep in mind that unless you've roasted them to actually crunchy like I did , the chickpeas could slowly begin losing their crispy texture within a couple of days.
A quick 2-5 minute stint in a 425°F oven will crisp them right up again though. Be sure to keep watch, they're already dried so they could burn quickly.
How Do You Store Roasted Chickpeas?
I like to keep my roasted chickpeas out where RancherMan can see them and grab a handful from time to time. So for the first couple of days I leave them on the counter in a wide-mouth bowl.
Afterward I might store my roasted chickpeas in an open top repurposed mason jar. Some people store their roasted chickpeas in paper sacks.
Either way I like to leave it in plain sight to RancherMan can have a healthy snack whenever his heart desires.
I wouldn't recommend storing them in the refrigerator. It tends to change the texture and they'll no longer be crispy.
More Simple Snack Ideas
RancherMan's a snacker by nature. He likes to grab a quick snack so I have plenty of options for him.
3-Ingredient Gluten Free Peanut Butter Cookies

Quick Pita Chips Using Flour Tortillas

Easiest Homemade Hummus Recipe

Rosemary Crackers With Olive Oil & Garlic
See all our favorite snacks here –>

Ready for this simple, delicious and fast crunchy roasted chickpea recipe? Check it out, y'all!
Did you make these roasted chickpeas? Please rate the recipe in your comment below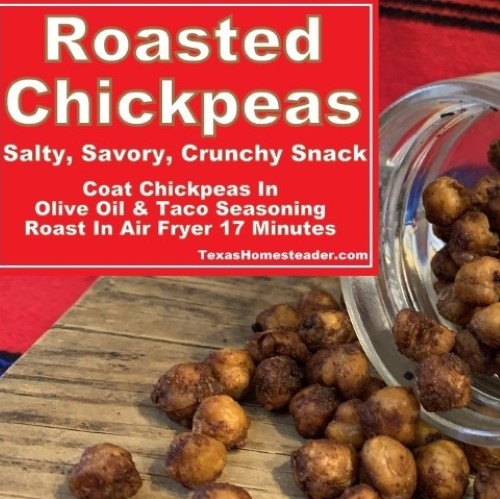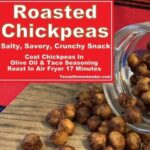 Simple Savory Crunchy Air-Fryer Roasted Chickpeas
These roasted chickpeas are a delicious snack. Savory, salty and crunchy. A quick 15-17 minutes in an air fryer is all they need! #TexasHomesteader
Ingredients
1

15 ounce can

Chickpeas (or garbanzo beans)

drained, rinsed & patted dry

2

teaspoons

olive oil

2

teaspoons

seasoning blend

- I like my pinto bean seasoning, dry rub or taco seasoning

Salt to taste,

(optional, but I like ¼ teaspoon salt added)
Instructions
Instructions:
Drain, rinse and pat dry a 15-oz can of chickpeas (also known as garbanzo beans)

Preheat air fryer to 390°F.

Coat drained, rinsed and dried chickpeas with 2 teaspoons olive oil and 2 teaspoons of seasoning of choice (taco seasoning, dry rub seasoning or combination of garlic powder, onion powder, chili powder, etc.) If desired, add 1/4 teaspoon of salt (optional)

Place coated chickpeas on top level of air fryer and roast:

15 mins (lightly crispy outside, soft inside)

17 minutes (more crispy outside, dryer inside),

Be sure to turn half way through to assure all surfaces are roasted.

Remove roasted chickpeas and allow to cool. Enjoy!
Recipe Notes
NOTE: After chickpeas are drained and rinsed, blot dry with a paper towel or cotton cloth, or spread them on a clean cotton cloth to air dry for about 30 minutes. Chickpeas need to be dry before tossing with olive oil and spices to properly crisp when roasted.
Roasted chickpeas continue to crisp as they cool.
Store in a large open-top bowl, paper sack or open-top glass jar at room temperature. I don't recommend storing in the refrigerator or they may change texture quickly.
These roasted chickpeas are most crispy for about 2 days, after which they may begin slowly losing their crispness but still remain delicious for about 2 weeks.
A quick 2-5 minute stint in a 425F oven can restore crispness if needed.
~TxH~
This post categorized in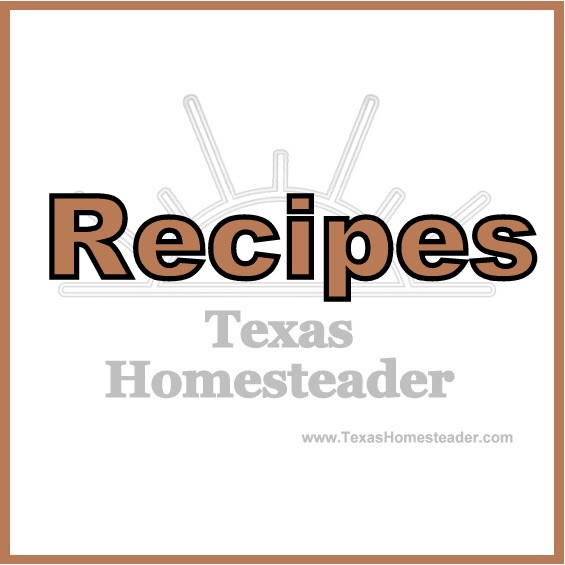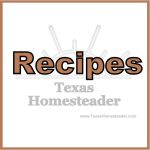 Snacks We Love
~ ~ ~ ~ ~ ~ ~ ~ ~ ~ ~ ~ ~ ~ ~ ~


C'mon by & sit a spell! Come hang out at our Facebook Page. It's like sitting in a front porch rocker with a glass of cold iced tea – lots of good folks sharing! You can also follow along on Pinterest, Twitter or Instagram.
If you'd like to receive an email each time a new blog post goes live it's EASY to
Subscribe to our blog!