by Texas Homesteader ~
I wanted a creamy salad dressing, but I wanted it to be healthy. And fresh. And CHEAP! This is the simple zero-waste salad dressing recipe I came up with. Creamy with a light tang and healthy as can be, loaded with probiotics & vitamins. Made in only 1 minute and absolutely delicious!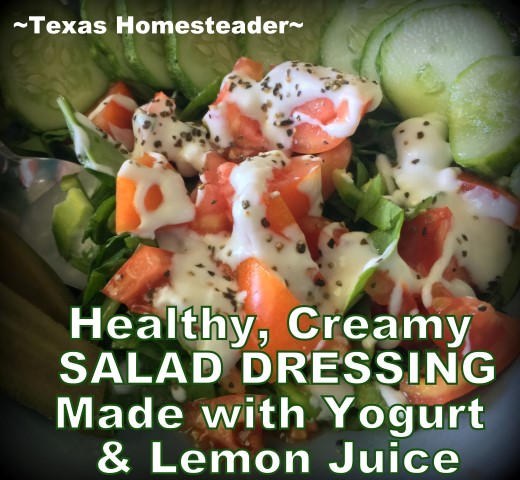 Keeping Salads Healthy
Aaaaah, spring! The trees are turning green & the daffodils are blooming. And there's all those fresh greens in the garden for a healthy salad.
I LOVE salads! The freshness, the crispness and the healthy aspect of it. To me, it's like welcoming spring after the long winter season of eating heavier, more comfort-foody types of meals.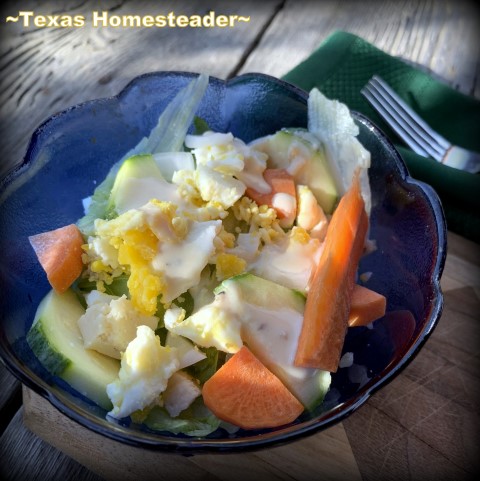 So I really (really) wanted to make my own healthier yet creamy salad dressing. After doinking around a bit I ended up making a delightful, creamy, healthy and tasty salad dressing that I can just mix together in just one minute.
And you can't get a more worthy topping for those fresh greens than that, #amiright??
All Healthy Foods Don't Stay Healthy
You know how it is… Some foods may start out healthy, but then all manner of salts, fats or sugars get added to it before it's actually served.
So it's true that how healthy a food is for you usually depends on what's been added to it before it's eaten.
I mean, heck – a fresh, crispy apple is about as healthy as it gets, right?
But add flour, sugar, butter, seasonings and a thick buttery crust and your healthy apple has turned into an apple pie dessert instead!
Fine for eating in moderation of course. But certainly not healthy to eat every day.
So whenever possible I keep the overall healthiness of food in mind when I'm cooking for and serving to RancherMan. Flavorful yet healthy meal preparation tips is what I keep a lookout for like a NINJA!
You too? Well then you're really gonna love this salad dressing.
Healthy Creamy Salad Dressing Ingredients!
You can make this simple salad dressing in one minute or less. And it contains precious few ingredients:
1/2 Cup Homemade Yogurt (gives the creaminess that I love while keeping it healthy)
1.5 teaspoons Lemon Juice – thins the dressing and adds a little tanginess.
1/2 teaspoon Garlic Powder
1/2 teaspoon Onion Powder
A tiny amount of salt (I use just 1/4 teaspoon)
Coarsely-Cracked Pepper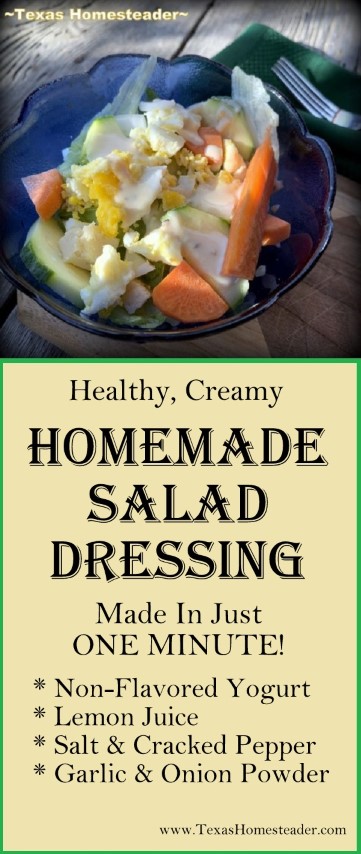 Stir it all together and BOOM! Homemade salad dressing in 1 minute or less!
Healthy, Zero-Waste Homemade Salad Dressing
I love that this is not only healthy, but it's inexpensive and zero waste too.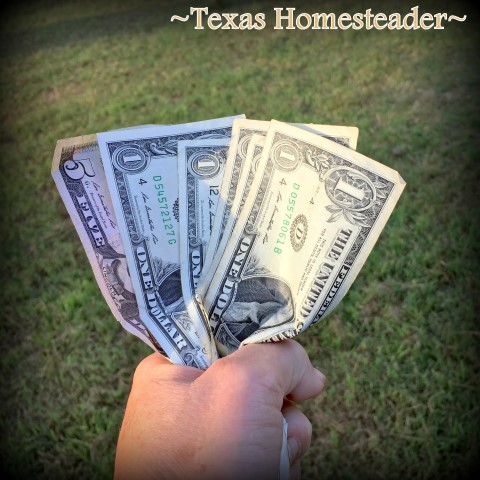 I suppose it costs only about $0.10 to make this homemade salad dressing. And there's no plastic bottle to dispose of. (Y'all know how hard I push back against Bringing Plastic Into Our Home)
Plus since I can make it up fresh every time if I wish, there's no bottle of commercial dressing languishing in the fridge until it's no longer fit to eat if we end up going a while without eating salad.
Oh, and you can't get much healthier than yogurt for a base with lemon juice & seasonings for flavor.
Plus I can pronounce every healthy ingredient in my dressing, unlike the myriad of franken-sounding ingredients in the bottled stuff.
I mean, have you ever glanced at the ingredient label on those bottles of commercially-produced salad dressing? YOWZA!
And, you know… fresher is always gonna be better, no??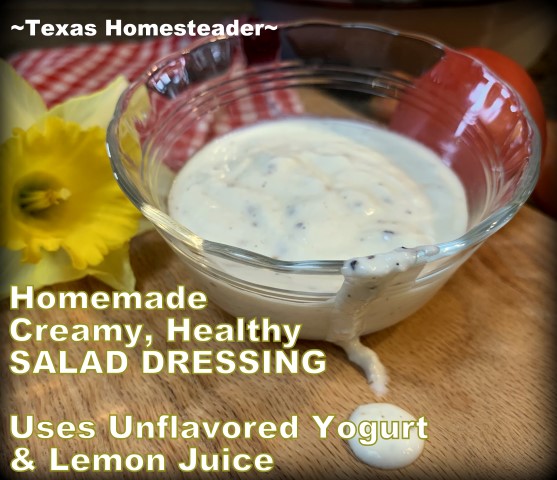 Salad Dressing Recipe
Adjustable
To Your Tastes
You can easily amend this base salad dressing recipe in any way you like.
If you want more tang add a little more lemon juice.
A tiny drizzle of honey will offer a touch of sweetness.
Mince & add whatever fresh herbs you have growing in your garden at the moment. Perhaps rosemary, parsley or chives.
More onion powder? Less garlic powder? It's all up to you!
I'll share the base recipe with you below. The quantity is for a small 3-4 serving batch. (depending upon how heavily you add salad dressing to your salad of course.) But it's easy to multiply the recipe by the number of servings you'll need.
Store Homemade Dressing In Repurposed Glass Jar
It stirs together so quickly you can even make it fresh every time if you like!
But sometimes I'll double the batch. Then I put it in a repurposed glass jar, add a label and store it in the refrigerator so fresh salads can be on the table in minutes if I want.
Y'all know how I prefer to use Glass Instead of Plastic in our refrigerator, right?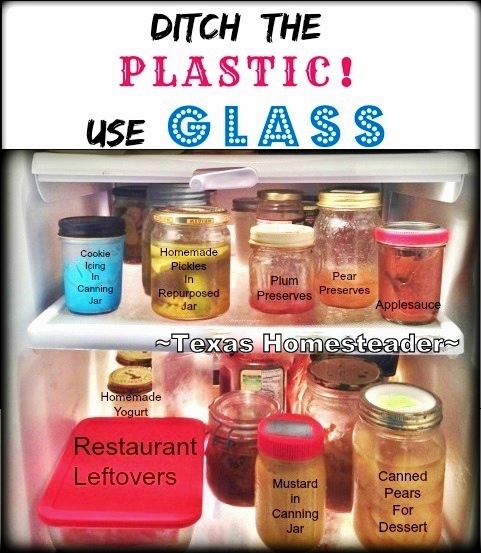 So make this healthy creamy salad dressing for tonight or double the batch and enjoy it for the next few nights.
Either way – I'm sure you'll enjoy this healthy, delicious and highly adaptable salad dressing recipe.
Did you make this Salad Dressing? Please rate the recipe in your comment below!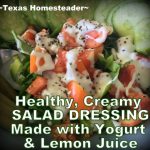 Healthy, Creamy Salad Dressing
This healthy creamy salad dressing uses unflavored yogurt as a creamy base. Add some lemon juice and a few common seasonings and you have a healthy, creamy salad dressing in about 1 minute. #TexasHomesteader
Ingredients
1/2

cup

Non-flavored yogurt

1.5

tsp

Lemon juice

1/2

tsp

Garlic powder

1/2

tsp

Onion powder

Salt & coarsely-cracked pepper to taste

(We like 1/4 tsp salt & 1/2 tsp pepper)
Instructions
Instructions:
Add all ingredients and stir to combine. Drizzle onto your fresh salad greens & enjoy. Keep any leftovers in the refrigerator and use within 5 days.
Recipe Notes
NOTE: I've found this dressing is pretty thick on day one, but less so on subsequent days. So it pours even easier after the 1st day.
~TxH~
This post categorized in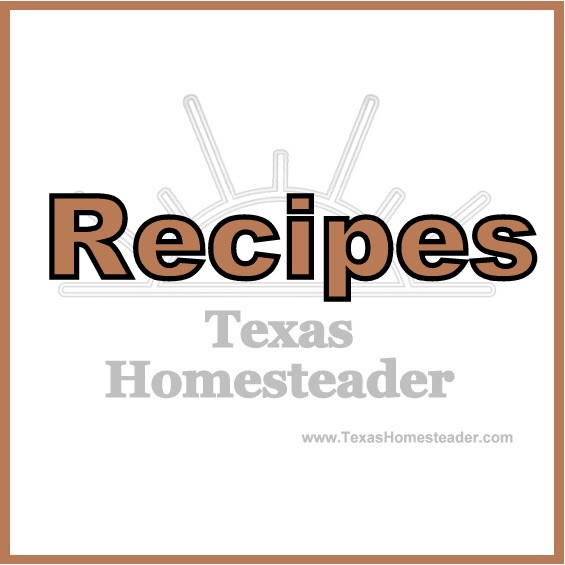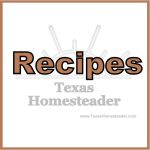 Other Favorite Condiments
…and MUCH more


C'mon by & sit a spell! Come hang out at our Facebook Page. It's like sitting in a front porch rocker with a glass of cold iced tea – lots of good folks sharing!
You can also follow along on Pinterest, Twitter or Instagram.
To receive an email when a new blog post goes live it's EASY to
Subscribe to our blog!