by Texas Homesteader ~

*contains affiliate link
I recently wrote about making some pretty darn tasty shredded pork BBQ from my talented RancherMan's successful "bringing home the bacon", as it were… The BBQ was delicious but I decided this time I'd like to bake my own homemade buns as well.  I make jalapeno-cheese beer bread often and thought jalapeno-cheese flavored beer buns might be a fun twist for this meal.  The verdict is in:  They were awesome!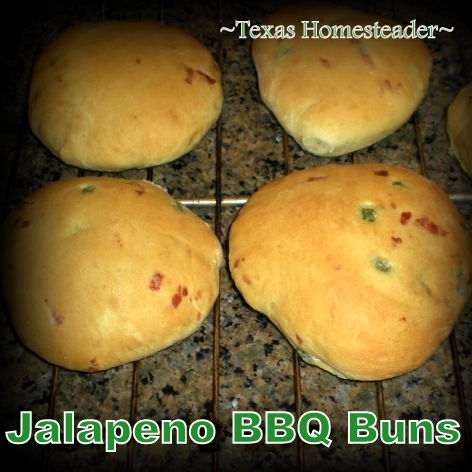 I'll show my procedure here, and then share the recipe below.
I pulled out the ingredients & pre-measured everything and had it ready to assemble easily.
Assembling The Dough
I heated 1/4 cup of water just until warm to proof the yeast.  Two teaspoons of yeast were sprinkled over the warm water and I let it stand for about 10 minutes.  This lets you know your yeast is live & you're good to go.  Then I pulled out my *KitchenAid stand mixer and attached the dough hook.  I poured the proofed yeast mixture into the bowl of my mixer.
Two tablespoons of local honey were added along with 1 1/2 cup of RancherMan's home-brew beer, 1/4 cup olive oil, two chopped and seeded jalapenos and about 1 cup of shredded Colby / Monterrey Jack blend cheese and mixed it all up.
Then I added about 4 1/2 cups of flour and 1/2 salt and mixed it all at slow speed until it was fully incorporated.
Kneading With the KitchenAid Mixer
After the dough was all mixed in I increased the speed to medium and "kneaded" the dough for  about 6 minutes.  If after the first minute or two the dough looks too wet you can add more flour a tablespoon at a time, but a little light is better than a little heavy on the flour.  Too much flour makes your bread heavy and dry.  I much prefer to deal with a light stickiness to my dough than a heavy bread.
After mixing about 5-7 minutes I placed the dough ball into a lightly oiled bowl, covered the dough with plastic wrap sprayed with oil and placed it in a warm location for the dough to rise to about double.  This takes about an hour.
After about an hour the dough doubled in size.  I punch it down & placed it on a floured surface.
I divided the dough ball in half and cut each half into six equal(ish) sections.  Each section will become a bun so this recipe makes a dozen buns.  That means there's enough to go into the freezer for future meals.  Y'all already know I love that!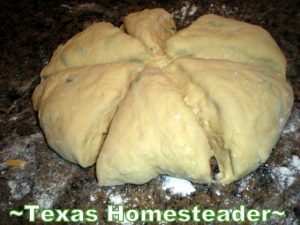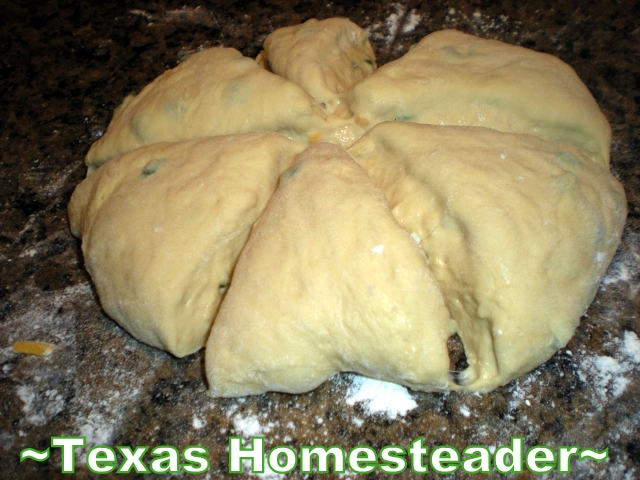 I pressed each section into a 1/2″ disk to form the buns and placed them on an oiled baking sheet.  (I finally got this * MISTO sprayer for greasing baking sheets and pans, and I love it!)   Once again the dough was covered with the oiled plastic wrap and I let the dough rise for about 45 minutes.
Baking The Jalapeno Buns
The oven was preheated to 350 degrees and I baked the buns until they were golden brown (about 15-20 minutes), then placed them on a wire rack to cool.
When they were cool enough to handle we sliced them in half and liberally spooned our homemade BBQ pulled pork into them, added BBQ sauce and sliced fresh (and SPICY) jalapenos and enjoyed a hearty homemade meal.
And as promised, here's the recipe:
There ya go – a real Texas treat.  Enjoy!
Other Favorite Breads
Want More Holiday Cooking Tips & Recipes?
SIDE DISHES
DESSERTS
BREAD
INGREDIENTS
FOOD SAFETY
~TxH~


C'mon by & sit a spell!  Come hang out at our Facebook Page. It's like sitting in a front porch rocker with a glass of cold iced tea – lots of good folks sharing!  You can also follow along on Pinterest, Twitter or Instagram.
If you'd like to receive an email each time a new blog post goes live it's EASY to Subscribe to our blog!