By Texas Homesteader ~
This quick mix-n-bake cheddar biscuit recipe uses shredded cheddar cheese & sour cream to add a tangy creaminess. Fast & easy enough to whip up on a busy weekday, delicious enough for company.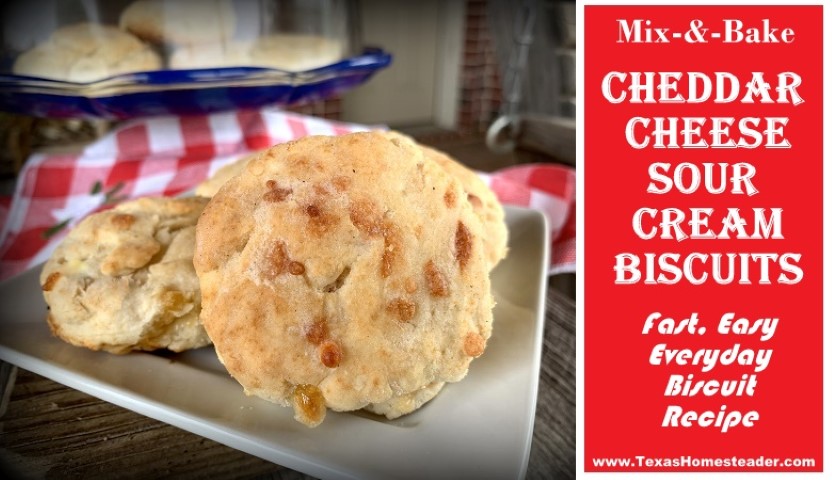 Biscuits Are A Simple Bread To Make
I love to serve homemade biscuits for their no-rise, quick baking simplicity. Recently I decided to whip up these cheddar biscuits because most of the 'fat' requirement in a typical biscuit recipe is just comprised of sour cream in this recipe. It also adds a tangy creaminess that we love.
RancherMan really loves biscuits. And I have a ROCKIN' Homemade Buttermilk Biscuit recipe that he loves.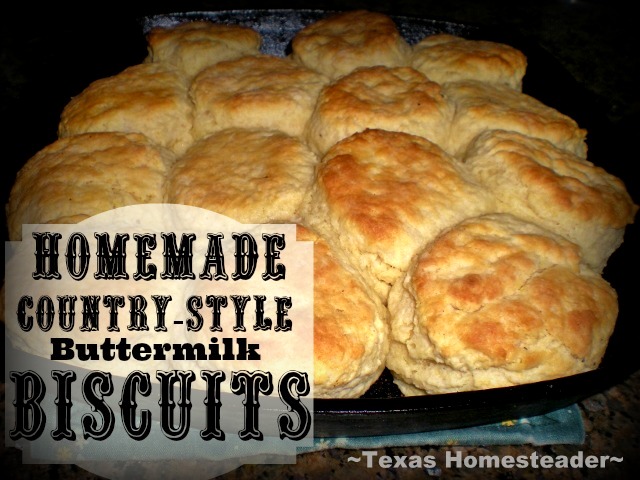 But these cheddar biscuits are pretty much mix-n-bake simple. So I'm much more likely to whip up this faster, easier biscuit recipe as a quick option for a random weekday meal.
But I've made these cheddar biscuits plenty of times when we had company too. They always receive rave reviews.
Y'all already know RancherMan's a certified bread-a-holic. I make all his bread right here at home.
Several times each week I'll whip up Homemade Honey/Oat Sandwich Bread for him. There are many other breads I make as the meal requires too.
I've listed my favorite bread recipes at the bottom of this post. Be sure to check them out or click the button below!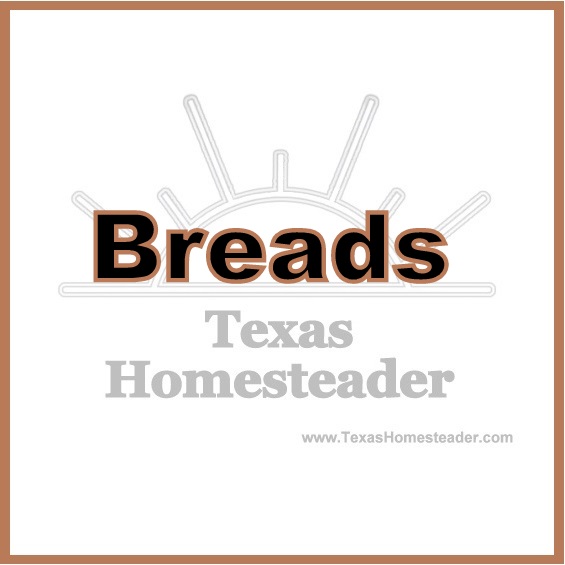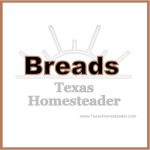 Simple Cheddar Biscuit Ingredients
The ingredients for this cheddar sour cream biscuit recipe are simple:
Self-rising flour,

Baking soda,

Sour cream,

Softened butter or bacon grease,

Shredded cheddar cheese.
Making Self-Rising Flour From All-Purpose Flour
My sour cream/cheddar biscuit recipe calls for a couple of cups of self-rising flour. But if you don't have self-rising flour it's easy to Make Self-Rising Flour from all-purpose flour, a little salt & some baking powder.
(the graphic below shows how to make a single cup of All Purpose flour into Self Rising flour – multiply for each cup of self-rising flour you need for a recipe. For these Cheddar Biscuits you'll need 2 cups of Self-Rising flour.)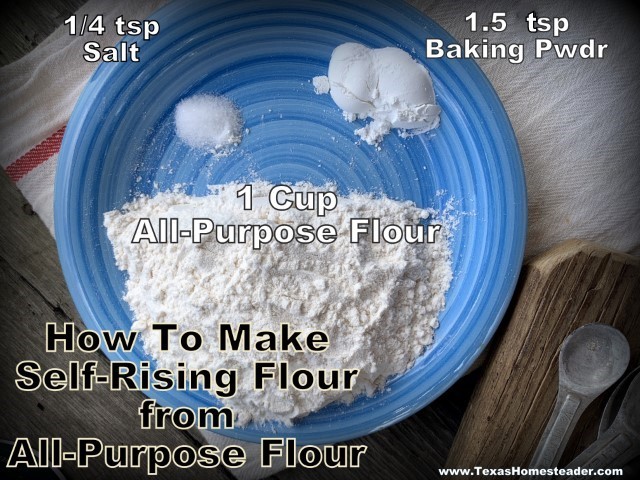 For the two cups of self-rising flour needed in this recipe, I measure 2 cups of all-purpose flour and add a tiny ½ teaspoon of salt and 3 teaspoons of baking powder.
I whip up self-rising flour in less than a minute.
Cast Iron Skillet For Baking
I always bake my homemade biscuits in my grandmother's antique cast-iron skillet. I love this skillet – it's used several times each week here at the Homestead.
Isn't she a beauty?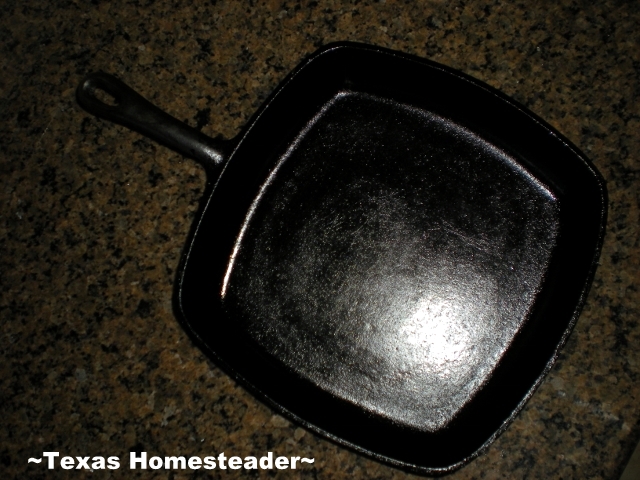 This square cast-iron skillet was presented as a wedding gift to my grandmother back in 1934 when she and my grandfather were married. And it was used almost exclusively the whole time my grandmother owned it, using it for feeding her family for decades.
Then she gifted it to me back in the early 1990's and I've been using it several times a week ever since.
Of course I'll be passing it on to my children as well. I daresay that modern cookware doesn't have THAT kind of longevity!
Mixing Up The Biscuit Dough
I pull out a cast iron skillet and set it in the oven. I turn the oven on 425 degrees to preheat. As the oven heats the surface of my skillet will be heating too.
Hey my oven is multi-tasking, y'all! HA. Now I turn my attention to making those biscuits.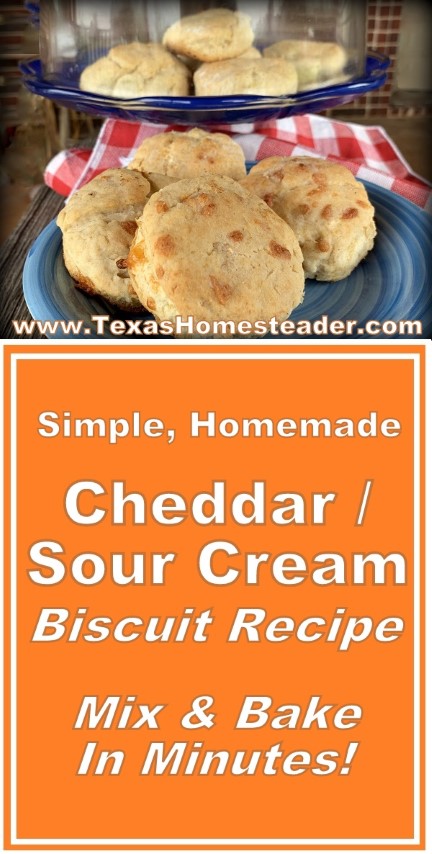 Can You Use A Mixer To Make Biscuits? (KitchenAid Shortcut)
Although you can mix the biscuit ingredients in a large bowl, I typically use my KitchenAid mixer with the paddle attachment to make things simple.
First I dump the dry ingredients in and give 'em a stir to blend everything.
Then I add the sour cream and softened bacon grease and mix everything just until combined. If the dough seems too dry I might add a tablespoon or so of water.
Finally I add the shredded cheese and fold it all together. By adding my shredded cheese last, it keeps my cheese shreds longer. I just like the final result of longer cheese shreds better.
But if you want to streamline it even more you can just mix the dry ingredients and then dump in everything else and mix it until it's combined. Hey, shoot-from-the-hip easy is always a good thing in the kitchen, right??
What To Use When Cutting Out Biscuits?
When all is mixed, the result is a thick biscuit batter. Now I'm ready to make my biscuits.
I plop the dough out onto a floured surface and pat it gently until it's about ¾" thick – the same as my standard buttermilk biscuits.
Then I cut the dough into biscuit rounds. You can use an actual biscuit cutter of course, but my favorite biscuit cutter is one of RancherMan's smaller 8-oz pilsner glasses.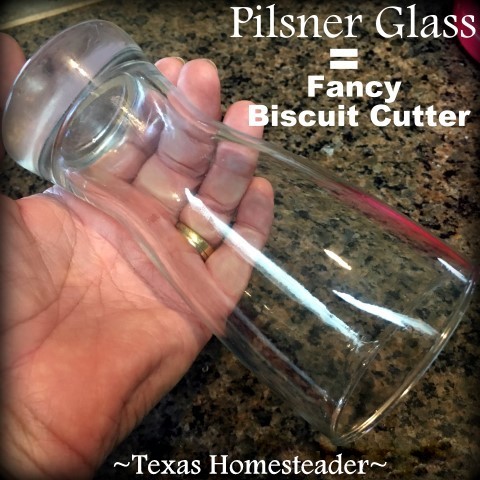 The hourglass shape makes it easy for me to press and cut the dough. And the approximately 2" diameter is the perfect biscuit size for RancherMan's biscuits. #UseWhatchaGot, y'all!
Baking Cheddar Sour Cream Biscuits
Now my oven is preheated and my cast iron skillet is hot. The biscuit dough is patted down to size and it's time to get those biscuits made!
I bring my hot skillet from the oven and run the edge of a stick of butter along the inner surface of my skillet. It sizzles and melted butter coats the sides then runs to the bottom.
I'll cut a biscuit and take the dough round and touch the bottom of the butter-pooled skillet with one side of the dough, coating it with butter. Then I'll flip the biscuit around and lay the unbuttered side in its place in the skillet. This gives both top and bottom of my biscuits a little butter-coated goodness.
I'll repeat this step until all biscuits are cut and placed in my skillet. Then I'll return the skillet to the oven and let 'em bake for 10-12 minutes.
How To Keep Biscuit Tops Soft
Sometimes I'll bring the biscuits out a couple of minutes before their baking time is up and touch each biscuit with the end of a stick of butter to melt just a little more onto the top.
This adds a stronger butter flavor, and I feel it also keeps the tops of my cheddar biscuits softer the way I like them.
Then I'll let them finish up their baking time before removing them from the oven.
Pre-Mix Dry Biscuit Ingredients For Shortcut
There's a shortcut I use for mixing up dry ingredients for things I cook often. And it works great here too. If I'm mixing up a batch of biscuits I go ahead and pull out a couple of wide-mouth canning jars with lids.
As I measure each ingredient for my recipe, I measure the same ingredient for each of these jars. I mean, I've already had to pull those ingredients from my cabinets. This shortcut means I only have to do that step once yet I have three batches of biscuits measured out – today's biscuits and two more for future meals.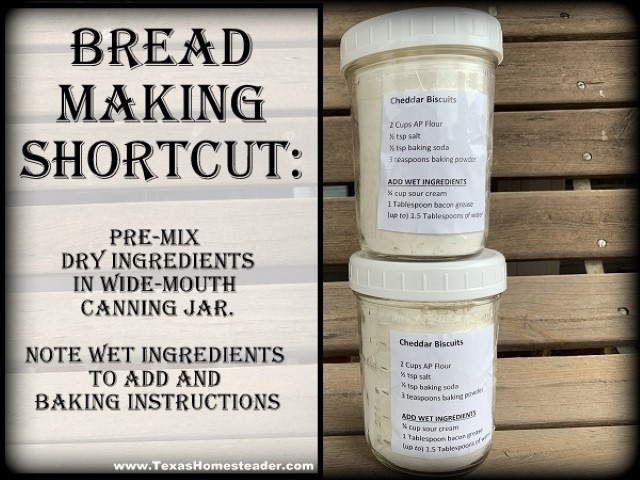 A quick label of what wet ingredients need to be added and BOOM! Shortcut. I'm not gonna lie, I'm a huge fan of shortcuts in the kitchen, y'all.
Here's the cheddar biscuits recipe I use. Check it out.
Did you make these biscuits? Please rate the recipe in your comment below!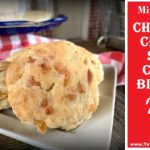 Cheddar/Sour Cream Biscuits
These cheddar sour cream biscuits are super fast to whip up and everyone always raves. So quick you can even whip them up to go with a random weekday meal. The sour cream offers a tangy creaminess and the shredded cheddar adds delightful creaminess and moisture. #TexasHomesteader
Ingredients
2

Cups

Self-Rising Flour

(OR 2 cup AP flour +1/2 tsp salt + 3 teaspoons baking powder)

½

tsp

baking soda
Add Wet Ingredients
¾

cup

sour cream

¾

cup

shredded cheese

1

Tablespoon

softened butter or bacon grease
Spicy Option
Optional:

Minced jalapenos as desired

(I use about 1/4 cup)
Instructions
Preheat oven to 425 °F. If using cast iron skillet to bake biscuits, you can place it in the oven while preheating.

In a large bowl or stand mixer, mix together flour & baking soda. Add sour cream and softened butter (or bacon grease) and mix to a soft dough. If necessary add water in 1/2 Tablespoon increments up to 1.5 Tablespoons if dough seems too dry. Add shredded cheese (and minced jalapenos if using) and fold to combine.

Press biscuit dough to about ¾" thickness. Cut biscuits into approximately 2" rounds. If no biscuit cutter is available you can just shape the dough into flattened rounds using well-floured hands instead.

Bring out hot cast-iron skillet from oven and run the edge of a stick of butter along inside surfaces to coat. Place cut biscuits into hot buttered skillet.

Bake the biscuits at 425 degrees F for approximately 10-12 minutes, depending upon how thick you cut your biscuits.
Recipe Notes
NOTE: These biscuits don't really end up golden brown, only lightly brown. Don't over-bake them or your biscuits will be dry
~TxH~
This post categorized in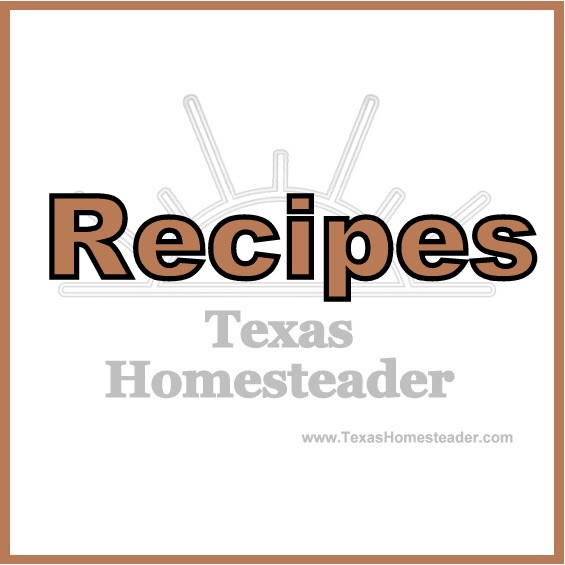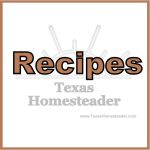 Other Favorite Breads


C'mon by & sit a spell! Come hang out at our Facebook Page . It's like sitting in a front porch rocker with a glass of cold iced tea. There are lots of good folks sharing! And you can also follow along on Pinterest, Instagram & Twitter
If you'd like to receive an email when a new blog post goes live,
subscribe to our Blog!