By Texas Homesteader ~
It's so simple to make my own hamburger buns using this simple honey/oat recipe. Who doesn't love homemade bread??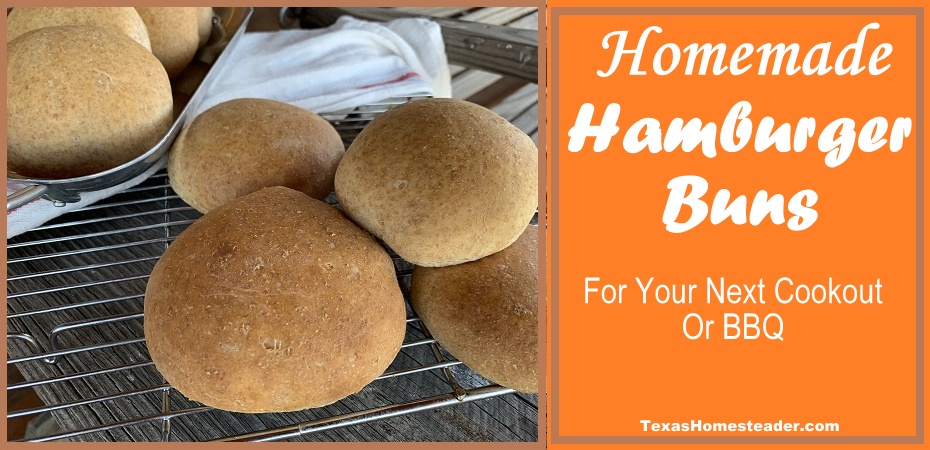 I've all but quit buying commercially-produced hamburger buns wrapped in disposable plastic. I'd much rather bake them fresh in my own kitchen.
It's healthier, it's lower waste, it's cheaper and (thankfully) it's easier than you think!
I typically use my standard Honey/Oat Sandwich Bread recipe. And I like to use my bread machine to do most of the work for me, it's a tremendous shortcut y'all. But a bread machine's not necessarily needed.
If NOT Using A Bread Machine
If I'm not using my bread machine I start by pulling out a large stainless steel bowl. Then I combine the wet ingredients for my homemade bread:
Honey,

Milk,

Water,

Either butter or bacon grease.
Oh who am I kidding? Bacon grease is king in my homestead kitchen. It's almost always bacon grease I use! It adds a little flavor and it's a free byproduct that I often put to use in my kitchen.
Then into the bowl I add in the dry ingredients of my homemade bread:
Oat flour,

All purpose flour,

Salt,

Yeast.
By the way, it's easy to make your own Cheap Oat Flour simply by grinding plain oatmeal. Fast. Cheap. Healthy.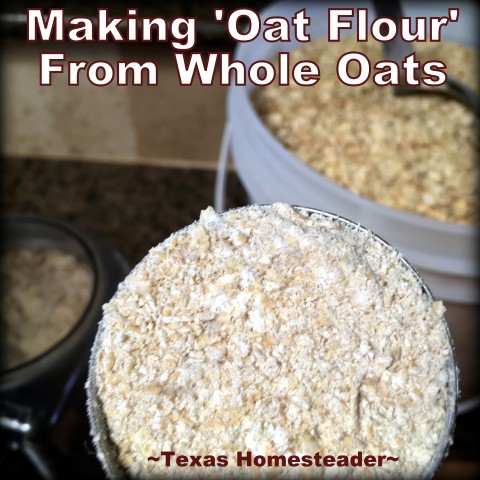 Then I knead it until smooth, place it in a greased bowl and set it in a warm place to rise for an hour.
After an hour I punch down the dough, knead a bit to make smooth again and form my hamburger buns.
Super-Duper Homemade Bread Shortcut!
But I'm not gonna lie, using a bread machine is a huge shortcut!
I mean, since I make homemade bread a couple of times each week I even have several jars of Homemade Bread Mix just waiting in my pantry. It really doesn't get any easier than this!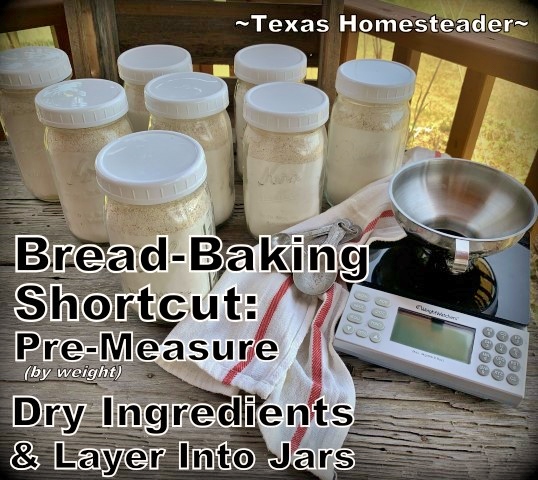 Making Homemade Buns Using A Bread Machine goes like this:
Dump the wet ingredients into the bread machine pan,

Add a jar of pre-measured dry ingredients,

Set my bread machine to the dough cycle,

Walk away.
The bread machine will knead, rise and punch down the dough for me. Then I'll take it from there to finish making the hamburger buns.
Cutting The Homemade Dough Into Hamburger Buns
Regardless whether you've done the above steps by hand or used the oh-so-handy bread machine shortcut, from here on the procedure is the same. Let's finish up our hamburger buns.
I place the punched-down, kneaded smooth dough ball onto lightly flour-dusted counter. Then using a dough scraper I cut the whole dough ball in half.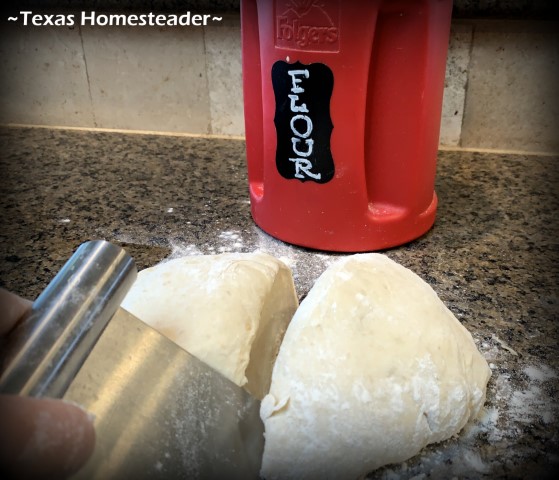 How Many Homemade Hamburger Buns – 8? 12?
Each dough half is then further sectioned off, depending upon how many buns I want to make and how large.
I'll cut each half into 4 pieces for 8 jumbo-sized buns,

or 6 pieces if I prefer a dozen regular-sized buns.
I actually prefer to bake the smaller buns that are not quite as tall as commercial buns. A smaller burger is easier to hold and eat than a mammoth one where the toppings are spilling out from all sides.
But, you know, that's just me. And I can be a messy eater. Eh hemmm…
Forming The Hamburger Buns
Now I'll roll each section of dough into a smooth ball. If needed I'll gently stretch and tuck the dough ends underneath so the tops are pretty and smooth.
Mama always says presentation is half the meal, and mama's always right!
If you leave those dough balls as-is and don't press them a bit, they'll be SUPER tall! It's kinda hard to get that much homemade bread on top of the meat filling into your mouth for each bite.
So with my clean hands I'll gently press each dough ball to about 1/2 inch thickness. Even though it seems I'm smooshing my homemade hamburger buns too far, I have faith and take 'em down to about 1/2 inch. They'll rise beautifully.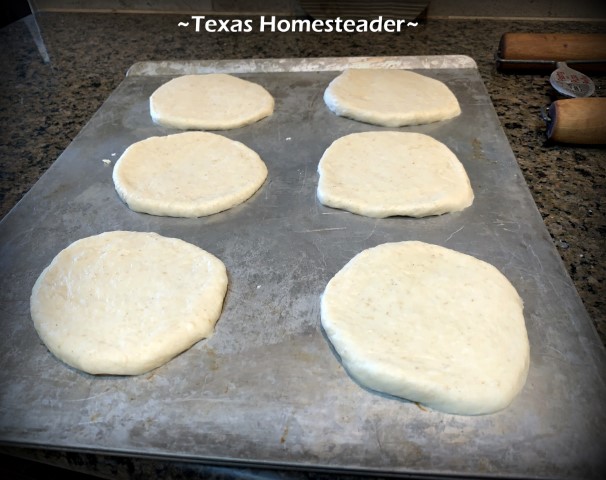 Options For Size & Shape Of Buns
These buns end up about 1.5″ tall and about 4.5″ – 5″ across with only a light dome, which is perfect for me. I'm not a fan of the taller buns.
If you want them taller just press them to about 3/4″ instead of the 1/2″ I typically try for. Your hamburger buns will be slightly smaller across but with a slightly taller dome. Whatever you prefer – your choice!
I place the pressed dough buns about 1/2″ apart on a baking sheet that has been brushed with olive oil.
Sometimes I'll finish smoothing with a rolling pin just to make them a little neater.
The dough always tries to spring back the first few times I press it down, so I sometimes give them another gentle press before placing them in the oven to rise the final time.
Final Rise Time For Homemade Hamburger Buns
Now we need a final rising time before baking up my delicious hamburger buns.
So I place the baking sheet in a warm (but turned off) oven for about 45-55 minutes to rise that final time.
Baking Hamburger Buns
When it's time to bake them I usually don't remove the baking sheets to preheat the oven. I just turn the oven to 350 degrees F. and start the timer. Then I bake the buns for 20 minutes, or until golden brown.
I like to bring them out at the final 5 minutes baking time and brush them with melted butter before returning them to the oven to finish baking. Not only does this add a delightful butter flavor to the buns, but it helps soften the tops as well.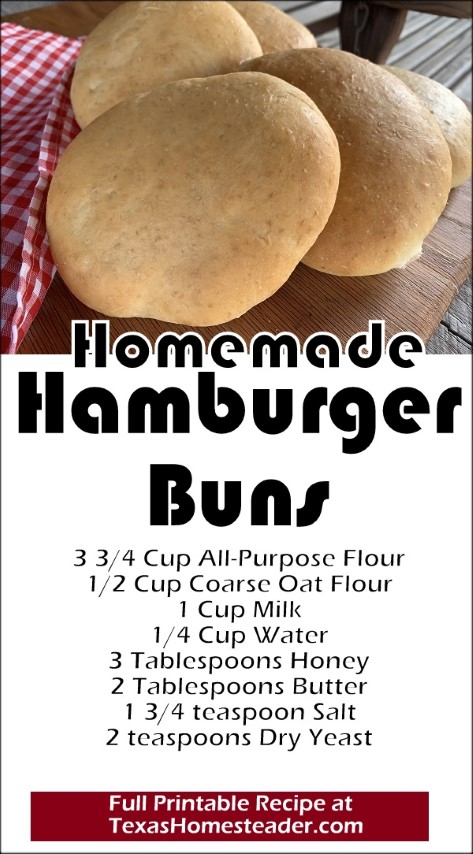 When the buns are finished baking I'll bring them out of the oven and place them on a wire rack to cool. During this cooling process I'll cover them with a clean kitchen towel. This also helps keep the crust softer.
Then I simply slice them horizontally to make the top & bottom bun and start filling that bad boy up.
Whether I'm stacking a burger or piling on some Homemade BBQ, these buns can take it.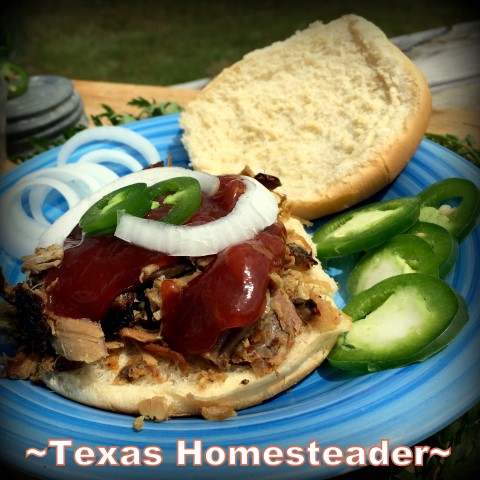 Go Ahead, Make Your Own Hamburger Buns!
So don't despair if you wanted to grill out tonight but don't have hamburger buns. No need to run to the store, delicious hamburger buns can be made in your very own kitchen and for mere pennies. Plus who, WHO I ask, doesn't love homemade bread??!!
Here's my 2-pound sandwich bread recipe that I easily turn into 8 larger or 12 medium sized hamburger buns when needed.
~TxH~
Did you make this dish? Please rate the recipe in your comment below!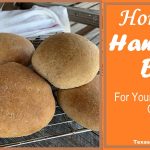 Honey/Oat Hamburger Buns
No need to run to the store to plunk down your hard-earned money for hamburger buns. Impress your family by making your own honey/oat hamburger buns. Everyone loves homemade bread! TexasHomesteader.com
Rise time
1
hour
45
minutes
Servings
12
Hamburger Buns
Ingredients
Ingredients
1

cup

milk

1/4

cup

water

3

Tablespoons

honey

2

Tablespoons

bacon grease

1/2

cup

coarse oat flour

3 3/4

cup

all-purpose flour

1 3/4

teaspoon

salt

2

teaspoons

dry yeast
Instructions
Instructions
Lightly heat milk, honey, salt & butter until butter melts & stir to combine. Cool to lukewarm.

Dissolve yeast in warm water, pour into KitchenAid bowl and add lukewarm milk mixture and the whole wheat & oat flour as well as 2.5 cups of the all-purpose flour. Attach dough hook and mix on Speed 2 for about one minute or until all ingredients are incorporated.

Continuing on speed 2 add remaining flour as needed, 1/2 cup at a time and mix until dough clings to hook and cleans the sides of the bowl (about 2 minutes) Continue kneading on Speed 2 for about two minutes longer or until dough is smooth and elastic. (Dough will be slightly sticky)

Place dough in a greased bowl, turning to grease top. Cover and let rise in a warm place free from drafts until doubled in bulk, about 1 hour.

Punch dough down and knead by hand on a floured surface for about two minutes.

Place the dough ball on lightly-flour-dusted counter and cut dough ball in half. Then cut each half into 4 (for 8 regular-sized buns) to 6 (for a dozen smaller-sized buns) equal sections.

Roll each section of dough into a smooth ball. If needed gently tuck ends underneath.

With clean hands gently press each dough ball to about 1/2 inch thickness.

Place each pressed dough about 1/2" apart on a baking sheet that has been brushed with olive oil.

Cover the dough with a kitchen towel and place in warmed (but turned off) oven for about 45 minutes to rise a final time.

To bake: preheat oven to 350 degrees F.

Bake hamburger buns for 15-20 minutes, or until golden brown.
Recipe Notes
If desired, bring out buns when only 5 minutes baking time remains, brush them with melted butter and return them to the oven to finish baking. This will further flavor & soften the bun's surface.
This post categorized in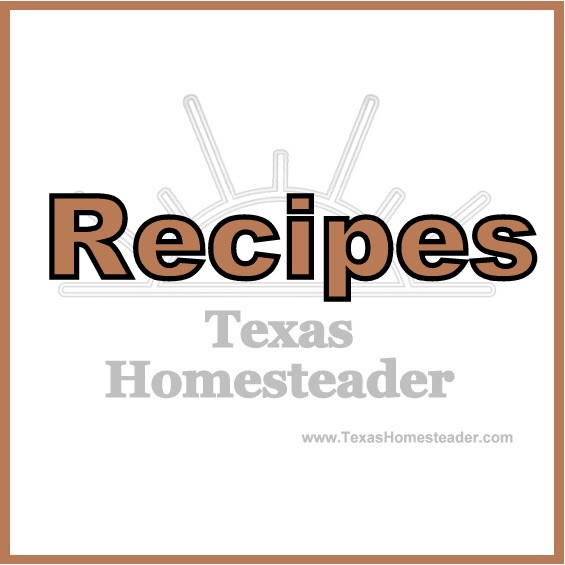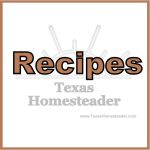 Links In This Post:
Other Favorite Breads


C'mon by & sit a spell! Come hang out at our Facebook Page . It's like sitting in a front porch rocker with a glass of cold iced tea. There are lots of good folks sharing! And you can also follow along on Pinterest, Instagram & Twitter
If you'd like to receive an email when a new blog post goes live,
subscribe to our Blog!