by Texas Homesteader ~

A Voluntary Simplicity lifestyle isn't about deprivation & sacrifice. It's not necessarily an EASIER life, but a simpler life. Slowing down, living more deliberately. A life that begs you to stop & smell the roses!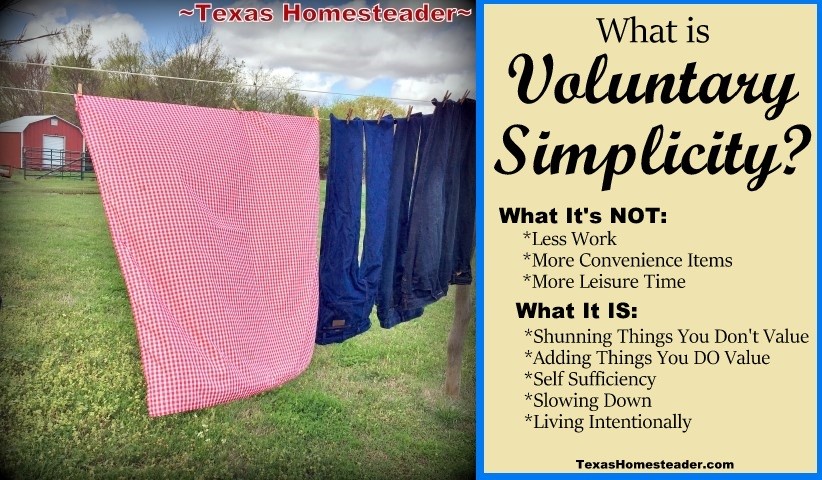 Voluntary Simplicity – What Is It?
It's been around for a while but seems all the rage now: Voluntary Simplicity. I guess like most things, it probably means different things to different people.
For me voluntary simplicity doesn't involve deprivation or sacrifice. It simply means shunning things in my life that don't add any value.
This will be different for every individual but for me I'm shunning things such as boredom shopping, fast fashion or fast food.
Then I'm replacing those things with things that DO matter to me! For me, that's self sufficiency, eco friendly living and more intentional relationships with RancherMan, my family & friends.
I'm shunning all the mindless noise in my days.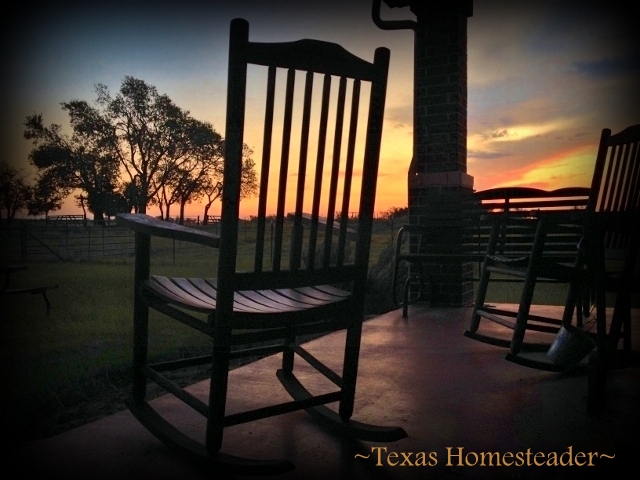 Voluntary simplicity is often a higher-labor yet slower-paced life. But it's often softer on the earth as well which is very important to me. And it's also usually less expensive too. So it's good for the budget as well.
But for me the most important aspect is that it's good for my spirit.
Voluntary simplicity is not about deprivation, but about creativity.
Simpler Days
The term itself is a little misleading since a "simple" life is seldom (if ever) a life that involves less effort.
For instance it's acting on voluntary simplicity to hang my laundry under that Texas sky instead of quickly stuffing clothes into an electric dryer.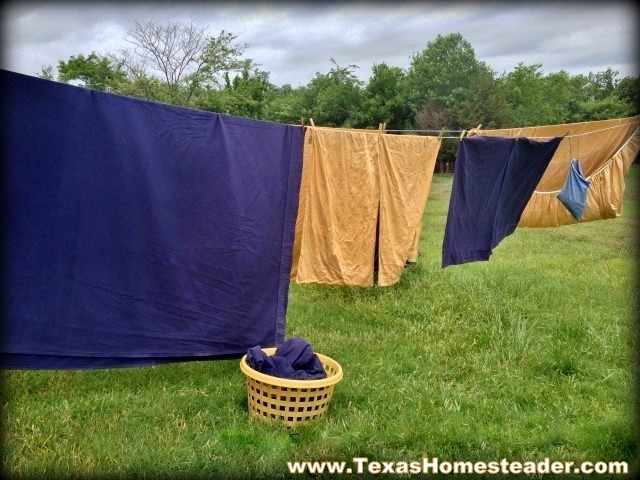 And it's practicing voluntary simplicity to wash those clothes with Homemade Laundry Powder that I've made myself.
It's voluntary simplicity to work our vegetable beds, plant, weed and harvest fresh veggies from my own garden instead of grabbing whatever is offered at the store as I'm walking down the produce aisle.
By growing my own food I'm practicing the local food movement in its purest form.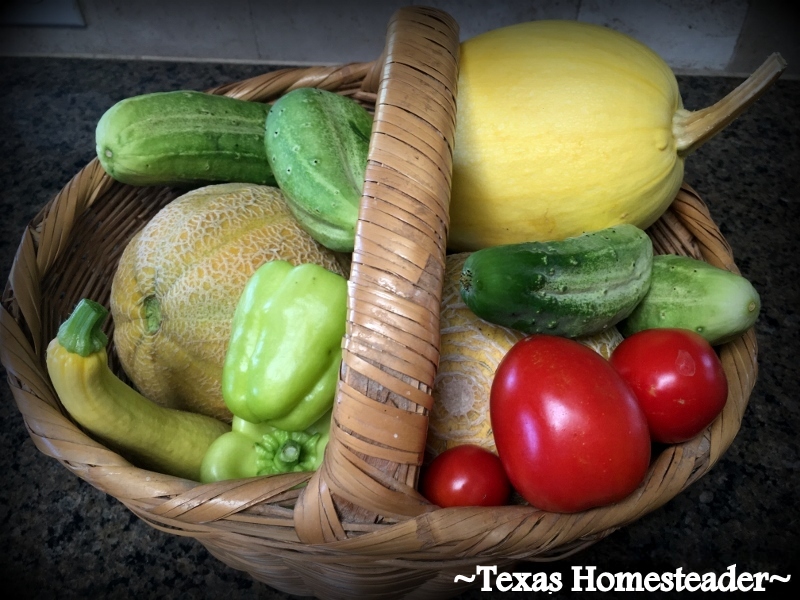 It's a lifestyle that's not for everyone, but it's certainly a good fit for me!
Shunning The Copy. Paste. Repeat Kinda Life
I don't know what initially lead me to the voluntary-simplicity lifestyle, although even as a youngster I had an old-fashioned spirit.
But as I grew into adulthood and began making my own way, I got caught-up in the typical swirl of life.
As a young adult with small children, a full-time job and the new-homeowner excitement that comes with that period of my life I was having fun playing grownup. I was maintaining my life but it was just a very day-to-day existence.
Every day was much the same as the day before. Of course I was clawing all week for those precious few weekend hours when I could slow things down a while and actually enjoy my life.
But even back then I longed for a life that was deeper in meaning.
I started pushing back from the status-quo life. I was looking for more. The first thing I started looking toward was providing more for my family.
Providing For My Family
My vegetable garden was designed and planted. I wanted to grow fresh, wholesome food for myself and my family.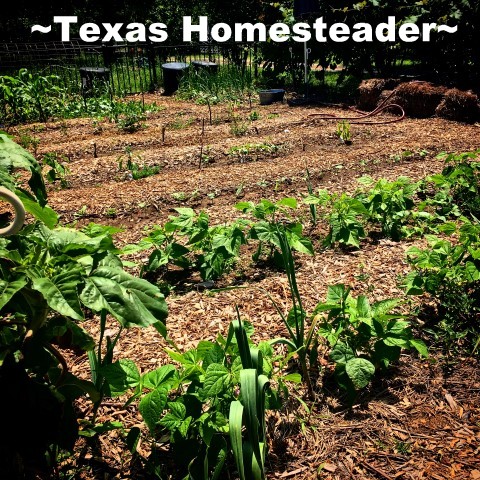 It would cost pennies on the dollar compared to what I could buy in the store. And that grocery-store food would have been shipped from who-knows-where – far away.
But raising a garden would also take a bit more of my time. Voluntary simplicity.
Serving Homemade Meals To My Family
I also started cooking more from scratch. It was a gradual change, starting with making my own Homemade Yogurt. I used the excitement of that success to make more & more of the things I used to buy.
Eventually I shunned most pre-packaged foods completely. I now make RancherMan's Favorite Honey/Oat Sandwich Bread from scratch. A couple of times a week, even.
We haven't purchased sandwich bread in years. Voluntary simplicity.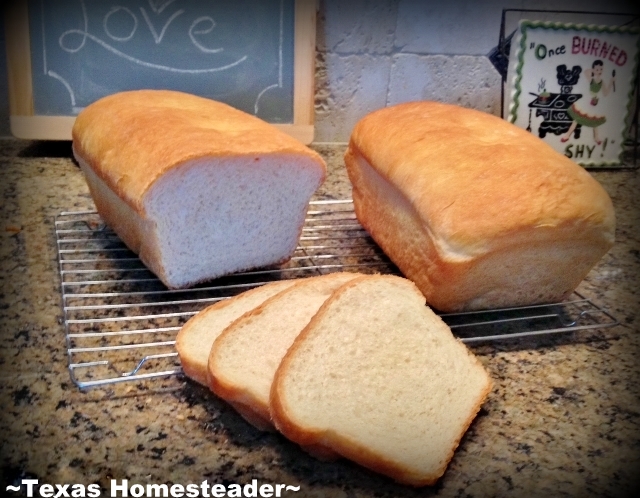 Don't worry – it doesn't take near the amount of time you're thinking. I use lots of Shortcuts For Making Bread!
Then I started making almost all of our meals from scratch too. Wholesome food being served to my family.
Food free of some of the questionable preservatives present in way too many convenience foods on the grocery store shelf these days!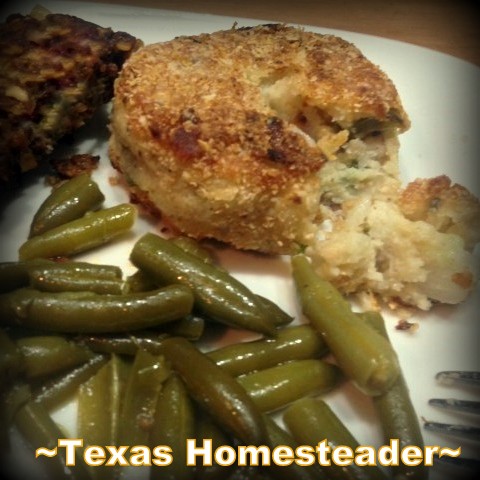 More of our meals now contained a homemade entrée, some steamed or roasted fresh vegetables from the garden and maybe a fun rice side and cold sliced garden-fresh cantaloupe.
Don't worry, once again – I have several shortcuts I use to make Homemade Meals Daily The EASY Way!
You certainly learn the shortcuts living this voluntary lifestyle.
Work smarter, not harder!
Eco-Friendly Benefits Of Simple Living
Here's a nice surprising benefit that I'd not counted on when I started down this voluntary simplicity lifestyle path: The huge Eco-Friendly benefit.
This simple life I lead surely saves money that's for sure. Doing things for yourself is almost always less expensive than having things done or made for you by others.
But the crunchy side of me is thrilled over the many eco-benefits of a simplicity lifestyle too!
There's less buying a whatsit shrink-wrapped in yet more plastic. I use what I have, or make something to fit the need quite well.
Have I mentioned how much I hate plastic??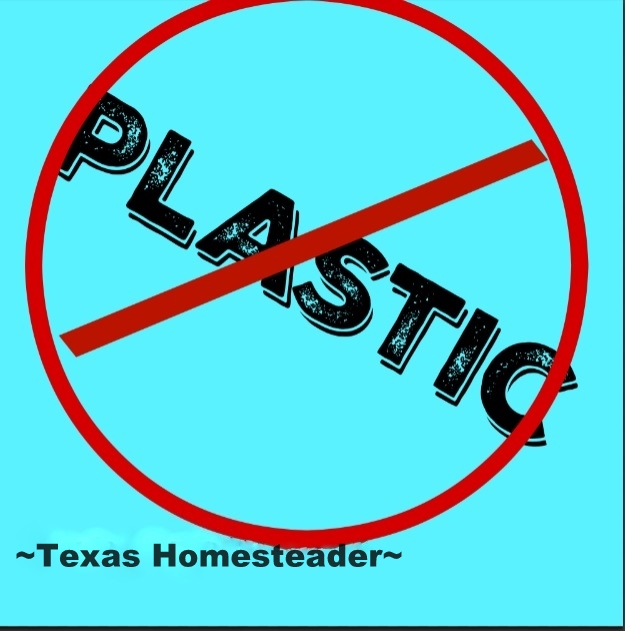 Case in point – I really wanted cute red/white gingham napkins. But how could I justify buying new napkins when the cloth napkins we're currently using are perfectly functional and look almost brand new despite years of use?
I battled with my desire for new brightly-colored napkins versus my financial savvy side. (and the eco side of me not wanting to toss aside something we already had for something almost exactly like it, just in a different color.)
I compromised my buying self with my eco-friendly & budget-minded self. And it worked out beautifully!
I sewed those cute napkins myself – using a small tablecloth I found at a garage sale for $1. It took a little more of my time, but once again it was a step in Voluntary Simplicity.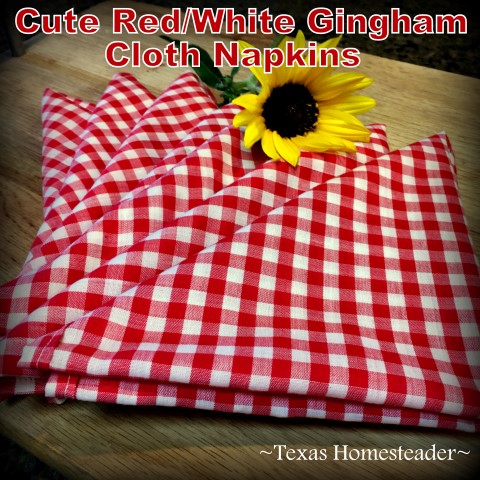 See what I mean? The voluntary simplicity lifestyle seldom means less effort. But it often means slowing down, enjoying what you have or imagining ways to get what you want.
Simple Living means using your creativity to carve out a life you love. A life that grants you the wishes of your heart.
And it often also means an eco-friendly life using much less of the world's resources. And much less of your own hard-earned money too.
Simple Life, Reimagined
Since starting on this voluntary simplicity journey decades ago my days have become significantly more meaningful.
Instead of getting that rush from buying that new whatsit from the most fashionable stores, I get that same charge by sitting on our back porch with RancherMan watching the sunset at the end of a busy but fulfilling day.
We sit in our older wooden rockers, glasses of wine in hand, and watch together as that brilliant sun sinks into the western sky.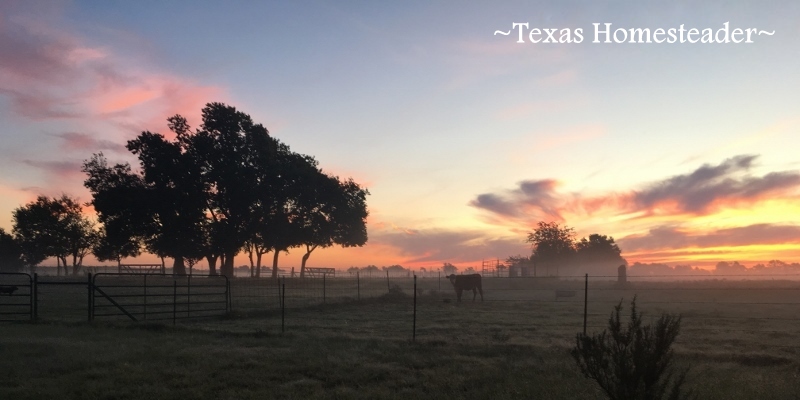 Life, More Meaningful
I plan to keep expanding my reach for self sufficiency as time passes. It's almost something that's become like a fun hobby for me to stretch my self-sufficiency muscle.
It satisfies the crunchy-green me as well as the old-time soul I've always had.
Live simply my friends!
~TxH~
Other Simple-Life Articles
Simple Living
Old Fashioned Tips
Eco-Friendly
Preparedness
Make It Yourself


C'mon by & sit a spell! Come hang out at our Facebook Page. It's like sitting in a front porch rocker with a glass of cold iced tea. There are lots of good folks sharing!
And you can also follow along on Pinterest, on Twitter, or on Instagram
To receive an email when a new blog post goes live it's EASY to
Subscribe to our blog!
Save