by Texas Homesteader ~
Are you prepared for a power outage? How can you plan for your emergency needs based on your specific circumstances? There's no one-size-fits-all answer.
Check out this list and be prepared!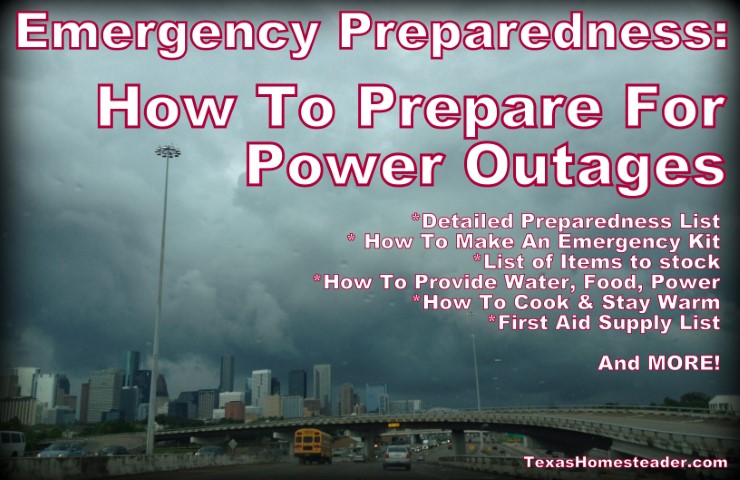 (Note: Some links in this post will take you to other related articles for further information. But links preceded with * are affiliate links for you to click for product information or to buy. If you click and buy something I could receive a tiny commission.)
How Long Will The Power Be Out?
We've all experienced a power outage. Most of the time it's only for a short duration.
If the power is only out for a few hours only minor preparations are needed to see you through until electricity is restored. Maybe a candle or warm blanket is all you need.
But other times there may be widespread power outage due to damage from a tornado, hurricane or ice storm. Or perhaps electric problems due to an aging power grid.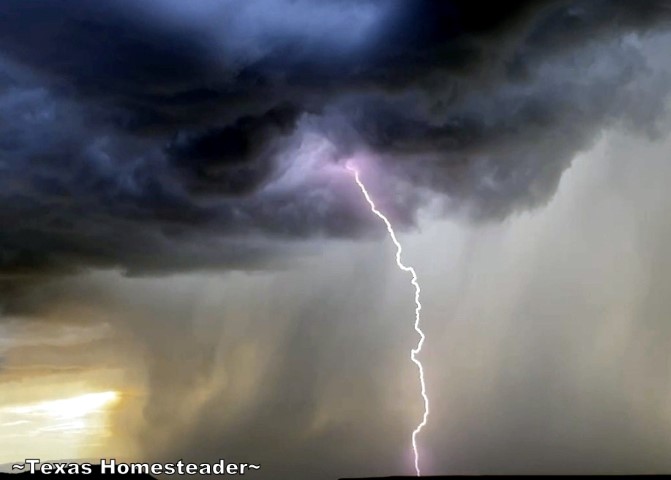 In these cases the power can be out anywhere from 24 hours to several days or even longer. To prepare for those circumstances you need to consider more advanced preparations.
All Emergency Needs Are Not The Same!
When electricity goes out there are many variables to determine what you need to be prepared. So there's not a one-size-fits-all answer.
For instance, some live in an all-electric powered home and are completely dependent upon the electric grid.
A few may have solar panels or other electricity-generating options.
And some (like us) have a combination of electric and propane/natural gas energy.
Some have an esthetics-only fireplace that's great ambiance but doesn't offer much actual heat. Others may have cast iron fireplaces that can really warm a room.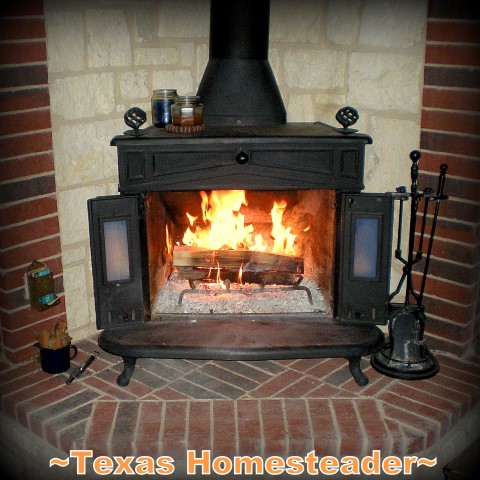 Some have city water while others might rely on electric pumps for their well water.
Your circumstances dictate what kind of emergency preparedness you need to do.
How To Decide What You Need For An Emergency Power Outage
Here's an easy way to decide what you might need should the electric power go out at your home.
Close your eyes for a moment and think about what items wouldn't be working if the electricity was out.
Lights?
Coffee pot?
Cell phone chargers?
Internet?
Refrigerator?
Water heater?
Heat?
Now consider how long you could make do without those items. For a day? A week? Or even a longer timeframe such as a week or more?
Now's the time to consider your emergency preparedness needs for your specific circumstances and tolerances.
*Pre-Packed Emergency Kits can be easily purchased online. Or you can customize your emergency kit based on your circumstances.
For customized emergency preparedness, glance through the list below and decide what you would need in your circumstances to properly prepare for unplanned power outages.
NOTE: Items noted with * will link to more information on that product. A complete convenient product list is at the bottom of this post!
Providing Warmth During Electric Outage
If the power is out during the colder months you'll need ways to stay warm. (I previously wrote an in-depth post about Staying Warm When The Power Goes Out.)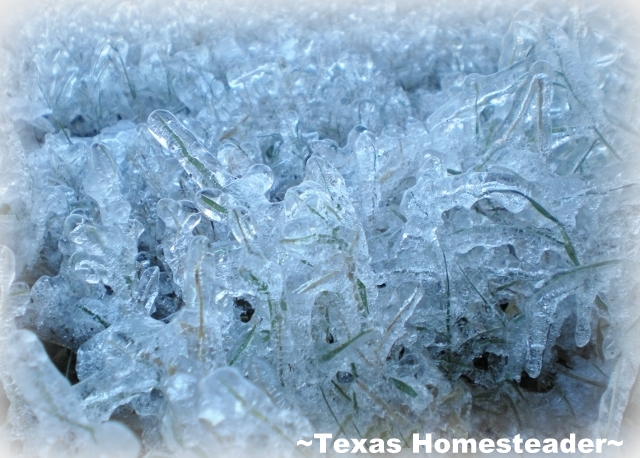 Items you might need to stay warm during a power outage are:
Regular or *Emergency Thermal Blankets
Clothing Layers – Don't forget your hands, feet & head. (you can make these Upcycled Hand Warmers to give an extra layer of protection.)
Firewood – Don't forget *Fire Starter or Homemade Fire Starters or Wax-Dipped Pinecones.
Heat-Powered *Fireplace Fan– An electric-free way to circulate warm air around the room using only heat to power it.
Supplemental Warmth – A Homemade Rice Bag set upon the top of our cast-iron fireplace for 1 minute or less warms it enough to place in my lap and then cover with a blanket to provide extra warmth.
What Food To Stock For Emergency Power Outage?
Shelf Stable Canned Food – Good options are canned stew, canned meat, vegetables & fruit. (Don't forget to stock a *Manual Can Opener!)
Packaged Food MRE (*Meals Ready to Eat) – Just heat if desired.
*Dehydrated Food – Make sure you've put back plenty of water if relying on this convenient option.
Instant Oatmeal
Protein Bars
Peanut Butter Crackers
*Shelf Stable Milk – This can be boxed shelf-stable milk or powdered milk. (make sure you have plenty of water if using powdered milk)
Bottled Water/Juice – Including jugs of water you've been able to fill before power outage.
Cooking Outside During An Electric Power Outage
*Solar oven – All you need to cook is a shadow.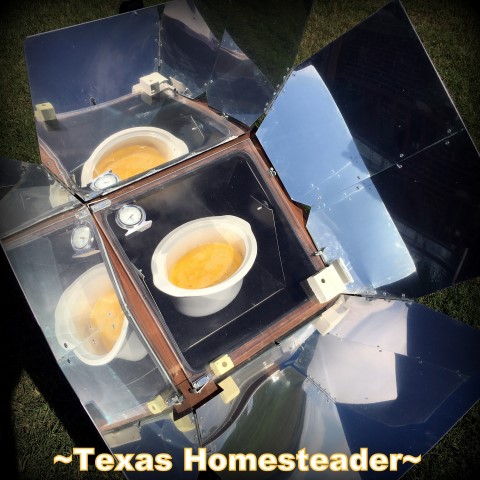 *Outdoor Grill – Make sure you only use this option outside, as grills can cause carbon dioxide poisoning if used incorrectly. Also make sure you have supplies such as charcoal, lighter fluid, propane bottle, etc.
*Camping Stove – Small & lightweight. Be sure to operate only outside with proper ventilation.
Providing Water During Power Outage
Water Well – Make sure you have an *Emergency Hand-Pump.
Drinking Water – If you have any warning of a potential power outage fill empty jugs & pitchers with potable water.
Water For Flushing Toilets – Use your Rainwater Catchment. if you have early warning of a power outage, fill a bathtub with water.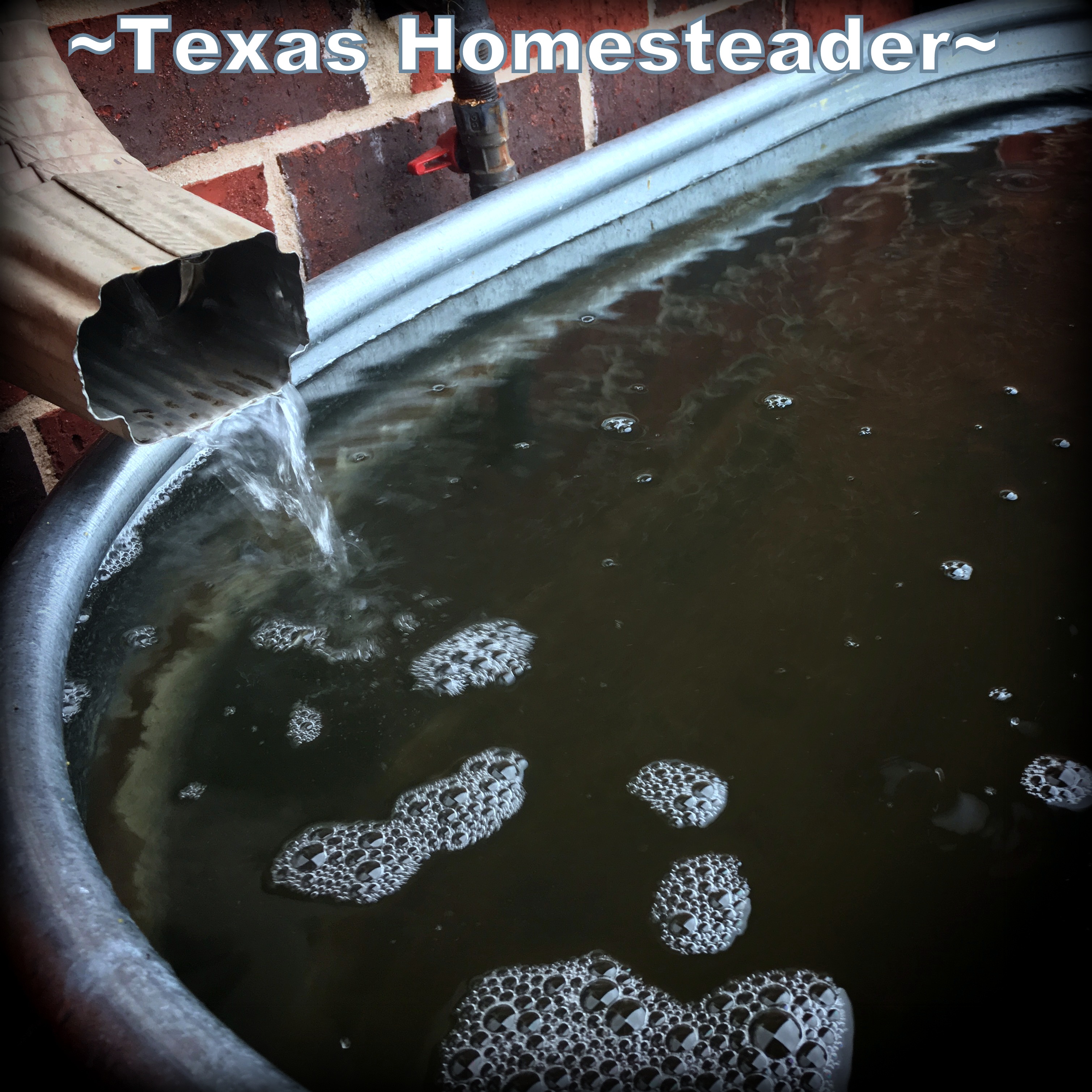 (NOTE: The CDC provides guidance on collecting and storing water. See reference link at the bottom of this post)
How To Get Hot water During Electrical Outage
Water Heater Tank – Water could stay hot for a day or so inside an insulated water heater tank and most include an easy-access drain spigot – attach a water hose to drain. (careful – remember the water may still be hot!) Also the tank can be drained when cooled for potable water in the event of an emergency.
Solar Hot Water Trick – A black lidded bucket filled with water can be placed in the sun to heat water.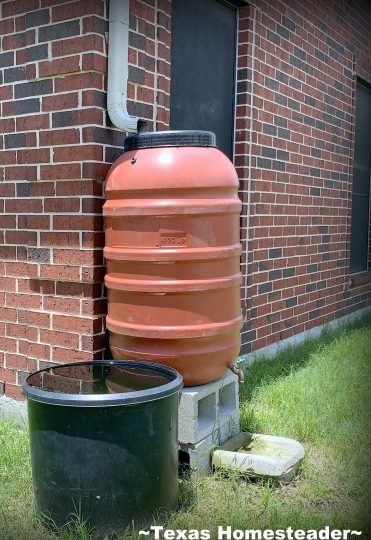 Providing Light During A Power Outage
Candles/Matches – Be be mindful of fire danger around children, pets or unattended candles.
*Solar Lights – Charge in the sun during the day, bring inside for light at sundown. Helpful Hint: Place near mirrors to reflect more light around the room.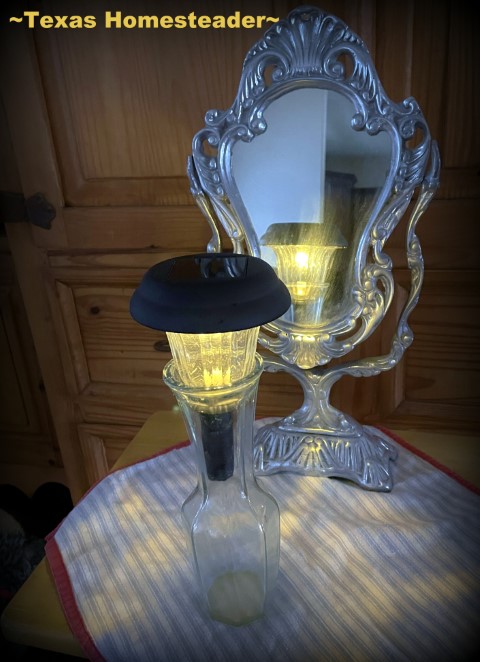 Regular or*Hand-Crank Flashlight – Using a hand-crank flashlight requires no batteries.
Hygiene Items To Stock For Preparedness:
New toothbrushes
Toothpaste
Comb
Hand Sanitizer
Soap
Bathroom Tissue – Kleenex
*5 Gallon Bucket – To store emergency supplies & for 'bathroom' needs when empty.
Feminine Products
First Aid Items Needed In Power Emergency
Bandages & Gauze
Rubbing Alcohol
Pain Reliever (ibuprofen, aspirin, etc)
Powering Electronics During Electric Outage
*Rechargeable Battery Phone Charger – make sure to keep fully charged before emergency needs.
*Small Solar or Battery Power Station – 110v power to run a lamp, charge refrigerator or freezer, charge cell phones or run your router for wifi as needed.
*Portable Generator 7500/9500 Watt – This is the generator RancherMan & I bought. A duel fuel (gasoline / propane) portable generator. Should run 90% of our home's electrical needs in emergencies.
Keeping Refrigerators & Freezers COLD
Frozen bottles of water in freezer – keeps freezer cold in power outage, can be used for water when thawed.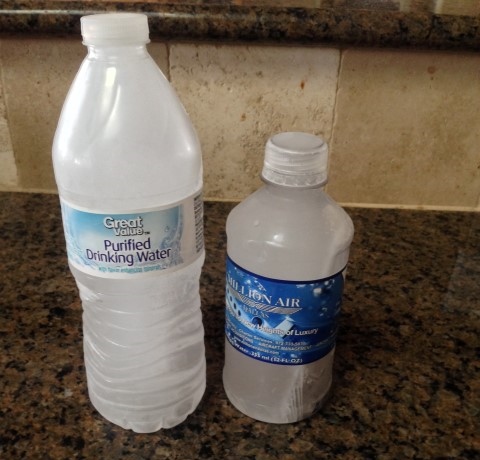 For frozen bottles remember – larger frozen bottle stay cold longer than small bottles. Small bottles fit into more spaces than larger containers. Both sizes are useful.
Keeping Refrigerated Food Cold – If it's cold outside and power is out longer than 24 hours you can move refrigerator food to *Large Insulated 70-Qt Coolers and place outside, preferably in a shaded area and secure from animals if possible.
NOTE: Be sure to NOT open refrigerator or freezers to keep them cold longer. Blankets on top of a chest freezer helps insulate to keep food inside cold longer.
~TxH~
Information For Preparedness Items Mentioned:
NOTE: If you don't already have it, you can totally *Try Amazon Prime For FREE for 30 days. Then place your order & get your free shipping, etc. Keep prime for 30 days FOR FREE & try it out – streaming movies, music, free shipping – the whole 9 yards! If you don't want to continue you can cancel within 30 days and pay nothing for the Amazon Prime membership trial run. But you'll probably want it anyway – we've gotten lots of use from our Amazon Prime by streaming videos & TV shows, streaming music, free next day shipping option on many items, etc.
Other Preparedness Posts


C'mon by & sit a spell! Come hang out at our Facebook Page. It's like sitting in a front porch rocker with a glass of cold iced tea. Lots of good folks sharing! You can also follow along on Pinterest, Twitter or Instagram.
If you'd like to receive an email each time a new blog post goes live it's EASY to
subscribe to our blog
Informational References:
CDC: Collecting & Storing Water For Emergencies
Department of Homeland Security – Building & Maintaining An Emergency Kit