by Texas Homesteader ~
*contains affiliate link
Emergency preparedness for any situation is a good thing in my book. I especially plan about how to keep our homestead going when we lose electricity.
Times such as hurricane season when I see on the news all the devastation suffered by those in the storm's path, it brings preparedness once again to the front of my thoughts. You too?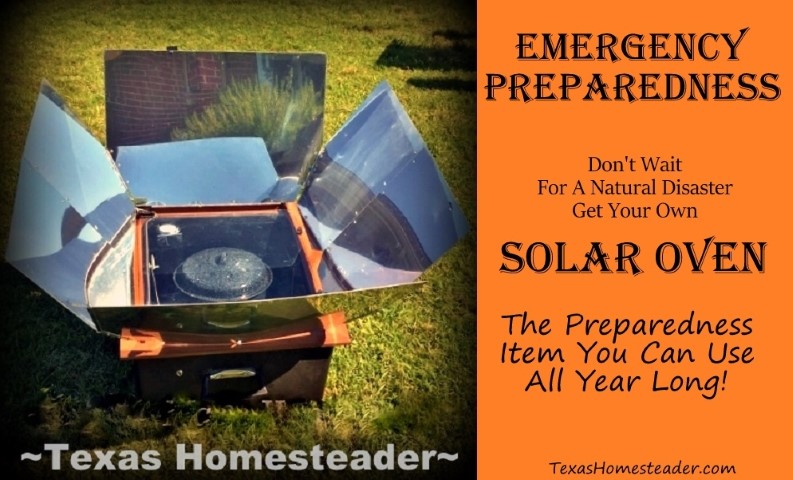 Note: Some links in this post are for further information from earlier posts I've written. But links preceded with * are affiliate links. If you click them and buy something (almost anything, not just the item noted) I could receive a small commission. But the price you pay will NOT change. It's an easy way to support this blog without anything coming out of your pocket. So click often! Thank you!
Texas Hurricane Harvey
Several years ago our great state of Texas was hit hard by Mother Nature. Hurricane Harvey barreled onto shore, leaving devastation in his path. Streets were impassable and the damage was severe.
Even if a home was undamaged, thousands were without electricity for several days. Some for weeks and others had no idea how long they would be without power.
Emergency Preparedness: Solar Oven
A few years ago I purchased a solar oven. (I purchased my own *Sun Oven and I love it.)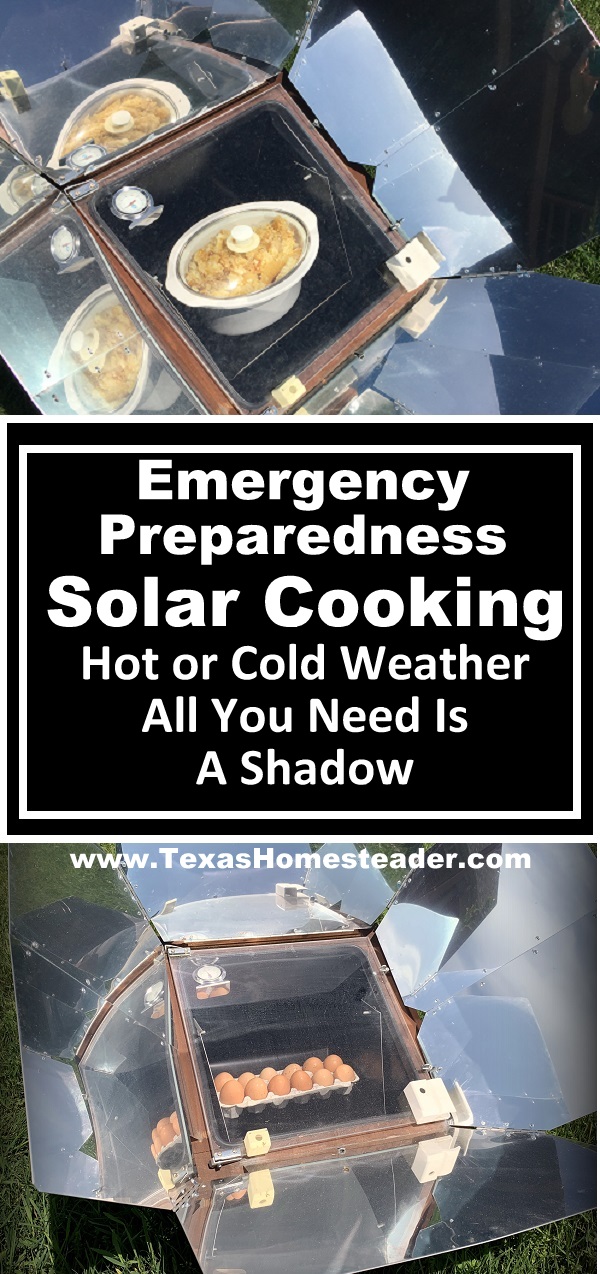 Living out here in the country it's not uncommon for our electricity to go out. As a matter of fact, there have been times when our electricity was off for several days due to damaged transmission lines during an ice storm.
But at least I don't have to worry about feeding RancherMan & myself. No matter if it's hot or cold outside – as long as I can see a shadow I have FREE cooking fuel available to provide food for my family. Cooking fuel of the sun!
*About My Solar Oven: For those of you asking, I have a Sun Oven brand solar oven and I LOVE IT! If you've been waiting to get a solar oven of your own, don't wait – now's the time!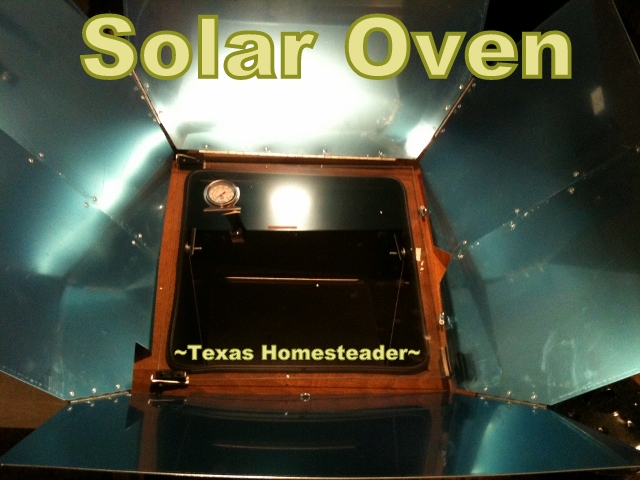 Cooking In My Solar Oven
Oh yeah baby, I've used my solar oven to Bake Bread many times. And I've also baked Pork Chops, a whole pan of Baked Potatoes and even made homemade Marinara Sauce among many other things.
Casseroles are wonderful things to make in the solar oven too, and I've made a delightful SW Chicken & Herbed Brown Rice with ease. And also RancherMan's favorite Cheesy Chile Chicken Casserole.
Heck you can even 'boil' eggs right in their cardboard carton when you're making them in a solar oven. Crazy but true, y'all.
(You can read all my solar-cooking posts here –> Solar Cooking.)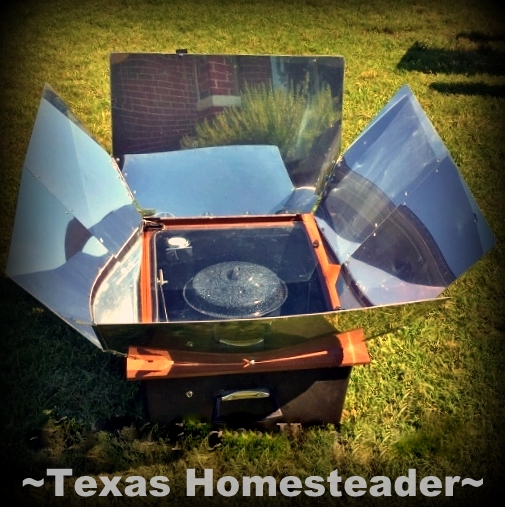 Love That Tracking Cube Option
The Sun Oven folks have improved their design since I bought mine – adding a wind-resistant leg with ground stakes, dual-purpose leveling rack, and an extra thick glass door containing sun-tracking cube.
Now I bought mine before they'd added that sun tracker cube. And I wanted that sun cube. BAD.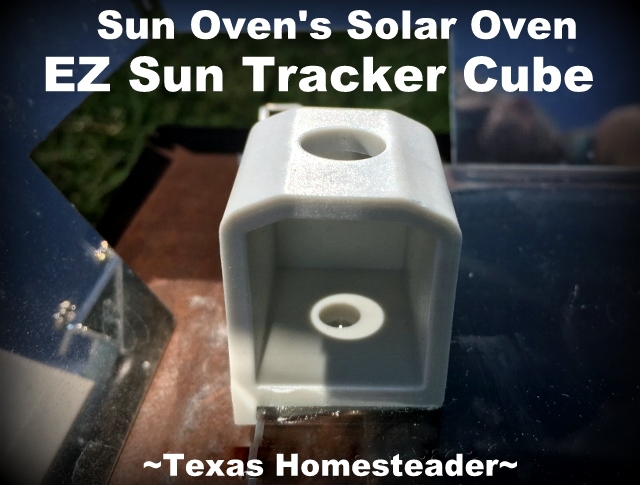 It would be so helpful to know when I'm perfectly aligned with the sun. And being better aligned to the sun's rays means higher oven temps are possible.
But ugh. It wasn't easy for me to be able to tell if the oven was perfectly tilted and angled or not.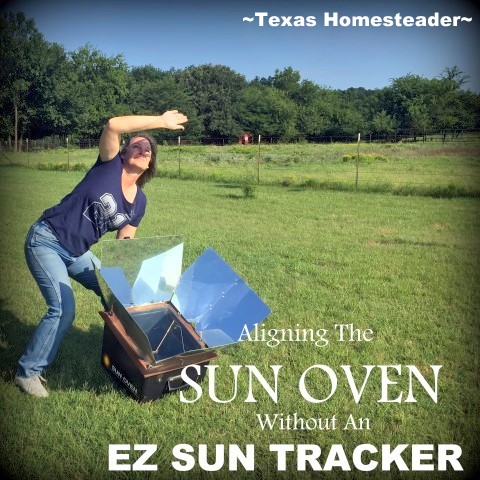 So I bought the upgrade to get that handy tracker cube. (again, I bought my own upgrade. )
But if you have an older model Sun Oven too, you can get the retro-fit kit here –> *Sun Oven Retro-Fit Kit, It comes with a thicker glass door with the sun cubes attached and even a handy folding leveling rack and an upgraded stabilizer leg too. Sure makes solar cooking easier, y'all.
Amazon Prime Special
If you like to buy through Amazon, you can buy a *Sun Oven on Amazon. there.
Shipping is usually free, but sometimes you need to be an Amazon Prime member to get free shipping. If that's the case, no worries – you can get Amazon Prime FREE for 30 days. If you don't want to continue you just cancel and owe nothing for the Amazon Prime features.
NOTE: If you don't already have it, you can totally *Try Amazon Prime For FREE for 30 days. Then place your order & get your free shipping, etc. Keep prime for 30 days FOR FREE & try it out – streaming movies, music, free shipping – the whole 9 yards! If you don't want to continue you can cancel within 30 days and pay nothing for the Amazon Prime membership. But you'll probably want it anyway – we've gotten lots of use from our Amazon Prime by streaming videos & TV shows, streaming music, free next day shipping option on many items, etc.
You can also buy your own Sun Oven solar oven by going through Sun Oven's Website. Sometimes it's cheaper there too. You might also find various accessories to go with your Sun Oven.
Optional Wireless Thermometer
My favorite accessory for my own solar oven is my *Meater Wireless Thermometer!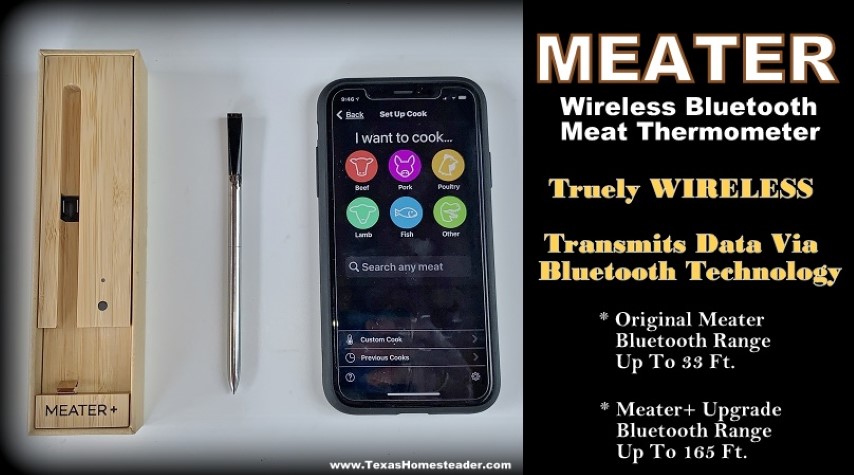 Let me tell ya, using a Meater Thermometer has really made cooking in my solar oven easier. It's wireless & transmits deets on my cooking through bluetooth technology right to my smart phone. I'm able to track progress from the comfort of my own easy chair!
I can tell when the oven needs to be readjusted toward the sun, how close my food is to being cooked, and even how long it will take it to get there. Really, can't say enough about this wireless cooking option, whether cooking in the solar oven, the grill or inside.
Act Now, Be Prepared
So don't wait until disaster strikes your own home before preparing. Act now.
And if the recent natural disasters have you thinking about your own preparedness plans, I can't recommend a solar oven enough as part of your preparedness kit. That's because a solar oven is the preparedness item you can use all year long, disaster or not!
~TxH~
This post categorized in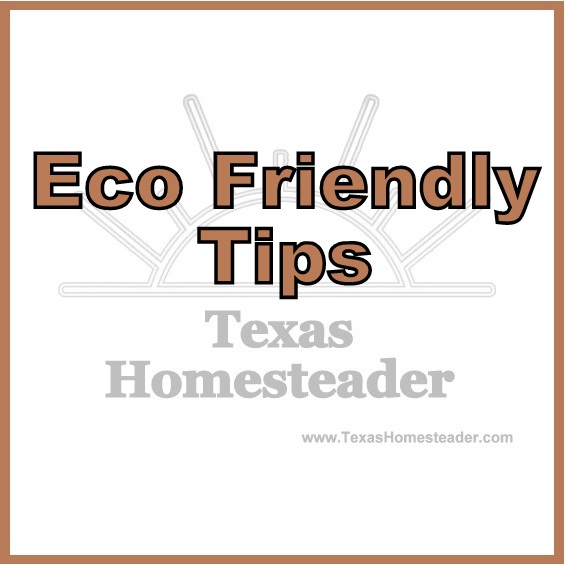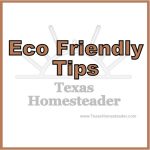 Links In This Post
Looking For More Solar-Cooking Recipes?
You can see our other SOLAR oven articles

here


C'mon by & sit a spell! Come hang out at our Facebook Page . It's like sitting in a front porch rocker with a glass of cold iced tea. There are lots of good folks sharing! And you can also follow along on Pinterest,Twitter or Instagram
If you'd like to receive an email when a new blog post goes live,
subscribe to our Blog!
*Amazon or Sun Oven Affiliate
Save
Save
Save
Save